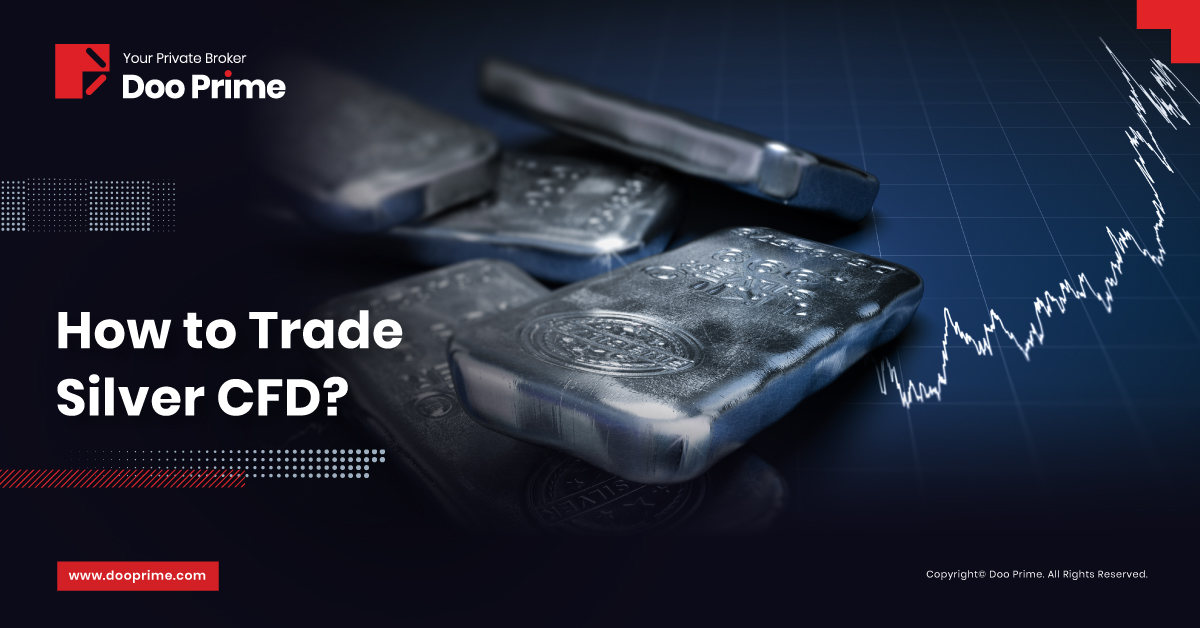 In our previous blog article, we break down "What Is Silver CFD", but have you mastered "How to Trade Silver CFD?
Precious metals, particularly silver, have been unceasingly drawing the attention of investors all over the world for decades who are seeking to broaden their investment portfolio. Due to reports of high liquidity, tight spreads, and high volumes, white gold has become apparent as a largely tradeable instrument. On the account of great liquidity, silver is traded with apparent and distinct chart patterns. Therefore, traders benefit from not only the upper volatility from silver trading but also the market fluctuations as compared to gold trading. This is because silver trading has a niche market.
There are a few alternatives for traders and investors when considering silver trading. The most well-known and current method for silver trading is via silver CFD (Contract for difference) which follows the underlying silver value without purchasing the physical silver itself. Through trading silver CFD, traders can achieve substantial exposure with their initial capital.
How to Trade Silver CFD?
In context to the points mentioned above, trading silver CFD spare traders the hassle of storing their physically bought silver bullion. With silver CFD, traders will yield financially from the value difference within the period of the contract. Silver CFD is marginally-traded; thus, it broadens the trader's accessibility to the silver market with just a fraction of the silver's actual value. In addition, the process of buying or selling a particular of silver is pretty much theoretical order since traders are either getting profits or losses, depending on the flow of the silver price.
The key to success in trading silver with CFD is the attempt on capitalizing through the precious metal movement. Traders will heavily depend on their intuition as well as market analysis to predict the price fluctuation and close the order to make the most profit. One of the main aspects that will assist you in predicting the price of silver is the understanding of factors that move the commodity price.
Here's a guide on how to trade silver CFD based on the components you should look into.
Industrial & Investor Demand
When trading silver CFD, or any other instruments, you should always take demand into account as this can greatly affect your trading outcome.
Approximately half of all silver is put to different industrial uses while the remaining third are utilized in jewelry production.
With that said, under the condition that the economy is healthy, there would be demand for silver products as people can afford it. As a result, the demand from both industrial and investors will naturally push the price of silver. This is the calling for silver CFD trading.
Inflation
At times of inflations or deflations in the market, it is a window of opportunity for traders as many tend to turn to silver in order to secure their returns. This is because during inflations, currencies become unstable and some traders are willing to risk degrading monetary savings, hoping to gain greater financial reward in return.
The US dollar
Considering that silver prices are granted to be traded with no restrictions in the financial markets as white metals fall under the safe-haven asset category. The value of US dollars, on the other hand, has a rather polar relationship.
As the USD plummet, investors who have dollars in hand will attempt to close their position and pursue a more stable market in order to sustain their investment profit.
Therefore, this circumstance creates an opening for investors and traders to trade the XAGUSD.
Financial and Political Instability
Crises and policy uncertainty in the financial markets can weaken the entire economy. In extreme cases, investors in the institutions themselves can lose their hope. Silver prices begin to rise as demand increases.
For this reason, investors can take advantage of this occasion and trade silver CFD.
Central Bank Policy
Interest rates are a direct indication of an economy on how serious inflation is for a central bank. They also control exchange rates for investors chasing higher rates because of the rushes of capital into certain countries. As a result, monetary policy and the announcement of interest rates by central banks play a role in the silver price. In periods of high inflation, low-interest rates are introduced so that they appear to correspond negatively to silver prices.
Therewith, this is another prospect of how you can trade the silver CFD according to the silver's market movement.
Trade Silver CFD With A Well-Founded Broker
Traders should always select a reputable broker who provides transcending service and customer support when starting up your silver CFD trading journey. We, Doo Prime, as a well-founded broker, guarantee to offer a nonpareil trading experience especially on trading silver CFD via our groundbreaking platforms and cutting-edge technology in the industry.
These are some of the most outstanding features Doo Prime adheres to deliver when trading with us.
Regulation
Doo Prime is an international pre-eminent online broker and our main ethos is to provide professional investors with global financial instruments (CFDs) on our trading platform. Doo Prime holds the financial service regulatory licenses in Mauritius and Vanuatu, which has granted us the opportunity to deliver the finest trading experience to more than 21,000 professional clients. Alongside managing a massive trading volume of dozens of billions of dollars monthly. On a monthly basis, Doo Prime secures a massive trading volume of billions of dollars.
Spreads and commissions
With silver spreads of 0.1 pips and leverages up to 1:500, the cost of trading CFDs with Doo Prime is substantially lower. At Doo Prime, we commit to ensure stability and transparency in the bid and ask price for our clients to deliver the best trading experience.
As of November 2020, Doo Prime reports record trading volumes at US$54.39 billion which has risen by 220.75% compared to the total traded in September 2020.
Hence, trading silver with Doo Prime has never been easier with a variety of CFDs products such as spot silver (XAGUSD), and COMEX silver futures along with other 10,000+ CFD trading products. You can open an STP account with Doo Prime and enjoy zero-commission with minimal requirement of an initial USD 100 deposit.
Trading platforms
Our trading platforms and tools cater to all levels of individual and institutional traders with different needs and strategies.
For trading platforms, we have Doo Prime InTrade which is an easy-to-use and professional trading platform backed by the latest cloud-based technology. Moreover, Doo Prime trading platform also supports MT4 and MT5 equipped with NDD (No Dealing Desk) Mode and Direct Market Access (DMA) to the institutional-grade trading market and electronic communication network (ECN) and offer 8 levels of market depth.
The trading platforms and tools available on Doo Prime forms a solid foundation to provide the best online trading experience to global traders. As we strive to expand our offerings even further, there will be more new services and features to come in the near future.
Customer support
Doo Prime, over the developing years, has grown a strong team of experts across 11 cities worldwide with the dedication to provide 24/7/365 multilingual top-notch customer service to our clients anywhere in the world.
We always put the interests of customers first and value all feedbacks and questions raised by our clients. Thus, we commit to always provide our clients with safe, reliable, and convenient global trading services.
Intrigued by the many benefits of trading silver CFDs with us? Click here to learn more about us and sliver CFDs trading. Or head to our website now and sign up for an account with Doo Prime.