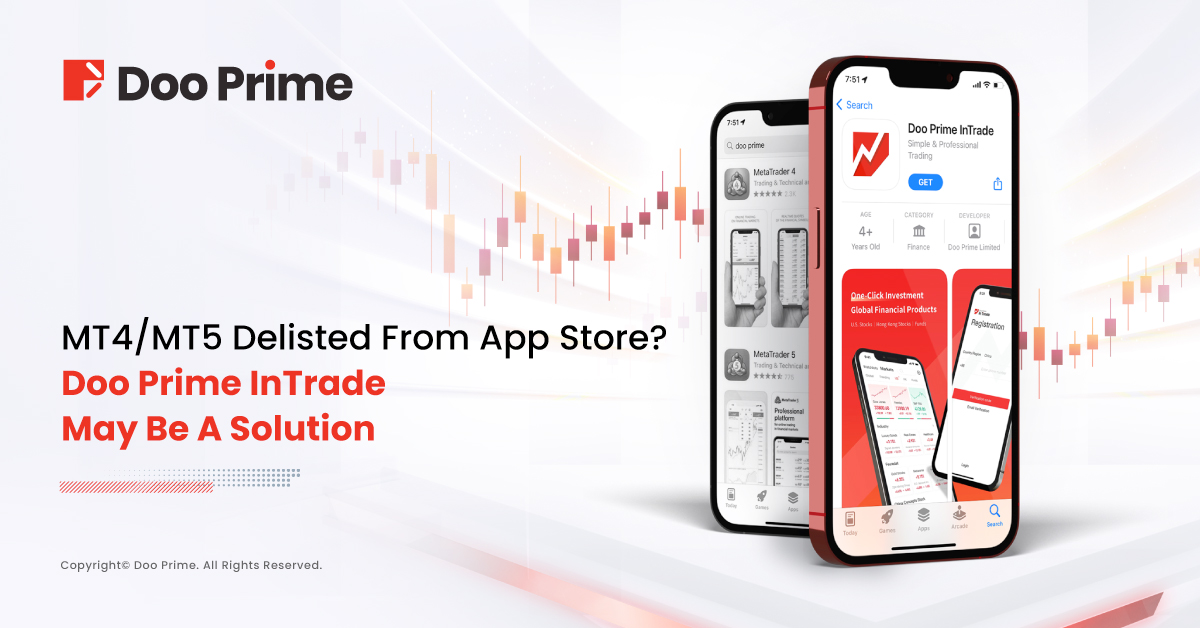 The world's most popular trading platforms MetaTrader 4 (MT4) and MetaTrader 5 (MT5) were suddenly removed from the Apple App Store on 23 September, 2022 and users are no longer able to download the iOS versions of MT4 and MT5 from there.  
The news immediately sparked an uproar in the investment market, with all kinds of rumors and truths being speculated. Many investors had various questions, such as: "Can I still use MT4/MT5 as usual?"; "Is my money still safe?"; and "Do I have other trading platforms to choose from?"  
Fret not – this article will attempt to clarify the ongoing confusion so that you can better understand whether this incident will affect you.  
Will my funds be lost as I can't use MT4/MT5 anymore?
MT4/MT5 is a trading platform developed by the software company MetaQuotes. MetaQuotes claims that it received a notification from Apple on 23 September, 2022 that its trading apps did not meet the Apple App Store's review guidelines. As a result, MT4/MT5 was delisted on the same day.  
However, does the inability to download MT4/MT5 through the Apple App Store mean that MT4/MT5 cannot be used? No.
At this time, MT4/MT5 is only unavailable for download through the Apple App Store, but it does not affect normal trading usage.
In other words, if you have already downloaded MT4/MT5 on your Apple phone, you would still be able to use it. iOS users can still trade via the MT4/MT5 desktop and web versions, or through Doo Prime InTrade.
As for the security of funds, it is not affected in any way. Because the funds are not stored in MT4/MT5 but instead in the respective brokers, Doo Prime customers can still deposit and withdraw funds through the User Center and Doo Prime InTrade as usual.
As for using Android devices or desktops, there is no impact – the delisting is only for Apple phone users. Android and desktop users can still download MT4/MT5 as usual.
Will exchanges discontinue providing data to MT4/MT5?
You may have also noticed that there are rumors regarding exchanges discontinuing quotation data to MT4/MT5 in the current market. What's more, there are even unproven claims that Microsoft will block MQL (the underlying programming language of MT4/MT5).
Let us address them one by one.
First, let's talk about the relationship between exchanges and quotes. MT4/MT5 itself is simply a trading platform software that is mainly used for over-the-counter (OTC) transactions. That said, the derivatives specifications and quotation sources of over-the-counter transactions are diversified. The quotation of OTC derivatives and the transmission of orders mainly come from different Liquidity Providers and ECN liquidity pools composed of different Prime Brokers, banks, and non-bank institutions. 
In simple terms, MT4/MT5 is an operational tool, and the various quotes displayed on the tool are derived from the aforementioned parties. If a single quotation provider withdraws from the quotation, it will not have a disruptive impact on the market quotation of the relevant product. 
Secondly, regardless of whether the exchange is a member-based or a company-based one, it is its obligation to provide quotes to its brokerage members or counter units.
Finally, there is no authoritative information to support the claim that individual exchanges will discontinue providing quotes to MT4/MT5. As you can see, similar claims are more speculated than anything else. 
Will Microsoft block MQL?
MQL is a computer programming language that can be used to develop various trading strategies on a trading software. As the underlying language of MT4/MT5, the importance of this language cannot be overstated. So, is it true that Microsoft will block the MQL language?
Again, the answer is no.
Microsoft Windows is a powerful desktop system that is compatible with a wide range of programming languages, and MQL is only the underlying system language for MT4/MT5, so the news that Microsoft is blocking it is more of a rumor than anything else.
This false claim is not backed up by any authoritative news, let alone by relevant media sources, and Doo Prime has asked Metaquotes for confirmation, which said that Microsoft's claim of blocking MQL is a falsehood.  
In Summary: Doo Prime InTrade May Be A Solution
Allow us to summarize the current situation.
While users who have already downloaded MT4/MT5 are not affected, Apple mobile users who have not yet done so are no longer able to download the trading platforms through the Apple App Store. On the other hand, Android mobile and desktop users are not affected at all. 
If you are interested in entering the investment market and are looking for a reliable alternative to MT4/MT5, then Doo Prime InTrade may be the right choice for you. 
Trading As Usual With Doo Prime InTrade
Whether you are an Android or iOS user, you can download and use our Doo Prime InTrade app and trade as per through your Doo Prime MT4/MT5 account without any impact from this incident! 
One-Stop Platform To Easily Reach 6 Global Markets
Doo Prime InTrade is an efficient and professional one-stop trading platform that allows you to trade over 10,000 financial products, including forex, US and Hong Kong CFDs, futures CFDs, precious metals, energy, and stock indices. All can be done through Doo Prime InTrade, with one-click access to 6 global markets. 
Popular News With Professional Analysis
In addition, Doo Prime InTrade provides real-time market depth and accurate charts, as well as professional technical analysis indicators, such as Relative Strength Index, Moving Average Bands, and Bollinger Bands. Together, with rich and comprehensive industry information, the application can help you to control the overall situation of investment in real-time.
High-Speed Trading To Grasp The Whole Picture
As everyone knows, the speed of trade execution is a crucial factor for investment returns. Doo Prime InTrade provides investors with fast and professional order management capabilities. In addition, users can view their available margin, trading leverage, and an overview of their current trade amount. You can be in control of your trading – all in the palm of your hand.
Doo Prime has always attached importance to the safety of investors' funds and has always been committed to providing a safe and secure trading environment. This incident of the Apple App Store delisting MT4/MT5 has caused some investors certain inconveniences in the application, but the impact on the majority of investors is very limited. This is especially for those who already use the Doo Prime InTrade application – they are not affected by this incident at all and can still invest in global financial products as usual. 
Should you have any questions, please feel free to contact your dedicated 1-to-1 account manager, Doo Prime will keep you up to date with the latest developments and provide you with the most reliable information. 
| About Doo Prime
Our Trading Instruments
Securities | Futures | Forex | Precious Metals | Commodities | Stock Indices
Doo Prime is an international pre-eminent online broker under Doo Group, which strives to provide professional investors with global CFD trading products in Securities, Futures, Forex, Commodities, Stock Indices, and Funds. At present, Doo Prime is delivering the finest trading experience to more than 60,000 professional clients, with an average trading volume of more than USD51.223 billion each month.
Doo Prime entities respectively holds the relevant financial regulatory licenses in Seychelles, Mauritius, and Vanuatu with operation centers in Dallas, Sydney, Singapore, Hong Kong, Dubai, Kuala Lumpur, and other regions.
With robust financial technology infrastructure, well-established partnerships, and an experienced technical team, Doo Prime boasts a safe and secure trading environment, competitive trading costs, as well as deposit and withdrawal methods that support 10 different currencies. Doo Prime also incorporates 24/7 multilingual customer service and extremely fast trade execution via multiple industry-leading trading terminals such as MT4, MT5, TradingView, and InTrade, covering over 10,000 trading products.
Doo Prime's vision and mission are to become a financial technology-focused broker, streamlining international global financial products investment.
For more information about Doo Prime, please contact us at:
Phone:
Europe : +44 11 3733 5199
Asia : +852 3704 4241
Asia – Singapore: +65 6011 1415
Asia – China : +86 400 8427 539
E-mail:
Technical Support: [email protected]
Sales Representative: [email protected]
Risk Disclosure
Trading in financial instruments involves high risks due to the fluctuation in the value and prices of the underlying financial instruments. Due to the adverse and unpredictable market movements, large losses exceeding the investor's initial investment could incur within a short period of time. The past performance of a financial instrument is not an indication of its future performance. Investments in certain services should be made on margin or leverage, where relatively small movements in trading prices may have a disproportionately large impact on the client's investment and client should therefore be prepared to suffer significant losses when using such trading facilities.
Please make sure you read and fully understand the trading risks of the respective financial instrument before engaging in any transaction with Doo Prime's trading platforms. You should seek independent professional advice if you do not understand any of the risks disclosed by us herein or any risk associated with the trade and investment of financial instruments. Please refer to Doo Prime's Client Agreement and Risk Disclosure and Acknowledgement Notice to find out more.
Disclaimer
This information is addressed to the general public solely for information purposes and should not be taken as investment advice, recommendation, offer, or solicitation to buy or sell any financial instrument. The information displayed herein has been prepared without any reference or consideration to any particular recipient's investment objectives or financial situation. Any references to the past performance of a financial instrument, index, or a packaged investment product shall not be taken as a reliable indicator of its future performance. Doo Prime and its holding company, affiliates, subsidiaries, associated companies, partners and their respective employees, make no representation or warranties to the information displayed and shall not be liable for any direct, indirect, special or consequential loss or damages incurred a result of any inaccuracies or incompleteness of the information provided, and any direct or indirect trading risks, profit, or loss arising from any individual's or client's investment.