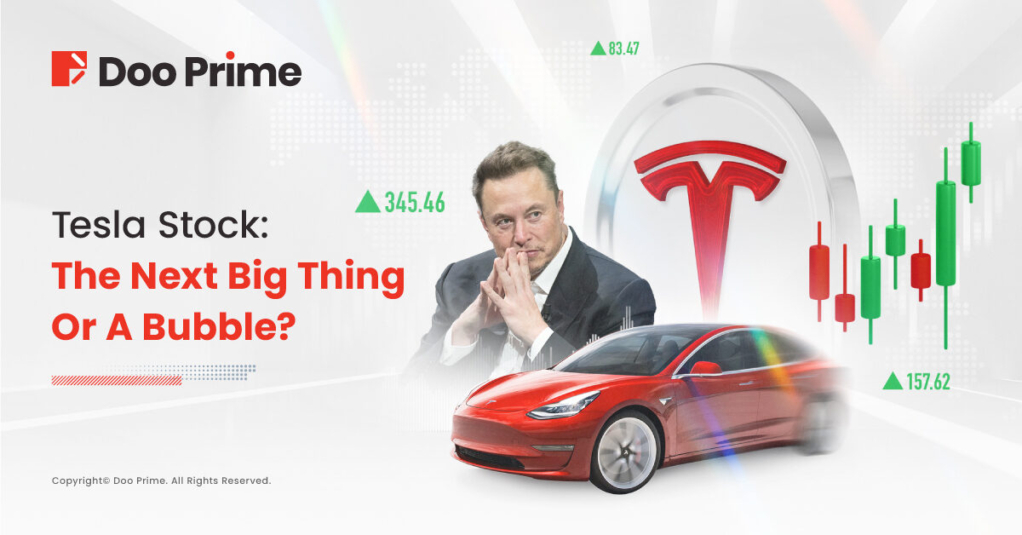 Tesla's stock price has been extremely volatile since the beginning of 2020, soaring to record highs and crashing back down by around 70%. However, the Tesla stock has since rebounded by 125% and some investors are now wondering if valuations are getting extreme once again.
There are certainly some reasons to be concerned. Tesla's valuation is sky-high, and the company is facing increasing competition from other electric car makers, such as Hyundai-Kia, General Motors, etc. However, there are also some reasons to be optimistic.
Tesla is still the leader in the electric car market, and it has a number of innovative products in the pipeline. But most of all, the main reason behind Tesla's success is the visionary entrepreneur Elon Musk.
Is it worth investing in Tesla right now, or is this just another bubble waiting to pop?
To answer these questions, first we need to do two things:
First, we look back to 2020 and closely evaluate what actually happened. What were the underlying factors that triggered this extreme volatility in Tesla's stock price?
Second, after going over the macro factors, we will evaluate the present fundamentals and determine the best next move for investors.
What Happened Back in 2020?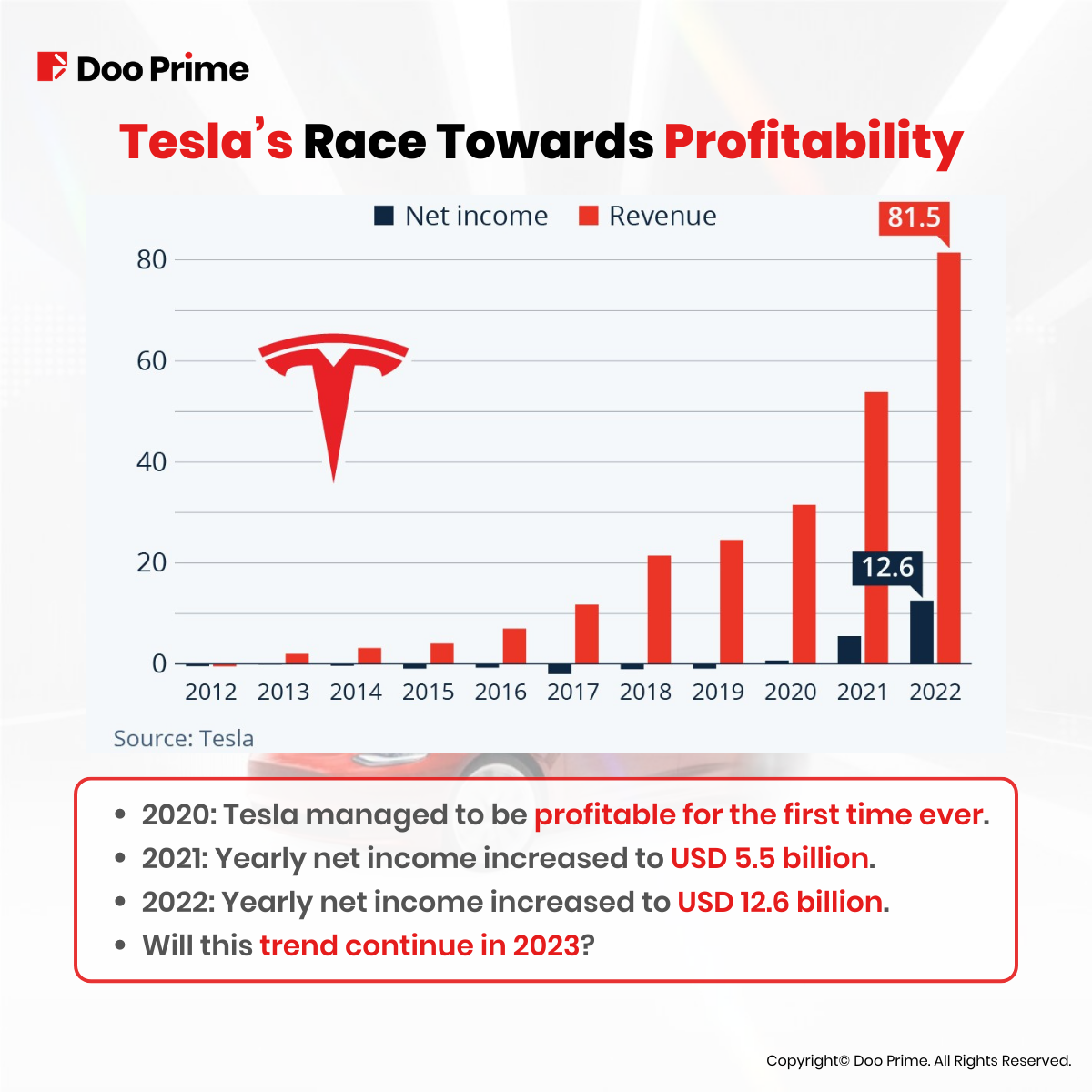 The company has been criticized for years for its high costs and its inability to make a profit. However, in 2020, Tesla finally turned a profit for the first time since its inception. This is a major accomplishment for the company and its CEO, Elon Musk.
Tesla's success has forced other automakers to take electric vehicles more seriously. In the past, many automakers were skeptical of the electric vehicle market. However, Tesla's success has shown that there is a demand for electric vehicles, and other automakers are now hurrying to catch up.
In addition, 2020 was also the year where global central banks had to step in and take unprecedented action to prop up the economy during the COVID-19 pandemic.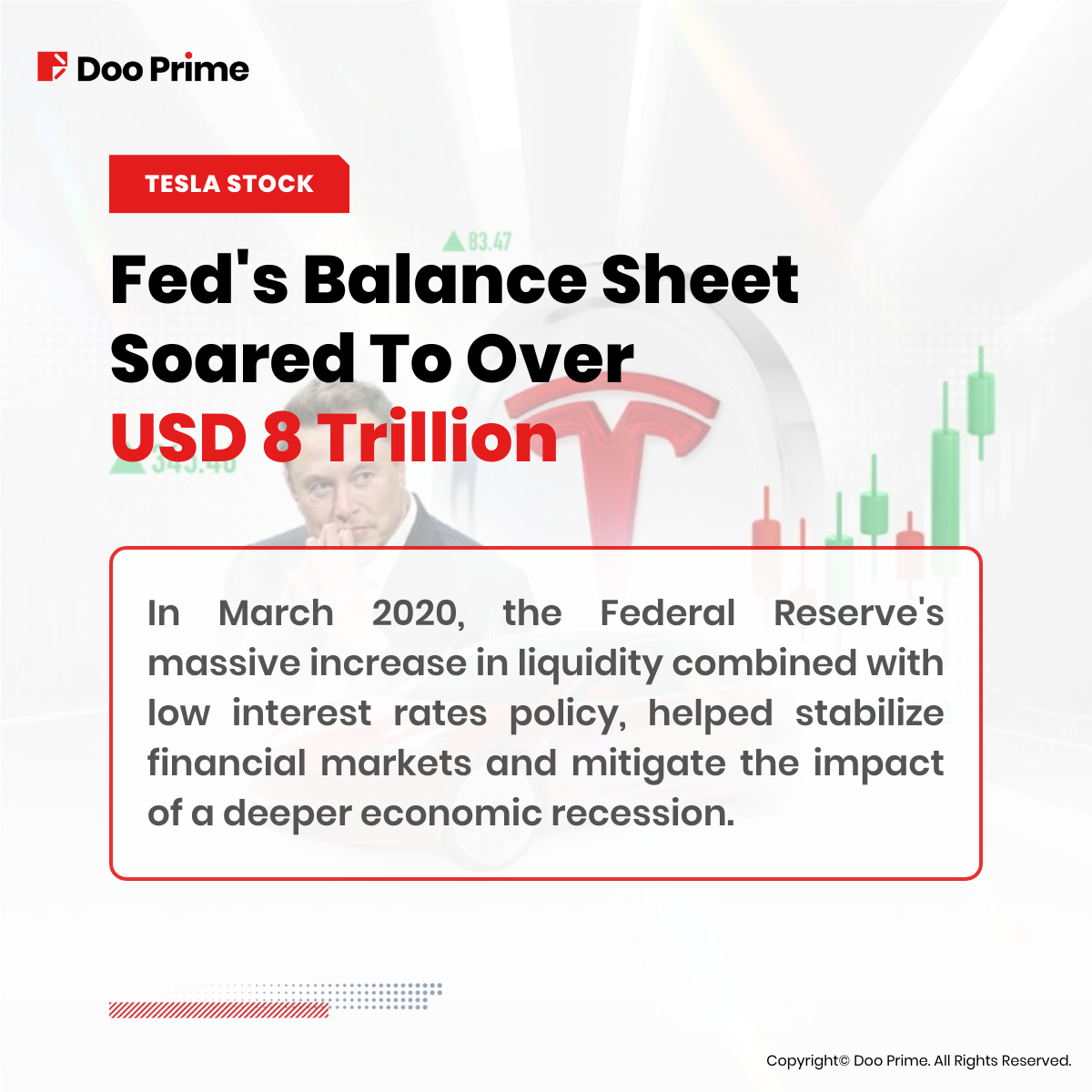 Ever since then, Tesla's stock price soared to over 900% gains. The impact of these policies on Tesla's stock price is difficult to quantify. However, the surge in Tesla's stock price in 2020 was partly fueled by speculation and investors' expectations of future growth.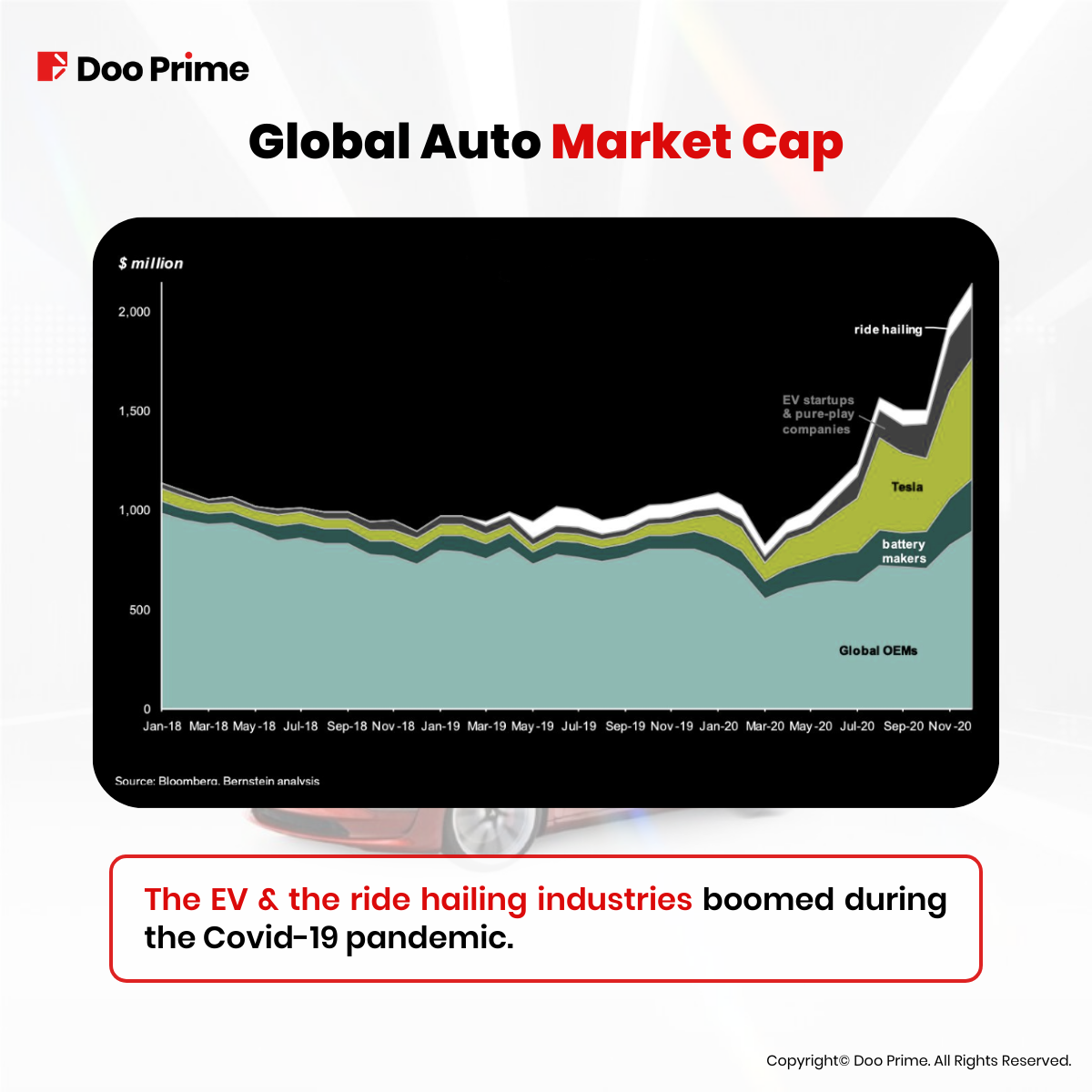 Another major factor is the paradigm shift that has occurred in the overall market psychology during the Covid-19 pandemic. Consumers and investors became more aware of the environmental benefits of electric cars. This led to increased demand for EVs, not just from Tesla, but from the entire EV sector, along with ride hailing companies like Uber and Lyft.
This sudden increase in demand, combined with near-zero interest rates and substantial liquidity injections from the Federal Reserve, had potentially a significant impact on attracting investment funds into the EV sector.
What's Happening Now With Global Liquidity?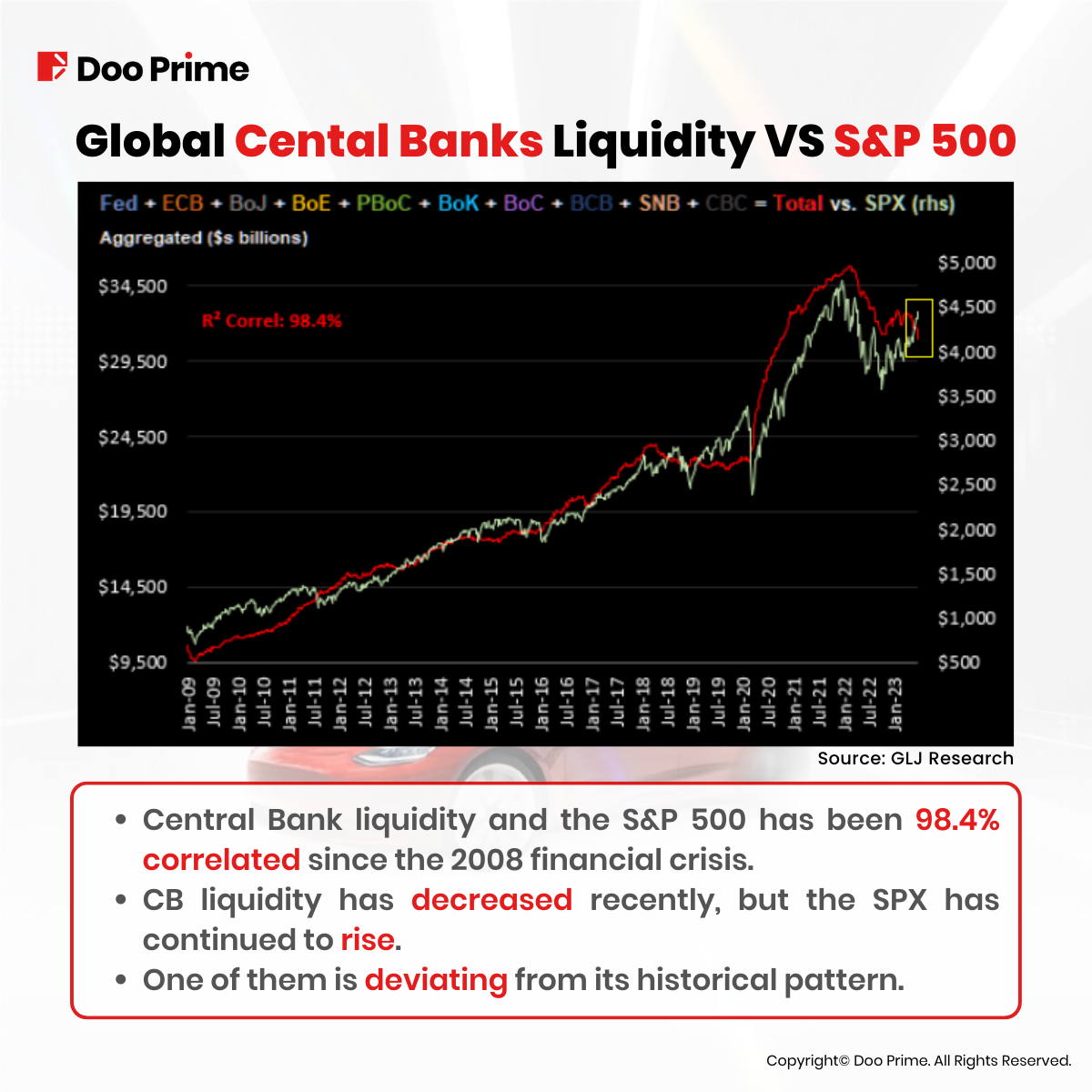 If we accept the fact that liquidity matters and given that the GLJ Research company's liquidity measure has a 98.4% correlation to the S&P 500 dating back to January 2009, then investors should pay close attention to this chart.
A correlation of 98.4% means that there is a very strong relationship between liquidity and the S&P 500. In other words, if liquidity continues to decrease, major entities like hedge funds and major investment banks will most likely have to sell their stocks, leading the overall stock market to potentially reverse.
Short-Term Potential Woes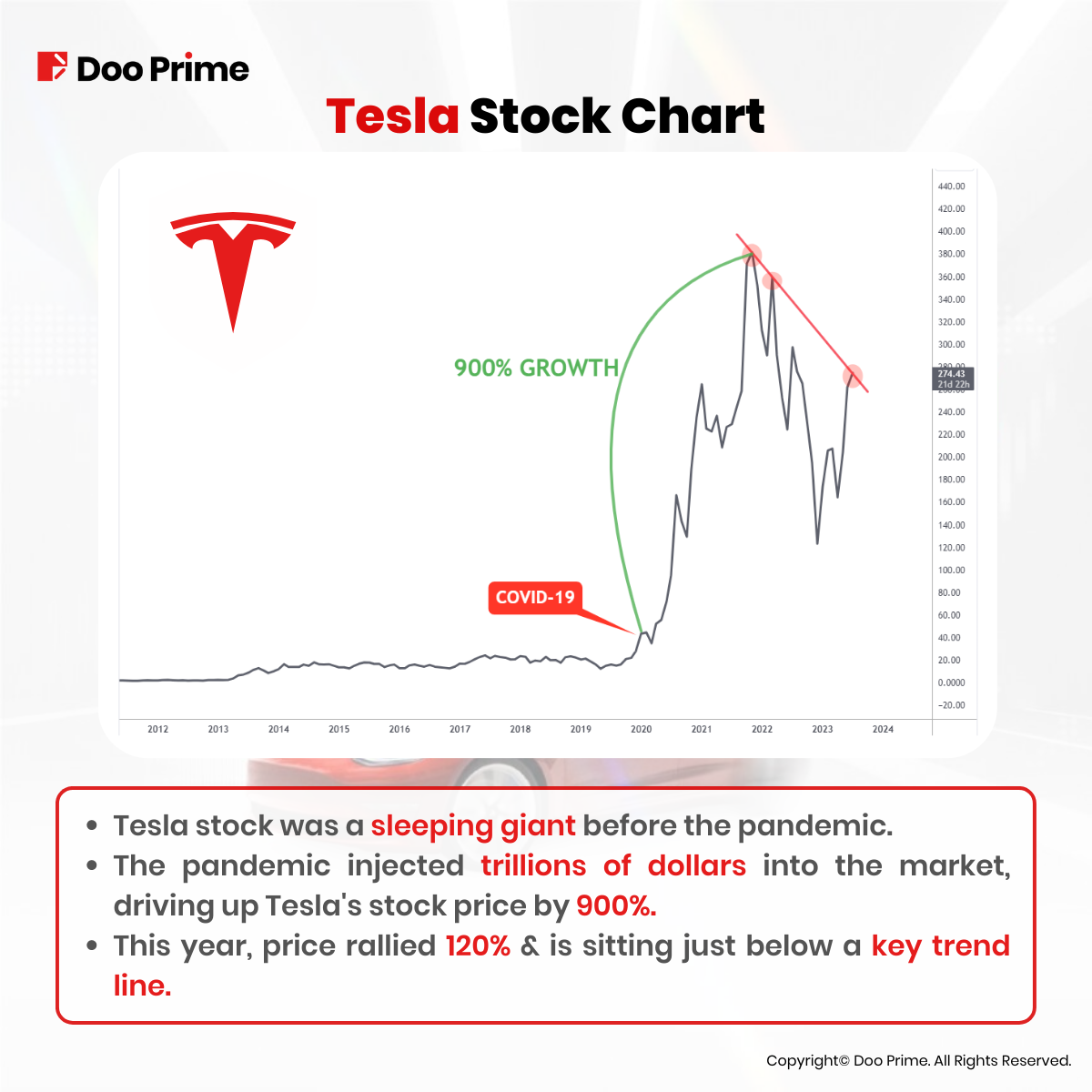 Tesla stock has rallied more than 120% so far in 2023, as the company sold over 337,000 cars since January. However, some investors are becoming overly optimistic disregarding the company's high valuation in a risk-averse market environment. Others are wondering if Tesla stock is entering another bubble phase.
According to economist Tim Harford, financial bubbles need three elements to form: liquidity, speculation, and cheap money.
Well then, if liquidity is decreasing and money is getting more expensive to borrow (higher interest rates), then what's left is speculation. Investors who are expecting the same kind of extreme gains like the one that took place during the pandemic are likely to be disappointed this time around.
Speculation alone without the help of central bank policies is very unlikely to fuel a gigantic bubble.
The company has bright growth prospects, no one can deny that fact. But a steep valuation, tightening central bank policies and potential short-term margin woes make shares riskier today.
Other factors to be concerned about:
The company's valuation is sky-high. Tesla's market capitalization is currently around USD 827 billion, which is more than the combined market capitalization of Ford and General Motors.
Tesla is facing increasing competition from other electric car makers. Several established automakers, such as Volkswagen and Toyota, are now investing heavily in electric vehicles.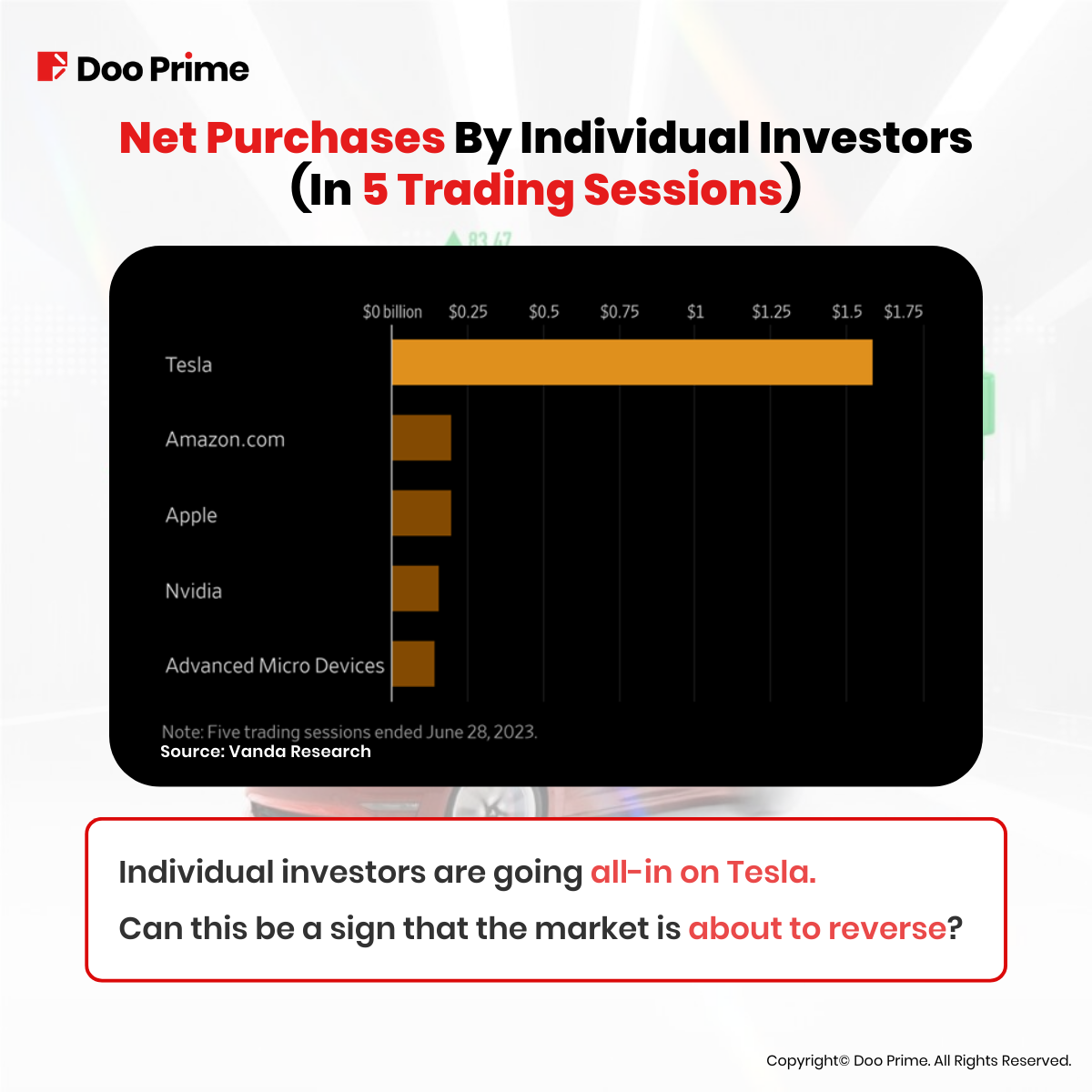 And finally, according to Vanda research individual investors were extremely bullish on Tesla in the last 5 trading sessions in June.
Retail investors poured more than USD 1.5 billion into Tesla alone, while investing less than USD 0.25 billion into Amazon, Apple, Nvidia and AMD. This market behavior is known as the herd mentality, which is often used as a market reversal indicator. Experienced investors avoid following the herd, as they know any extreme market sentiment often means the opposite will likely happen.
Could this mean the end of this recent rally?
Long-Term Potential Gains
Tesla is a leading electric vehicle (EV) manufacturer that has been one of the best-performing stocks in recent years. The company's stock price has risen by more than 1,000% in the past five years, making it one of the most valuable companies in the world.
There are several reasons why Tesla's future looks bright, and the stock could generate returns for long-term investors.
Tesla is the world's leading EV manufacturer, with a market share of over 18%. The company has a strong brand reputation and is known for its innovative products, such as the Model 3 and Model Y.
Tesla has a loyal customer base thanks to Elon Musk's loud presence on social media. Tesla's customers are a loyal community that is willing to pay a premium for its products, which speaks to the quality and desirability of its vehicles. This loyal community could help Tesla weather any short-term storms in the market.
Overall, the future looks bright for Tesla and the EV sector. The company is well positioned to capitalize on the growth of the global EV market and its innovative products and services could lead to significant returns for long-term investors.
What To Do Now?
Tesla has undeniably a lot of potential in the long run. For long-term investors, it's essential to carefully assess their risk at these high valuations before investing in Tesla. During tight monetary policies, it's generally recommended to wait for lower stock prices and a much more suitable risk environment.
While the current market looks optimistic, it is important for investors to be aware of the herd mentality, as it is a powerful force in the stock market.
For medium and short-term investors, buying into stocks that are rising can feel good, but it can also be dangerous. We could see some downside pressure, so watch out for volatility and always have a good risk management system in place.
| About Doo Prime
Our Trading Products
Securities | Futures | Forex | Precious Metals | Commodities | Stock Indices
Doo Prime is an international pre-eminent online broker under Doo Group, which strives to provide professional investors with global CFD trading products in Securities, Futures, Forex, Precious Metals, Commodities, and Stock Indices. At present, Doo Prime is delivering the finest trading experience to more than 90,000 clients, with an average trading volume of more than USD 51.223 billion each month.
Doo Prime entities respectively holds the relevant financial regulatory licenses in Seychelles, Mauritius, and Vanuatu with operation centers in Dallas, Sydney, Singapore, Hong Kong, Dubai, Kuala Lumpur, and other regions.
With robust financial technology infrastructure, well-established partnerships, and an experienced technical team, Doo Prime boasts a safe and secure trading environment, competitive trading costs, as well as deposit and withdrawal methods that support 20+ different currencies. Doo Prime also incorporates 24/7 multilingual customer service and extremely fast trade execution via multiple industry-leading trading terminals such as MT4, MT5, TradingView, and Doo Prime InTrade, covering over 10,000 trading products.
Doo Prime's vision and mission are to become a financial technology-focused broker, streamlining international global financial products investment.
For more information about Doo Prime, please contact us at:
Phone:
Europe: +44 11 3733 5199
Asia: +852 3704 4241
Asia – Singapore: +65 6011 1415
Asia – China: +86 400 8427 539
E-mail:
Technical Support: [email protected]
Account Manager: [email protected]
Forward-looking Statements
This article contains "forward-looking statements" and may be identified by the use of forward-looking terminology such as "anticipate", "believe", "continue", "could", "estimate", "expect", "hope", "intend", "may", "might", "plan", "potential", "predict", "should", or "will", or other variations thereon or comparable terminology. However, the absence of such terminology does not mean that a statement is not forward-looking. In particular, statements about the expectations, beliefs, plans, objectives, assumptions, future events, or future performance of Doo Prime will be generally assumed as forward-looking statements.
Doo Prime has provided these forward-looking statements based on all current information available to Doo Prime and Doo Prime's current expectations, assumptions, estimates, and projections. While Doo Prime believes these expectations, assumptions, estimations, and projections are reasonable, these forward-looking statements are only predictions and involve known and unknown risks and uncertainties, many of which are beyond Doo Prime's control. Such risks and uncertainties may cause results, performance, or achievements materially different from those expressed or implied by the forward-looking statements.
Doo Prime does not provide any representation or warranty on the reliability, accuracy, or completeness of such statements. Doo Prime is not obliged to provide or release any updates or revisions to any forward-looking statements.
Risk Disclosure
Trading in financial instruments involves high risks due to the fluctuation in the value and prices of the underlying financial instruments. Due to the adverse and unpredictable market movements, large losses exceeding the investor's initial investment could incur within a short period of time. The past performance of a financial instrument is not an indication of its future performance. Investments in certain services should be made on margin or leverage, where relatively small movements in trading prices may have a disproportionately large impact on the client's investment and client should therefore be prepared to suffer significant losses when using such trading facilities.
Please make sure you read and fully understand the trading risks of the respective financial instrument before engaging in any transaction with Doo Prime's trading platforms. You should seek independent professional advice if you do not understand any of the risks disclosed by us herein or any risk associated with the trade and investment of financial instruments. Please refer to Doo Prime's Client Agreement and Risk Disclosure and Acknowledgement Notice to find out more.
Disclaimer
This information is addressed to the general public solely for information purposes and should not be taken as investment advice, recommendation, offer, or solicitation to buy or sell any financial instrument. The information displayed herein has been prepared without any reference or consideration to any particular recipient's investment objectives or financial situation. Any references to the past performance of a financial instrument, index, or a packaged investment product shall not be taken as a reliable indicator of its future performance. Doo Prime and its holding company, affiliates, subsidiaries, associated companies, partners and their respective employees, make no representation or warranties to the information displayed and shall not be liable for any direct, indirect, special or consequential loss or damages incurred a result of any inaccuracies or incompleteness of the information provided, and any direct or indirect trading risks, profit, or loss arising from any individual's or client's investment.