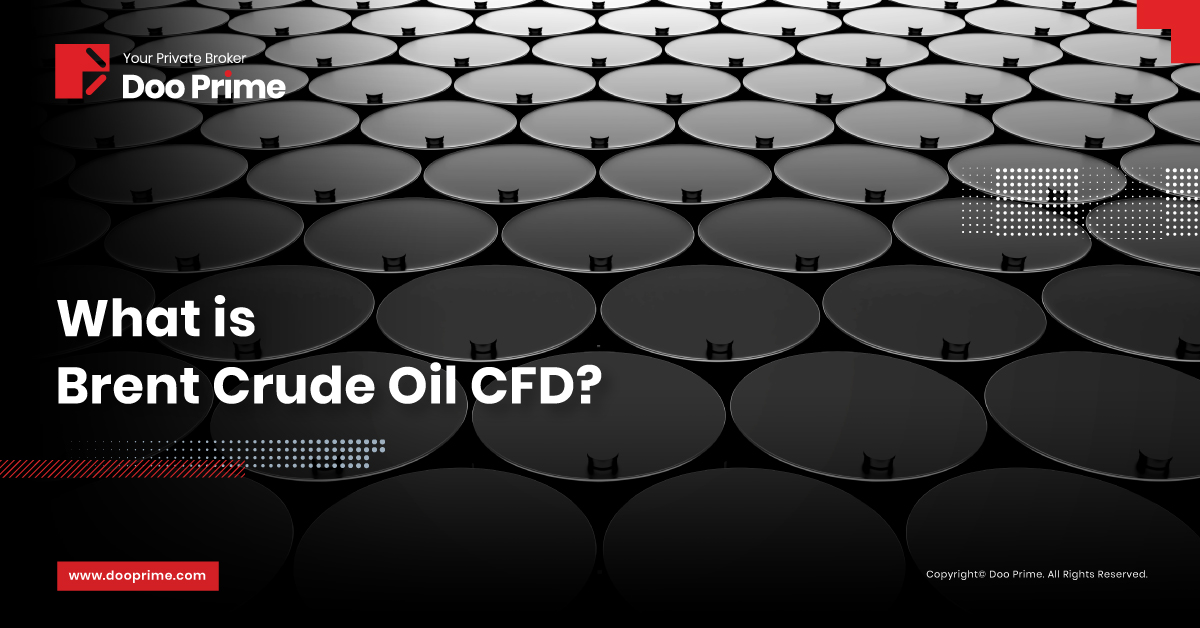 What is Brent Crude Oil CFD?

Possibly one of the most actively traded liquid commodities in the world is crude oil. There is no denying that the precious raw material has been gaining momentum as well as recognition. In this article, we take a better look at what is Brent Oil CFD all about.
The concept of trading Brent Crude Oil CFD is similar to the trading of any other instruments. In the simplest of terms, a Contract For Difference (CFD) is a bond between a trader or investor and brokers – such as Doo Prime – to trade the value of a commodity. This means that CFDs essentially enable you to trade on the changing prices of futures and options, but without buying and selling the physical products themselves.
As for Brent crude oil, it refers to oil that is produced in the Brent oil fields and other sites in the North Sea. This light sweet oil is often more preferable than heavy sour crude, as it can be easily refined into gasoline and diesel.
In addition, Brent Crude oil is noteworthy for its sensitivities to global events as well as the supply and demand chain. In fact, Brent Crude Oil is the leading benchmark for crude oil trading, and is used to define the price for two-thirds of global oil purchases. In recent years, Brent has offered a good indication of worldwide oil prices and is traded on the Intercontinental Exchange (ICE).
These factors are driving forces behind the volatility, resulting in consistent short or long-term returns when you trade Brent Crude Oil CFD.


The best way to trade Brent Crude Oil CFD

One of the easiest and most current ways to venture into trading Brent Crude Oil is via CFD.
You might be wondering, "what are the advantages of trading Brent Crude Oil CFD?" To answer, this form of trading allows traders to venture and invest in the price of Brent crude oil, and not the product itself.
Just like the 'Contract for Difference' term suggests, CFD is a kind of contract between a trader and a broker where the parties try and profit from the price difference between opening and closing the trade. The price difference between the opening and closing of the contract is essentially the value of the CFD.
Interested individuals trade CFDs through a regulated broker – such as Doo Prime – and the prices are determined on its value in the market. This way, the transaction in between will prompt whether the trade is financially rewarding, or not.
All these are why CFD trading is an attractive alternative to other forms of trading, such as spot contracts, futures, and options.


Here are some of the advantages and benefits you can enjoy when trading Brent Crude Oil CFD


Trade with little capital and amplify your profit
Advantages of trading Brent Crude Oil CFD also include the fact that it allows you to trade on margin. Through this method, the trader would only need to put down a fraction of the capital you would normally need to trade.
Competitive trading cost
The fees of CFDs are much lower as compared to the purchase of stocks. This is why trading Brent Crude Oil through CFD is considered a reasonable option to start with, as compared to other trading instruments like gold.
Benefit from both market direction
When investing in Brent Crude Oil through CFDs, you are able to benefit from trading both long and short position. What this means is that traders can either go long by waiting and selling the precious energy commodity back to the market when its value increases or go short by buying it at a lower value than before.
Around-the-clock global market access
Trading Brent Crude Oil via CFDs offer instant order execution. This means traders can instantly open or close their positions if the movement is moving either in a favorable, or unfavorable, direction. Convenience and control at your fingertips.


How to find the best broker for Brent Crude Oil CFD trading?

You'd probably by now have a better understanding of how CFD works in Brent Crude Oil trading and what benefits it offers. And now, the next question might be, "how to choose a reliable online CFD broker to start your Brent Crude Oil trading adventures?"
There are several key factors to take into account when choosing an online CFD broker. At the top of the list are the trading platforms and software used and offered, commission and spreads, regulations, as well as trading tools and features.
Take notice of these important considerations when choosing the right online brokerage platform for you to trade Brent Crude Oil on CFD.


Start trading Brent Crude Oil CFD with Doo Prime

If you are looking for a CFD broker to trade silver, look no further than Doo Prime.
Doo Prime is a reliable as well as well-regulated broker that offers a seamless experience for crude oil trading in the industry.
We are a subsidiary of Doo Group, a full-fledged financial services group that has established a strong global presence.
The global group has also obtained several international financial licenses to provide professional services that cater to traders around the world. These licenses are granted by the UK Financial Conduct Authority (FCA), the US Securities and Exchange Commission (SEC) and Financial Industry Regulatory Authority (FINRA), the Mauritius Financial Services Commission (FSC), and the Vanuatu Financial Services Commission (VFSC).
As we strictly adhere to the rules and regulations under the licenses we have acquired, traders can rest assured that their interests and funds will be safeguarded and protected as our highest priority. Rest assure that you are in safe hands.


Trade crude oil with spreads from 0.1 pips and zero commission

Doo Prime provides various crude oil products, including spot prices for crude oil (XBRUSD), and COMEX crude oil futures.
These are on top of the over 10,000+ CFD trading products that are available on our Doo Prime platform. You can choose from Forex, Precious Metal, Energy, Spot Index, Securities, and Futures to trade.
Other than providing spreads as low as 0.1 pips and zero-commission trading on all of Doo Prime products through our STP Classic Account, you can also enjoy the privilege of starting up your trade with only making an initial deposit of USD 100 that comes with a leverage of up to 1:500.


Doo Prime – The best choice for beginners and experts

Whether you are a beginner or expert, Doo Prime is equipped with all the technology, facilities, features, and tools to ensure your smooth success in trading.
Firstly, Doo Prime's order execution is one of the fastest in the market, which is of 50ms. This is made possible with the Direct Market Access (DMA) to the institutional trading market and the No Dealing Desk (NDD) function.
In addition, our MetaTrader 4 (MT4) and MetaTrader 5 (MT5) trading platforms are equipped with DMA and NDD. There are no doubt Doo Prime's cutting-edge technologies ensure all orders on our platforms will be executed without rejection and within milliseconds.


24/7/365 Global Trading

To top it all off, the Doo Prime MT4 and MT5 platforms provide automated trading systems such as Expert Advisor (EA). This useful feature is an advantage and beneficial for both new and seasoned traders. Users are able to take advantage of these automated trading systems to execute their trading strategy with continuous discipline.
These systems can help users to monitor and make the trade when the right opportunity comes. So, you can bid goodbye to missing out on any trading opportunities in the market.
Doo Prime's Virtual Private Server (VPS) is another way for you to take your automated trading to another level. This stand-alone virtual machine of ours can aid you in executing your automated trading strategy in the cloud server.
In other words, with our VPS, you can finally enjoy the convenience of 24/7/365 global trading.


Interested to find out more? Contact us via LiveChat on our website today. Or click here to sign up for an account and start trading with Doo Prime.