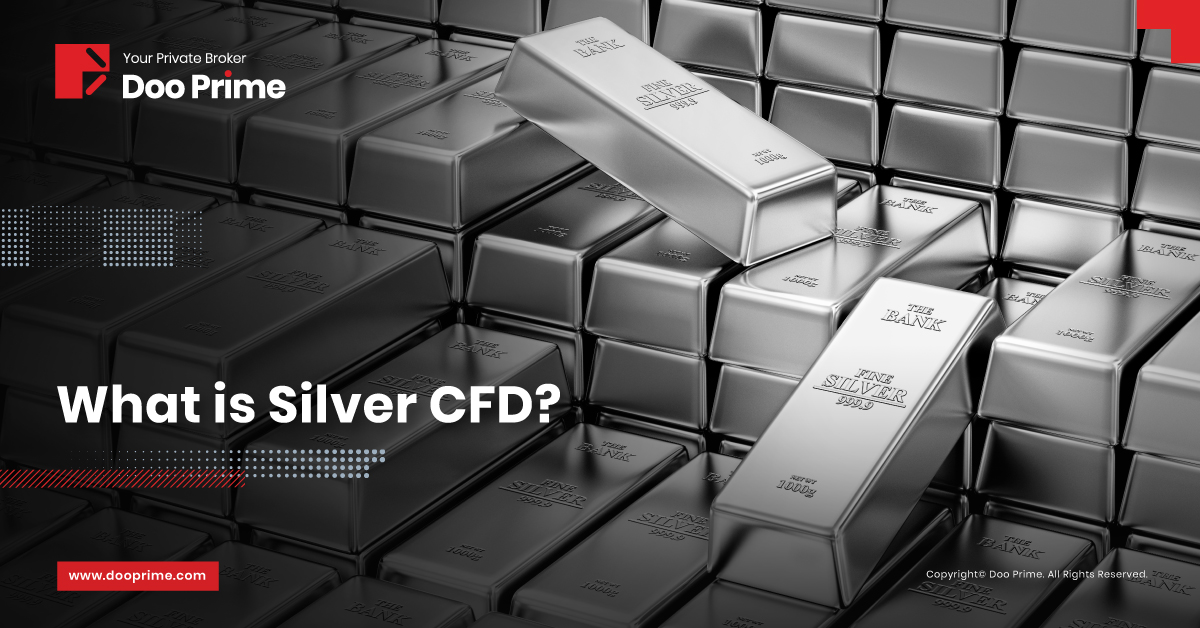 Silver CFD has been gaining momentum lately and in this article, we take a look at what is silver CFD all about. The concept of trading silver CFD is just like trading any other instruments. For those unfamiliar with how Contract For Difference (CFD) works, it is a bond between a trader or investor and us, an online broker. Through this agreement, the individual will not be trading the physical silver but its value instead. So, the financial yield comes from its price difference between the opening and the closing of the contract.
Silver has always been seen as second-tier when it comes to commodity. This explains why it is not as easy to get your hands on silver as the minimum entry is 100 units. Hence, when investing in real silver traditionally, individuals usually have to gather a considerable sum of their own capital to get any real exposure. However, if you were to trade silver through CFD, you will not have to worry about that as you can employ the use of leverage which cuts down the initial capital needed to invest.
For instance, individuals will have a harder time selling off their physical silver if the price happens to drop. On the other hand, individuals who trade silver on CFD will only have to close their position if they see the need to. Thus, individuals will not only benefit from flexibility but also minimizing the risk they are taking.
The best way to trade silver– CFD
The greatest and most current way to speculate in silver is trading via contract for difference (CFD).
CFD allows traders to venture and invest in the price of silver. Just like the term suggests, the value of CFD is the price difference between the opening and closing of the contract.
To further elaborate, individuals trade CFDs through a regulated broker like Doo Prime and the prices are determined on its value in the market. Hence, the transaction in between will prompt whether the trade is financially rewarding or not.
Trading silver CFD with Doo Prime allows you to trade on spot silver, which not many brokers offer. Spot silver is raw silver for immediate delivery at the current market prices. In this case, it is delivered through the contract. Spot silver prices are typically quoted per ounce in U.S. dollars; hence the symbol is XAGUSD. However, it is quoted by either the gram or kilo and against other currencies in certain markets.
With silver CFDs, it grants every trader to reap financial reward from a plunge in value as well as from a surge during periods of price consolidation. The main ground of trading is in the spread, which simplifies the speculating process.
Moreover, when trading CFD, individuals can employ up to 1:500 leverage, which reduces the amount invested significantly.
Plus, the majority are trading XAG CFDs as it is decently accessible and does not require traders to buy shares, ETFs, futures, or options.
Here are some of the advantages and benefits you can enjoy when trading silver CFD:
Trade with little capital and amplify your profit
Silver CFD trading grants leverage, which means traders and investors can utilize leverage and benefit from having control over a larger position with a smaller amount of capital.
Of course, leverage can work against you, and if the price had fallen you could be facing a margin call from your broker to make up your losses. Therefore, it is important that you take time to educate yourself about CFDs, and make sure that you cut your losses whenever it becomes apparent that you do not have a winning position.
Competitive trading cost
The fees of CFDs are much lower as compared to the purchase of stocks. Thus, trading silver through CFD is a moderate option to start with as compared to other trading instruments like gold.
Around-the-clock global market access
Trading silver CFDs offer instant order execution, which means traders can instantly open or close their positions if the movement is moving either in a favorable or unfavorable direction.
Benefit from both market direction
When investing in silver through trading silver CFDs, you can benefit from trading both long and short position. Therefore, traders can either go long by waiting and selling the precious metal back to the market when its value increases or go short by buying it at a lower value than before.
How to find the best broker for silver CFD trading?
Now you would have a better understanding of how CFD works in silver trading and what benefits it offers.
But you may be wondering how to choose a reliable online CFD broker to kick start your silver trading.
There are several key factors you should consider when choosing an online CFD broker. These include regulations, trading platforms and software, commission and spreads, and trading tools and features.
All these are some important considerations when choosing the right online brokerage platform for you to trade silver on CFD.
Start trading silver CFD with Doo Prime
If you are looking for a CFD broker to trade silver, look no further than Doo Prime.
Doo Prime is a well-regulated broker that offers an unrivaled experience for silver trading in the industry.
We are a subsidiary of Doo Group, a full-fledged financial services group that has established a strong global presence.
The group has also obtained multiple international financial licenses to provide professional services that cater to traders around the world.
These licenses are granted by the UK Financial Conduct Authority (FCA), the US Securities and Exchange Commission (SEC) and Financial Industry Regulatory Authority (FINRA), the Mauritius Financial Services Commission (FSC), and the Vanuatu Financial Services Commission (VFSC).
As we strictly adhere to the rules and regulations under the licenses we have acquired, traders can rest assured that their interests and funds will be safeguarded and protected as our highest priority.
Trade silver with spreads from 0.1 pips and zero commission
Doo Prime provides various silver products, including spot silver (XAGUSD), and COMEX silver futures.
These are on top of the over 10,000+ CFD trading products that we have on our platform. You can choose from Forex, Precious Metal, Energy, Indices, Securities, and Futures to trade.
Other than providing spreads as low as 0.1 pips and zero-commission trading on all of Doo Prime products through our STP Classic Account, you can also enjoy the privilege of starting up your trade with only making an initial deposit of USD 100 that comes with a leverage of up to 1:500.
Doo Prime – The best choice for beginners and experts
Whether you are a beginner or expert, we have all the technology, features, and tools to ensure your success in trading.
Doo Prime's order execution is one of the fastest in the market, which is of 50 ms.
This is thanks to the Direct Market Access (DMA) to the institutional trading market and the No Dealing Desk (NDD) function.
Our MetaTrader 4 (MT4) and MetaTrader 5 (MT5) trading platforms are equipped with DMA and NDD. Our cutting-edge technologies ensure all orders on our platforms will be executed without rejection and within milliseconds.
24/7/365 global trading
Moreover, Doo Prime MT4 and MT5 platforms are offering automated trading systems such as Expert Advisor (EA).
This feature is extremely useful for both new and seasoned traders. They can take advantage of these automated trading systems to execute their strategy with continuous discipline.
They will not be missing any trading opportunity in the market. These systems will help them to monitor and make the trade when the right opportunity arises.
You can also take your automated trading to another level with Doo Prime's Virtual Private Server (VPS). This is a stand-alone virtual machine that can execute your automated trading strategy in the cloud server.
With our VPS, you can finally enjoy the convenience of 24/7/365 global trading.
Interested to find out more? Contact us via LiveChat on our website today. Or click here to sign up for an account and start trading with Doo Prime.