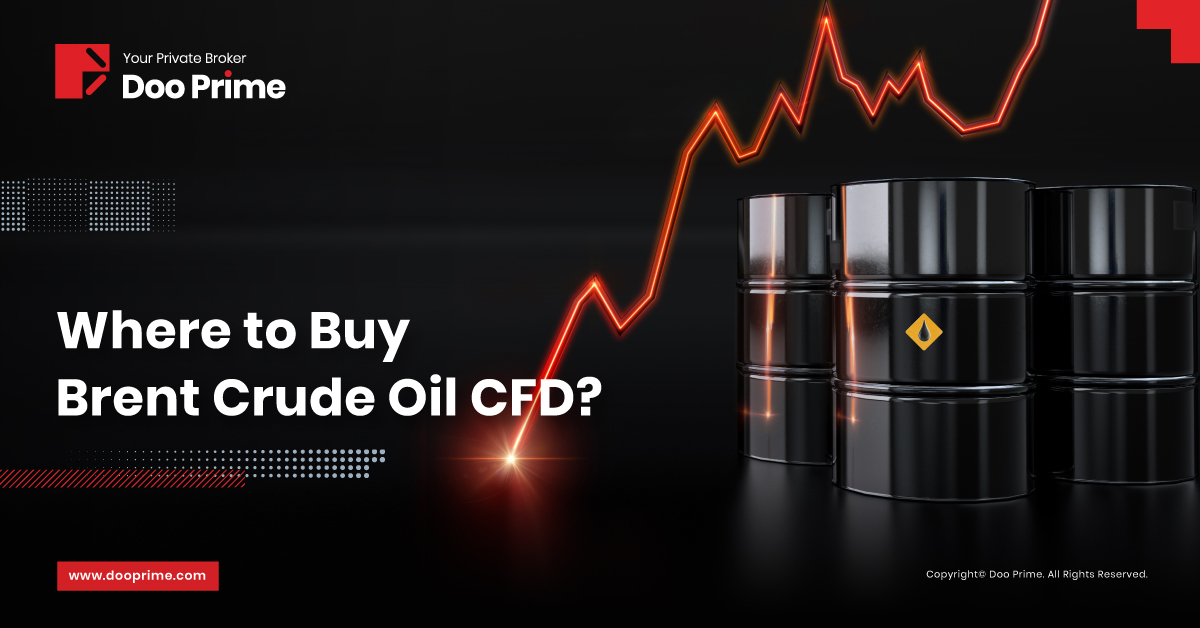 Buying Brent Crude Oil CFDs with Doo Prime

Now that we know what is Brent Crude Oil and how to buy it via a CFD (Contract for Difference), let us look at where to buy Brent Crude Oil CFD.
Brent Crude Oil is one of the most widely traded energy commodities in the world. Generally speaking, traders prefer commodities that have international linkages as they have a tendency to be far more liquid, active, and opportunistic than others.
Brent Crude Oil CFDs certainly belong in that category. In fact, Brent Crude Oil is one of the better commodities to trade because the market is incredibly active, and it is well known to traders around the world.
However, it is no secret that just like any other commodity market, crude oil markets are subject to high volatility – this includes Brent Crude Oil CFDs. There are several reasons to this volatility, namely:
They can be affected by geopolitical and weather-related developments
Every changing supply and demand
Global economic performance
Volatility is a double-edged sword: it comes with great risk of losses, but also offers potential for financial profits. Thus, it is advisable for traders to get familiar with technical analysis tools, and information that gives insight to oil trends. You can learn more about the factors that affect the trading of Brent Crude oil in our "How To Buy Brent Crude Oil CFD" article.
Another important factor that plays a huge role in your trading journey is having good knowledge on where to buy Brent Crude Oil CFDs, and its processes.


Why Buy Brent Crude Oil CFD?

First things first: understanding the many benefits of buying Brent Crude Oil CFDs. Interestingly, despite the term, "buying Brent Crude Oil CFD," the trader isn't actually purchasing Brent Crude Oil per se.
CFDs are a form of specialized financial derivative products. Essentially contracts between buyers and sellers, CFDs are a means for traders to speculate on the price difference and movement of an asset without physically owning it. When a trader purchases CFDs, they are buying a certain number of contracts on a market if they expect price to rise, and sell them should they predict falling prices.
CFDs are a form of leveraged trading, meaning that interested individuals are able to trade for a fraction of the cost of buying crude oil outright. This also means traders would not have to think about storage space, when compared to if they actually buy Brent Crude Oil. One more important information to know about CFDs is that the cost of options contracts is determined by the volatility of oil prices. Therefore, the greater the chances of a big payout at the time of the contract, the more the options premium costs.
More often than not, either party profits on the price difference of the Brent Crude Oil CFD at the end of the contract. They are a straightforward route for traders to make short-term investments, as they are based on predictions of the oil market's direction. Other advantages of buying Brent Crude Oil CFDs include:
Unparalleled and varied trading options
Options for liquidity and lower associated trading costs
There is no doubt that this is a likely trading strategy to consider when it comes to the crude oil market. So, the next step is knowing where to get this commodity.


Where To Buy Brent Crude Oil CFD?

Brent crude is generally traded on the Intercontinental Exchange (ICE). And, in regards to where to buy Brent Crude Oil CFDs, these are offered over-the-counter through licensed as well as regulated online brokers and trading platforms. This is where Doo Prime is here to help.
When choosing the CFD trading broker and platform, pay attention to certain tools and instruments offered as they can help you leverage on your trading. Specifically, here are some reliable places along with their respective professional tools for your Brent Crude Oil trades:
1) MetaTrader 4 (MT4)
This is one of the most straightforward process for traders to execute their trades. Doo Prime offers the respectable MetaTrader 4 for traders to utilize. Further enhancing this experience is Doo Prime's partnership with Trading Central. Together with this leading investment research provider, traders can enjoy professional analysis indicators, including indicators on Brent Crude Oil, and more.
2) MetaTrader 5 (MT5)
Commodities such as Brent Crude Oil are generally traded as a futures contract, meaning they have to be traded through a centralized process before ownership can change hands with full legal effect. The MT5 is useful here.
The MT5 trading platform is a better option for those who wish to plug into a centralized trading exchange. It is designed to be better equipped at handling this. Thus, making it an ideal trading tool for a commodity.
3) InTrade
Doo Prime's InTrade delivers real-time market depth and accurate trend charts, as well as professional technical analysis indicators such as Relative Strength Index (RSI), Moving Average Channel, Bollinger Band, and more.
By using InTrade, traders can better observe and understand the market. It also helps to speculate the Forex, Precious metal, Energy, Spot Index, Securities, and Futures markets.
At the end of it all, Doo Prime understands how certain tools, and being familiar with them, can help traders build consistent profits. We are committed to help make your Brent Crude Oil CFD trading journey as seamless, enjoyable, and lucrative as possible.


Trading And Buying Brent Crude Oil CFDs With Doo Prime

ith 20 years of industry experience, Doo Prime has been continuously evolving in the financial industry. We believe our extensive knowledge in the field has allowed us to master providing a prime trading platform. As a result, we have gained the loyalty of 21,000 active professional clients, 250+ institutional partners and 500+ introducing brokers.
Here at Doo Prime, we offer up 10,000+ trading products. This covers Forex, Precious Metal, Energy, Spot Index, Securities, Futures and of course, Brent Crude Oil CFD. Below are some of the benefits of trading with Doo Prime.
Trade safe: Providing a supervised trading environment is vital. We comply with the higher standards of regulations, as the safety of customer assets is our core responsibility. As such, Doo Prime is supervised under the financial service regulatory of Mauritius and Vanuatu. By the means of these licenses, we have managed to provide individuals with a safe environment for trading Brent Crude Oil CFDs, as well as other instruments.
Tech Forward: With our robust technology as core, Doo Prime promises to deliver multiple trading terminals such as MT4, MT5, TradingView, InTrade, and more. Our team of experts put forward trading systems that are backed by the latest cloud-based technology with a user-friendly interface.
Adding on to that is the fact that the Doo Prime trading platform also supports MT4 and MT5 equipped with NDD (No Dealing Desk) Mode and Direct Market Access (DMA) to the institutional-grade trading market and electronic communication network (ECN). 8 layers of market depth are offered.
Fair Trading: Last and not least, we also equip our traders with a low trading cost. Our spreads are as low as 0.1 pips and leverage of up to 1:500. Hence, trading and buying Brent Crude Oil has never been easier with Doo Prime. On top of that, our robust technology enables orders to execute at 50ms tops, without rejections and slippage.


Interested in learning more about the various benefits of trading Brent Crude Oil CFDs with Doo Prime? Click here to learn more about us and crude oil trading. Or head to our website now and sign up for an account with Doo Prime.