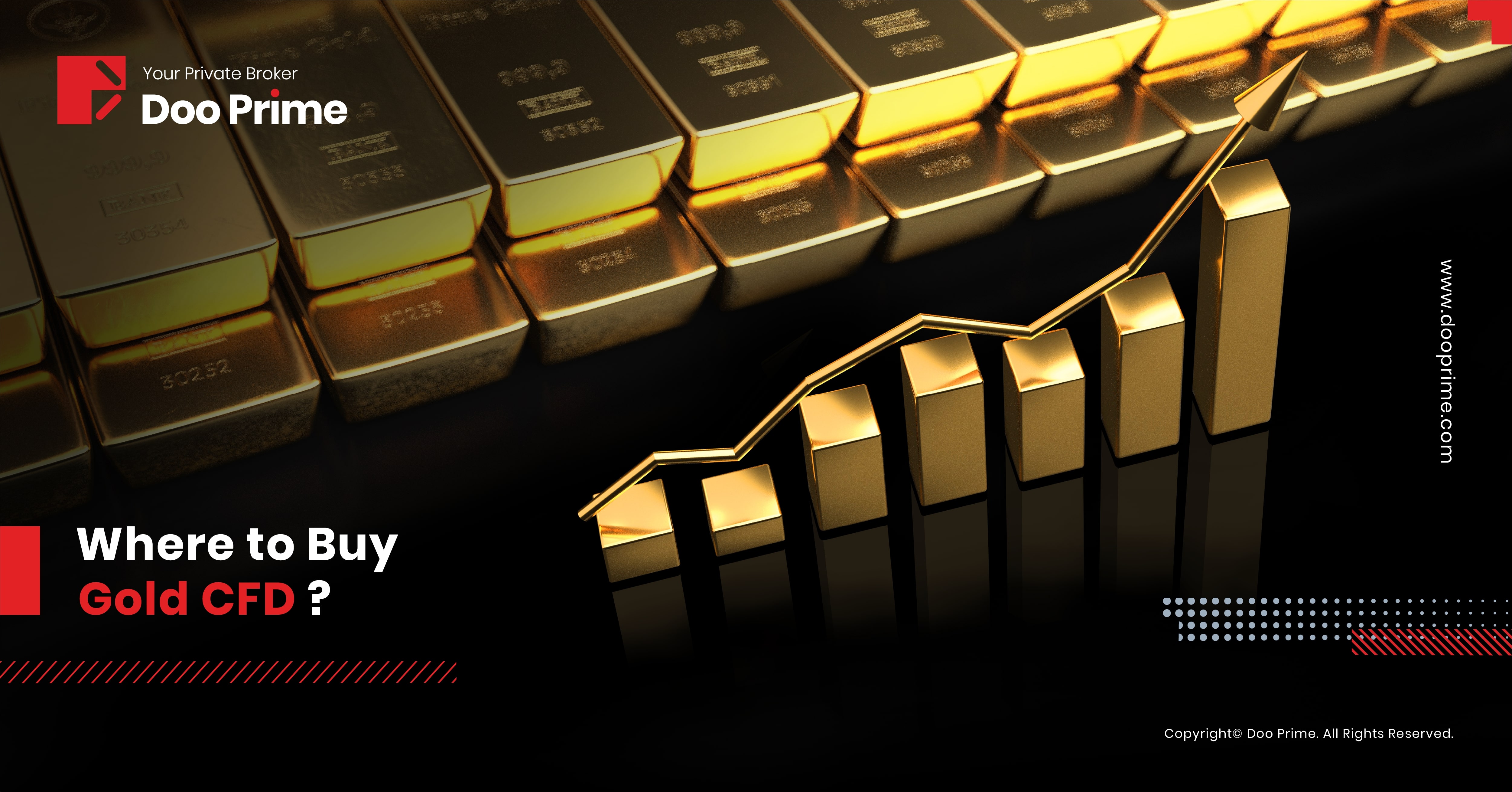 Gold is one of the hottest assets in the market that has been sought-after by traders and investors worldwide.
For investors, it's a safe-haven investment that can be used to hedge against inflation and market risk, especially during market downturns.
As for traders, the gold market is one of the most dynamic markets that offers plenty of opportunities all year round.
If you are keen to explore gold trading, you should consider trading the yellow metal via contract for difference (CFD).
CFD is one of the best ways to trade gold as it offers various advantages over many other forms of trading.
This article will guide you on where to get started in buying or selling gold CFD. You'll also find some useful tips that will help you go a long way in gold trading.


Trade gold via CFD – how to get started?
In order to start trading gold via CFD, you will need to find a reliable broker and open an account.
During the account opening process, you will need to make an initial deposit. Once the account is activated, you can access the trading platform and start buying and selling gold CFDs such as spot gold CFD and futures gold CFD.
But before you sign up with a broker, make sure you have done your research on their background and offerings.
Here are some of the important factors to consider when choosing a CFD broker:

Only choose the regulated ones
Don't just look at the fees and cost! Make sure the broker you are signing up with is a trustable company registered with financial authorities.
Compliance is crucial in the online brokerage industry. Whether a broker's being regulated or not will have a direct impact on the safety and security of your funds.
Hence, you should always go for the brokers who have obtained operating licenses from reputable financial authorities. This is because your capital invested and interest will be protected under the laws and regulations of these authorities.
Some of the globally renowned financial regulatory bodies include the UK Financial Conduct Authority (FCA), the US Securities and Exchange Commission (SEC) and Financial Industry Regulatory Authority (FINRA), the European Securities and Markets Authority (ESMA), the Securities and Exchange Surveillance Commission (SESC) of Japan, the Mauritius Financial Services Commission (FSC), and the Vanuatu Financial Services Commission (VFSC).

Check their fees and charges
Another important thing you should keep an eye on is the trading fees and charges of your broker.
This will have a direct impact on your bottom line in trading and requires close attention before you commit.
Hence, make sure you shortlist a few brokers and compare their fees and charges to find the best one.
Typically, a trader should check out three types of trading costs, namely the spread, commission, and overnight fee.
Spread – This refers to the difference between the buying and selling price of a CFD. Some brokers will offer commission-free trades and only charge a trading fee based on a percentage of the spread. In this case, the lower the spread the better as you will be able to maximize your profits.
Commission – This is a fee that your broker will charge you for using their services. Normally, it is calculated based on the traded volume, or a flat fee fixed by the broker.
Overnight fee – This is a daily interest fee that will occur when you hold a trade and keep the position open overnight. If the overnight fee is positive, you will receive an interest payment from the broker. if the rate is negative, you will need to pay a fee to the broker.

Is there a variety of choices in the product mix?
There are various gold derivatives that you can trade via CFD, including gold spot contracts, gold futures, and gold options.
These trading instruments present plenty of opportunities and benefits for those who are keen to trade in the gold market. So, make sure the one that you wish to trade is on your broker's product list.
You should also check the variety of products to see if other trading instruments are included. A good broker should be able to offer their clients a well-rounded product mix that also includes forex, precious metals, energy, spot index, securities, and futures.

How fast and stable is their order execution?
Furthermore, you should choose a broker who employs the latest technology and IT infrastructure that ensures excellent order execution.
A professional broker will execute their client's order at the best market rates and in a timely manner.
The speed of order execution is also very important, especially for day traders and scalpers. A slight delay or hiccup in the execution can result in slippage and affect your bottom line.
Hence, if you don't want to miss out on any great deals, remember to check your broker's order execution practices.

What trading platforms are they providing?
Next, remember to check out their trading platforms available for their clients. Having the right platform to trade is imperative to ensure the success of your trading.
The most preferable trading platforms in the industry are MetaTrader 4 (MT4) and MetaTrader 5 (MT5). 
The MT4 and MT5 are well-known for their flexibility and stability with highly customizable, user-friendly features.
They come with a long list of technical indicators that are extremely helpful in assisting traders in making informed decisions.
You can even install automated trading programs such as Expert Advisors in these platforms to automate your trading.


Doo Prime, a well-regulated broker trusted by +21,000 traders worldwide
Kick start your gold trading with Doo Prime and become a profitable trader with our powerful trading tools and features.
Doo Prime is a leading online brokerage player supported by professional and institutional traders around the globe.
As of February 24, 2021, Doo Prime has served more than21,000 satisfied traders and over 250+ institutional clients.
We are dedicated to providing high quality, comprehensive, and diversified solutions to empower traders in their journey in trading.


Here's why you should trade with Doo Prime:

Under the supervision of multiple financial regulators
Doo Prime is a subsidiary of Doo Group, a full-fledged financial services group with an extensive business presence worldwide. 
The group has obtained multiple licenses to offer online brokerage and other financial services from regulatory bodies in various countries.
That includes the UK Financial Conduct Authority (FCA), the US Securities and Exchange Commission (SEC) and Financial Industry Regulatory Authority (FINRA), Mauritius Financial Services Commission (FSC), and Vanuatu Financial Services Commission (VFSC).
We strictly adhere to the rules and regulations under these authorities and strive to safeguard the interest of our clients.

More than 10,000+ trading instruments 
You'll never have to worry about missing out on any opportunity with over 10,000+ trading instruments on Doo Prime.
We provide a wide range of products that caters to all level of traders. Our products include forex, precious metal (gold and silver), securities of some of the largest companies in the world, major stock indices, popular energy, and futures.
All these products come with spreads as low as 0.1 pips, which is one of the lowest in the industry. You can also enjoy swift order execution from 50ms without rejections and slippage.

MT4 and MT5 with powerful tools and features
Doo Prime's MetaTrader 4 (MT4) and MetaTrader 5 (MT5) are highly sought-after by professional and institutional traders. They come with various features and tools that will take your trading to another level.
Our MT4 and MT5 platforms support automated trading systems such as Expert Advisor (EA), which is extremely useful when it comes to global trading.
It allows traders to create their own parameters and settings to identify opportunities in the market and perform automated trading.
Coupled with our Virtual Private Server (VPS), one can enjoy 24/7/365 trading with ease. VPS is a stand-alone virtual machine that is capable of executing your automated trading strategy in the cloud server.
Furthermore, Doo Prime has partnered with renowned investment research provider Trading Central to help our clients make the best-informed decisions.
Our clients can integrate the exclusive technical analysis and indicators by Trading Central with Doo Prime's MT4 platform. Subsequently, they can capitalize on the insights and analysis and make profitable trades.


Now is the best time to trade gold!

In fact, both the near- to mid-term and long-term outlook for gold are showing promising signs for trading and investing.
This is because the liquidity of the gold market has improved significantly in 2020, according to data from the World Gold Council, Bloomberg, and major financial derivatives exchanges.
The daily trading volume of gold on exchanges, over-the-counter (OTC) trading, and exchange-traded funds (ETFs) from January 1 to November 3 this year recorded at USD 185.96 billion.
The daily trading volume during the period has increased by 27.6%, up from USD 145.71 billion in the full year of 2019.
The higher trading volume means that there is sufficient liquidity in the gold market. This allows traders and investors to enjoy lower spreads and faster order execution when buying and selling gold.
On the gold prices, many market experts are seeing more room for growth going forward.
Robert Kiyosaki, a renowned investor and author of "Rich Dad Poor Dad" said in May this year that the gold price is expected to increase to USD 3,000 in a year. This means that there may still be a huge upside to the current price level.


So, don't let this opportunity pass you by. Register an account with Doo Prime today!


Interested to find out more? Contact us via LiveChat on our website today. Or click here to sign up for an account and start trading with Doo Prime.