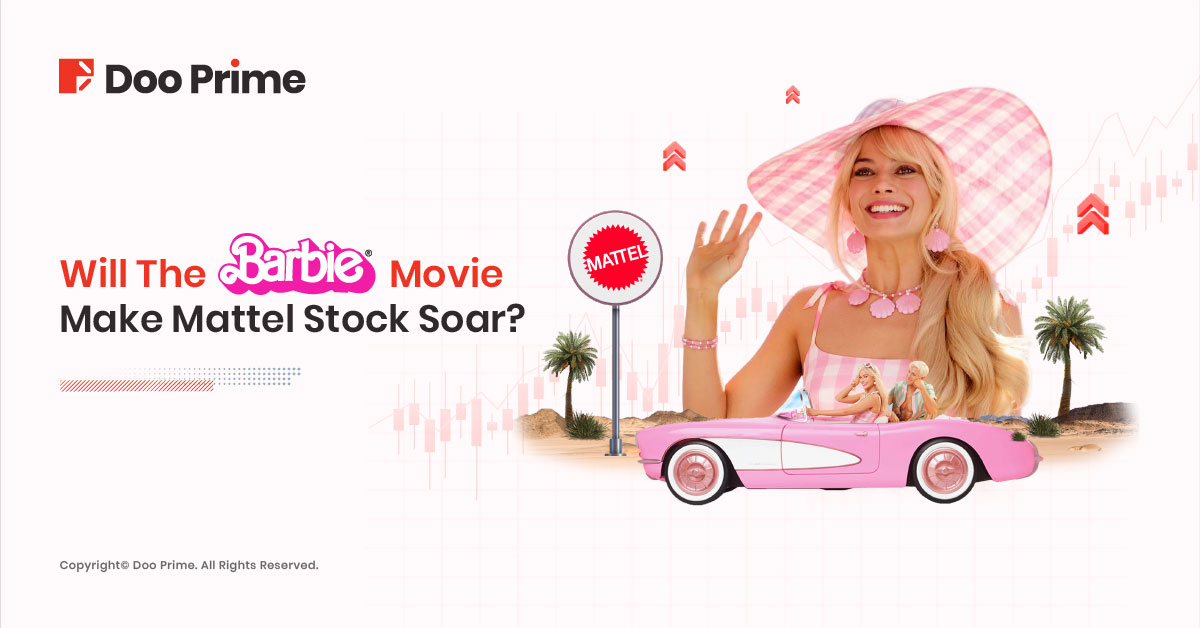 Mattel's stock price has been stagnant in recent years as the iconic doll brand has been struggling. This is mainly due to the overall economic restraints and the company's lack of innovation.
However, as the freshly premiered Barbie movie is poised to be a major box office success, investors are already piling up on Mattel's stock in anticipation of the movie's success.
Can the Barbie movie, starring Margot Robbie as Barbie and Ryan Gosling as Ken, be a game changer for Mattel stock?
Battle Of The Movies: Will Barbie Save The Day?
In the past, movies based on toys have often been successful at boosting the sales of the toys themselves. For example, the Transformer movie led to a surge in sales of Transformers toys and the Hasbro stock increased more than 100% in the next couple of years after its release.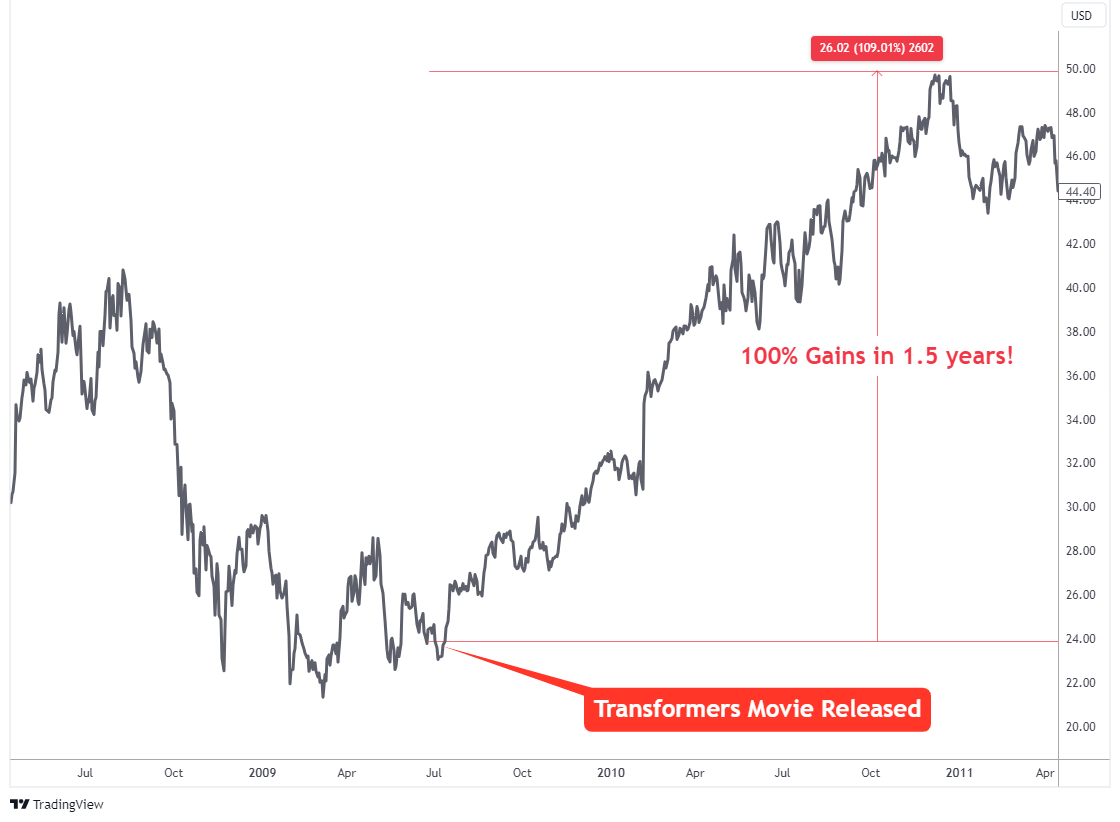 Similar scenarios were with the Toy Story movies increasing the sales of Toy Story toys, pushing the Mattel stock higher.
The Barbie movie – released on July 21st – already smashed all box office expectations with USD 155 million sales to land the biggest debut of the year. The movie is introducing the brand to a new generation of fans, and it could also generate excitement and buzz around the dolls. If Barbie continues to do well at the international box office, it could lead to an increase in sales of Barbie dolls, which could reflect in Mattel's stock price.
The opening weekend of the Barbie movie has already surpassed the USD 108 million opening weekend of Transformers: Revenge of the Fallen. At this pace, the Barbie movie has the potential to become the highest-grossing movie based on a toy of all time.
The current record holder is the Lego Movie, which grossed over USD 468 million worldwide. If the Barbie movie can continue its strong performance, it could easily surpass the Lego Movie's box office in total.
Mattel Is Back In Business
According to Yahoo! Finance, Stifel analyst Drew Crum predicted even before the movie released that Mattel's profits this year may increase by a 10-cent profit. This is reflected in the sales and profits of the demand for Barbie dolls and licensing fees earned on garments as well as other movie-related merchandise
And this projection seems to ring true.
The company is buying back its own shares for the first time in nine years, a clear sign that it is confident about its future. The stock is also trading at a bargain price historically, making it more attractive for new long-term investors.
The Barbie movie could be a game changer for Mattel's stock valuations, as analysts are anticipating that this new Barbie movie could further skyrocket global doll sales to USD 14 billion by 2027.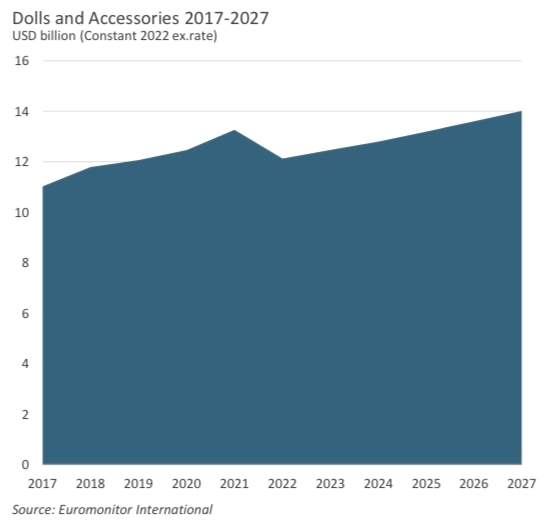 Mattel Stock Chart Analysis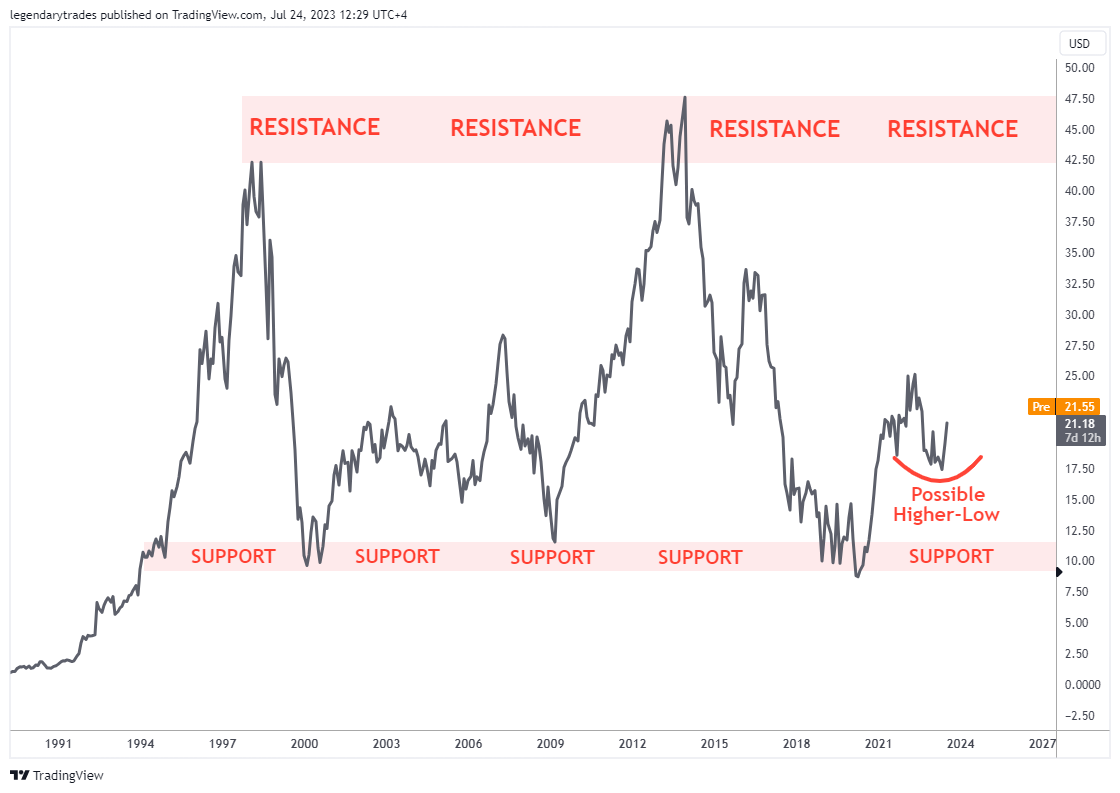 Mattel (MAT) stock chart has been trading in a long-term range between 10 and 47 for over two decades. Currently, the price sits around USD 21 per share and possibly forming a higher-low, which is a bullish price pattern, just above the bottom of this range.
If the Barbie movie is a success it could lead to a surge in Mattel stock, potentially challenging the 2022 high of USD 26. If the bulls are able to break through that resistance level, Mattel stock could be on the verge of a major breakout, potentially reaching the USD 40 resistance area.
Investors who are interested in Mattel should keep an eye on the Barbie movie's performance, as it could be a major catalyst for the company's stock price.
| About Doo Prime
Our Trading Products
Securities | Futures | Forex | Precious Metals | Commodities | Stock Indices
Doo Prime is an international pre-eminent online broker under Doo Group, which strives to provide professional investors with global CFD trading products in Securities, Futures, Forex, Precious Metals, Commodities, and Stock Indices. At present, Doo Prime is delivering the finest trading experience to more than 90,000 clients, with an average trading volume of more than USD 51.223 billion each month.
Doo Prime entities respectively holds the relevant financial regulatory licenses in Seychelles, Mauritius, and Vanuatu with operation centers in Dallas, Sydney, Singapore, Hong Kong, Dubai, Kuala Lumpur, and other regions.
With robust financial technology infrastructure, well-established partnerships, and an experienced technical team, Doo Prime boasts a safe and secure trading environment, competitive trading costs, as well as deposit and withdrawal methods that support 20+ different currencies. Doo Prime also incorporates 24/7 multilingual customer service and extremely fast trade execution via multiple industry-leading trading terminals such as MT4, MT5, TradingView, and Doo Prime InTrade, covering over 10,000 trading products.
Doo Prime's vision and mission are to become a financial technology-focused broker, streamlining international global financial products investment.
For more information about Doo Prime, please contact us at:
Phone:
Europe: +44 11 3733 5199
Asia: +852 3704 4241
Asia – Singapore: +65 6011 1415
Asia – China: +86 400 8427 539
E-mail:
Technical Support: [email protected]
Account Manager: [email protected]
Forward-looking Statements
This article contains "forward-looking statements" and may be identified by the use of forward-looking terminology such as "anticipate", "believe", "continue", "could", "estimate", "expect", "hope", "intend", "may", "might", "plan", "potential", "predict", "should", or "will", or other variations thereon or comparable terminology. However, the absence of such terminology does not mean that a statement is not forward-looking. In particular, statements about the expectations, beliefs, plans, objectives, assumptions, future events, or future performance of Doo Prime will be generally assumed as forward-looking statements.
Doo Prime has provided these forward-looking statements based on all current information available to Doo Prime and Doo Prime's current expectations, assumptions, estimates, and projections. While Doo Prime believes these expectations, assumptions, estimations, and projections are reasonable, these forward-looking statements are only predictions and involve known and unknown risks and uncertainties, many of which are beyond Doo Prime's control. Such risks and uncertainties may cause results, performance, or achievements materially different from those expressed or implied by the forward-looking statements.
Doo Prime does not provide any representation or warranty on the reliability, accuracy, or completeness of such statements. Doo Prime is not obliged to provide or release any updates or revisions to any forward-looking statements.
Risk Disclosure
Trading in financial instruments involves high risks due to the fluctuation in the value and prices of the underlying financial instruments. Due to the adverse and unpredictable market movements, large losses exceeding the investor's initial investment could incur within a short period of time. The past performance of a financial instrument is not an indication of its future performance. Investments in certain services should be made on margin or leverage, where relatively small movements in trading prices may have a disproportionately large impact on the client's investment and client should therefore be prepared to suffer significant losses when using such trading facilities.
Please make sure you read and fully understand the trading risks of the respective financial instrument before engaging in any transaction with Doo Prime's trading platforms. You should seek independent professional advice if you do not understand any of the risks disclosed by us herein or any risk associated with the trade and investment of financial instruments. Please refer to Doo Prime's Client Agreement and Risk Disclosure and Acknowledgement Notice to find out more.
Disclaimer
This information is addressed to the general public solely for information purposes and should not be taken as investment advice, recommendation, offer, or solicitation to buy or sell any financial instrument. The information displayed herein has been prepared without any reference or consideration to any particular recipient's investment objectives or financial situation. Any references to the past performance of a financial instrument, index, or a packaged investment product shall not be taken as a reliable indicator of its future performance. Doo Prime and its holding company, affiliates, subsidiaries, associated companies, partners and their respective employees, make no representation or warranties to the information displayed and shall not be liable for any direct, indirect, special or consequential loss or damages incurred a result of any inaccuracies or incompleteness of the information provided, and any direct or indirect trading risks, profit, or loss arising from any individual's or client's investment.