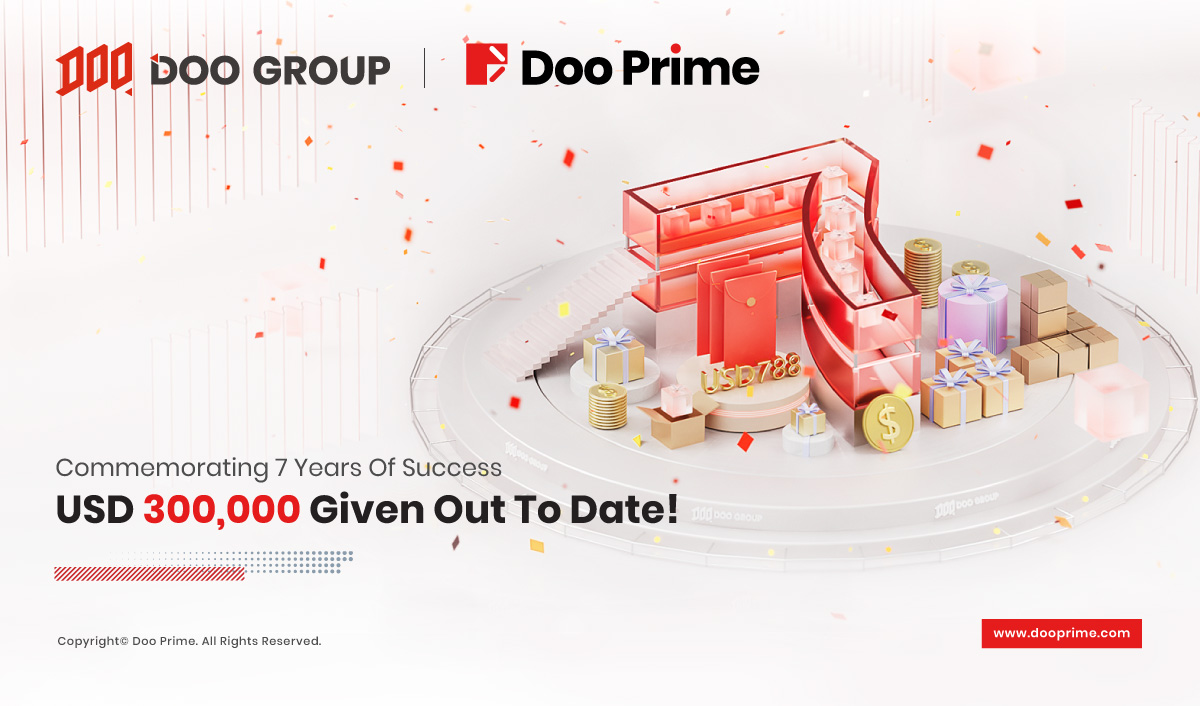 Since the launch of Doo Group's "7th Anniversary Giveaway" campaign on 10th November, the Group has been rewarding our supportive global clients with generous rewards – thanks to overwhelming participation from clients across nearly all regions of the world.
To date, a total of USD300,000+ appreciation rewards have been given away to our loyal clients! Each reward given is filled with the Group's gratitude, and Doo Prime looks forward to continuing to work with our clients to create a better trading future unitedly!
The campaign will end on 1st January 2022. So, we would like to extend an invitation to all new and existing clients to participate, and not miss out on exclusive and limited-time bonuses that will be given out on the upcoming "Double 12 Celebration."  This includes:  
Send In Your Wishes & Get A Mystery Gift
Congratulate Doo on our anniversary and get a mystery gift from us! Just send in your wishes and blessings for Doo via the event page, and on every Wednesday, 3 lucky clients will be randomly selected to win USD77 each! The more wishes you send in, the higher chance you stand in winning.
Trading Bonus  
Individuals who deposit USD 1,000 or more, and trade 1 lot, will receive a bonus during this promotion period. You can get up to USD788 bonus!  
The more you trade, the more bonuses you will be able to enjoy – there is no limit! 
Limited-Time Bonus 
New and existing clients who log in to this event page at the following designated times will receive a limited-time bonus! Quantity will be limited so, first come, first served!
Double 12 Celebration
December 12, 2021 00:00 – December 13, 01:00   (Starting Soon!)
New Year's Celebration 
December 31, 2021, 23:00 – January 1, 2022, 01:30 


Please visit the official event page to find out more: 
dooprimeoffer.com/7years/en


Terms and Conditions apply.

| About Doo Prime
Doo Prime is an international pre-eminent online broker under Doo Group with operation centers in Dallas, Singapore, Hong Kong, Kuala Lumpur, and other regions. Our main ethos is to provide professional investors with global financial instruments (CFDs) on our trading platform.
Doo Prime holds the financial regulatory licenses in Mauritius and Vanuatu, which has granted us the opportunity to deliver the finest trading experience to more than 30,000 professional clients, alongside managing a massive trading volume of over 5 million dollars monthly.
By the virtue of robust technological innovation put forward by the group, Doo Prime has achieved seamless connection with the global trading market, providing thousands of CFD products on multiple trading terminals such as MT4, MT5, Doo Prime InTrade, TradingView, and more, covering Forex, Precious Metal, Energy, Index, Securities and Futures, allowing clients to invest globally with one click.
With a solid vigorous group background, competitive trading cost, convenient deposit and withdrawal methods, plus 24/7 multilingual customer service, Doo Prime is committed to become your private veteran broker.

For more information about Doo Prime, please contact us at:
Phone:
Europe: +44 11 3733 5199
Asia: +852 3704 4241
Asia – China: +86 400 8427 539
E-mail:
Technical Support: [email protected]
Sales Representative: [email protected]
Risk Disclosure
Trading in financial instruments involves a high degree of risk due to fluctuations in the value and price of the underlying financial instruments. Due to the adverse and unpredictable market movements, large losses exceeding the investor's initial investment could incur within a short period of time. The past performance of a financial instrument is not an indication of its future performance.
Please make sure you read and fully understand the trading risks of the respective financial instrument before engaging in any transaction with us. You should seek independent professional advice if you do not understand the risks disclosed by us herein.
Disclaimers
This information is for general information purposes only and is intended for general information purposes only and should not be considered as any investment advice, recommendation, offer, solicitation or invitation to buy or sell any financial instruments. The information shown herein has been prepared without reference to or consideration of the investment objectives or financial situation of any particular recipient. Any reference to the past performance of a trading product, index or packaged trading products should not be considered a reliable indicator of its future performance. Doo Prime makes no representations or warranties with respect to the information displayed and shall not be liable for any direct or indirect loss or damage arising from any inaccuracies and incompleteness of the information provided. Doo Prime shall not be liable for any loss or damages as a result of any direct or indirect trading risks, losses or gains associated with any individual's investment.