The first round of the S3 #DooTrader Charity Cup Global Trading Competition has concluded successfully. To this end, the second round of the competition will officially kickstart on 7th November 2022 and everyone is encouraged to take part regardless if you were a previously performing contestant or a new-round competitor. With a generous prize pool of USD159,000, we look forward to seeing all participants compete at the top of their game.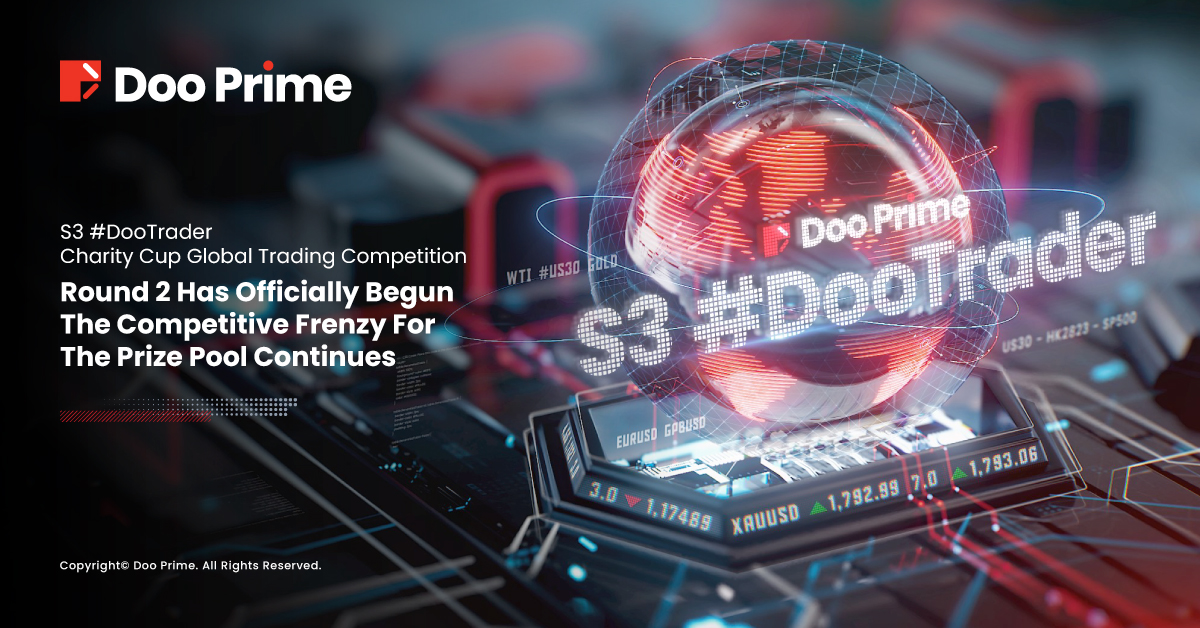 The Champion Of Round 1 Triumphed With A High Yield Of Nearly 900%
In this year's first round of competition, Doo Prime hosts more than 5,000 accounts competing from all over the world, with two competing categories: Master and Classic.
The TOP 10 competitors from these two groups, 20 in total, have won themselves a total of USD79,500 in prize money.
The winner of the Master Group, Jeon Ji YXXX, and Classic Group, Liao XXX attained first place with 329% and 875% yields respectively with excellent position management and capital allocation.
We are thrilled with the outstanding performance along with the diverse trading styles exhibited by the contestants in the first round. In this event, we believe that this will greatly boost the competitiveness of the round 2 – S3 #DooTrader Charity Cup Global Trading Competition, which starts today!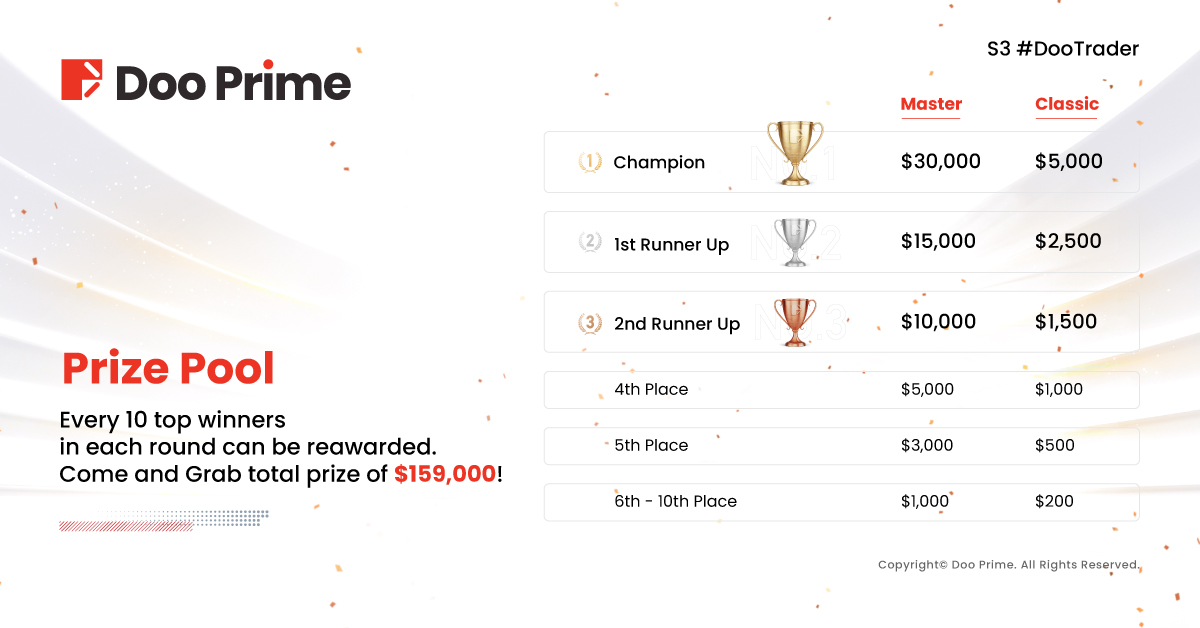 Apart from providing a stage for traders to showcase their skills and winning cash prize, the S3 #DooTrader Charity Cup Global Trading Competition carries a charitable cause.
For every lot traded by a participant, Doo Prime will donate 10 times the regular amount – USD0.1 – to support the education of underprivileged children around the world, helping to improve their learning and living conditions.
While we realize our own ideals and values, we hope to create a better nurturing environment for the next generation. In support of this cause, we encourage all #DooTrader to contribute to the development of education for the younger generation.


Take On The Challenge! The Competition Registration Is Still Open
Our second round of the competition will run from 7th November 2022 at 00:00:00 to 14th December 2022 at 23:59:59 (+0). Both new and existing competitors can register for the competition in the following four steps. The deadline for the second round registration will be on 1st December 2022 at 23:59:59 (+0).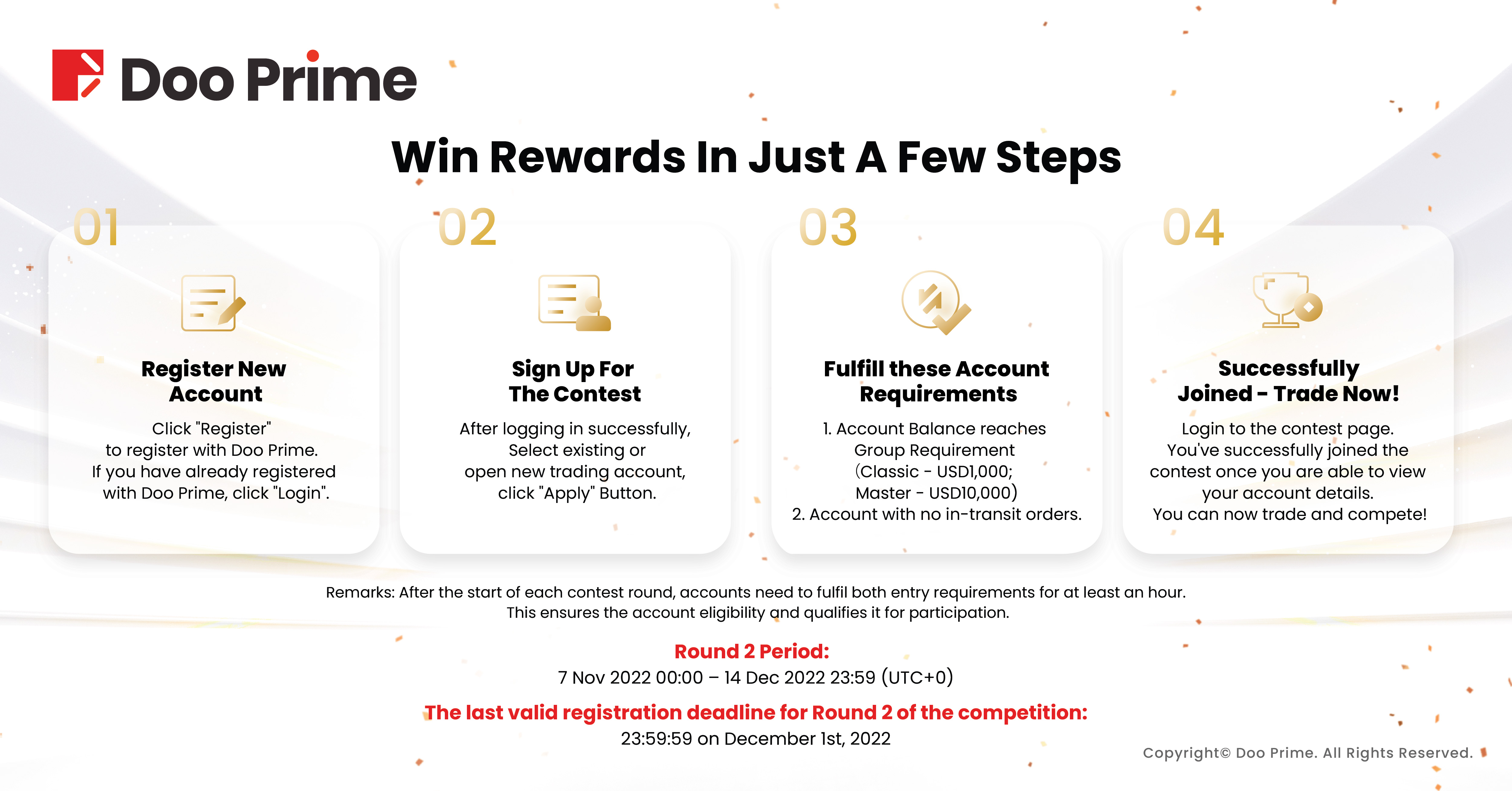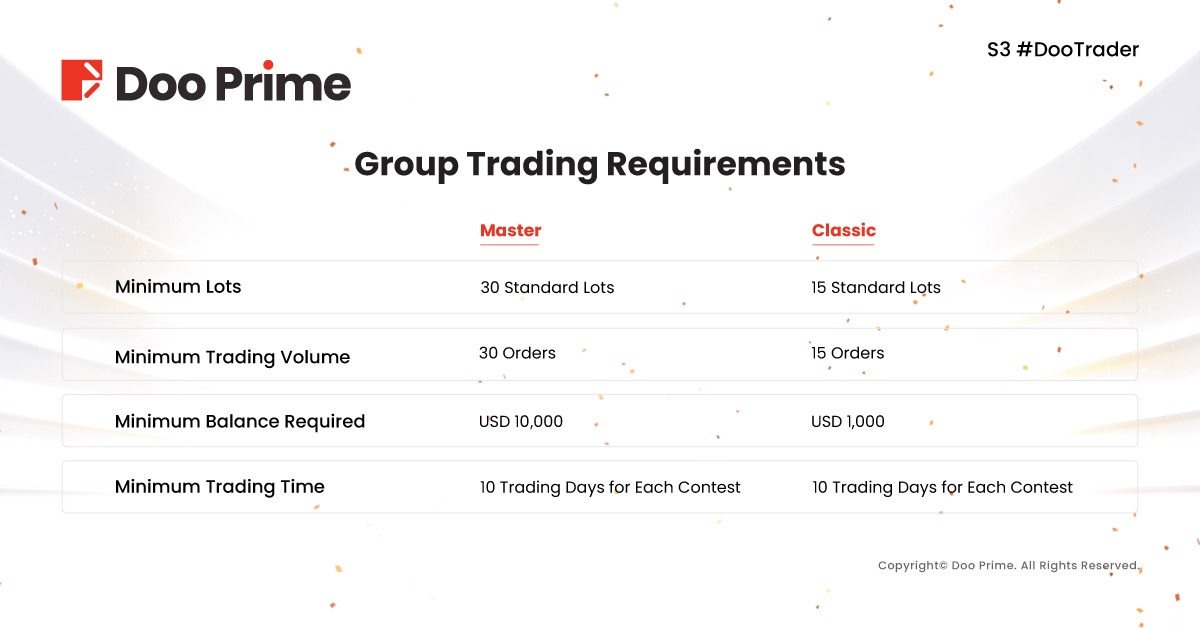 Please ensure that upon successful registration, you must meet the following 2 requirements to successfully qualify for the competition:
1. Balance meets the minimum requirement (Master USD10,000; Classic USD1,000)
2. There are no pending/in-transit order in the registered account
Remarks: After the start of each round, if an account does not meet the minimum balance requirement for the category, or if there are open orders in the account, the system will not calculate the trading data. The data will not be counted until ONE HOUR after the account has met both of the above mentioned conditions.
For more information, please contact your one-on-one account manager or reach out from our official customer service website.


S3 #DooTrader Charity Cup Global Trading Competition adheres to the principle of creating a networking and exchange event for traders from all over the world.
This competition is organized with the intention of establishing a platform for international traders to show their strengths and realize their values, as well as sharing the spirit of charity around the world.
Here, we would like to wish the participants of this year's competition to achieve brilliant results in the second round, realize their investment ideals, pass on their trading experience, as well as share diverse cultures and positive energy. Let us jointly complete this wonderful and enthusiastic trading journey together.
For more information about the event or to register your entry, please visit DooTrader.com.


| About Doo Prime
Our Trading Instruments
Securities | Futures | Forex | Precious Metals | Commodities | Stock Indices
Doo Prime is an international pre-eminent online broker under Doo Group, which strives to provide professional investors with global CFD trading products in Securities, Futures, Forex, Precious Metals, Commodities, and Stock Indices. At present, Doo Prime is delivering the finest trading experience to more than 60,000 professional clients, with an average trading volume of more than USD51.223 billion each month.
Doo Prime entities respectively holds the relevant financial regulatory licenses in Seychelles, Mauritius, and Vanuatu with operation centers in Dallas, Sydney, Singapore, Hong Kong, Dubai, Kuala Lumpur, and other regions.
With robust financial technology infrastructure, well-established partnerships, and an experienced technical team, Doo Prime boasts a safe and secure trading environment, competitive trading costs, as well as deposit and withdrawal methods that support 10 different currencies. Doo Prime also incorporates 24/7 multilingual customer service and extremely fast trade execution via multiple industry-leading trading terminals such as MT4, MT5, TradingView, and InTrade, covering over 10,000 trading products.
Doo Prime's vision and mission are to become a financial technology-focused broker, streamlining international global financial products investment.
For more information about Doo Prime, please contact us at:
Phone:
Europe : +44 11 3733 5199
Asia : +852 3704 4241
Asia – Singapore: +65 6011 1415
Asia – China : +86 400 8427 539
E-mail:
Technical Support: [email protected]
Account Manager: [email protected]

Forward-looking Statements
This article contains "forward-looking statements" and may be identified by the use of forward-looking terminology such as "anticipate", "believe", "continue", "could", "estimate", "expect", "hope", "intend", "may", "might", "plan", "potential", "predict", "should", or "will", or other variations thereon or comparable terminology. However, the absence of such terminology does not mean that a statement is not forward-looking. In particular, statements about the expectations, beliefs, plans, objectives, assumptions, future events, or future performance of Doo Prime will be generally assumed as forward-looking statements.
Doo Prime has provided these forward-looking statements based on all current information available to Doo Prime and Doo Prime's current expectations, assumptions, estimates, and projections. While Doo Prime believes these expectations, assumptions, estimations, and projections are reasonable, these forward-looking statements are only predictions and involve known and unknown risks and uncertainties, many of which are beyond Doo Prime's control. Such risks and uncertainties may cause results, performance, or achievements materially different from those expressed or implied by the forward-looking statements.
Doo Prime does not provide any representation or warranty on the reliability, accuracy, or completeness of such statements. Doo Prime is not obliged to provide or release any updates or revisions to any forward-looking statements.
Risk Disclosure
Trading in financial instruments involves high risks due to the fluctuation in the value and prices of the underlying financial instruments. Due to the adverse and unpredictable market movements, large losses exceeding the investor's initial investment could incur within a short period of time. The past performance of a financial instrument is not an indication of its future performance. Investments in certain services should be made on margin or leverage, where relatively small movements in trading prices may have a disproportionately large impact on the client's investment and client should therefore be prepared to suffer significant losses when using such trading facilities.
Please make sure you read and fully understand the trading risks of the respective financial instrument before engaging in any transaction with Doo Prime's trading platforms. You should seek independent professional advice if you do not understand any of the risks disclosed by us herein or any risk associated with the trade and investment of financial instruments. Please refer to Doo Prime's Client Agreement and Risk Disclosure and Acknowledgement Notice to find out more.
Disclaimer
This information is addressed to the general public solely for information purposes and should not be taken as investment advice, recommendation, offer, or solicitation to buy or sell any financial instrument. The information displayed herein has been prepared without any reference or consideration to any particular recipient's investment objectives or financial situation. Any references to the past performance of a financial instrument, index, or a packaged investment product shall not be taken as a reliable indicator of its future performance. Doo Prime and its holding company, affiliates, subsidiaries, associated companies, partners and their respective employees, make no representation or warranties to the information displayed and shall not be liable for any direct, indirect, special or consequential loss or damages incurred a result of any inaccuracies or incompleteness of the information provided, and any direct or indirect trading risks, profit, or loss arising from any individual's or client's investment.