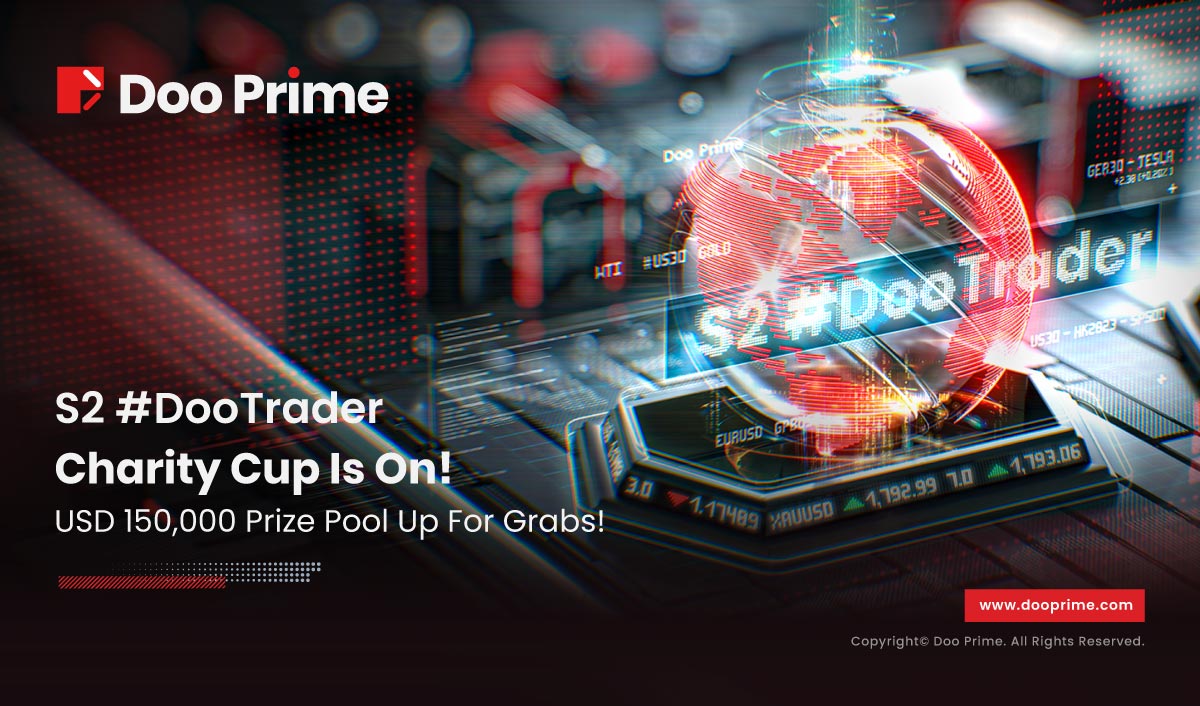 Register Now And Compete For Amazing Prizes
2021 has been a turbulent year, what with the prolonged ongoing pandemic, rising inflation, swings in the market, and so forth. Were you able to navigate through all that and prove yourself as a skilled top trader?

Calling all traders to take part in Season 2 of the #DooTrader Charity Cup Global Trading Competition!
Doo Prime is proud to announce the return of their global trading competition, and invite top traders around the world to participate as registrations are officially open.
This is a global trading event not to be missed. Not only do you get to showcase your trading expertise and stand a chance to take home cash prizes, you would also be contributing to a good cause.


A Global Philanthropy Trading Contest
The S2 #DooTrader Charity Cup Global Trading Competition features an upgraded contest package: it now offers 6 global trading products as well as 10,000 investment hotspots in 1 contest – all of which will enable traders to allocate their funds flexibly, and maximize investment benefits.
In addition, the competition will be divided into two stages (Round 1 and Round 2) and the Grand Finals, where participants can compete in either the Classic or Master categories.
This trading competition also continues the charity concept of the first season. For every trade made by the contestants, Doo Prime will donate USD 0.1 to support the education of poor children around the world. We are convinced that knowledge can change destinies – so let us bring hope to the next generation with #DooTrader.


Exciting Prizes And Awards Await
Returning after overwhelming support from the contestants last year, this year's event features exciting revamps. In this season, winners in each round and the grand final will take home a cash prize in total of up to USD150,000!
On the other hand, those who know good traders can consider the contest's 'Win With Friends' Referral Bonus. If you successfully invite a friend to participate, you will be entitled to a USD 12 dollars rebate, no limit is set, so you can win together with your friend!


Will You Be The Next #DooTrader Star?
All #DooTraders will not only be rewarded with cash prizes, but will also be commended for their participation and efforts! Top performers are invited for an in-depth interview and share their trading secrets – your achievements will be showcased on a global stage!
Here is how you can participate in the S2 #DooTrader Charity Cup Global Trading Competition:
Clients to access the contest page (DooTrader.com)
If you are an existing Doo Prime customer, you can login directly by clicking on "Login". If you are a new customer, please click "Join Now".
After the new customer completes the personal information and opens the account successfully, click the banner on the home page of User Center to open the MT4 account for the contest.
Please select "Classic" or "Master" to enter the contest.
Please make a deposit according to the minimum deposit requirement of your participating group. The minimum initial deposit requirement is 2,000 USD for the Classic Category and 10,000 USD for the Master Category.
Once you have successfully deposited, you will be eligible to participate.
The first round of the competition will start on October 18, 2021, at 00:00 UTC (8:00 a.m. GMT) and we look forward to seeing you an ultimate #DooTrader!
For more details, please refer to the contest event page at DooTrader.com.


About #DooTrader Charity Cup – Global Trading Competition:
The #DooTrader Charity Cup – Global Trading Competition is organized by Doo Prime with the aim of "improving the quality of the industry and spreading the right trading philosophy", believing that a positive attitude towards investment will bring sustainable and good returns. We also hope to provide a fair and impartial stage for traders to get in touch with more high-quality international financial products and discover new patterns of global trading through a superior trading environment.


Terms and Conditions Apply. For more details, visit the contest website DooTrader.com.


Forward-Looking Statements
This document contains "forward-looking statements" and can be identified by the use of forward-looking terminology such as "expects", "believes", "continues", "may", "may", "may", "may", "may" and "may". ", "may", "estimates", "expects", "hopes", "intends", "intends", "intends", "intends", "intends", "intends", "intends", "intends", "intends", "intends", "intends". "intend", "plan", "potential", "predict", should" or "will" or other similar form or similar terminology, but the absence of such terminology does not mean that a statement is not forward-looking and, in particular, statements regarding Doo Prime's expectations, beliefs, plans, objectives, assumptions, future events or future performance are generally considered to be Forward-looking statements.
Doo Prime provides these forward-looking statements based on all current information available to Doo Prime and Doo Prime's current expectations, assumptions, estimates and projections. Although Doo Prime believes that these expectations, assumptions, estimates and projections are reasonable, these forward-looking statements are only projections and involve known and unknown risks and uncertainties, many of which are beyond Doo Prime's control. Such risks and uncertainties could cause results, performance or achievements to be materially different from those expressed or implied by the forward-looking statements.
Doo Prime does not provide any representations or warranties as to the reliability, accuracy or completeness of such statements, and Doo Prime undertakes no obligation to provide or publish updates or revisions to any forward-looking statements.


Risk Disclosure
Trading in financial instruments involves a high degree of risk due to fluctuations in the value and price of the underlying financial instruments. Due to the adverse and unpredictable market movements, large losses exceeding the investor's initial investment could incur within a short period of time. The past performance of a financial instrument is not an indication of its future performance.
Please make sure you read and fully understand the trading risks of the respective financial instrument before engaging in any transaction with us. You should seek independent professional advice if you do not understand the risks disclosed by us herein.


Disclaimers
This information is for general information purposes only and is intended for general information purposes only and should not be considered as any investment advice, recommendation, offer, solicitation or invitation to buy or sell any financial instruments. The information shown herein has been prepared without reference to or consideration of the investment objectives or financial situation of any particular recipient. Any reference to the past performance of a trading product, index or packaged trading products should not be considered a reliable indicator of its future performance. Doo Prime makes no representations or warranties with respect to the information displayed and shall not be liable for any direct or indirect loss or damage arising from any inaccuracies and incompleteness of the information provided. Doo Prime shall not be liable for any loss or damages as a result of any direct or indirect trading risks, losses or gains associated with any individual's investment.