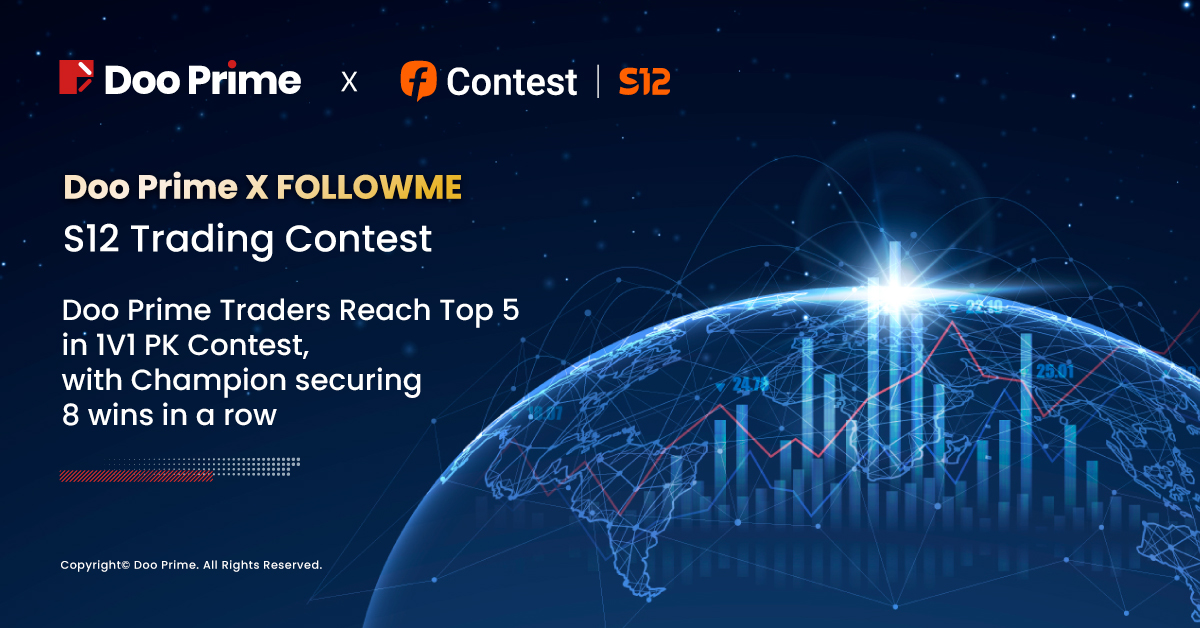 Doo Prime has always been committed to providing quality and efficient services to its users and hopes to enhance their trading experience through the FOLLOWME S12 Trading Contest. In being part of the competition, Doo Prime aims to facilitate knowledge exchange and strategy sharing among investors. At present, the FOLLOWME S12 Trading Contest is already halfway through, with contestants fiercely competing for the coveted championship title and generous rewards.
The contest has become increasingly intense, with over 590 Doo Prime participants joining the FOLLOWME S12 trading contest as of May, marking an 84% increase compared to the previous month. Doo Prime participants have not only achieved remarkable results in the overall rankings but also demonstrated exceptional performance in the 1V1 PK matches. Currently, three Doo Prime participants have secured their positions in the top five of the 1V1 PK matches, showcasing their exceptional skills and determination.
With the continuous interest rate hikes by the Federal Reserve, concerns over bank bankruptcies, and the issue of the US debt ceiling, market risk aversion has increased, leading to ongoing volatility. Despite that, Doo Prime participants have skillfully navigated this turbulent market, capitalizing on highly volatile instruments and seizing profitable opportunities. As of May, 36% of participants preferred trading XAU/USD, achieving exceptional results and earning competition rewards.
Intense Battles in the Evenly Matched 1V1 PK Point-Based Tournament
To enhance the competition with exhilaration and enjoyment, the FOLLOWME S12 season offers not only rewards for the overall leaderboard and monthly rankings but also a prize pool for the 1V1 PK tournament. Currently, the total prize pool for the 1V1 PK tournament has exceeded USD 2,800, and it will increase with more participants, reaching a maximum cap of USD 7,000. At the end of the competition, the prize pool will be distributed among participants based on their accumulated points. We look forward to seeing Doo Prime participants maintain their advantage and achieve fruitful results in the PK tournament!
In the 1V1 PK tournament, Doo Prime trader @慢慢鸽 has taken a commanding lead with an impressive record of 8 consecutive wins and a total of 208 points, earning the current champion title and a share of the prize pool exceeding USD 600. Trader @会交易的啵啵 holds the fourth position in the PK tournament, with a record of 4 consecutive wins and a total of 92 points, currently earning USD 390. Following closely in fifth place is trader @饮水思源WD with 3 wins and a total of 60 points, currently awarded USD 190.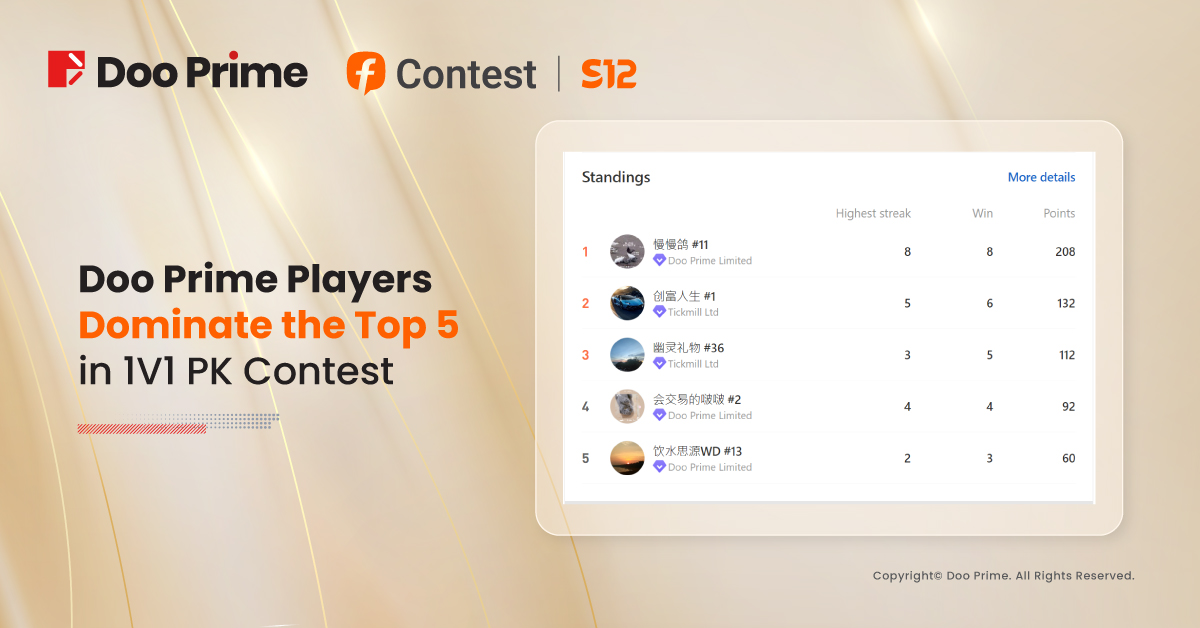 May Results Review: Who Claimed The Championship On The Monthly Leaderboard?
With the arrival of June, the monthly results of the FOLLOWME S12 Competition for May have also been released. Doo Prime, as the diamond sponsor of this S12 trading contest, will distribute over USD 500 in bonuses each month among the top three performers on the leaderboard.
Congratulations to trader @抓鱼的猫 for capturing the championship of Doo Prime's May leaderboard with an impressive profit rate of 817.61%. Trader @孙大哥 also showed outstanding performance by accumulating over USD 18,000 in net profits, securing second place on the monthly leaderboard. Simultaneously, we would like to congratulate trader @枫一样的男子 for achieving third place on Doo Prime's monthly leaderboard with a net profit of USD 715.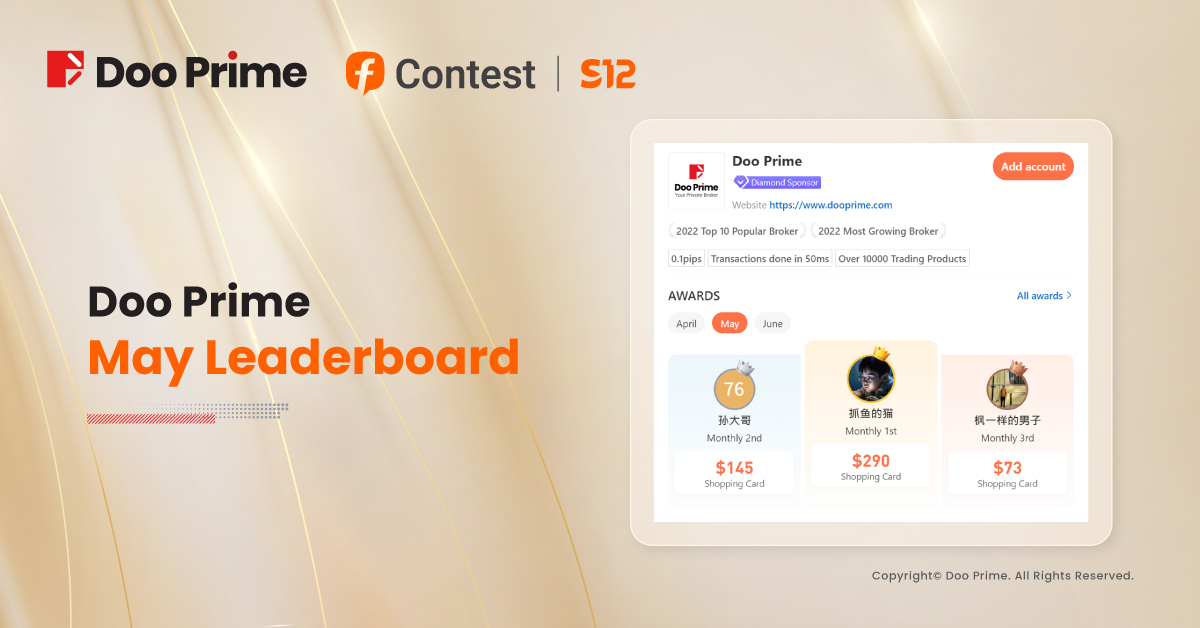 Doo Prime is once again sponsoring and participating in the FOLLOWME trading contest, proudly standing as a diamond sponsor of this edition. The core objective of our participation and the competition is to discover more outstanding traders and disseminate quality trading strategies through the industry's professional trading contest. Ultimately, bringing cutting-edge trading experience to investors in the industry.
We sincerely appreciate the support and trust of the participants towards Doo Prime. A big congratulations to all winners and we wish Doo Prime contestants all the best of luck in the competition!
Grab Your Chance To Win Double Rewards As The Competition Draws To A Close
The FOLLOWME S12 trading contest will come to a close on July 3, 2023, meaning there is less than a month left in the competition. We urge all Doo Prime participants to seize this final opportunity and give it their all – showcase your trading skills and compete for a share of the USD 55,000 total prize pool and additional rewards provided by Doo Prime. We look forward to seeing your outstanding performance on the overall leaderboard and meeting you at the pinnacle of success!
Click here to learn more details: https://www.followme.vip/contest
| About Doo Prime
Our Trading Products
Securities | Futures | Forex | Precious Metals | Commodities | Stock Indices
Doo Prime is an international pre-eminent online broker under Doo Group, which strives to provide professional investors with global CFD trading products in Securities, Futures, Forex, Precious Metals, Commodities, and Stock Indices. At present, Doo Prime is delivering the finest trading experience to more than 90,000 clients, with an average trading volume of more than USD 51.223 billion each month.
Doo Prime entities respectively holds the relevant financial regulatory licenses in Seychelles, Mauritius, and Vanuatu with operation centers in Dallas, Sydney, Singapore, Hong Kong, Dubai, Kuala Lumpur, and other regions.
With robust financial technology infrastructure, well-established partnerships, and an experienced technical team, Doo Prime boasts a safe and secure trading environment, competitive trading costs, as well as deposit and withdrawal methods that support 20+ different currencies. Doo Prime also incorporates 24/7 multilingual customer service and extremely fast trade execution via multiple industry-leading trading terminals such as MT4, MT5, TradingView, and Doo Prime InTrade, covering over 10,000 trading products.
Doo Prime's vision and mission are to become a financial technology-focused broker, streamlining international global financial products investment.
For more information about Doo Prime, please contact us at:
Phone:
Europe: +44 11 3733 5199
Asia: +852 3704 4241
Asia – Singapore: +65 6011 1415
Asia – China: +86 400 8427 539
E-mail:
Technical Support: [email protected]
Account Manager: [email protected]

Forward-looking Statements
This article contains "forward-looking statements" and may be identified by the use of forward-looking terminology such as "anticipate", "believe", "continue", "could", "estimate", "expect", "hope", "intend", "may", "might", "plan", "potential", "predict", "should", or "will", or other variations thereon or comparable terminology. However, the absence of such terminology does not mean that a statement is not forward-looking. In particular, statements about the expectations, beliefs, plans, objectives, assumptions, future events, or future performance of Doo Prime will be generally assumed as forward-looking statements.
Doo Prime has provided these forward-looking statements based on all current information available to Doo Prime and Doo Prime's current expectations, assumptions, estimates, and projections. While Doo Prime believes these expectations, assumptions, estimations, and projections are reasonable, these forward-looking statements are only predictions and involve known and unknown risks and uncertainties, many of which are beyond Doo Prime's control. Such risks and uncertainties may cause results, performance, or achievements materially different from those expressed or implied by the forward-looking statements.
Doo Prime does not provide any representation or warranty on the reliability, accuracy, or completeness of such statements. Doo Prime is not obliged to provide or release any updates or revisions to any forward-looking statements.
Risk Disclosure
Trading in financial instruments involves high risks due to the fluctuation in the value and prices of the underlying financial instruments. Due to the adverse and unpredictable market movements, large losses exceeding the investor's initial investment could incur within a short period of time. The past performance of a financial instrument is not an indication of its future performance. Investments in certain services should be made on margin or leverage, where relatively small movements in trading prices may have a disproportionately large impact on the client's investment and client should therefore be prepared to suffer significant losses when using such trading facilities.
Please make sure you read and fully understand the trading risks of the respective financial instrument before engaging in any transaction with Doo Prime's trading platforms. You should seek independent professional advice if you do not understand any of the risks disclosed by us herein or any risk associated with the trade and investment of financial instruments. Please refer to Doo Prime's Client Agreement and Risk Disclosure and Acknowledgement Notice to find out more.
Disclaimer
This information is addressed to the general public solely for information purposes and should not be taken as investment advice, recommendation, offer, or solicitation to buy or sell any financial instrument. The information displayed herein has been prepared without any reference or consideration to any particular recipient's investment objectives or financial situation. Any references to the past performance of a financial instrument, index, or a packaged investment product shall not be taken as a reliable indicator of its future performance. Doo Prime and its holding company, affiliates, subsidiaries, associated companies, partners and their respective employees, make no representation or warranties to the information displayed and shall not be liable for any direct, indirect, special or consequential loss or damages incurred a result of any inaccuracies or incompleteness of the information provided, and any direct or indirect trading risks, profit, or loss arising from any individual's or client's investment.