The second round of 2022 S3 #DooTrader Charity Cup Global Trading Competition was successfully concluded on 14th December 2022, bringing this year's competition to a close. After nearly 3 months of intense competition, a total of 20 outstanding traders in the Master and Classic categories have successfully won abundant rewards. The event also attracted traders from all over the world to come together and demonstrate their trading skills, drawing widespread attention from the industry.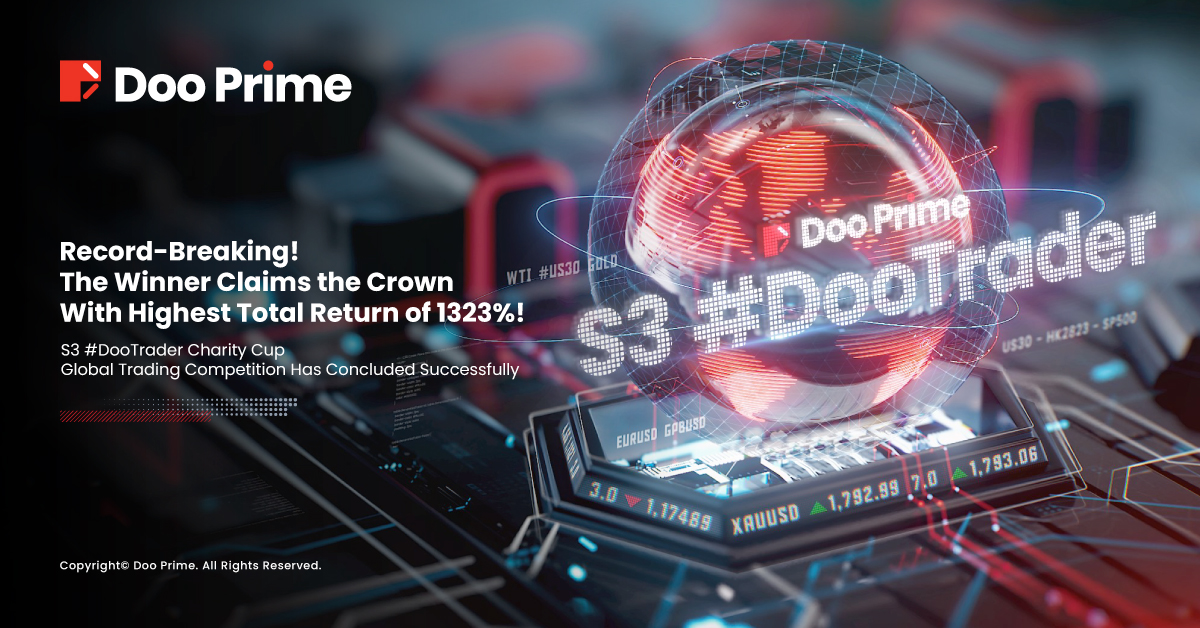 Trade It to the Top, A Celebration of the Champions
The second round of competition concluded with super high returns achieved by top players from the Master and Classic Groups. The rankings are shown specifically as below:
Round 2 Winners for Classic Group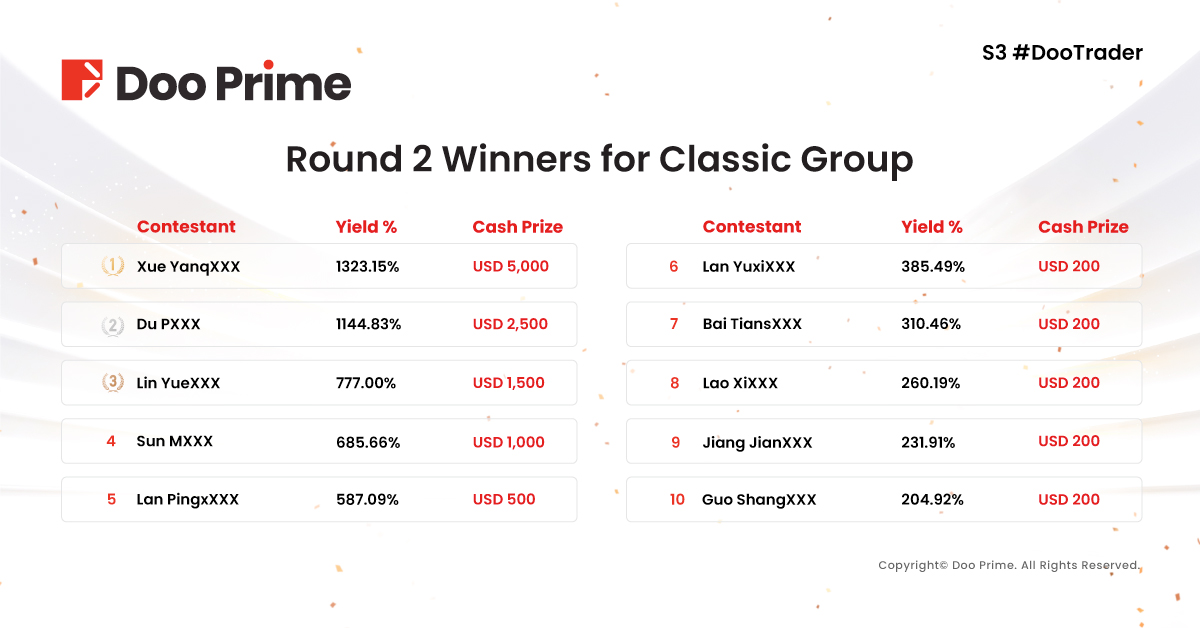 Round 2 Winners for Master Group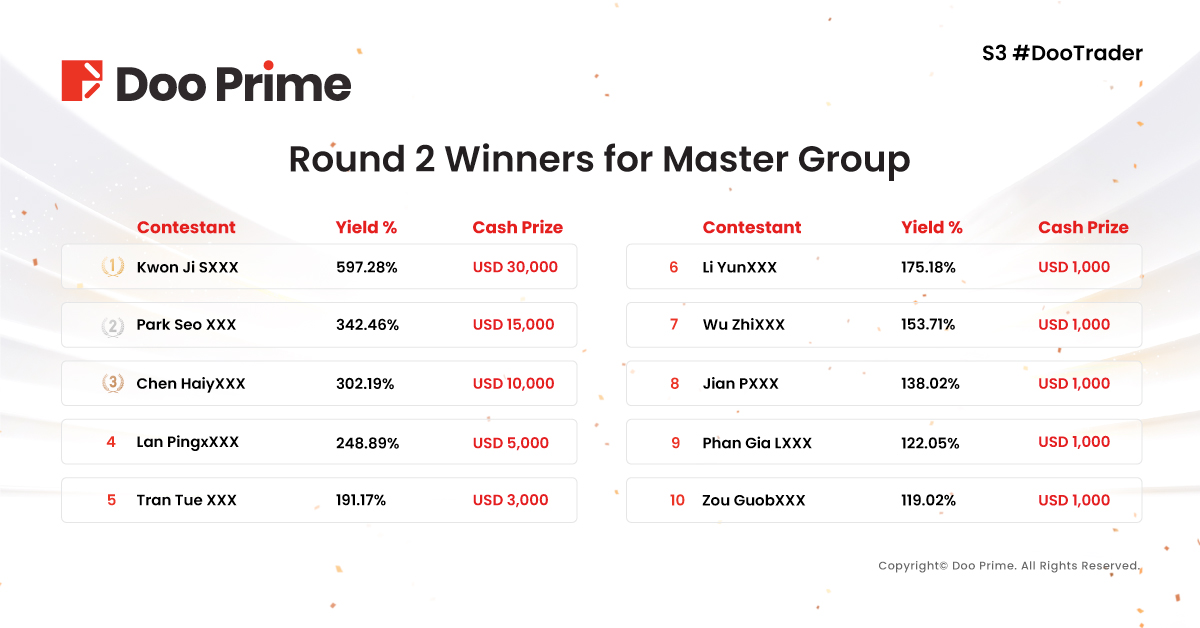 Xue YanqXXX, the champion of the Classic Group, raise above the competition with a total return of 1323%. What's even more surprising is that he achieved this record -high return with the fewest trading days among the top 10 winners. Taking a closer look at his trading records, we can see that his trading method could be considered a lot like hunting, it requires a lot of patience. You need to wait for the conditions to change in your favor. When they do, it will give you the opportunity to strike.
Xue YanqXXX made a 5-lots XAUUSD trade on 8th November 2022. With only 6 hours, he made an excess profit of 13,300 USD which dramatically uplifted his account's yield and ranking.

Meanwhile, Xue YanqXXX maintains a smaller position to test the market signal and sentiment. After a period of hibernation with less than 0.1 lot, Xue YanqXXX follows the market trend by increasing its trading position size. This tactic helps to keep a low drawdown while securing the profit and stabilizing the ranking.
Later, from November 7th to 8th, Xue YanqXXX's trading strategy was patient and cautious as the overall XAUUSD market is in a sideways drift. However, as XAUUSD pulled up quickly on 8th November 2022 and broke through range-bound, Xue YanqXXX immediately increased his trading position size to 2 – 10 lots and finally gained USD 5,000+ returns in two days.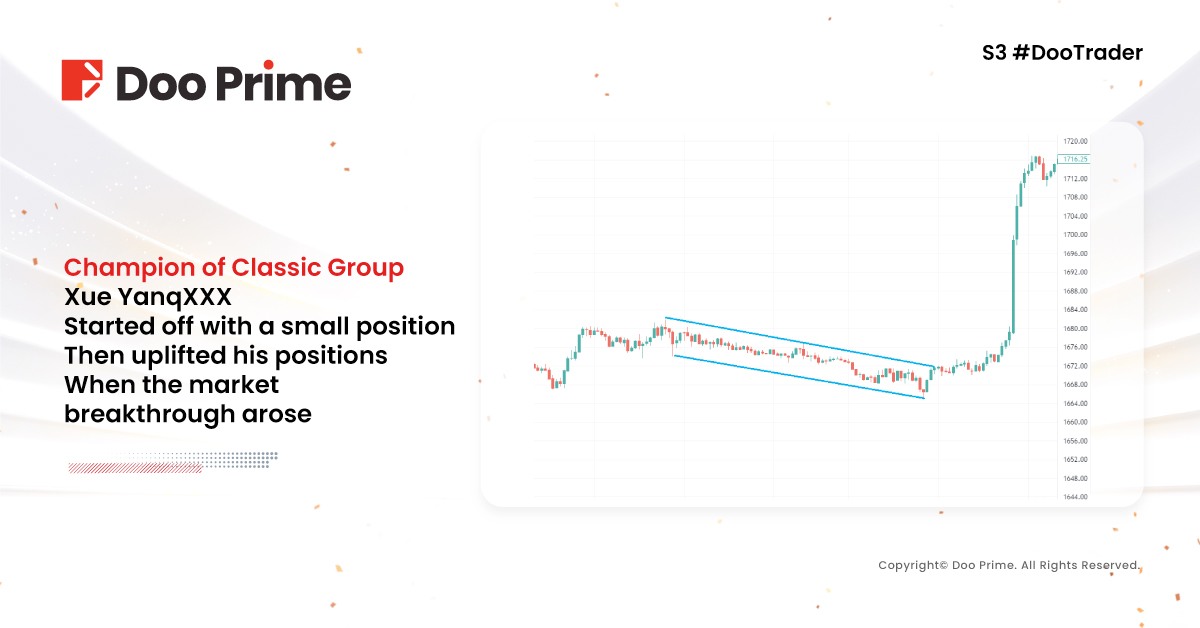 During a sideways market, Xue YanqXXX started off with a small position during the slight dip within a narrow range, and then uplifted his positions when the market breakthrough arose.
Xue YanqXXX's trading record during the second round of competition shows hunter-like patience, advanced tactics and guts. Perhaps intensive trading every single day is not required, but once you've entered the field, you must be sure to win in one strike.
Du PXXX, the first runner-up in the Classic Group, gained a return of 1144%, giving chase to the champion. Within 20+ trading days, Du PXXX rarely made trades with more than 1 lot , even after gaining a huge profit. His orders for opening or increasing positions are constantly maintained between 0.2 – 0.5 lot, which stands out with a safe and stable strategy. This conveys the message that an excellent trader does not need to win high profits with a risky strategy.
In addition, Du PXXX's short position trading of USDJPY on 30th November 2022 was spectacular, demonstrating his accurate grasp of long-short market transitions. Du PXXX has been building short positions above the USDJPY day's high of 139.60 and has benefited from the accumulated short positions as USDJPY fell sharply during the day.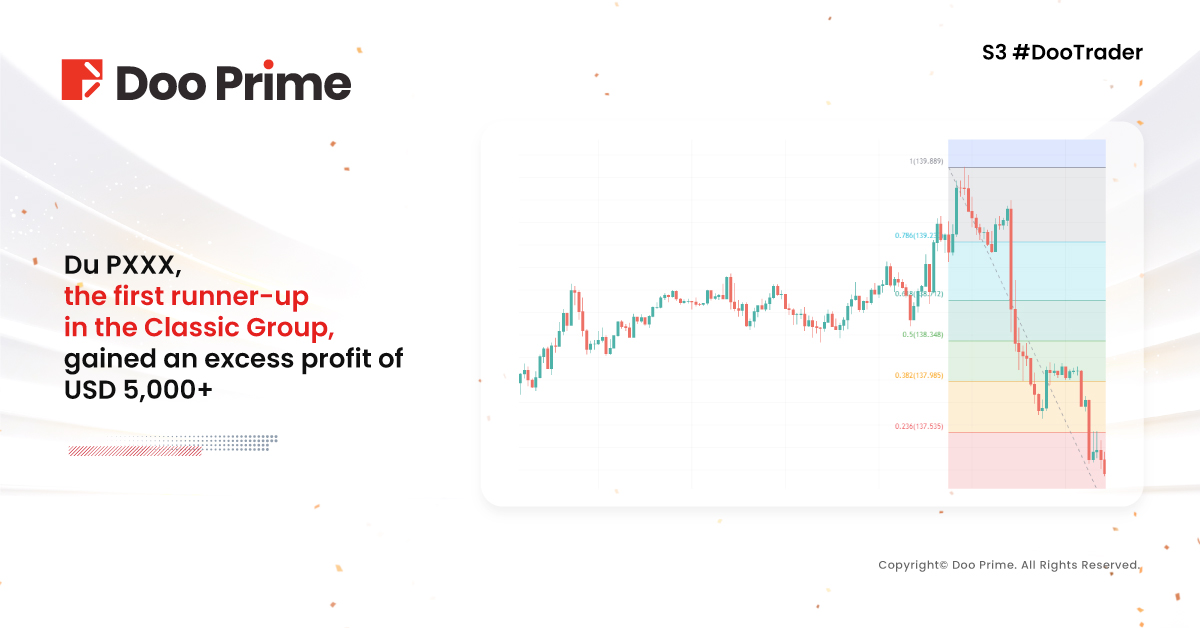 Besides, Du PXXX has been building and holding short positions in USDJPY between the Fibonacci indicator level of 0.786 – 1 on 30th November 2022 until the price dropped to the bottom level of this indicator. This ultimately brought him an excess profit of USD 5,000+ in one fell swoop.
The competition in the Classic Group and Master Group was equally exciting, with various trading ideas and techniques emerging from the experts. The winner of the Master Category in the second round was a Korean player, who also opened a breakout position on 8th November 2022, the day that XAUUSD rose sharply, and held it steadily during the rapid rally, finally leaving the market at the top of the wave with four orders that brought a high profit of USD 270,000.

For the winner of Master Group, Kwon Ji SXXX, his capital management is somewhat refined in one's rough way and his trading position was kept at 1 – 2 lots during the competition. He also cut his position decisively after losses with the fast-in and fast-out trading strategy. Throughout his performance, we have witnessed how the excellent trader from Korea made his trades. Regardless of the language and region, all traders were trying to pursue the holy grail of trading.
Staying True to Our Mission of Promoting Public Welfare Development
The #DooTrader Charity Cup Global Trading Competition always has charity as its core principle, and this year's competition remains true to its original purpose: for every lot traded by a participant, Doo Prime pledges USD 0.1 to a philanthropic cause. A total of USD 35,029 was raised in the competition to support the educational efforts of underprivileged children around the world.
Doo Prime upholds a comprehensive and multi-disciplinary approach to promote the development of public welfare. In the course of its growth, Doo Prime is committed to provide good education opportunities for underprivileged children around the world, improving their living environment and helping to cultivate talents in society. Doo Prime also hopes to promote awareness of public welfare and to bring positive impact to society through our continuous efforts.
The S3 #DooTrader Charity Cup Global Trading Competition has come to an end, but the trading journey will continue. Through this competition, many participants and practitioners have better knowledge of the market dynamics and the nature of trading. It also allows more investors to gain practical trading experience, and as a result, they will get to learn proper risk management for any investment in the future.
Don't worry if you missed out this year's competition, let's look forward to the next competition in the upcoming year with a more holistic approach and great rewards to create new trading miracles together. In addition, Doo Prime will launch S3 #DooTrader interview with the best investment experts where they share their guide to a successful trading journey. Stay tuned!
Follow DooTrader.com/en for more information.
The above activities are subject to the terms and conditions.


| About Doo Prime
Our Trading Instruments
Securities | Futures | Forex | Precious Metals | Commodities | Stock Indices
Doo Prime is an international pre-eminent online broker under Doo Group, which strives to provide professional investors with global CFD trading products in Securities, Futures, Forex, Precious Metals, Commodities, and Stock Indices. At present, Doo Prime is delivering the finest trading experience to more than 90,000 clients, with an average trading volume of more than USD51.223 billion each month.
Doo Prime entities respectively holds the relevant financial regulatory licenses in Seychelles, Mauritius, and Vanuatu with operation centers in Dallas, Sydney, Singapore, Hong Kong, Dubai, Kuala Lumpur, and other regions.
With robust financial technology infrastructure, well-established partnerships, and an experienced technical team, Doo Prime boasts a safe and secure trading environment, competitive trading costs, as well as deposit and withdrawal methods that support 10 different currencies. Doo Prime also incorporates 24/7 multilingual customer service and extremely fast trade execution via multiple industry-leading trading terminals such as MT4, MT5, TradingView, and InTrade, covering over 10,000 trading products.
Doo Prime's vision and mission are to become a financial technology-focused broker, streamlining international global financial products investment.

For more information about Doo Prime, please contact us at:
Phone:
Europe : +44 11 3733 5199
Asia : +852 3704 4241
Asia – Singapore: +65 6011 1415
Asia – China : +86 400 8427 539
E-mail:
Technical Support: [email protected]
Sales Representative: [email protected]
Forward-looking Statements
This article contains "forward-looking statements" and may be identified by the use of forward-looking terminology such as "anticipate", "believe", "continue", "could", "estimate", "expect", "hope", "intend", "may", "might", "plan", "potential", "predict", "should", or "will", or other variations thereon or comparable terminology. However, the absence of such terminology does not mean that a statement is not forward-looking. In particular, statements about the expectations, beliefs, plans, objectives, assumptions, future events, or future performance of Doo Prime will be generally assumed as forward-looking statements.
Doo Prime has provided these forward-looking statements based on all current information available to Doo Prime and Doo Prime's current expectations, assumptions, estimates, and projections. While Doo Prime believes these expectations, assumptions, estimations, and projections are reasonable, these forward-looking statements are only predictions and involve known and unknown risks and uncertainties, many of which are beyond Doo Prime's control. Such risks and uncertainties may cause results, performance, or achievements materially different from those expressed or implied by the forward-looking statements.
Doo Prime does not provide any representation or warranty on the reliability, accuracy, or completeness of such statements. Doo Prime is not obliged to provide or release any updates or revisions to any forward-looking statements.
Risk Disclosure
Trading in financial instruments involves high risks due to the fluctuation in the value and prices of the underlying financial instruments. Due to the adverse and unpredictable market movements, large losses exceeding the investor's initial investment could incur within a short period of time. The past performance of a financial instrument is not an indication of its future performance. Investments in certain services should be made on margin or leverage, where relatively small movements in trading prices may have a disproportionately large impact on the client's investment and client should therefore be prepared to suffer significant losses when using such trading facilities.
Please make sure you read and fully understand the trading risks of the respective financial instrument before engaging in any transaction with Doo Prime's trading platforms. You should seek independent professional advice if you do not understand any of the risks disclosed by us herein or any risk associated with the trade and investment of financial instruments. Please refer to Doo Prime's Client Agreement and Risk Disclosure and Acknowledgement Notice to find out more.
Disclaimer
This information is addressed to the general public solely for information purposes and should not be taken as investment advice, recommendation, offer, or solicitation to buy or sell any financial instrument. The information displayed herein has been prepared without any reference or consideration to any particular recipient's investment objectives or financial situation. Any references to the past performance of a financial instrument, index, or a packaged investment product shall not be taken as a reliable indicator of its future performance. Doo Prime and its holding company, affiliates, subsidiaries, associated companies, partners and their respective employees, make no representation or warranties to the information displayed and shall not be liable for any direct, indirect, special or consequential loss or damages incurred a result of any inaccuracies or incompleteness of the information provided, and any direct or indirect trading risks, profit, or loss arising from any individual's or client's investment.