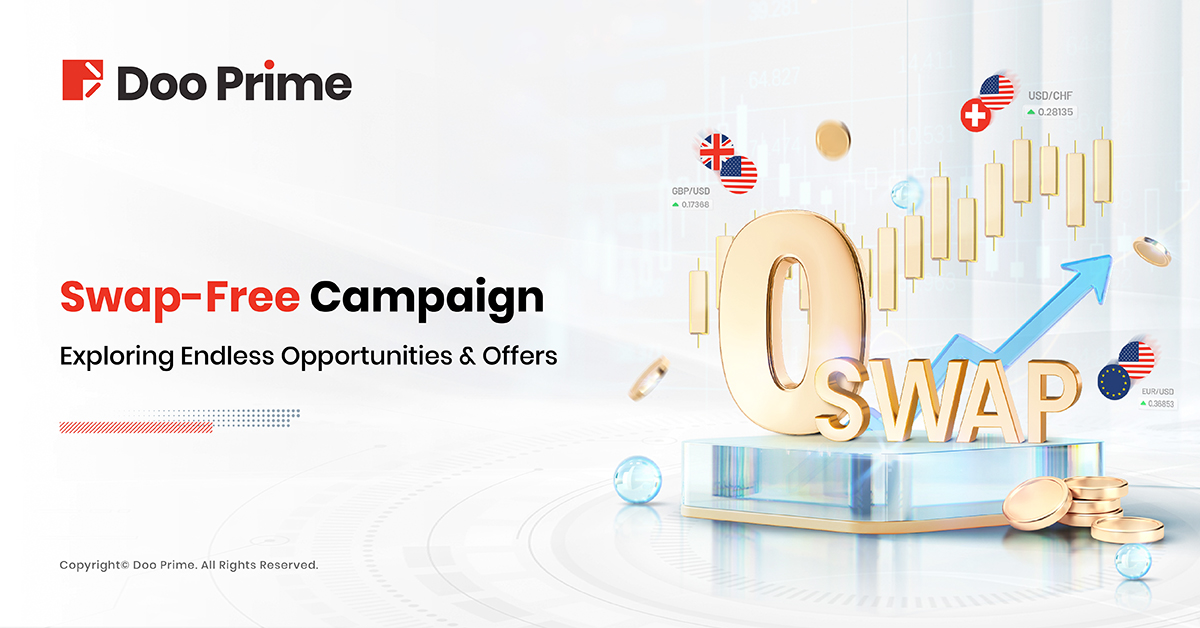 As the forex market continues to evolve, our Swap-Free Campaign strives to provide traders with endless opportunities to explore and seize trading prospects. By offering Swap-Free trading options, we aim to support traders in navigating the impact of rate hikes by the Federal Reserve (Fed) and expanding their trading horizons with cross currency pairs.
In this article, we will explore the impact of Fed rate hikes on forex trading and the inclusion of cross currency pairs in our Swap-Free products offering. Additionally, we will discuss whether cross forex pairs present a good buying opportunity for traders.
Will Swap-Free Campaign Clients Be Affected By Fed Rate Decision In The Forex Market?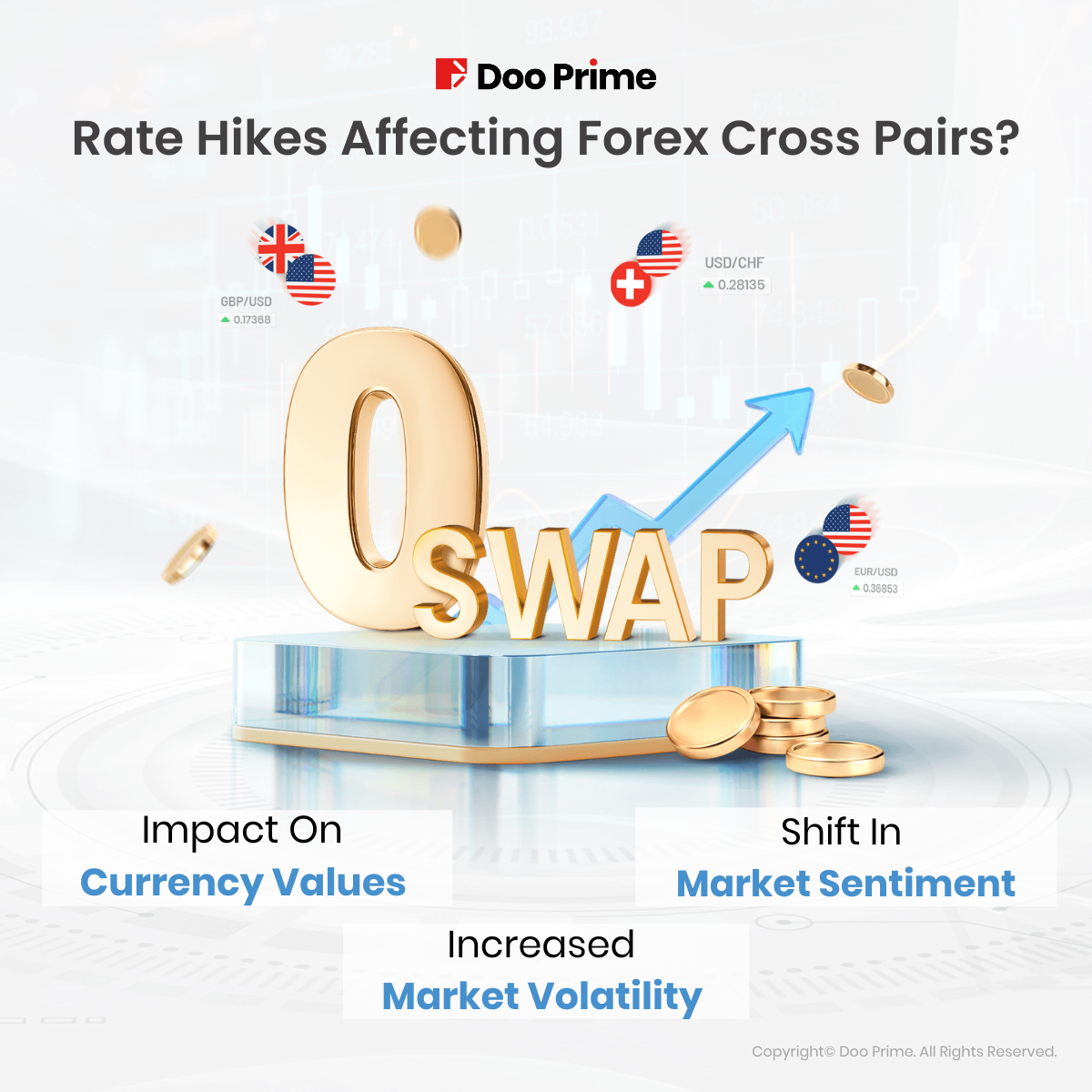 The decisions made by the Fed regarding interest rates can significantly influence the forex market as the forex market is highly sensitive to interest rate differentials between currencies.
Impact On Currency Values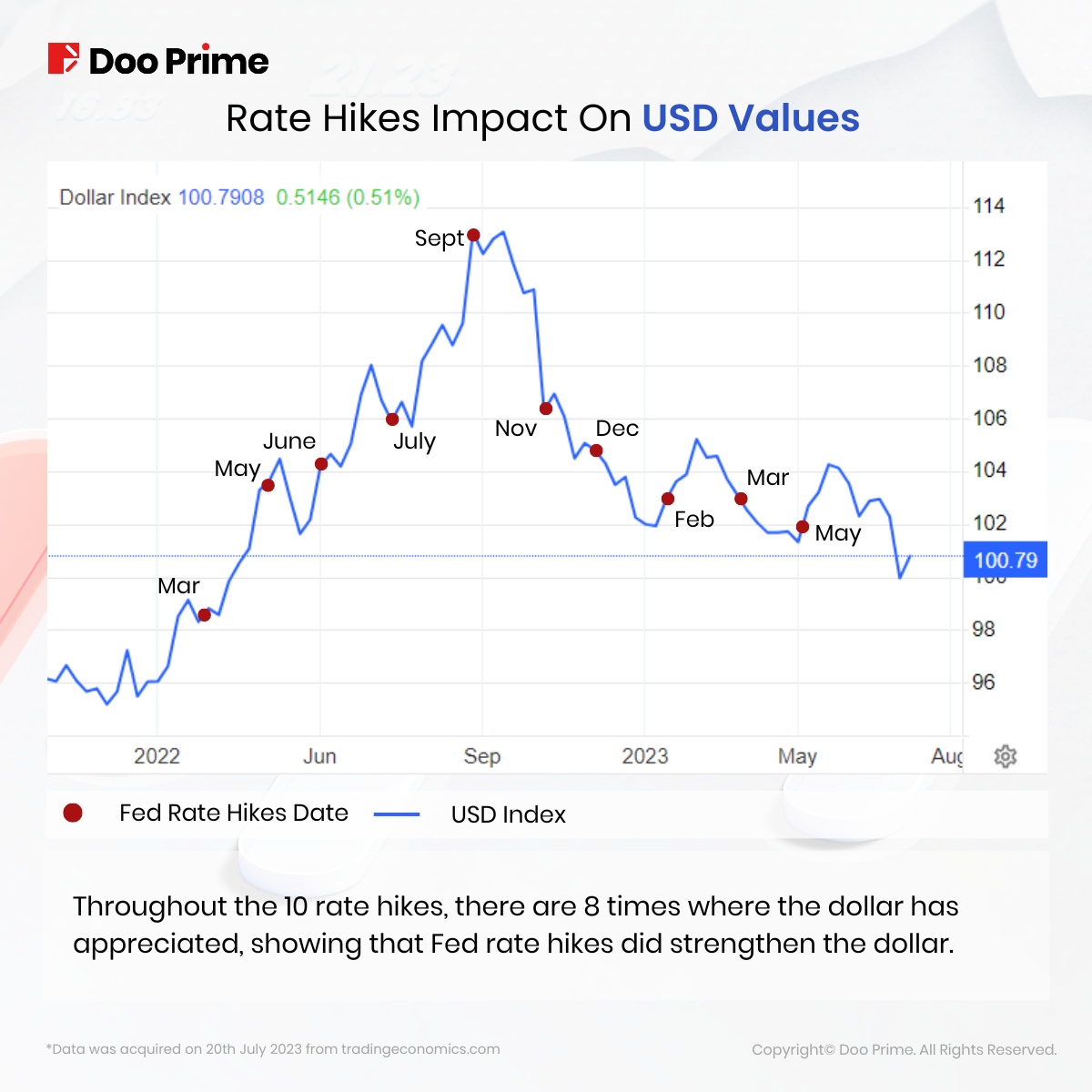 As a result of interest rates rising throughout 2022, the value of the USD also increased compared with other currencies, making the USD attractive to global investors. Around the world, investors sell other currencies to purchase USD, in turn strengthening the dollar while weakening other currencies.
When the Fed stops raising rates, it may reduce the relative attractiveness of the USD compared to other currencies, leading to a decline in the dollar's value. Hence, cross currency pairs should be more attractive than major currency pairs when the Fed made a pause in raising interest rates.
However, if the decision to pause rate hikes is seen as a sign of economic strength, it may support the value of the USD.
Increased Market Volatility
Changes in interest rates and monetary policy decisions can lead to increased volatility in the forex market. When the Fed stops hiking rates, it can create uncertainty and potentially trigger market reactions as traders reassess their positions and adjust their strategies.
Shift In Market Sentiment
When the Fed raises interest rates, it generally leads to a stronger currency. This can attract investors who seek higher returns and stability. However, higher interest rates can also make borrowing more expensive, which can reduce consumer spending and economic growth. As a result, the demand for currencies may decrease, causing their values to decline.
Announcement: Cross Currency Pairs Join The Doo Prime Swap-Free Campaign
As Doo Prime acknowledges the increasing demand in the forex market and from our clients, we have taken the decision to further expand our Swap-Free offering. This expansion now includes cross currency pairs, in addition to the major currency pairs that were previously added to our Swap-Free line. This move reflects our commitment to meeting the evolving market needs and ensuring greater convenience for our traders.
Are Cross Currency Pairs A Good Buy In The Swap-Free Campaign?
Cross currency pairs are also known as "crosses" and refer to currency pairs that do not include the U.S. dollar (USD) as one of the currencies.
Traders opt for cross currency pairs to diversify their forex trading portfolio and capitalize on unique market movements – especially when USDs are less favoured compared to other currencies. The Swap-Free option in Doo Prime's campaign provides clients with the flexibility to navigate these market dynamics without incurring overnight interest charges. This allows traders to seize opportunities in the forex market, even during periods of Fed rate hikes.

Explore the world of Swap-Free forex CFDs trading with us and discover the benefits it offers here.
Curious about our clients' results in this campaign? Delve into the impressive findings of the 2022 & 2023 Swap-Free Campaign!
In-depth Review Of 2022 & 2023 Swap-Free Campaign Results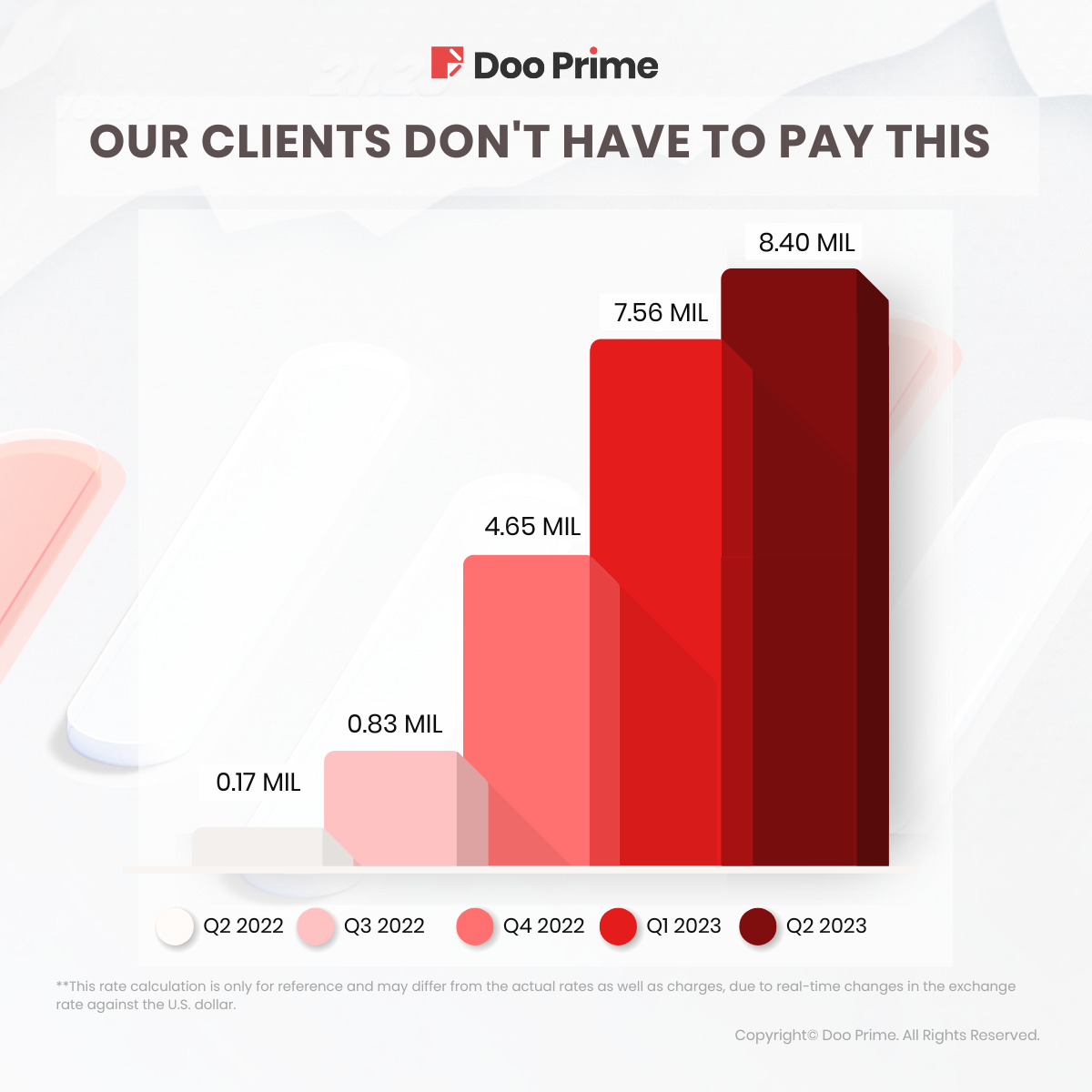 Our Swap-Free Campaign started off strong in Q2 of 2022 and eliminated a total swap fee of USD 0.17 million. The momentum continued to build in Q3, with a substantial increase resulting in waived swaps amounting to USD 0.83 million. The campaign reached its peak in Q4, experiencing even stronger growth with USD 4.66 million waived swaps.
In 2023, the Swap-Free campaign continues to strive, with Q1 showing substantial growth as we eliminated swap fees totalling USD 7.56 million. Q2 continued the positive trend, with eliminated swap rising to USD 8.40 million.
Overall, the entity experienced notable growth in revenue during 2022 and 2023, with particularly strong performance in Q1 of 2023 and Q2 of 2023. These results demonstrate positive financial progress over the given period.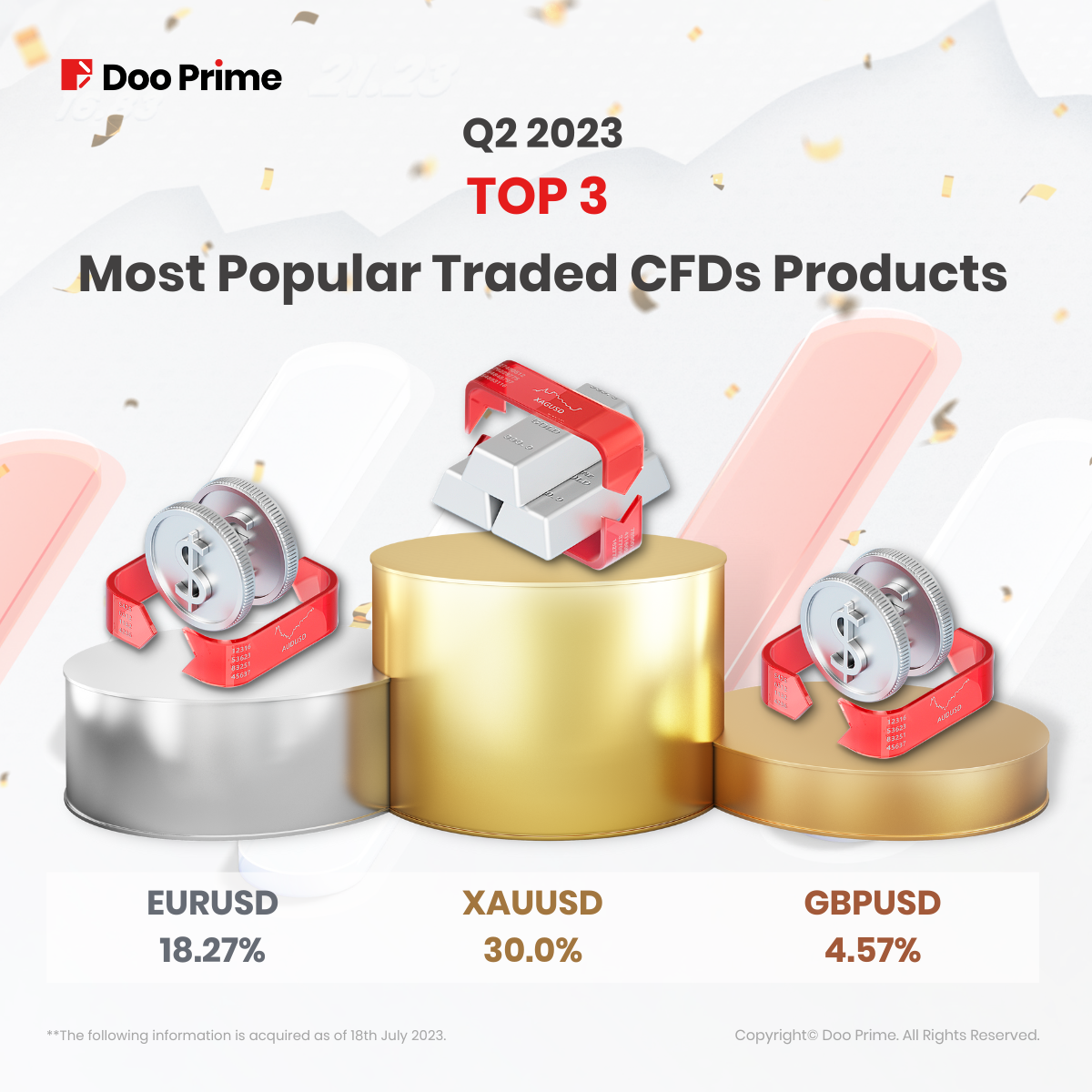 Unsurprisingly, EUR/USD, XAU/USD and GBP/USD have emerged as the top 3 traded CFDs products once again, showcasing their consistent yet excellent performance in the trading market despite all the major concurrent events economic events. Their consistent performance demonstrates their reliability and appeal to traders while the numbers are a testament to the growing popularity of swap-free trading and its impact on clients.
Seize Your Trading Success By Joining The Swap-Free Campaign Now!

It's important to note that the impact of the Fed's rate decisions on the forex market is complex and can be influenced by various factors, including market expectations, economic conditions, and geopolitical events.
Therefore, it's essential for traders to stay informed, conduct thorough analysis, and develop effective strategies to make the most of these opportunities.
With our Swap-Free Campaign offering and ongoing support, traders can embark on their forex trading journey with confidence and take advantage of the endless opportunities that lie ahead.
Chances are yours! Trade with Doo Prime's Swap-Free Campaign without paying exorbitant overnight interest rates. Contact Doo Prime's 24/7 multilingual support team now to activate the Swap-Free option on multiple trading terminals, including MetaTrader 4, MetaTrader 5, TradingView, Doo Prime InTrade, and more, before the campaign ends!
* Please note that Doo Prime reserves the right to determine the eligibility of participants in this event:
1. Please note that the Swap-Free and Swap Reduction deals are only applicable within the Campaign period.
2. The following information is acquired as of 20th July 2023.
For more campaign-related terms and conditions, clients may access our help center or contact your 1-on-1 dedicated account manager.
| About Doo Prime
Our Trading Products
Securities | Futures | Forex | Precious Metals | Commodities | Stock Indices
Doo Prime, an international preeminent online broker under Doo Group, strives to provide professional investors with global CFD trading products in Securities, Futures, Forex, Precious Metals, Commodities, and Stock Indices. At present, Doo Prime is delivering the finest trading experience to more than 130,000 clients, with an average trading volume of more than USD 51.223 billion each month.
Doo Prime entities respectively holds the relevant financial regulatory licenses in Seychelles, Mauritius, and Vanuatu with operation centers in Dallas, Sydney, Singapore, Hong Kong, Dubai, Kuala Lumpur, and other regions.
With robust financial technology infrastructure, well-established partnerships, and an experienced technical team, Doo Prime boasts a safe and secure trading environment, competitive trading costs, as well as deposit and withdrawal methods that support 20+ different currencies. Doo Prime also incorporates 24/7 multilingual customer service and extremely fast trade execution via multiple industry-leading trading terminals such as MT4, MT5, TradingView, and Doo Prime InTrade, covering over 10,000 trading products.
Doo Prime's vision and mission are to become a financial technology-focused broker, streamlining international global financial products investment.
For more information about Doo Prime, please contact us at:
Phone:
Europe: +44 11 3733 5199
Asia: +852 3704 4241
Asia – Singapore: +65 6011 1415
Asia – China: +86 400 8427 539
E-mail:
Technical Support: [email protected]
Account Manager: [email protected]
Forward-looking Statements
This article contains "forward-looking statements" and may be identified by the use of forward-looking terminology such as "anticipate", "believe", "continue", "could", "estimate", "expect", "hope", "intend", "may", "might", "plan", "potential", "predict", "should", or "will", or other variations thereon or comparable terminology. However, the absence of such terminology does not mean that a statement is not forward-looking. In particular, statements about the expectations, beliefs, plans, objectives, assumptions, future events, or future performance of Doo Prime will be generally assumed as forward-looking statements.
Doo Prime has provided these forward-looking statements based on all current information available to Doo Prime and Doo Prime's current expectations, assumptions, estimates, and projections. While Doo Prime believes these expectations, assumptions, estimations, and projections are reasonable, these forward-looking statements are only predictions and involve known and unknown risks and uncertainties, many of which are beyond Doo Prime's control. Such risks and uncertainties may cause results, performance, or achievements materially different from those expressed or implied by the forward-looking statements.
Doo Prime does not provide any representation or warranty on the reliability, accuracy, or completeness of such statements. Doo Prime is not obliged to provide or release any updates or revisions to any forward-looking statements.
Risk Disclosure
Trading in financial instruments involves high risks due to the fluctuation in the value and prices of the underlying financial instruments. Due to the adverse and unpredictable market movements, large losses exceeding the investor's initial investment could incur within a short period of time. The past performance of a financial instrument is not an indication of its future performance. Investments in certain services should be made on margin or leverage, where relatively small movements in trading prices may have a disproportionately large impact on the client's investment and client should therefore be prepared to suffer significant losses when using such trading facilities.
Please make sure you read and fully understand the trading risks of the respective financial instrument before engaging in any transaction with Doo Prime's trading platforms. You should seek independent professional advice if you do not understand any of the risks disclosed by us herein or any risk associated with the trade and investment of financial instruments. Please refer to Doo Prime's Client Agreement and Risk Disclosure and Acknowledgement Notice to find out more.
Disclaimer
This information is addressed to the general public solely for information purposes and should not be taken as investment advice, recommendation, offer, or solicitation to buy or sell any financial instrument. The information displayed herein has been prepared without any reference or consideration to any particular recipient's investment objectives or financial situation. Any references to the past performance of a financial instrument, index, or a packaged investment product shall not be taken as a reliable indicator of its future performance. Doo Prime and its holding company, affiliates, subsidiaries, associated companies, partners and their respective employees, make no representation or warranties to the information displayed and shall not be liable for any direct, indirect, special or consequential loss or damages incurred a result of any inaccuracies or incompleteness of the information provided, and any direct or indirect trading risks, profit, or loss arising from any individual's or client's investment.