Global Participants Competing For The Championship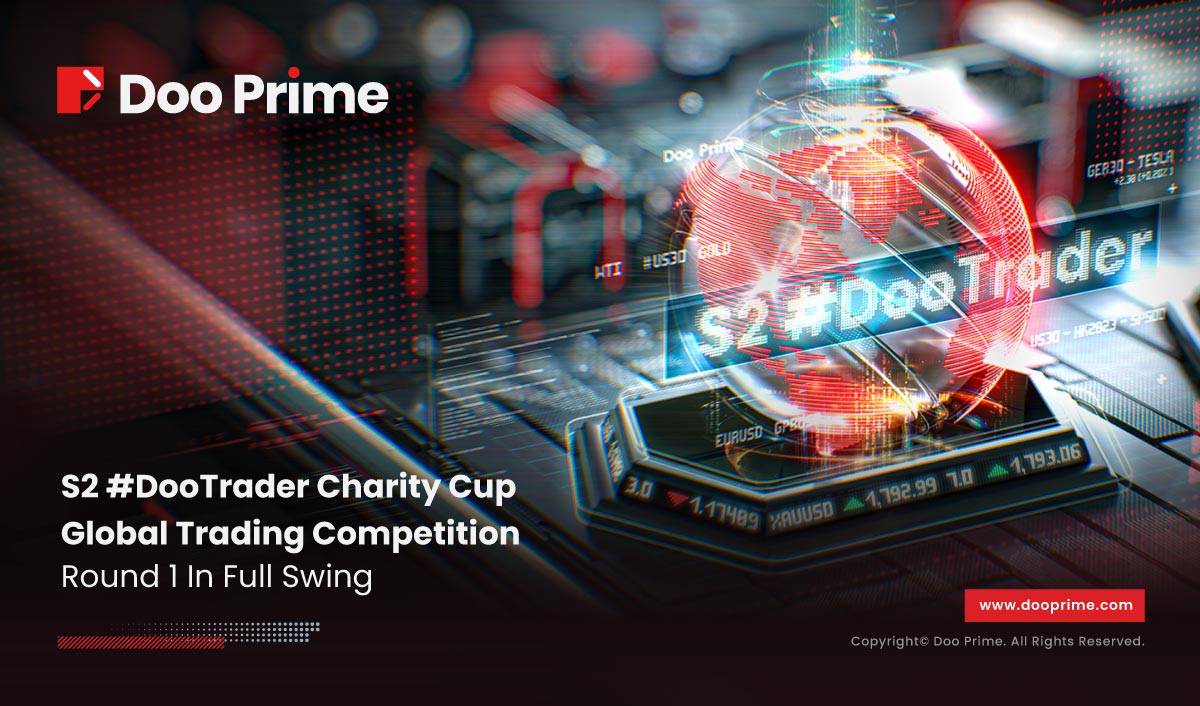 S2 #DooTrader Charity Cup – Global Trading Competition Round 1 has officially started!
Doo Prime has received over 500 applications since we announced the global trading event. We continue to welcome and anticipate even more enthusiastic participants to join as well as compete for the championship and the prizes!
The first stage of the competition starts today, from 18th October to 11th November 2021 (UTC+0). Fret not, as there is still time to participate.
Those who wish to compete with the best traders and have yet to participate are welcome to open an MT4 account via the Doo Prime User Center. As long as you meet the minimum deposit requirements, you are eligible to register, trade, contribute to society, and be in the running for amazing rewards.
The valid registration date for Round 1 will be open until 28th October, 2021 at 23:59:59 (UTC+0). The minimum initial deposit requirement is USD2,000 for the Classic Group and USD10,000 for the Masters Group. Don't miss out on your opportunity!


A Trading Event Abounding With Rewarding Bonuses And Prizes
This championship holds a generous prize pool of USD150,000 to reward all participants for their support. In addition, if you successfully invite a friend to participate, you will be entitled to a USD12 rebate with no limit set!
On top of that, Doo Prime will also select outstanding participants for interviews and share their experiences with worldwide traders. With this, all participating traders can get insights from a top-notch trading environment and discover new patterns of global trading together.
Terms and Conditions Apply. For more information, please visit the contest website DooTrader.com.
Forward-Looking Statements
This document contains "forward-looking statements" and can be identified by the use of forward-looking terminology such as "expects", "believes", "continues", "may", "may", "may", "may", "may" and "may". ", "may", "estimates", "expects", "hopes", "intends", "intends", "intends", "intends", "intends", "intends", "intends", "intends", "intends", "intends", "intends". "intend", "plan", "potential", "predict", should" or "will" or other similar form or similar terminology, but the absence of such terminology does not mean that a statement is not forward-looking and, in particular, statements regarding Doo Prime's expectations, beliefs, plans, objectives, assumptions, future events or future performance are generally considered to be Forward-looking statements.
Doo Prime provides these forward-looking statements based on all current information available to Doo Prime and Doo Prime's current expectations, assumptions, estimates and projections. Although Doo Prime believes that these expectations, assumptions, estimates and projections are reasonable, these forward-looking statements are only projections and involve known and unknown risks and uncertainties, many of which are beyond Doo Prime's control. Such risks and uncertainties could cause results, performance or achievements to be materially different from those expressed or implied by the forward-looking statements.
Doo Prime does not provide any representations or warranties as to the reliability, accuracy or completeness of such statements, and Doo Prime undertakes no obligation to provide or publish updates or revisions to any forward-looking statements.


Risk Disclosure
Trading in financial instruments involves a high degree of risk due to fluctuations in the value and price of the underlying financial instruments. Due to the adverse and unpredictable market movements, large losses exceeding the investor's initial investment could incur within a short period of time. The past performance of a financial instrument is not an indication of its future performance.
Please make sure you read and fully understand the trading risks of the respective financial instrument before engaging in any transaction with us. You should seek independent professional advice if you do not understand the risks disclosed by us herein.


Disclaimers
This information is for general information purposes only and is intended for general information purposes only and should not be considered as any investment advice, recommendation, offer, solicitation or invitation to buy or sell any financial instruments. The information shown herein has been prepared without reference to or consideration of the investment objectives or financial situation of any particular recipient. Any reference to the past performance of a trading product, index or packaged trading products should not be considered a reliable indicator of its future performance. Doo Prime makes no representations or warranties with respect to the information displayed and shall not be liable for any direct or indirect loss or damage arising from any inaccuracies and incompleteness of the information provided. Doo Prime shall not be liable for any loss or damages as a result of any direct or indirect trading risks, losses or gains associated with any individual's investment.