WORLDWIDE: HEADLINES 


Shares of retail favorite AMC nearly double, company woos investors with free popcorn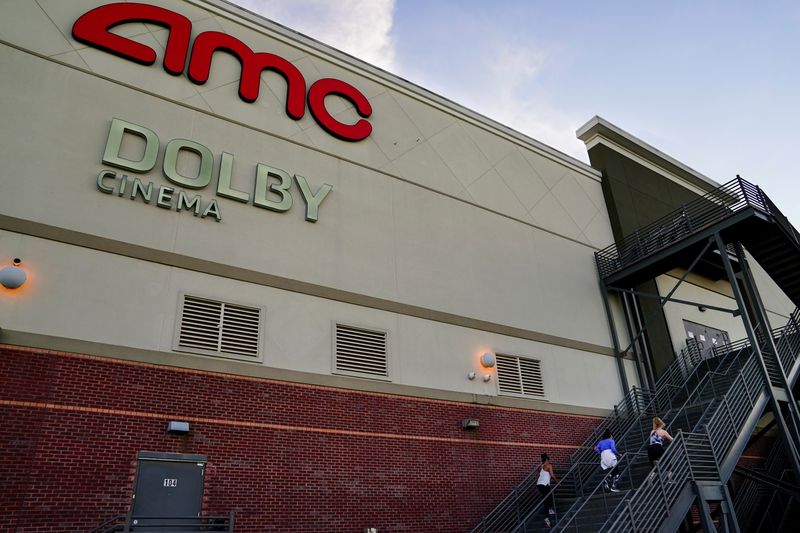 Shares of retail investor favorite AMC Entertainment Holdings Inc (AMC.N) nearly doubled in price on Wednesday, extending a breathtaking rally and reinvigorating the meme stock phenomenon that has captivated investors.
The theater chain operator's shares closed up 95.2% at $62.55, a fresh record. At the close, AMC's market value stood at $28.17 billion, more than ViacomCBS (VIAC.O) and Kellogg (K.N), as well as fellow meme-stock GameStop (GME.N).
In an apparent nod to the retail investors that have hyped the stock in forums such as Reddit's popular WallStreetBets, AMC CEO Adam Aron on Wednesday announced an initiative that offered even the smallest shareholder a free large popcorn if they signed up to a regular newsletter.
Among other so-called meme stocks – companies popular with a new generation of social media centric traders on WallStreetBets and other online forums – security software provider BlackBerry and headphone maker Koss Corp (KOSS.O) rose 31.1% and 68.6%, respectively.
The massive rise in AMC's shares, which are up about 2,850% from just over $2 at the end of last year, is beginning to resemble the wild ride in shares of GameStop earlier this year.
"It's meme stock 2.0.," said Steve Sosnick, Chief Strategist at Interactive Brokers.
GameStop shares rose more than 1,600% in January, buoyed in part by bearish investors unwinding their bets against the heavily shorted stock in the face of a massive buying surge.
Some of the upward price move in AMC is likely being driven by market makers buying up stock to hedge their exposure from selling options, an event known as a "gamma squeeze," analysts said.
"People have learnt what tactics work under these insane circumstances. They are using a very similar play-book," Sosnick said.
Call options that would pay off if the shares topped $73 by Friday were the most heavily trade AMC options on Wednesday, with about 233,000 contracts changing hands.
Full coverage: REUTERS  


U.S. Treasury says G7 expected to endorse U.S. global minimum tax proposal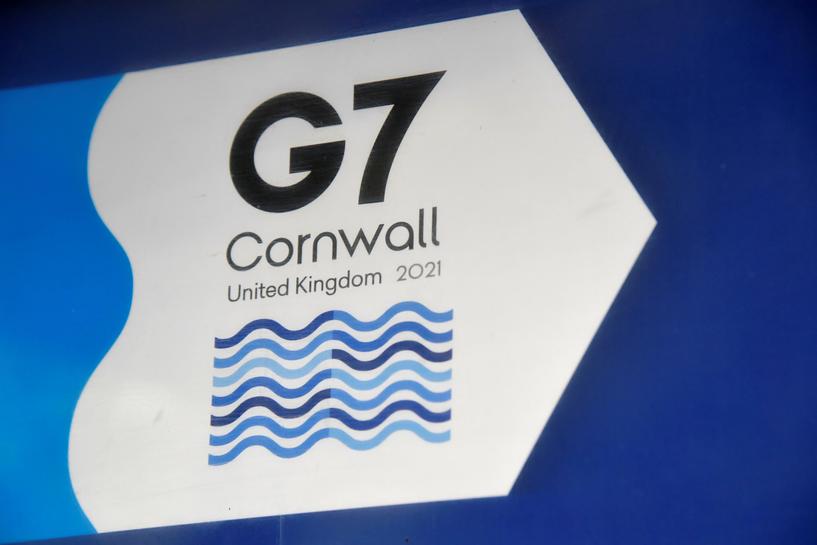 Finance ministers from the G7 wealthy democracies are expected to endorse Washington's proposal for an ambitious global corporate minimum tax when they meet in London later this week, a U.S. Treasury official said on Wednesday.
The official said in an emailed statement the Treasury expects the G7 meetings on Friday and Saturday to provide momentum for advancing global corporate tax negotiations towards a broader G20 finance meeting in July in Italy.
The U.S. Treasury in May proposed a global minimum corporate minimum tax of at least 15% to try to end a downward spiral of corporate tax rates and deter multinational firms from shifting profits to tax-haven countries.
The proposed minimum is lower than the Biden administration's own proposals to raise the domestic corporate tax rate to 28% and impose a 21% minimum levy on overseas profits earned by U.S. companies.
Deputy Treasury Secretary Wally Adeyemo told Reuters in late May that he expected strong support from G7 countries for the U.S. minimum tax proposal, adding this would help solidify support for Biden's tax plans among U.S. lawmakers.
A number of other G7 officials have raised expectations for the finance ministers' meetings in London, the first face-to-face meetings for the group since the COVID-19 pandemic turned them virtual last year.
German Finance Minster Olaf Scholz told Reuters in an interview that he expects the group to make "significant progress" on corporate tax issues, which include the thornier problem of agreeing on how to tax large global digital services companies such as Facebook (FB.O), Amazon.com (AMZN.O), Google (GOOGL.O) Apple Inc (AAPL.O) and Microsoft (MSFT.O).
A number of countries have imposed unilateral digital services taxes targeting these firms, which have drawn threats of retaliatory tariffs from the United States.
Full coverage: REUTERS 


WORLDWIDE: FINANCE / MARKETS  


Asia shares off 3-month highs, caution ahead of U.S. payrolls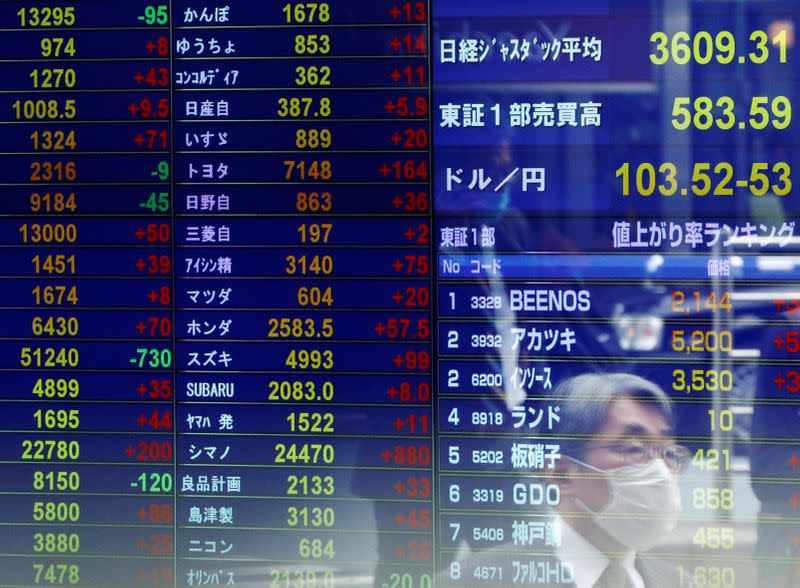 Asian shares were a touch below a recent three-month top on Thursday with China a tad weaker as investors weighed inflation concerns ahead of key U.S. economic data while oil prices rose to near 1-1/2 year highs.
MSCI's broadest index of Asia-Pacific shares outside Japan (.MIAPJ0000PUS) rose 0.3% to 711 points. It went as high as 712.57 on Wednesday, a level not seen since early March.
Japan's Nikkei (.N225) added 0.4%. Australian shares (.AXJO) climbed to all-time highs as investors cheered stronger-than-expected economic growth data released on Wednesday.
Chinese shares were marginally softer. (.CSI300), (.SSEC)
While broader stock markets remain close to record highs, the momentum seen earlier in the year has ebbed as investors begin to worry a stronger-than-expected rebound from COVID-19 means higher inflation and sooner-than-expected monetary policy tightening.
A weekly unemployment report and May private payrolls data on Thursday will be followed by monthly jobs numbers on Friday, with investors looking for signs of an economic rebound and rising inflation.
Adding to inflation fears, oil prices hit the highest level in 1-1/2 years led by a decision by major producing nations to restore supply only gradually while the slow pace of nuclear talks between the United States and Iran also helped.
The U.S. Federal Reserve published its "Beige Book" report, which pointed to labor shortages and inflation pressures.
Philadelphia Fed Bank President Patrick Harker also restated his call that "it may be time to at least think about tapering our $120 billion in monthly Treasury bond and mortgage-backed securities purchases."
The Fed has already announced it would begin unwinding the corporate bond holdings it acquired last year to calm credit markets at the height of the pandemic.
Full coverage: REUTERS 


Dollar on tenterhooks as payrolls test looms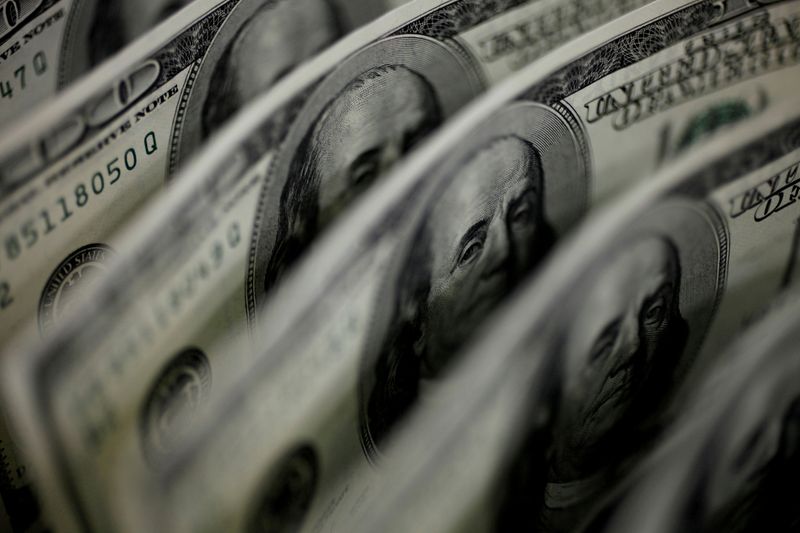 The U.S. dollar was wavering above major support levels on Thursday, as traders awaited a batch of U.S. economic data that could set the tone at central bank meetings later this month.
Investors have bet on the dollar falling as the world recovers from the COVID-19 pandemic, but they have lately grown nervous over whether a surprisingly strong U.S. economic rebound poses a threat to a key assumption that interest rates stay low.
The mood has kept speculators from adding much to short positions in recent weeks. That has put the brakes on what had a month ago seemed like a relentless downtrend and has pushed trend-following traders into a wait-and-see mode.
Against the euro the dollar traded at $1.2209 after unwinding a small Wednesday rally. The greenback lost 1.7% on the euro in May, but did not fall past strong support at $1.2266. It was steady at 109.64 yen.
In Asia, startling gains in the Chinese yuan this week had also sparked speculation about shifts in Chinese policymakers' stance on the currency, although it eased slightly to 6.3807 in early offshore trade on Thursday.
The dollar index, which measures the greenback against a basket of six major currencies, also held at 89.919 where it seems to have found strong support in recent weeks.
U.S. private payrolls figures due later on Thursday are the latest numbers to offer clues on the state of the economy and a possible read on broader non-farm payrolls data due on Friday. Appearances by a handful of Federal Reserve officials will also be closely watched for hints of sensitivity to the early strength of the rebound ahead of their next meeting in mid-June.
"The major pairs (are) still stuck within ranges," said strategists at Singapore's OCBC Bank in a note. They added, however, that yield differentials seem to be moving in the dollar's favor and that policymakers' tone is subtly shifting.
Full coverage: REUTERS 


Oil hits over 1-year high on OPEC+ supply discipline, demand prospects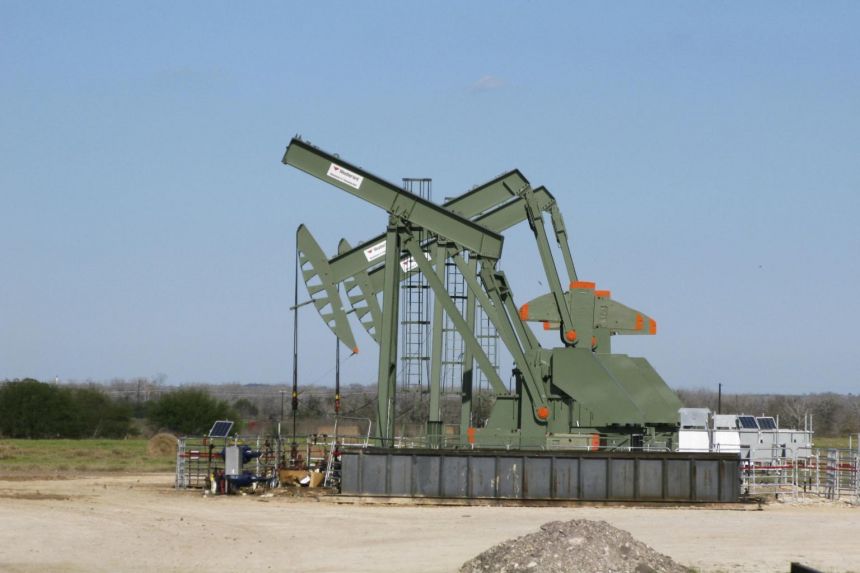 Oil prices surged on Wednesday, hitting their highest in more than a year from a decision by OPEC and allies to stick to the plan to gradually restore supply, along with the slow pace of nuclear talks between Iran and the United States.
Brent rose $1.1, or 1.6%, to settle at $71.35 a barrel. It reached $71.48 a barrel, its highest since January 2020.
U.S. West Texas Intermediate (WTI) crude rose $1.11, or 1.6%, to settle at $68.83 a barrel. It hit $69.00 during the session, its highest since October 2018.
"The oil market welcomed the OPEC+ decision to stick with its existing production plan, and in conjunction with positive global demand indications, prices are gaining further today," said Louise Dickson, Rystad Energy oil markets analyst.
Expecting a recovery in demand, the Organization of the Petroleum Exporting Countries and its allies, together known as OPEC+, agreed on Tuesday to maintain their plan to gradually ease supply curbs through July.
The OPEC+ meeting took 20 minutes, shortest in the group's history, indicating unity among members and their confidence in the market's recovery, analysts said.
OPEC+ data shows the group is now more upbeat about the pace of rebalancing in the oil market than it was a month ago.
Saudi Energy Minister Prince Abdulaziz bin Salman said solid demand recovery in the United States and China and the pace of COVID-19 vaccine rollouts can only lead to further rebalancing of the global oil market.
"We expect oil prices to move well beyond $70 per barrel towards mid-year," said Norbert Rucker, analyst at Swiss bank Julius Baer.
Analysts also said the slow progress of the Iran nuclear talks provides breathing room for demand to catch up before Iranian oil returns to the market if a deal is reached.
Full coverage: REUTERS