WORLDWIDE: HEADLINES


J&J exploring putting talc liabilities into bankruptcy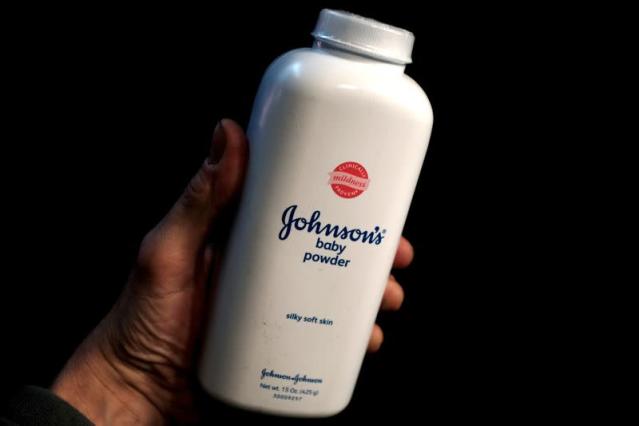 Johnson & Johnson (JNJ.N) is exploring a plan to offload liabilities from widespread Baby Powder litigation into a newly created business that would then seek bankruptcy protection, according to seven people familiar with the matter.
During settlement discussions, one of the healthcare conglomerate's attorneys has told plaintiffs' lawyers that J&J could pursue the bankruptcy plan, which could result in lower payouts for cases that do not settle beforehand, some of the people said. Plaintiffs' lawyers would initially be unable to stop J&J from taking such a step, though could pursue legal avenues to challenge it later.
J&J has not yet decided whether to pursue the bankruptcy plan and could ultimately abandon the idea, some of the people said. Reuters could not determine whether J&J has retained restructuring lawyers to help the company explore the bankruptcy plan.
J&J faces legal actions from tens of thousands of plaintiffs alleging its Baby Powder and other talc products contained asbestos and caused cancer. The plaintiffs include women suffering from ovarian cancer and others battling mesothelioma.
"Johnson & Johnson Consumer Inc. has not decided on any particular course of action in this litigation other than to continue to defend the safety of talc and litigate these cases in the tort system, as the pending trials demonstrate," the J&J subsidiary housing the company's talc products said in a statement provided to Reuters. J&J declined further comment.
Should J&J proceed, plaintiffs who have not settled could find themselves in protracted bankruptcy proceedings with a likely much smaller company. Future payouts to plaintiffs would be dependent on how J&J decides to fund the entity housing its talc liabilities.
J&J is now considering using Texas's "divisive merger" law, which allows a company to split into at least two entities. For J&J, that could create a new entity housing talc liabilities that would then file for bankruptcy to halt litigation, some of the people said.
The maneuver is known among legal experts as a Texas two-step bankruptcy, a strategy other companies facing asbestos litigation have used in recent years.
J&J could also explore using another mechanism to effectuate the bankruptcy filing besides the Texas law, some of the people said.
Full coverage: REUTERS


Zoom is buying cloud contact center provider Five9 for $14.7 billion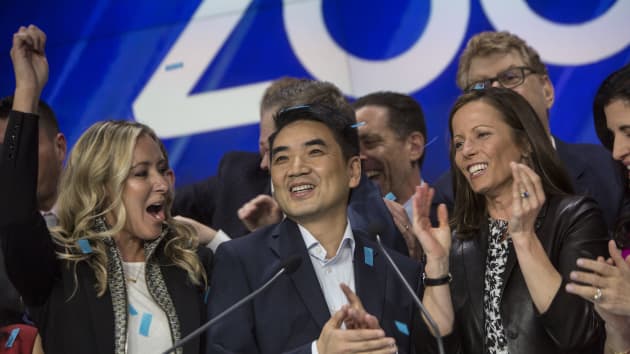 Zoom announced on Sunday that it's buying Five9, a provider of cloud contact center software, in an all-stock transaction valuing the company at $14.7 billion.
The deal marks Zoom's first billion-dollar acquisition and comes as the company prepares for a post-pandemic world with employees returning to the office. It's the second-biggest U.S. tech deal this year, behind Microsoft's planned $16 billion purchase of Nuance Communications, according to FactSet.
"We are continuously looking for ways to enhance our platform, and the addition of Five9 is a natural fit that will deliver even more happiness and value to our customers," said Zoom CEO Eric Yuan in a press release.
Five9 closed on Friday with a market cap of $11.9 billion, or $177.60 a share. Zoom said Five9 stockholders will receive 0.5533 shares of Zoom Video Communications for every Five9 share. That values Five9 at $200.28 a share, a 13% premium, and represents about 14% of Zoom's market cap of close to $107 billion.
Zoom has been among the top growth stories in the 16 months since Covid-19 caused a sudden shutdown of offices across the globe, forcing workers in finance, retail, tech and law offices to communicate from remote locations.
After expanding revenue by 326% in 2020, Zoom faces a natural slowdown, especially as companies reopen and face-to-face meetings resume. While the company has launched new products to reckon with coming changes to its business, it's now so big that organic growth alone is unlikely to satisfy Wall Street. It also needs new revenue sources as Microsoft ramps up competition in video chat with Teams.
Zoom's stock price jumped almost 400% last year, though it's dropped 36% since reaching its peak in October.
Full Coverage: CNBC

WORLDWIDE: FINANCE / MARKETS
Asian shares hit 1-wk lows on renewed virus scare, inflation worry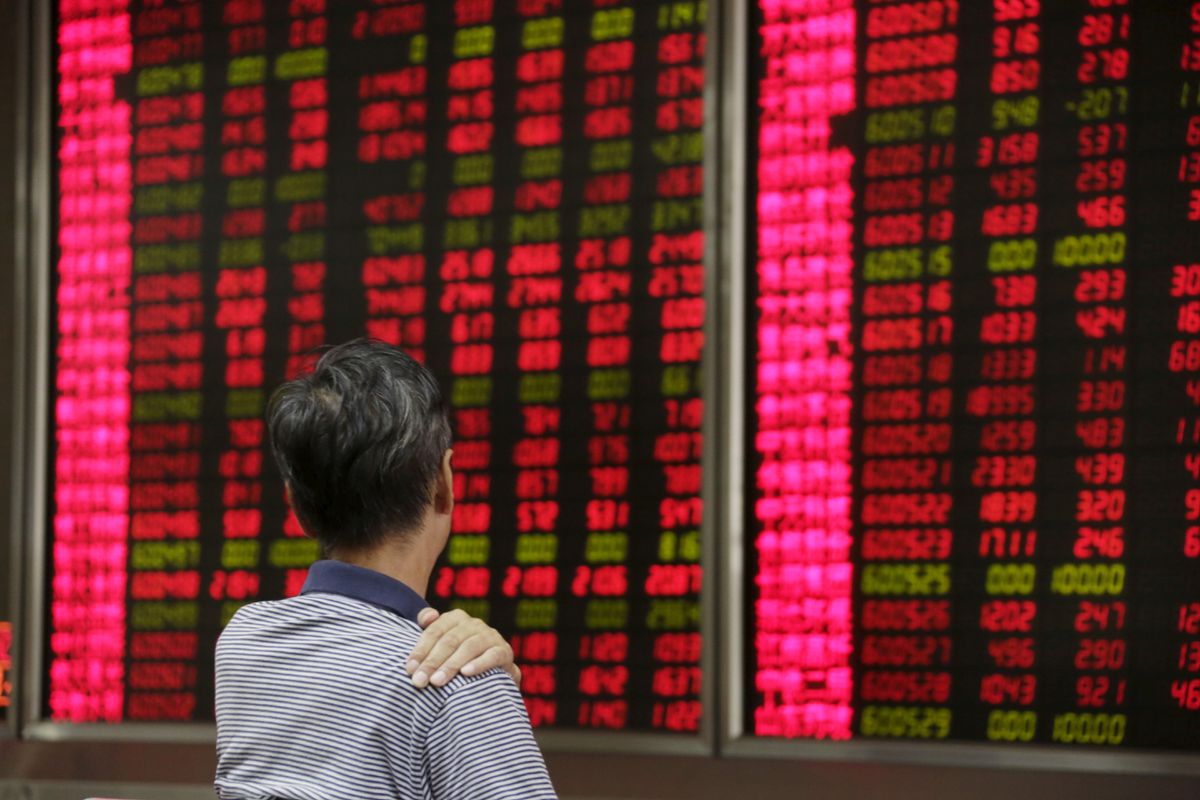 Asian shares slipped to a one-week low on Monday and perceived safe haven assets, including the yen and gold, edged higher amid fears of rising inflation and a surge in coronavirus cases, while oil prices fell on oversupply worries.
MSCI's broadest index of Asia-Pacific shares outside Japan (.MIAPJ0000PUS) fell 1.1% for a second straight day of losses to 677.45, a level not seen since July 12. The index was on track for its biggest daily percentage drop since July 8.
Japan's Nikkei (.N225) dropped 1.3% as did Australia's benchmark share index (.AXJO). South Korea's KOSPI (.KS11) was 1% lower, while Chinese stocks also started on the backfoot with the blue-chip index (.CSI300) down 0.6%.
Oil prices stumbled more than 1% after an agreement over the weekend within the OPEC+ group of producers to boost output at a time when the outlook for demand is still cloudy.
Global economic growth is beginning to show signs of fatigue while many countries, particularly in Asia, are struggling to curb the highly contagious Delta variant of the coronavirus and have been forced into some form of lockdown. The spectre of elevated inflation, which the market has long feared, is also haunting investors.
Economists at Bank of America downgraded their forecast for U.S. economic growth to 6.5% this year, from 7% previously, but maintained their 5.5% forecast for next year.
"As for inflation, the bad news is it's likely to remain elevated near term," they said in a note, pointing to their latest read from their proprietary inflation meter which remains high.
"The good news is … we are likely near the peak, at least for the next few months, as base effects are less favourable and shortage pressures rotate away from goods towards services."
U.S. Federal Reserve Chair Jerome Powell has repeatedly said any inflation flare-up is expected to be transitory, indicating monetary policy will remain supportive for some while yet.
Full coverage: REUTERS


Oil falls $1 after OPEC+ agreement on boosting supply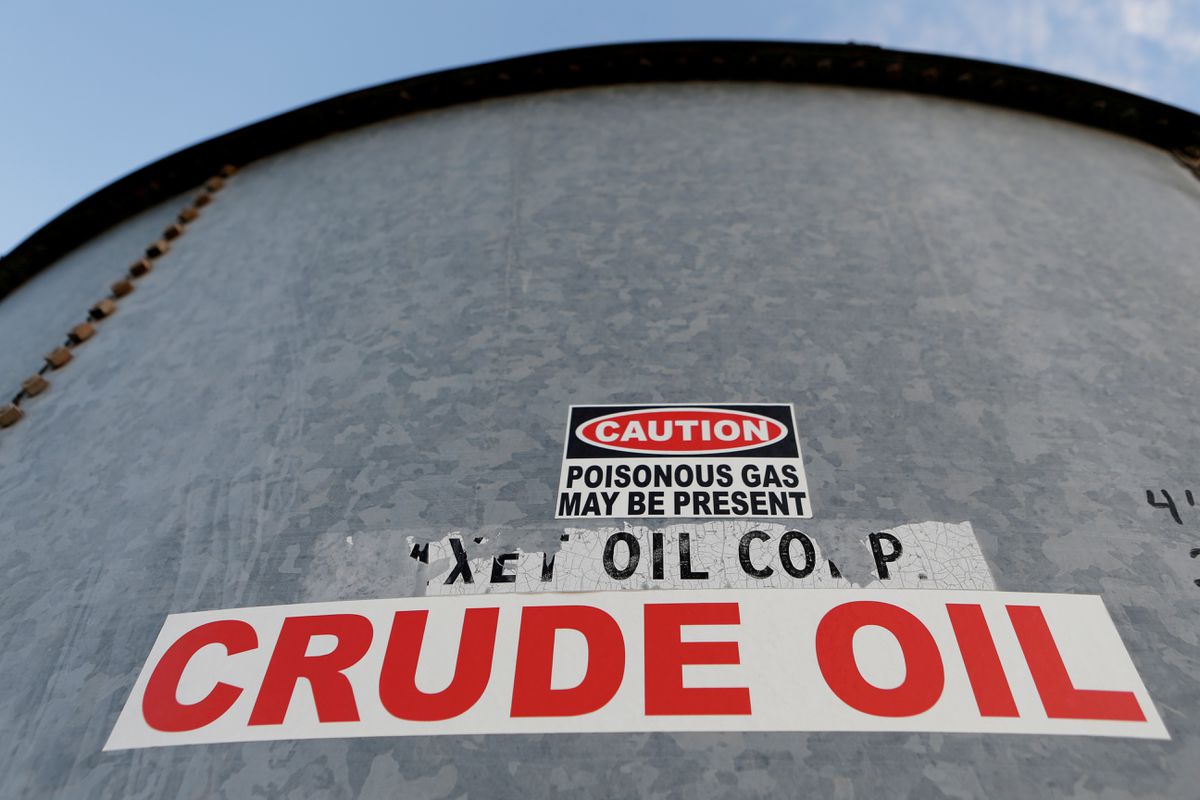 Oil prices fell more than $1 a barrel on Monday, after the OPEC+ group of producers overcame internal divisions and agreed to boost output, sparking some concerns about a crude surplus as COVID-19 infections continue to rise in many countries.
Brent crude was down $1.08, or 1.5%, at $72.51 a barrel by 0220 GMT, after falling nearly 3% last week. U.S. oil was down $1.01 cents, or 1.4%, at $70.80 a barrel, having declined almost 4% last week.
OPEC+ ministers agreed on Sunday to increase oil supply from August to cool prices that earlier this month climbed to the highest in around 2-1/2 years as the global economy recovers from the COVID-19 pandemic.
The group, which includes members of the Organization of the Petroleum Exporting Countries (OPEC) and allies like Russia, agreed new production shares from May 2022.
Full coverage: REUTERS


Singapore Dollar's Haven Appeal Rises in Region Ravaged by Covid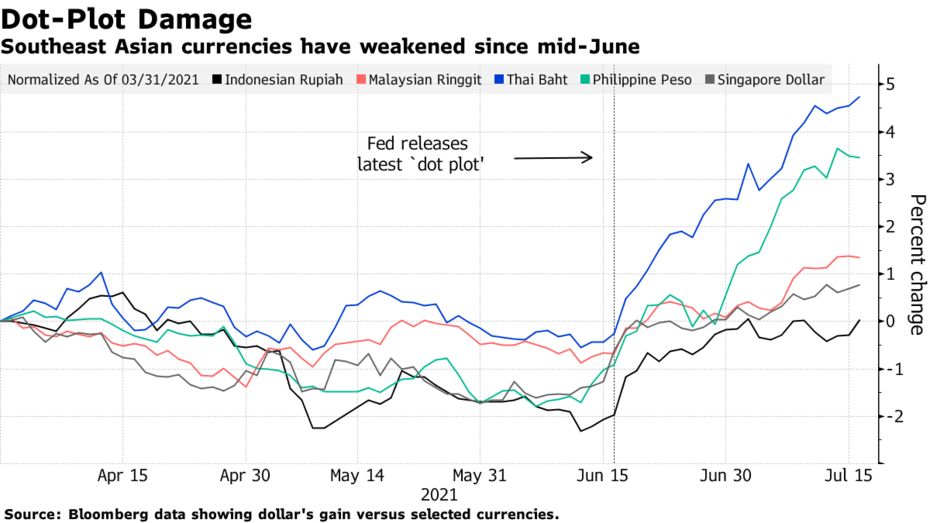 The Singapore dollar is poised to outperform its Southeast Asian peers as a higher vaccination rate and rising core inflation may spur its central bank to start tightening policy sooner than its regional counterparts.
While all Southeast Asian currencies have been under pressure against the greenback since the Federal Reserve's latest "dot plot" brought U.S. rate-hike forecasts forward, Singapore's comparative success in dealing with Covid-19 may soon set the local dollar apart from its neighbors.
Despite Singapore's new virus cases spiking to 88 on Sunday, the spread of the disease in the island state pales into insignificance next to what's happening all around it. The daily tally in Indonesia exceeds 50,000 while figures coming out of Thailand, Malaysia and the Philippines are in the thousands.
"The Singapore dollar will likely benefit from its safe haven role in the EM Asian currency suite," said Eugenia Fabon Victorino, head of Asia strategy at Skandinaviska Enskilda Banken AB in Singapore. "The relatively efficient inoculation program of the Singapore government should allow a faster reopening of the economy."
More than 45% of Singapore's population is fully vaccinated against Covid-19, versus as little as 3% in the Philippines, 5% in Thailand, 6% in Indonesia and 13% in Malaysia, according to data compiled by Bloomberg. This should help Singapore in its step-by-step approach to easing social distancing rules, while reopening plans in the rest of the region are thrown into doubt as the delta variant spreads.
Full coverage: Bloomberg