WORLDWIDE: HEADLINES 


China's factory activity expands at a slightly slower pace in June – official PMI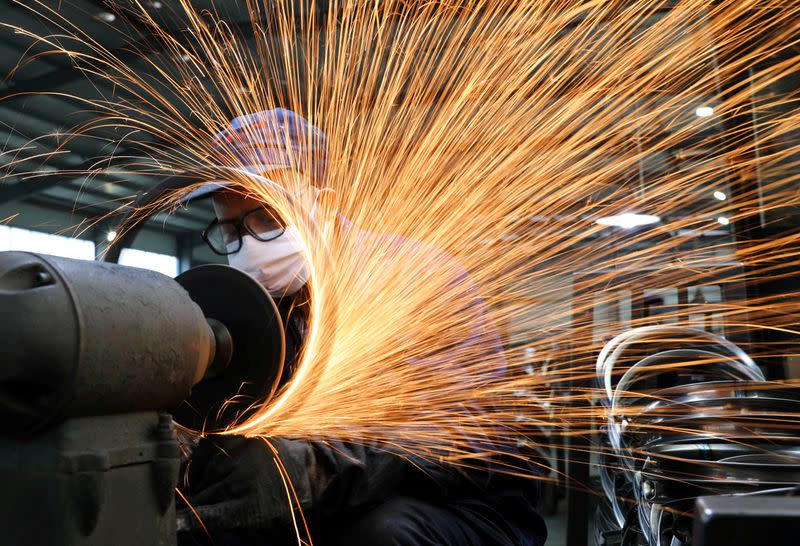 China's factory activity expanded at a slightly slower pace in June, as high raw material costs and port disruptions in the export province of Guangdong affected business activity.
The official manufacturing Purchasing Manager's Index (PMI) eased to 50.9 in June from 51 in May, data from the National Bureau of Statistics (NBS) showed on Wednesday, remaining above the 50-point mark that separates growth from contraction.
Analysts had expected it to slip to 50.8.
The world's second-largest economy has largely recovered from disruptions caused by the pandemic, but Chinese manufacturers are grappling with new challenges from higher raw material costs to global supply chain bottlenecks.
An outbreak of COVID-19 infections in China's major export province of Guangdong has also disrupted shipments.
Full coverage: REUTERS 


China's Didi raises $4.4 bln in upsized U.S. IPO –sources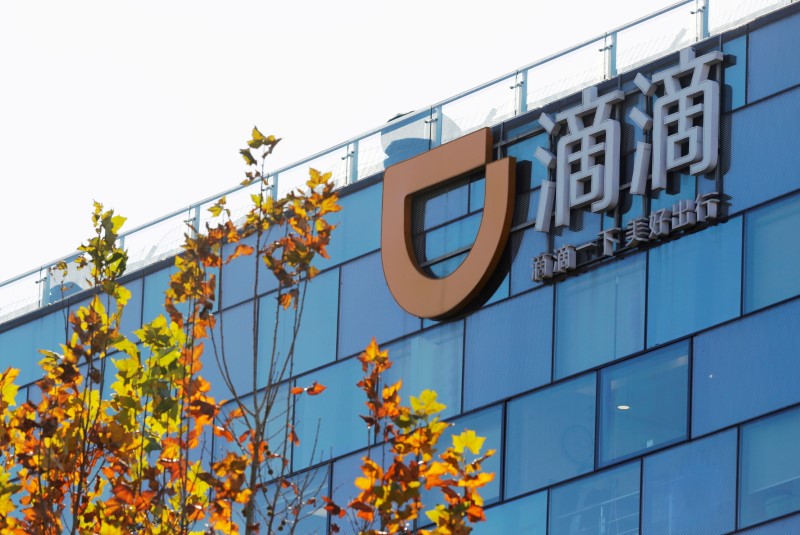 Chinese ride hailing company Didi Global Inc (DIDI.N) raised $4.4 billion in its U.S IPO on Tuesday, pricing it at the top of its indicated range and increasing the number of shares sold, according to two sources familiar with the matter.
Didi sold 317 million American Depository Shares (ADS), versus the planned 288 million, at $14 apiece, the people said on condition of anonymity ahead of an official announcement.
This would give Didi a valuation of about $73 billion on a fully diluted basis. On a non-diluted basis, it will be worth $67.5 billion. The company is expected to debut on the New York Stock Exchange on June 30.
The increase in deal size came after the Didi investor order book was oversubscribed multiple times, one of the sources said.
Investors have been told to expect their orders to be scaled back once allocations are completed on Wednesday, according to a separate source with direct knowledge of the matter.
Didi did not respond to a request for comment.
The listing, which will be the biggest U.S. share sale by a Chinese company since Alibaba raised $25 billion in 2014, comes amid record IPO activity this year as companies rush to capture the lucrative valuations seen in the U.S. stock market.
Didi's IPO is more conservative than its initial aim for a valuation of up to $100 billion, Reuters has previously reported. The size of the deal was cut during briefings with investors ahead of the IPO's launch.
This suggests increasing investor worries about China's potential anti-trust related crackdown and a more volatile IPO environment globally in 2021, said Douglas Kim, a London-based independent analyst, who writes on Smartkarma.
Full coverage: REUTERS 


WORLDWIDE: FINANCE / MARKETS  


Asian shares rise after consumer confidence boosts Nasdaq to record high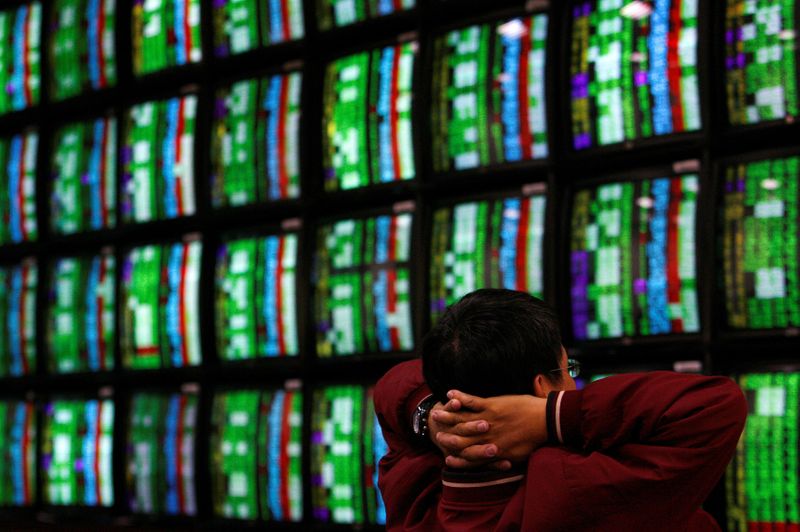 Asian shares rose and a gauge of global equities hovered near record highs on Wednesday after rising consumer confidence in economic recovery boosted the Nasdaq index to its highest-ever closing level.
MSCI's global share index (.MIWD00000PUS) was set for a fifth straight month of gains on Wednesday. Its index tracking Asian shares outside Japan (.MIAPJ0000PUS) was set for a small monthly loss, but still on course for a fifth straight quarterly rise, its longest such streak since 2006-2007.
The Asian index was last up 0.33% on the day.
Chinese blue-chips (.CSI300) added 0.1%, Australian shares (.AXJO) were up 0.58% and set for a ninth straight month of gains, and Seoul's Kospi (.KS11) rose 0.35%. Japan's Nikkei (.N225) edged up 0.06%.
Still, Steven Daghlian, market analyst at CommSec in Sydney, said that following the global run-up in equities, markets were "on edge" ahead of the release of U.S. non-farm payrolls data on Friday, the results of which could influence Federal Reserve policy.
Economists polled by Reuters are expecting a gain of 690,000 jobs for June, up from 559,000 in May.
"(It looks like) five straight months of gains in the U.S … still around record highs as well, and the end of the month and quarter as well. So that can also create just a little bit more volatility," said Daghlian.
On Monday, Richmond Federal Reserve President Thomas Barkin said the U.S. central bank has made "substantial further progress" toward its inflation goal in order to begin tapering asset purchases.
The market's continued focus on Fed plans for tapering come as the world's largest economy continues to rebound from pandemic lockdowns.
U.S. consumer confidence jumped to its highest level in nearly one and a half years in June as growing labor market optimism amid a reopening economy offset concerns about higher inflation. That came even as the Federal Housing Finance Agency house price index shot up a record 15.7% in April from a year ago, corroborating soaring house price inflation.
Overnight on Wall Street, the Dow Jones Industrial Average (.DJI) and S&P 500 (.SPX) gained or 0.03%, and the Nasdaq Composite (.IXIC) added 0.19%, hitting its record high close.
Full coverage: REUTERS 


Dollar drives higher as traders look to Fed clues from U.S. jobs data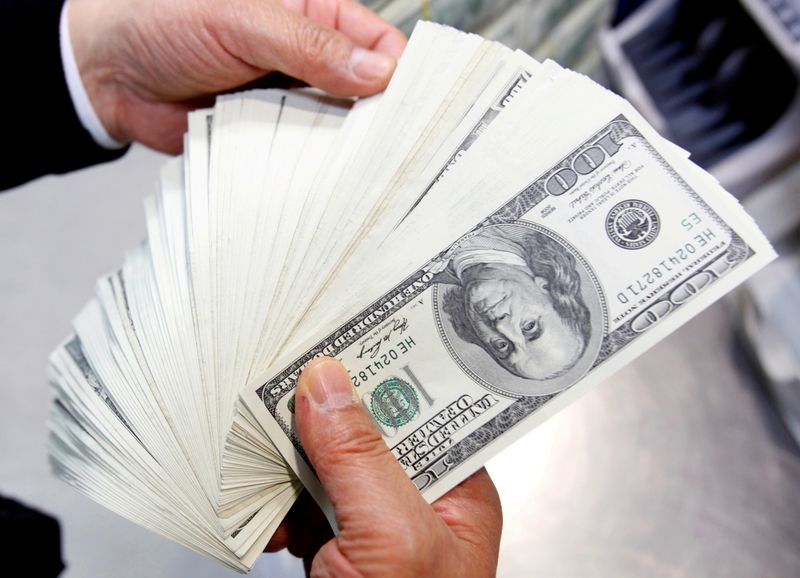 The dollar clung to recent gains on Wednesday as virus woes raised concerns in a market already on edge ahead of U.S. jobs data seen as crucial to the Federal Reserve's monetary policy outlook.
Risk-sensitive commodity currencies had led overnight losses, with the Australian and New Zealand dollars each dropping about 0.7%. The euro fell 0.2% overnight while the safe-havens of Japanese yen and the Swiss franc held steady.
Morning trading in Asia did not move majors much from those levels, with the euro last at $1.1902 and the yen at 110.58 per dollar. The Aussie bought $0.7517.
"There's a bit of a bearish tilt to currencies," said Westpac analyst Sean Callow. "It's the line you would expect on a risk-off day, and maybe it's a bit of insurance ahead of payrolls," he added, referring to U.S. labor data due Friday.
The dollar index rose 0.2% to hit a one-week high overnight and on Wednesday sat roughly in the middle of the range it has found in the wake of the surprisingly hawkish shift in tone from the Fed earlier this month.
The risk-averse mood was underpinned by a fresh spike in global coronavirus infections and in restrictive measures to contain them which threaten to set back the pandemic recovery.
Case counts are hitting daily records in Indonesia, lockdowns are being extended in Malaysia and expanded in Australia, while travelers from Britain are facing new restrictions as the contagious delta variant spreads.
At the same time traders are wary of a surprise from U.S. economic data, starting with private payrolls later on Wednesday but with the main focus on fuller labor figures due on Friday.
Signs of strength in the labor market could add pressure on the Fed to move even sooner on interest rate hikes, and lift the dollar, while it is vulnerable if the data misses expectations.
Full coverage: REUTERS 


Oil prices climb for second day after U.S. stockpiles fall 
Oil prices on Wednesday extended the previous day's small gains after an industry report showed U.S. crude stockpiles fell last week, overriding trader and investor concerns about transportation curbs in some countries as COVID-19 cases surge.
Brent crude was 42 cents, or 0.6% at $75.16 a barrel by 0122 GMT, after edging higher on Tuesday. U.S. crude was up 53 cents, or 0.7% at $73.51 a barrel, having risen 0.1% in the previous session.
While the highly contagious Delta variant of the coronavirus is taking hold in many countries, prompting new lockdowns or movement restrictions from Australia to Portugal, hopes of a broader recovery in demand for fuel remain intact.
On the last day of June, Brent is heading for another monthly gain, which would mean the contract has risen for six out of the last seven months. U.S. crude has traded similarly since November.
"Futures have been trading on a one-way ripper to the upside ever since the November 2 headline declaring a COVID-19 vaccine had been developed," said Bob Yawger, director of energy futures, at Mizuho Securities.
Crude stocks in the U.S. were down by 8.2 million barrels, the American Petroleum Institute's data showed, according to two sources, who spoke on condition of anonymity.
Still, gasoline inventories rose by 2.4 million barrels and distillate stocks were up by 428,000 barrels, the sources said.
But hopes for a broad recovery received a boost from Mohammad Barkindo, Secretary General of the Organization of the Petroleum Exporting Countries (OPEC), who said on Tuesday that demand is expected to rise by 6 million barrels per day (bpd) in 2021, with 5 million bpd of that in the second half of the year.
He laid out the forecast in a meeting of the Joint Technical Committee of OPEC+, an alliance made up of OPEC members along with Russia and other producers.
The meeting will decide on the group's production policy as it moves to release some of the barrels it has been withholding from the market to support prices after the evaporation of demand in 2020.
Full coverage: REUTERS