Modest Decline On Wall Street After Fed Minutes
Wall Street's main indexes ended with modest declines on Wednesday as investors digested minutes from the U.S. Federal Reserve's latest meeting and braced for significant economic data in the days to come.
Chip Glut Affects Samsung Profits
Samsung Electronics' (005930.KS) June-quarter profit is expected to plunge by 96% on-year to the lowest for any quarter in more than 14 years, as a chip glut continues to drive large losses in the tech giant's cash cow business despite a supply cut.
ChatGPT Reports First Traffic Decline Since Launch
The wildly popular AI chatbot launched in November, saw monthly traffic to its website and unique visitors decline for the first time ever in June, according to analytics firm Similarweb. Worldwide desktop and mobile traffic to the ChatGPT website decreased by 9.7% in June from May, while unique visitors to ChatGPT's website dropped by 5.7%.
Today's News
Tech titans Elon Musk and Mark Zuckerberg are setting the internet ablaze with their rivalry as things took an unexpected turn this year. The two have reportedly clashed for years but a recent comment made by a Meta executive had sent things spiraling out of control as it stated that Musk's Twitter was not "sanely" ran.
This had irked Musk, leading him to call out the employee and challenge Zuckerberg to a "cage match" in the process, which led to the internet fiasco when Zuckerberg nonchalantly replied "Send Me Location".
Musk and Zuckerberg were seemingly fated to clash as the two rivaled each other in every corner, be it from a personal or professional standpoint. In terms of market capitalization, Musk would most likely prevail, seeing that Tesla is approximately USD 100 billion ahead of Zuckerberg's Meta to date.
Following this rivalry are as follows:
Tesla's Revenue Closes Gap On Meta
Although Meta may be larger in terms of revenue, but Tesla is showing rapid growth as of late, due to the surge of market demand for electronic vehicles (E.V.). Analysts polled by Refinitiv expect the two companies' top lines to almost converge by 2025. And in investment terms, Musk takes the point over Zuckerberg here.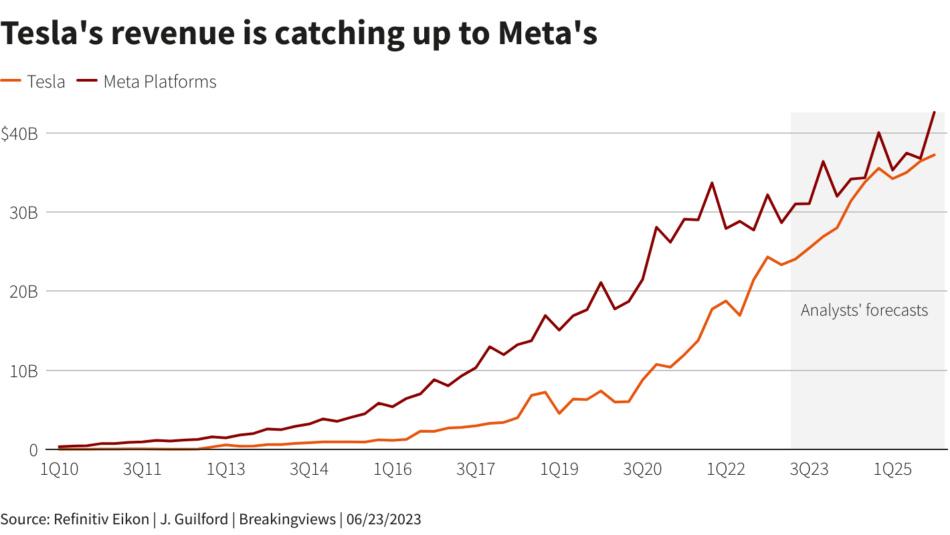 A dollar invested in the-company-formerly-known-as-Facebook's stock-market debuted in 2012 is now worth USD 7.45. The same dollar invested at the same time in Tesla is now worth USD 144. As finances go, Meta's are the more muscular. The company had USD 37 billion of cash and marketable securities at last count. Tesla's own dollar hoard is building, but Zuckerberg is way ahead, generating USD 116 billion of cumulative free cash flow over the last five years and shipping USD 96 billion of it to shareholders through buybacks. Which means that the playfield is evened out once more with a point to both Musk and Zuckerberg.
The showdown is far from over between the two.
Head-On Retaliation To Twitter With The Launch Of Threads
Meta Platforms (META.O) launches a microblogging app, Threads, challenging Musk just days after the Twitter executive chair announced a temporary cap on how many posts users can read on the site.
Musk and Zuckerberg have been egging each other in an alleged cage match with both billionaires trading jabs (online) since last month. But it seems that they have took a more revenue-centric approach to their battles to see who would stand over the other financially.
A More Refined Version Of Twitter: Threads
"Let's do this. Welcome to Threads," Facebook parent Meta CEO Zuckerberg wrote in his first post on the app, along with a fire emoji. He happily expressed that the app has already logged 2 million sign-ups in its first two hours upon release.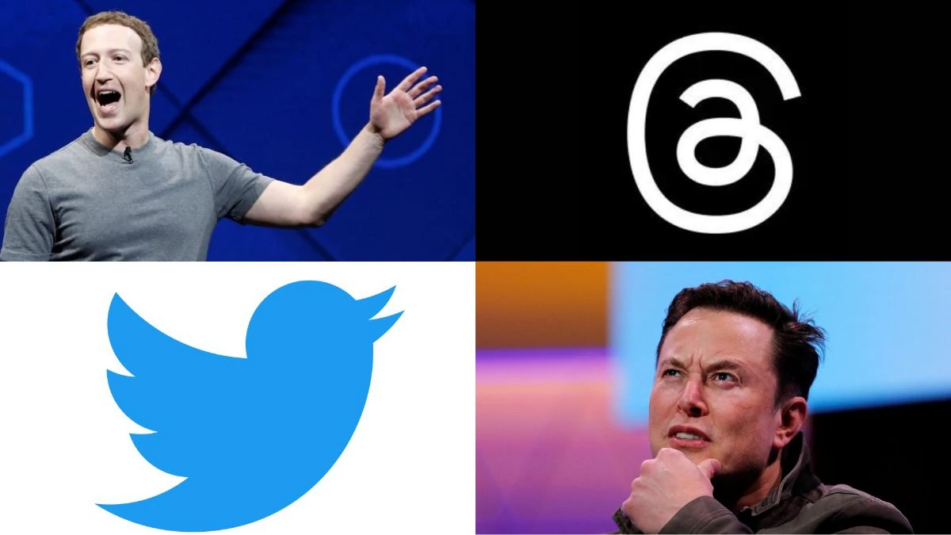 Much like Twitter, the app features short text posts that users can like, re-post and reply to, although it does not include any direct message capabilities. Posts can be up to 500 characters long and include links, photos and videos up to five minutes long, according to a Meta blog post.
Threads is available in more than 100 countries on both Apple's App Store and Google's Play Store with analysts estimating that the newly launched app may siphon from Twitter as it already boasts a strong built-in user base and advertising apparatus from Instagram.