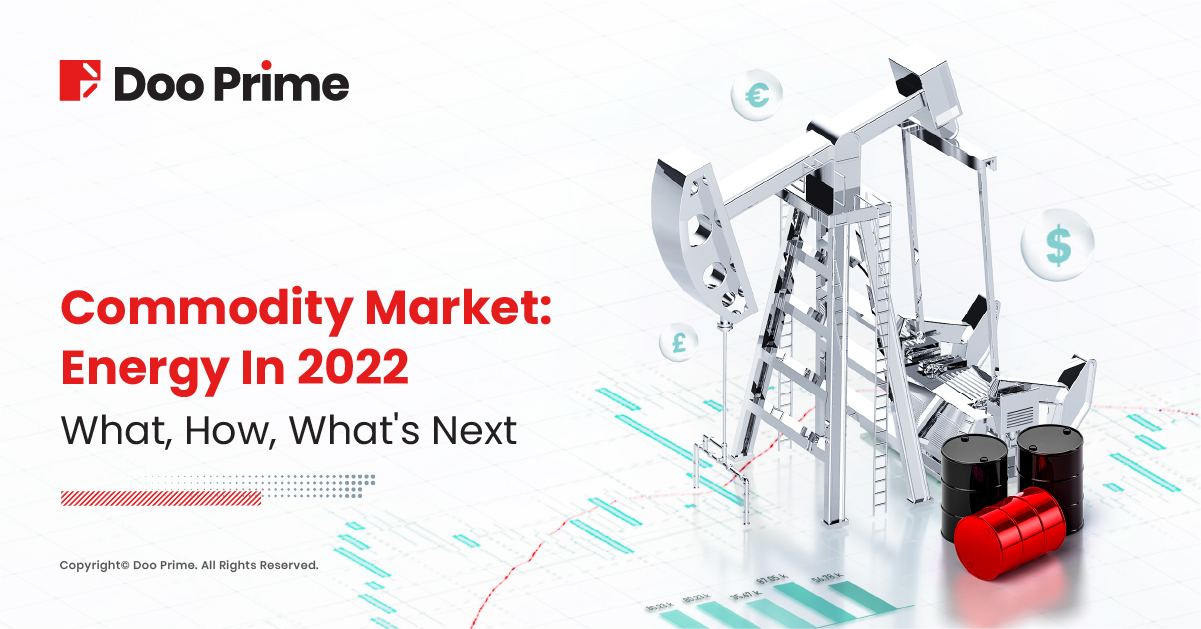 Energy is one of the main categories under the umbrella of commodities. Energy generally includes crude oil, heating oil, natural gas and gasoline.
This year, the global oil and gas situation has been stirred by multiple factors including geopolitical, market, and economic risks. To be specific, there is the Russia-Ukraine war, the Covid-19 pandemic, the U.S. inflation and not to forget the looming winter.


What Is Affecting The Energy Prices In 2022
In early 2022, February, the Russia-Ukraine war has not only brought geopolitical risks but also economic risks to energy. With the conflict, several sanctions were imposed on the Russian oil, causing energy prices to rise.
Read up on our "In The Face Of The Russia-Ukraine War, Commodity Trades Lead Markets Into Volatility Zone" to find out how the war has affected the commodity's performance during the peak of the conflict.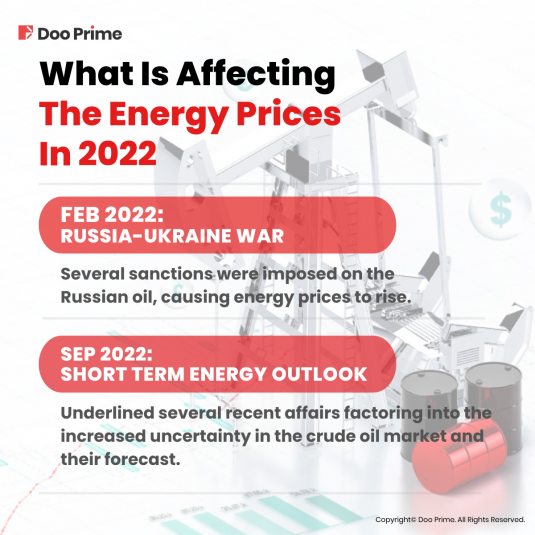 According to the September and October 2022 short term energy outlook (STEO) released by the U.S. Energy Information Administration (EIA), the reports underlined a few particular affairs factoring into the increased uncertainty in the crude oil market and their forecast.
Here are the affecting factors flagged by the EIA's September 2022 STEO: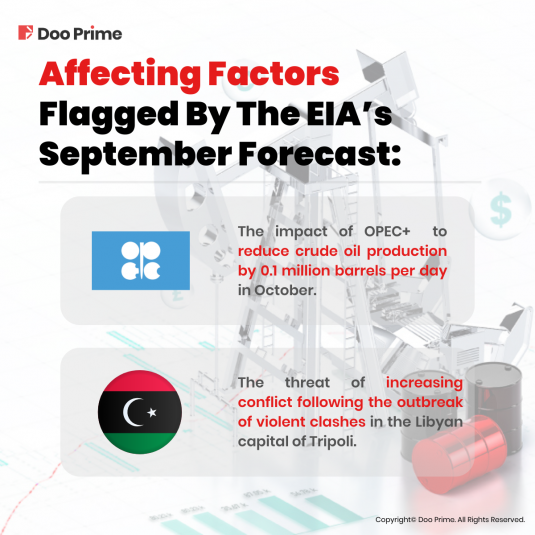 The impact of Organization of the Petroleum Exporting Countries Plus (OPEC+) to reduce crude oil production by 0.1 million barrels per day in October, alongside the possibility of further production cuts in the future.

The threat of increasing conflict following the outbreak of violent clashes in the Libyan capital of Tripoli.

Uncertainty around the potential expiration of the current coordinated petroleum release from strategic reserves in November.

The potential return to an Iran nuclear deal that could lift sanctions on the country and allow Iran's crude oil exports into the market.

The risk of hurricanes that could result in potential production outages and limited export traffic along the U.S. Gulf Coast.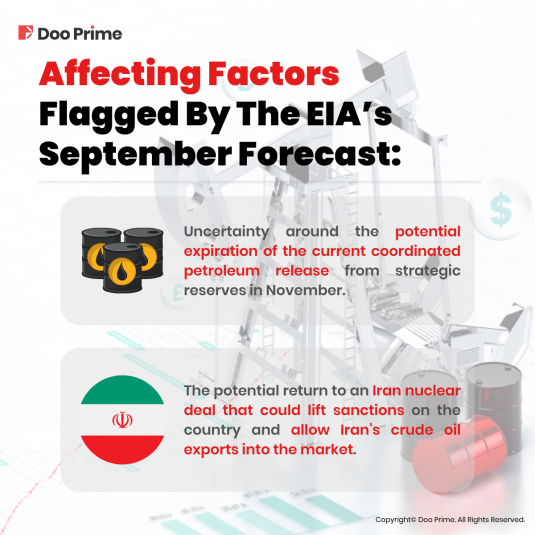 The major takeaways flagged by the EIA's October 2022 forecast on global liquid fuels include:
Potential petroleum supply disruptions and slower-than-expected crude oil production growth could send oil prices higher. Plus, the possibility of slower-than-forecast economic growth may factor into lower prices.
On 5th October 2022, OPEC+ announced to reduce crude oil production by 2 million barrels per day. With this, the OPEC crude oil production forecast sees a decline of USD28.6 million barrel per day from an average of USD29.6 million barrel per day in September 2022 over the fourth quarter of 2022 and the first quarter of 2023.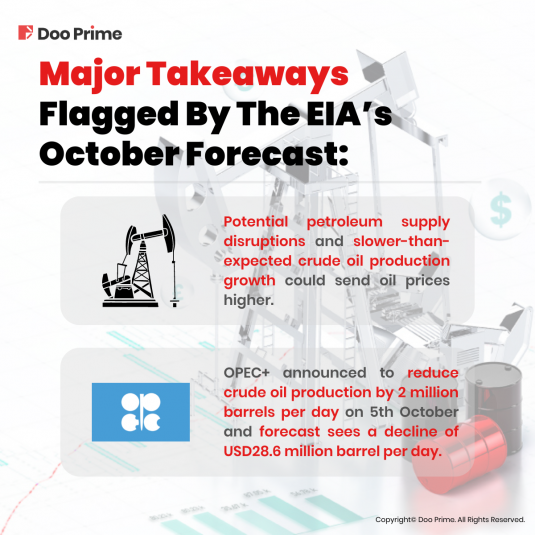 The U.S. crude oil production in the forecast averages on 11.7 million barrels per day in 2022 and 12.4 million barrels per day in 2023. These numbers would exceed the record high set in 2019.
Overall, energy prices are also affected by the looming risks of a global recession and a weakening demand outlook. This factor continues to weigh on oil markets. Also, China's persistent Covid-induced curbs clouded the outlook and hampered the oil's comeback bid on the OPEC+'s production cuts.
At the same time, Energy companies such as Chevron and ExxonMobil are benefiting from soaring energy prices as they reported profits well ahead of expectations this quarter.


How Did Energy Perform Over The Year
Let's take a look at how crude oil performed with the major influencing factors mentioned above.
Russian-Ukraine War: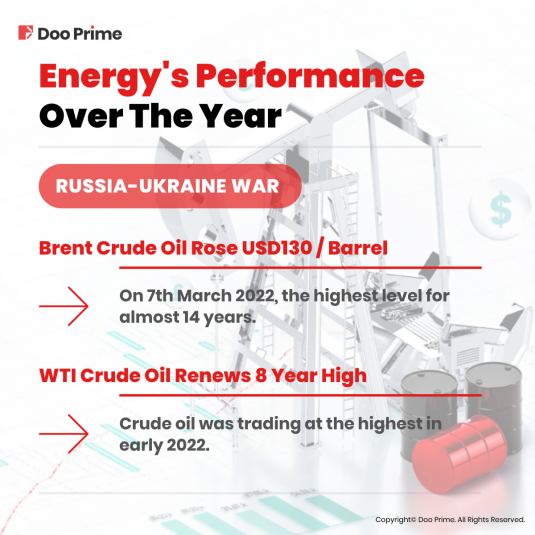 The price of Brent crude – the global benchmark for oil prices – rose to around USD130 a barrel on 7th March 2022, the highest level for almost 14 years, following reports that the U.S. and U.K. will announce their own ban on Russian oil imports.
That said, crude oil was trading at the highest in early 2022, with West Texas Intermediate (WTI) crude oil renewing on an eight-year high.


OPEC+ Production Cuts: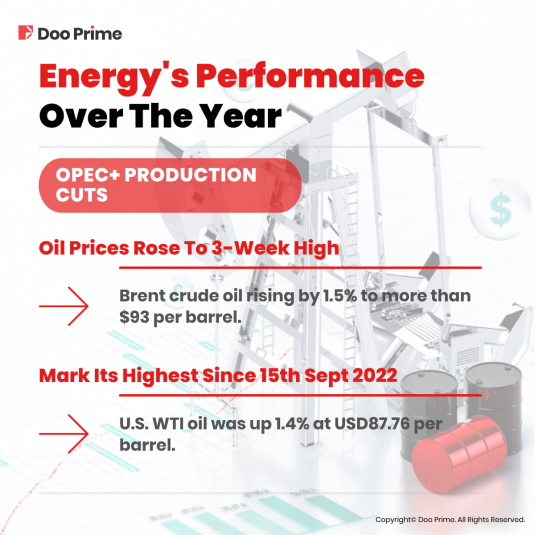 In October 2022, OPEC+ has reduced its production, aiming to shore up prices despite U.S.' pressure to pump more.
Upon the news, the oil prices rose to a three-week high, with Brent crude oil rising by 1.5% to more than $93 per barrel, adding to gains this week ahead of the gathering of oil ministers. Meanwhile, the U.S. WTI oil was up 1.4% at USD87.76 per barrel, marking its highest since 15th September 2022.
The 2 million production cut from OPEC+ might have possibly spur a recovery in oil prices that saw a drop of approximately USD90 from USD120 three months ago due to the fears of global economic recession, coupled with the surging U.S. interest rates and a stronger greenback.


U.S. Inflation & Looming Recession: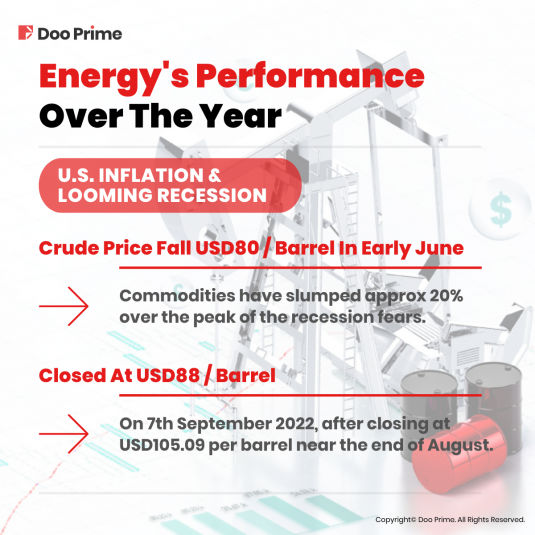 The commodity market has been volatile as the U.S. is experiencing an ultra-high interest rate environment with surging inflation and a looming recession.
During this interval, crude prices have fallen around USD80 per barrel from over USD120 in early June. In addition, the commodities have slumped approximately 20% over the peak of the recession fears.
Towards the third quarter of the year, crude oil's price was closing at USD88 per barrel on 7th September 2022, after closing at USD105.09 per barrel near the end of August.
Ultimately, the global oil prices – which soared in the first half of the year – have since dropped sharply, fearing that a global recession will depress demand. Brent crude is down 20% since the end of June. The global benchmark hit a peak of USD139 a barrel in March after Russia's invasion of Ukraine.


What's Next
In the August 2022 STEO, the EIA estimated that the Brent spot price would be at an average of USD105 in 2022 and USD95 per barrel in 2023.
To add, Natasha Kaneva, Head of Global Commodities Research at JPMorgan also projected similar estimates where crude oil price in 2023 would be priced around USD98.
Before the 5th October OPEC+ decision, many experts were predicting that oil prices would remain stable for the rest of 2022 since the inflation concerns have made an impact on consumer spending.
In the October 2022 STEO forecast, the Brent crude oil spot price averages USD93 per barrel in the fourth quarter of 2022 and USD95 in 2023.
The next OPEC+ meeting will be held on 4th December 2022, and speculators will anticipate on whether the OPEC+ will reverse the move.
Against these backdrops, we shall see if the forecasts and analysis are accurate and how the market will react to it.


| About Doo Prime
Our Trading Instruments
Securities | Futures | Forex | Precious Metals | Commodities | Stock Indices
Doo Prime is an international pre-eminent online broker under Doo Group, which strives to provide professional investors with global CFD trading products in Securities, Futures, Forex, Precious Metals, Commodities, and Stock Indices. At present, Doo Prime is delivering the finest trading experience to more than 60,000 professional clients, with an average trading volume of more than USD51.223 billion each month.
Doo Prime entities respectively holds the relevant financial regulatory licenses in Seychelles, Mauritius, and Vanuatu with operation centers in Dallas, Sydney, Singapore, Hong Kong, Dubai, Kuala Lumpur, and other regions.
With robust financial technology infrastructure, well-established partnerships, and an experienced technical team, Doo Prime boasts a safe and secure trading environment, competitive trading costs, as well as deposit and withdrawal methods that support 10 different currencies. Doo Prime also incorporates 24/7 multilingual customer service and extremely fast trade execution via multiple industry-leading trading terminals such as MT4, MT5, TradingView, and InTrade, covering over 10,000 trading products.
Doo Prime's vision and mission are to become a financial technology-focused broker, streamlining international global financial products investment.
For more information about Doo Prime, please contact us at:
Phone:
Europe : +44 11 3733 5199
Asia : +852 3704 4241
Asia – Singapore: +65 6011 1415
Asia – China : +86 400 8427 539
E-mail:
Technical Support: [email protected]
Account Manager: [email protected]

Forward-looking Statements
This article contains "forward-looking statements" and may be identified by the use of forward-looking terminology such as "anticipate", "believe", "continue", "could", "estimate", "expect", "hope", "intend", "may", "might", "plan", "potential", "predict", "should", or "will", or other variations thereon or comparable terminology. However, the absence of such terminology does not mean that a statement is not forward-looking. In particular, statements about the expectations, beliefs, plans, objectives, assumptions, future events, or future performance of Doo Prime will be generally assumed as forward-looking statements.
Doo Prime has provided these forward-looking statements based on all current information available to Doo Prime and Doo Prime's current expectations, assumptions, estimates, and projections. While Doo Prime believes these expectations, assumptions, estimations, and projections are reasonable, these forward-looking statements are only predictions and involve known and unknown risks and uncertainties, many of which are beyond Doo Prime's control. Such risks and uncertainties may cause results, performance, or achievements materially different from those expressed or implied by the forward-looking statements.
Doo Prime does not provide any representation or warranty on the reliability, accuracy, or completeness of such statements. Doo Prime is not obliged to provide or release any updates or revisions to any forward-looking statements.
Risk Disclosure
Trading in financial instruments involves high risks due to the fluctuation in the value and prices of the underlying financial instruments. Due to the adverse and unpredictable market movements, large losses exceeding the investor's initial investment could incur within a short period of time. The past performance of a financial instrument is not an indication of its future performance. Investments in certain services should be made on margin or leverage, where relatively small movements in trading prices may have a disproportionately large impact on the client's investment and client should therefore be prepared to suffer significant losses when using such trading facilities.
Please make sure you read and fully understand the trading risks of the respective financial instrument before engaging in any transaction with Doo Prime's trading platforms. You should seek independent professional advice if you do not understand any of the risks disclosed by us herein or any risk associated with the trade and investment of financial instruments. Please refer to Doo Prime's Client Agreement and Risk Disclosure and Acknowledgement Notice to find out more.
Disclaimer
This information is addressed to the general public solely for information purposes and should not be taken as investment advice, recommendation, offer, or solicitation to buy or sell any financial instrument. The information displayed herein has been prepared without any reference or consideration to any particular recipient's investment objectives or financial situation. Any references to the past performance of a financial instrument, index, or a packaged investment product shall not be taken as a reliable indicator of its future performance. Doo Prime and its holding company, affiliates, subsidiaries, associated companies, partners and their respective employees, make no representation or warranties to the information displayed and shall not be liable for any direct, indirect, special or consequential loss or damages incurred a result of any inaccuracies or incompleteness of the information provided, and any direct or indirect trading risks, profit, or loss arising from any individual's or client's investment.