WORLDWIDE: HEADLINES 
Gaming company Roblox surges 54% in debut on NYSE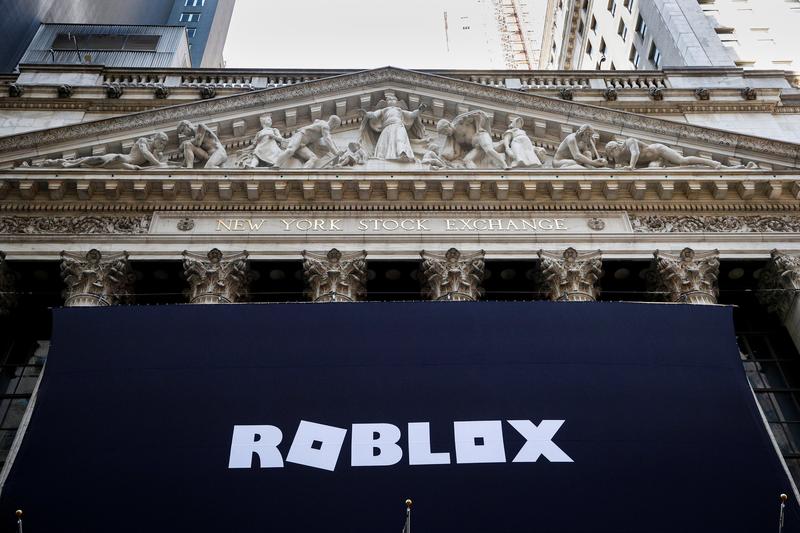 Shares of U.S. gaming company Roblox Corp closed up 54.4% in its New York Stock Exchange trading debut on Wednesday, valuing the company at $45.2 billion.
San Mateo, California-based Roblox is among the world's most popular gaming sites for children and offers a host of games across mobile devices and gaming consoles.
The company's stock opened at $64.5 and ended trading at $69.47, up from the reference price of $45 per share set on Tuesday and based on where its stock had been trading in less liquid private markets.
"This is a milestone along a journey that started over 15 years ago," Roblox Chief Executive David Baszucki said in an interview before the stock started trading.
"Going public can bring awareness to our company, we can safely show our financials, we can show the value of what we're doing," Baszucki said.
At its closing price, Roblox would have a fully diluted valuation, which includes unvested stock options and restricted stocks, of $45.2 billion and a market capitalization of $38.2 billion.
Roblox said in January it had raised around $520 million in a new Series H private fundraising round in a deal with a fully diluted valuation of $29.5 billion, more than seven times the $4 billion valuation in its Series G round 11 months earlier.
Full coverage: REUTERS  
SoftBank-backed Coupang raises $4.2 billion in IPO: sources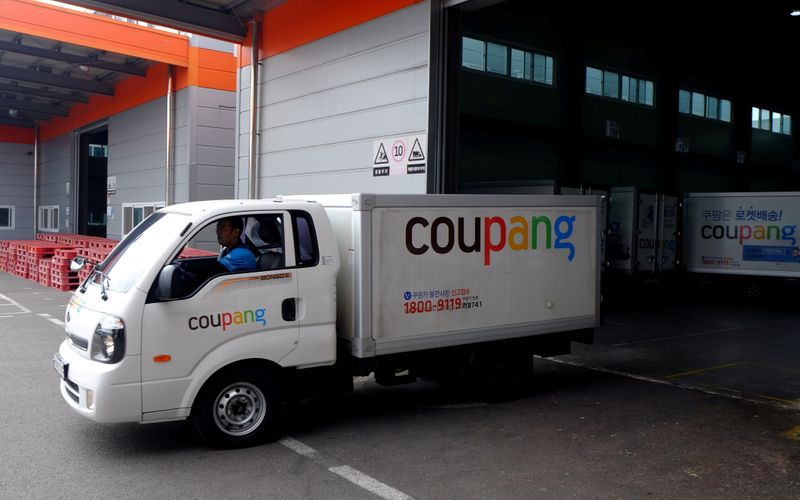 Coupang LLC, South Korea's largest e-commerce company, sold shares in its initial public offering (IPO) on Wednesday at $35 apiece, above its target range, to raise $4.2 billion, people familiar with the matter said.
The IPO gives Seoul-based Coupang, which is backed by Japan's SoftBank Group Corp, a market value of $60 billion.
Coupang had aimed to sell 120 million shares at a target price range $32-$34 per share, higher than the initial $27-$30 announced last week. The company declined to comment.
Coupang's IPO is the biggest U.S. share offering so far this year, surpassing the $2.15 billion raised by dating app Bumble Inc last month. It also marks a significant increase in Coupang's valuation, which was pegged at $9 billion in a previous fundraising round in 2018, according to Pitchbook.
Just like many other e-commerce firms, Coupang's sales grew sharply during the COVID-19 pandemic as customers shopped more online while under restrictions.
In 2020, Coupang's net sales jumped 91% year-on-year to $11 billion. Net losses narrowed to $567.6 million from $770.2 million posted in the prior year.
Full coverage: REUTERS 
WORLDWIDE: FINANCE / MARKETS  
Oil prices rise on economic outlook, drawdown in fuel stocks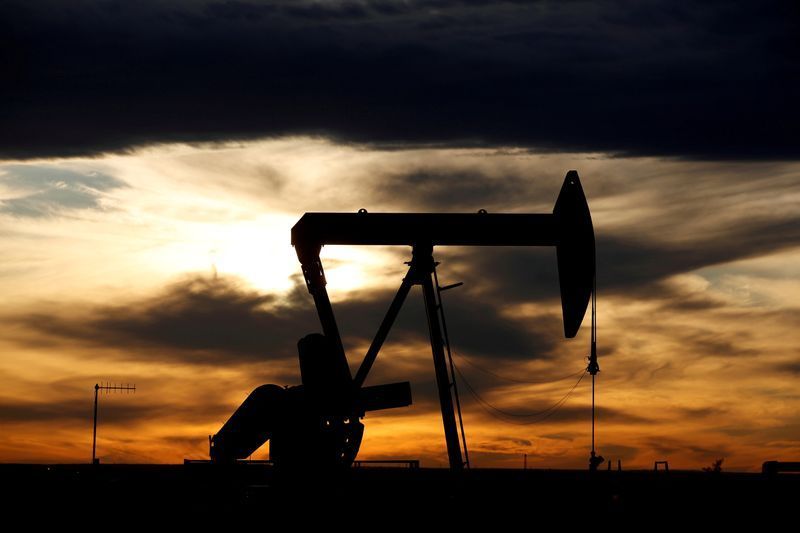 SINGAPORE – Crude oil prices rose on Thursday as vaccine rollouts bolstered the economic outlook and U.S. fuel stocks fell sharply, although gains were capped by a surge in crude oil inventories after last month's Texas storm.
Brent crude oil futures for May rose 40 cents, or 0.6%, to $68.30 a barrel by 0105 GMT, while U.S. West Texas Intermediate crude for April was up 48 cents, or 0.7%, at $64.92.
"Gasoline stocks fell… (which) provided the bullish offset and eventually sent oil prices higher on the strong demand for end products, hence an economic recovery," said Stephen Innes, Chief Global Markets Strategist at Axi.
"Given the powerful signals from the U.S. re-opening narrative, it still suggests that the path of least resistance for oil prices is higher."
U.S. gasoline stocks fell by 11.9 million barrels in the week to March 5 to 231.6 million barrels, the Energy Information Administration (EIA) said, compared with expectations for a 3.5 million-barrel drop.
Crude inventories, however, rose by 13.8 million barrels in the week to March 5 to 498.4 million barrels, compared with analysts' expectations in a Reuters poll for an 816,000-barrel rise, as the nation's oil industry continued to feel the effects of a winter storm mid-February that stalled refining and forced production shut-ins in Texas.
Globally, stocks also remain ample with crude oil in storage at major land and sea hubs rising last week, according to analysts and ship trackers.
Full coverage: REUTERS 
Dollar nurses losses after benign inflation data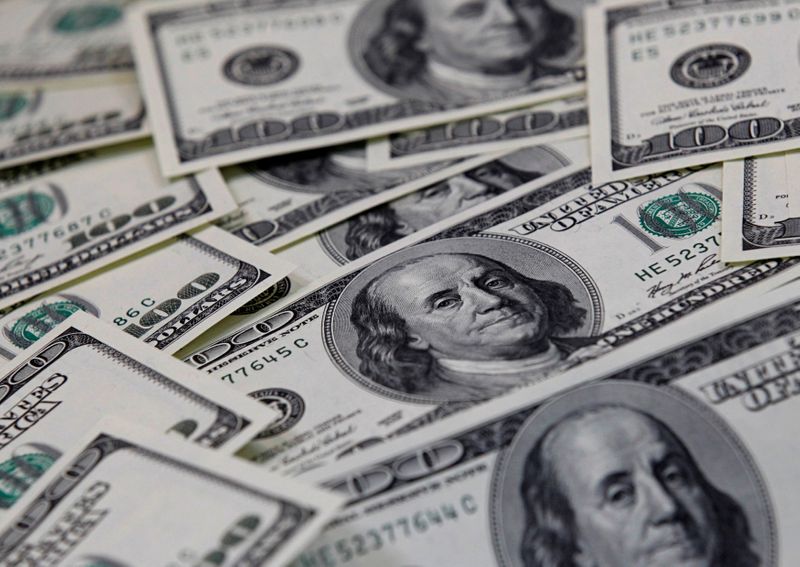 TOKYO – The dollar nursed losses against most currencies on Thursday after benign data on U.S. consumer price data and a decline in Treasury yields led some investors to trim bets on a rapid acceleration in inflation.
The euro was in focus ahead of a European Central Bank meeting later on Thursday where policymakers are expected to send a message that they will prevent bond yields from rising further and harming the bloc's economic outlook.
Sentiment for the dollar remains fairly positive as the U.S. economy is recovering from the coronavirus pandemic and President Joe Biden's $1.9 trillion stimulus bill has won final approval in Congress, so any further declines in the dollar are likely temporary.
"The reflation trade looks set to continue," said Junichi Ishikawa, senior foreign exchange strategist at IG Securities.
"The dollar is the dominant theme in the currency market, and this is just a temporary pause in its uptrend."
Against the euro, the dollar was quoted at $1.1928, nursing a 0.2% loss from the previous session.
The British pound bought $1.3933 after rising 0.3% on Wednesday.
The dollar traded at 108.37 yen, extending a pullback from a nine-month high reached on Tuesday.
Against the safe-harbour Swiss franc, the dollar bought 0.9297.
U.S. core consumer prices rose 1.3% year-on-year in February, a slight slowdown from a 1.4% annual increase in the previous month, data showed on Wednesday.
The dollar and U.S. Treasury yields have been rising steadily due to expectations that the Federal Reserve's loose monetary policy and fiscal stimulus will stoke inflation, but the subdued price data took some momentum away from the greenback.
Full coverage: REUTERS 
Asian stocks set to firm after Dow hits record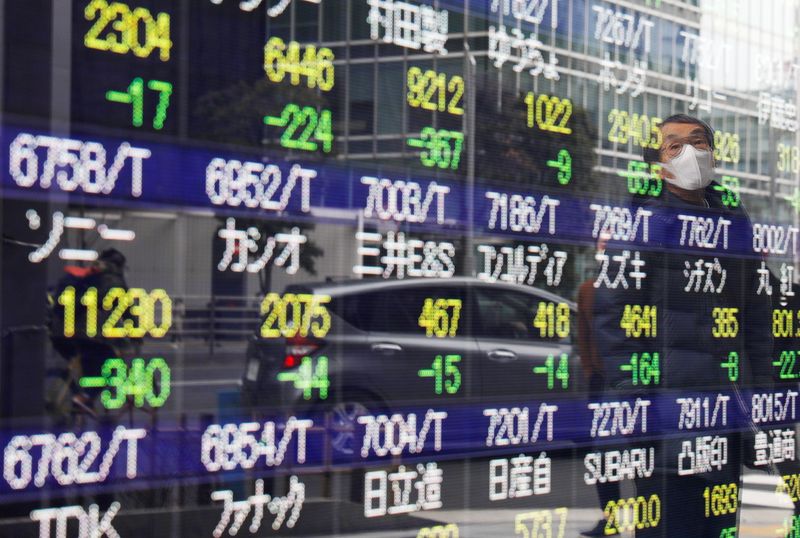 NEW YORK – Asian stocks were set to open slightly higher, following Wall Street's momentum, after a report on U.S. consumer prices calmed concerns about inflation, helping steer the Dow Jones Industrial Average to a record close.
Japan's Nikkei 225 futures added 0.02%. Hong Kong's Hang Seng index futures rose 0.03%.
Australia's S&P/ASX 200 index gained 0.12% in early trading. E-mini futures for the S&P 500 rose 0.24%.
"I do think we'll see good support for Asian markets today across the region," said Michael McCarthy, chief markets strategist at CMC Markets. "The reflation trade is back on. We saw bonds and stocks rallying together and a slight easing in the U.S. dollar, which also indicates improving sentiment."
The U.S. Labor Department said its consumer price index rose 0.4% in February, in line with expectations, after a 0.3% increase in January. Core CPI, which excludes volatile food and energy components, edged up 0.1%, just shy of the 0.2% estimate.
While analysts largely expect a hike in inflation as vaccine rollouts lead to a reopening of the economy, worries persist that additional stimulus in the form of a $1.9 trillion coronavirus relief package set to be signed by U.S. President Joe Biden could lead to an overheating of the economy.
The House of Representatives gave final approval on Wednesday to the bill, one of the largest economic stimulus measures in U.S. history.
U.S. Treasury yields slid Wednesday after an auction of benchmark 10-year notes that showed tepid demand with lower-than-average bid-to-cover ratio.
Benchmark 10-year notes last fell 2/32 in price to yield 1.5265%, from 1.52% late on Wednesday.
Full coverage: REUTERS