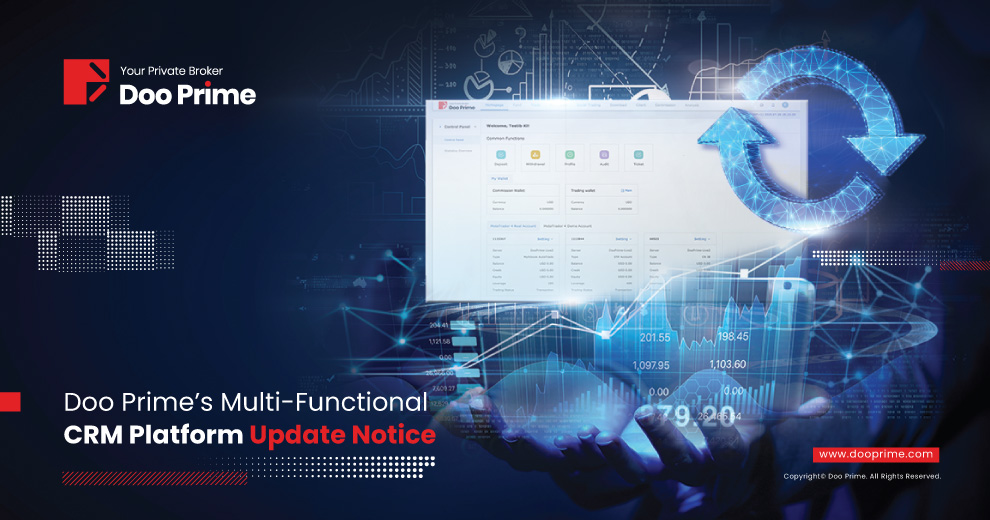 DOO PRIME's MULTI-FUNCTIONAL CRM PLATFORM UPDATE  NOTICE   
Hong Kong : July 09, 2020
Doo Prime is pleased to announce the latest update of our multi-functional CRM platform – CRM – Version 4.37.0. to refine and enhance user's interface experience.
Doo Prime with advance technology as core has updated, our multi-functional CRM platform – CRM – Version 4.37.0. In order to meet the needs of evolving technologies, Doo Prime has included quite a number of new functions in our multi-functional CRM platform. Our CRM system offers a highly efficient browsing experience featuring multilingual settings, practical information such as Trading Strategies and financial insights.
The main update of the CRM – Version 4.37.0. contents are as follow:   
Copying and positioning optimization of trading orders and data charts in the trading module
The deposit, withdrawal and transfers directory has been improved on the homepage
Three-level menu navigation optimization
Homepage trading account card display optimization
Some copying menu and location optimization
System detail style optimization
Our multi-functional CRM platform provides excellent user's interface experience for making deposits, withdrawals, transfers with multiple online payment methods. Moreover, traders can browse through Social Trading Leaderboard, Funds and Trading History.
Ultimately, our CRM platform features Analysis Views provided by both Trading Central and Alpha Strategy. The Analysis content includes Analysis Perspective, Technical Analysis, Financial Calendar and Daily Research Reports to assist in our clients' trading strategy.
In addition to the adjustments and improvement mentioned above, Doo Prime is a strong technological broker, dedicated to provide 24/7 multi-language customer service, secured trading conditions, competitive trading cost, ms-level trading execution, diversified trading products, as well as a secure and reliable capital guarantee under international supervision.
Through our vigilance against complacency, we at Doo Prime remain committed to our corporate vision to offer the highest quality services to retail forex traders and partners.

—END—
For further information, you may contact Doo Prime via :
Phone Number : +44 20 8123 9088 (UK) or +852 9561 4601 (Hong Kong)
E-Mail : [email protected]
Website : www.dooprime.com