Doo Prime's Multi-Functional Newly Developed CRM Platform Launching Notice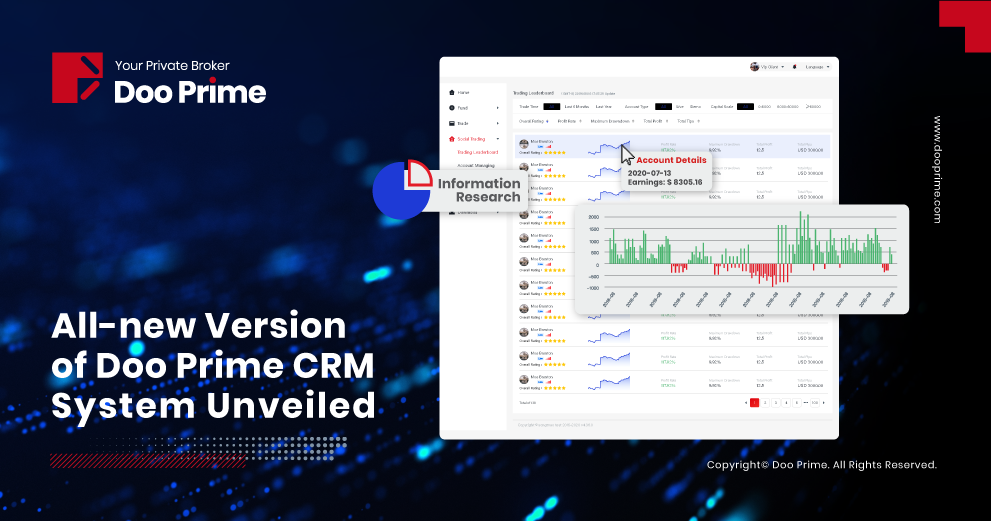 Hong Kong : July 27, 2020
Doo Prime, an online leading broker in the market, is proud to announced that we are launching a brand new multi-functional platform- Doo Prime CRM system.
After continuously working on updates for our previous versions of Doo Prime's multi-functional CRM platform, Doo Prime has decided to take the next step in providing our clients with more exclusive and distinctive user interface experience.
The launch of our new CRM platform proves Doo Prime's dedication in constantly striving to serve our clients better, evolve as a company as well as complying with the higher standards of practice in the online trading industry.
In Doo Prime's CRM, a newly launched interface, will feature a platform that fully accommodates and dedicated to provide our clients the best investment domain and experience. Moreover, we will be offering customized services as well as enhanced control panel on the homepage, Web TV, and personal performance report.
The customization will be developed based on the needs of our partners and clients to fully cater and provide our highly valued clients with Doo Prime's dedicated customer management system supported by our well-established technology and infrastructure.
The new facelift of Doo Prime's CRM platform includes these notable features for our clients:
More conveniences for account management
New interface with user-friendly features
Empowering users with powerful analytic tools
Traders will have direct access to Doo Prime's Points Mall which offer rewards
Our multi-functional CRM platform includes the basic functions of an uncomplicated user's interface experience for making deposits, withdrawals, transfers with multiple online payment methods. Additionally, traders can browse through Social Trading Leaderboard, Funds and Trading History.
Ultimately, our newly launched CRM platform also features Analysis Views provided by both Trading Central and Alpha Strategy. The Analysis content includes Analysis Perspective, Technical Analysis, Financial Calendar and Daily Research Reports to assist in our clients' trading strategy.
In addition to the features and improvements mentioned above, Doo Prime is a strong technological broker, dedicated to provide 24/7 multi-language customer service, secured trading conditions, competitive trading cost, ms-level trading execution, diversified trading products, as well as a secure and reliable capital guarantee under international supervision.
Through our vigilance against complacency, we at Doo Prime remain committed to our corporate vision to offer the highest quality services to retail forex traders and partners.

—END—
For further information, you may contact Doo Prime via :
Phone Number : +44 20 8123 9088 (UK) or +852 5576 9874 (Hong Kong)
E-Mail : [email protected]
Website : www.dooprime.com