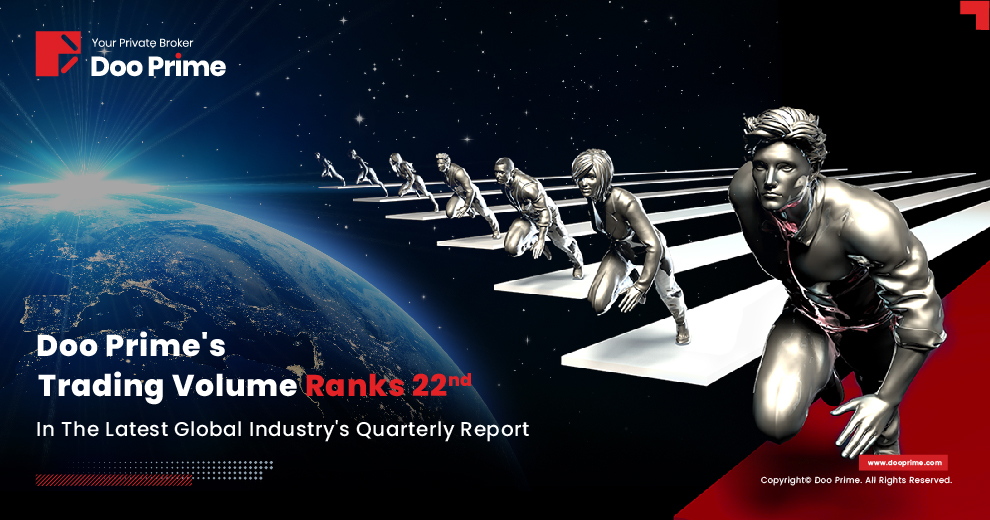 The renowned financial technology media, Finance Magnates has just recently released the third quarter industry report (Intelligence Report) for global traders.  
According to the reported data, Doo Prime ranks at 22nd among thousands of forex and CFD brokers in the world with a monthly trading volume of nearly 65 billion USD. With years of continuous diligence and development contributed in the financial field, this success proves Doo Prime's dedication in gaining the recognition and trust of our customers. As a result, it has led us to this achievement and won a prominent position in the industry.
Finance Magnates publishes an industry report every quarter to summarize the latest overview of the global brokerage industry. The report covers individual insights of many experts and the analysis of the financial market trends. It is seen as one of the most authoritative publications in the industry. This report compares the trading volume, customer growth, and user experience of the world's major brokers in an all-around way to select the most powerful brokers every quarter.
Doo Prime triumphantly listed shoulder to shoulder with other international giants 
The report illustrates that the average trading volume of global forex and CFDs in the third quarter of 2020 sits at 289 billion USD per day and 6,358 billion USD per month respectively.  Whereas Doo Prime's trading volume stretch as high as 3 billion USD per day and 65 billion USD per month. Doo Prime triumphantly ranks at 22nd in the world among IC Markets, IG Group, and Plus500 alongside other long-established and internationally renowned brokers.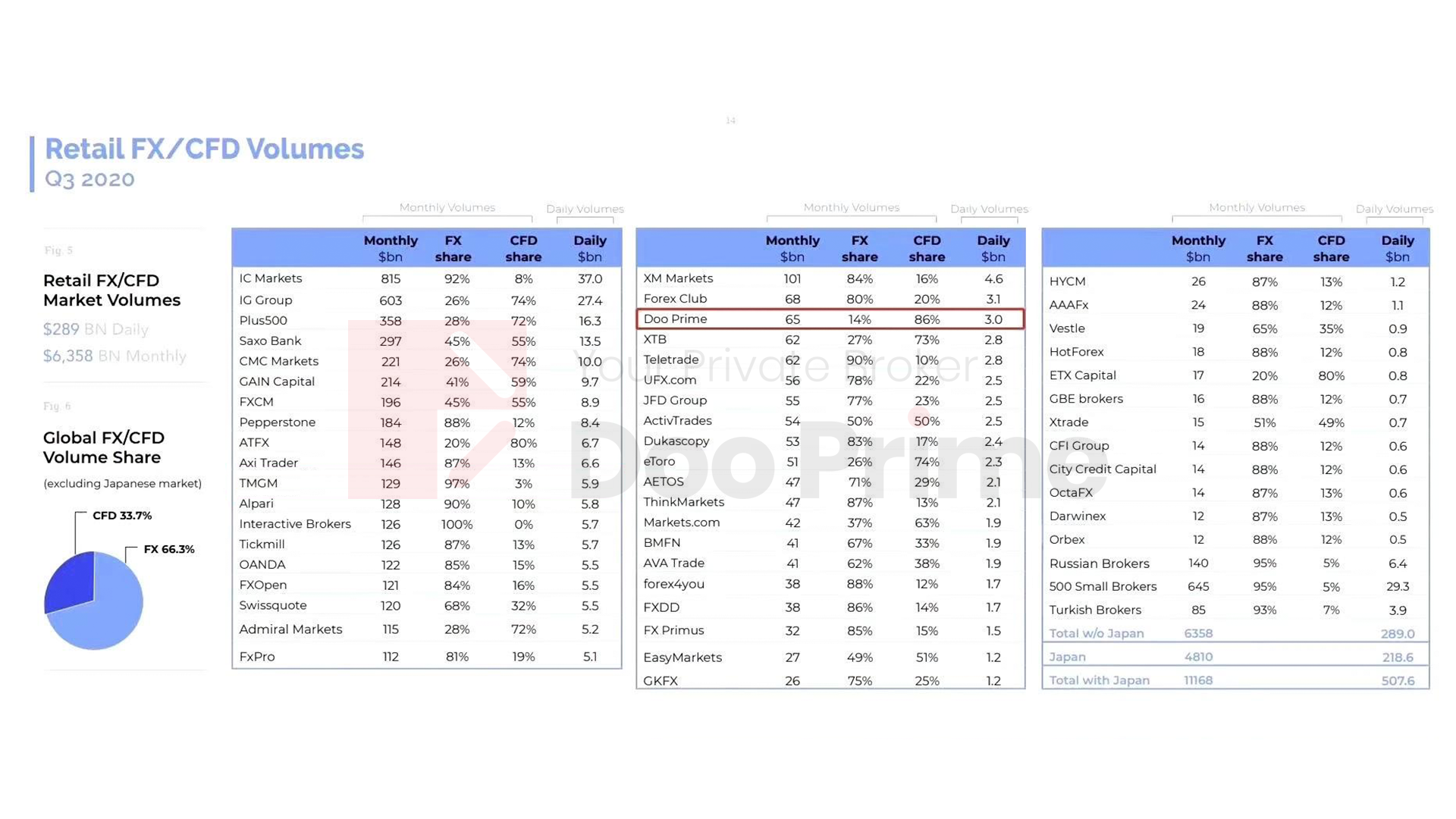 As we are aware, MetaTrader 4 (MT4) and MetaTrader 5 (MT5) developed by MetaQuotes Software Corporation are the most widely known trading platforms in the world and are broadly used in more than 30 countries. The report also signifies that about 59% of international forex or CFD transactions are conducted through these two platforms, and the overall transaction volume has increased from 3.21 trillion USD to 3.74 trillion USD quarterly. Among them, Doo Prime's trading volume in MT4 and MT5 ranks 13th  in the world.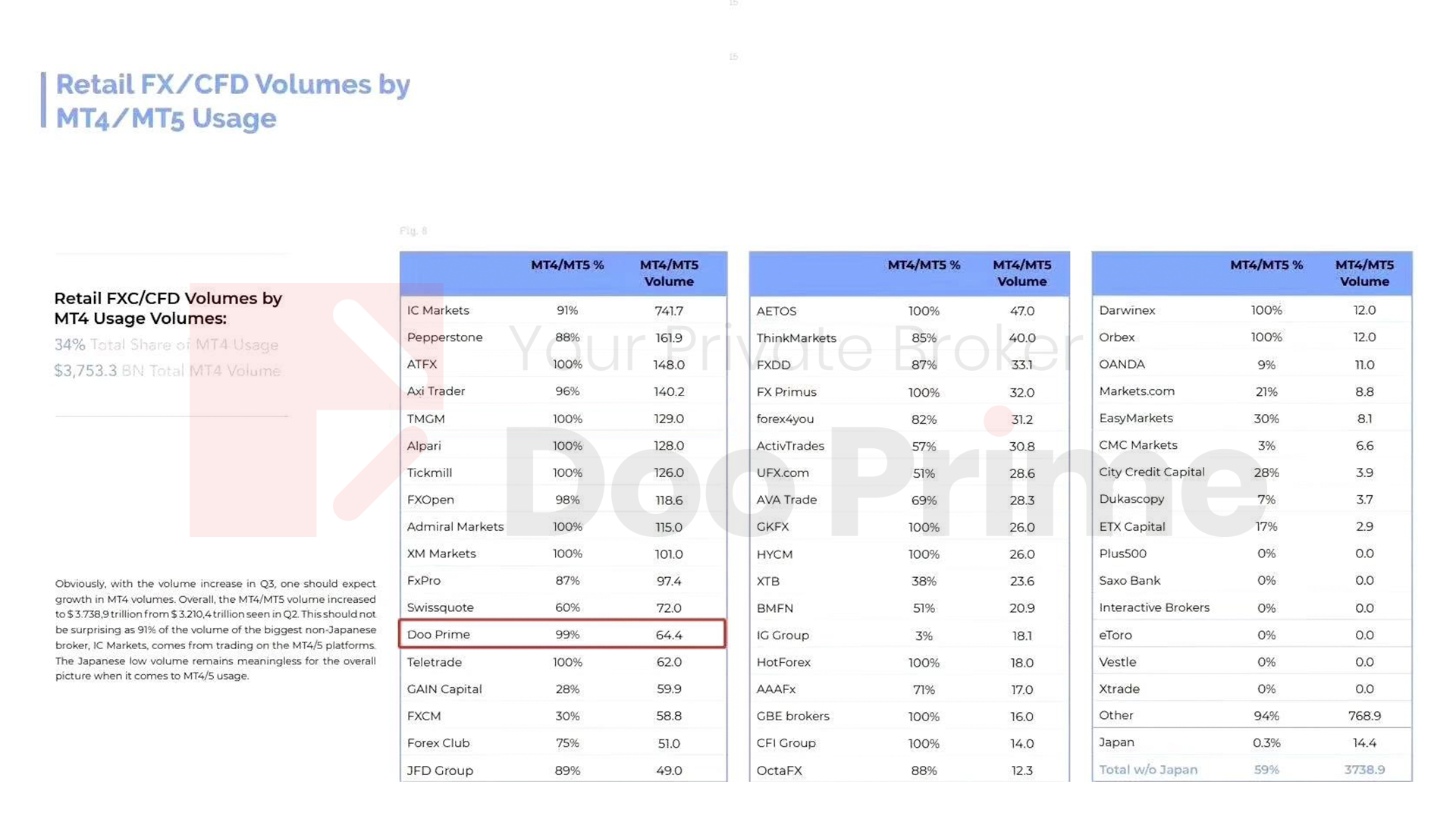 16,000 active users upholding a huge transaction volume 
The report indicates that the average transaction volume of global active accounts increased from 2.16 million USD in the second quarter of 2020 to 2.64 million USD. At present, Doo Prime has more than 16,000 active users and the per capita transaction volume goes as high as 4.06 million USD. It exceeds the global average by 53%.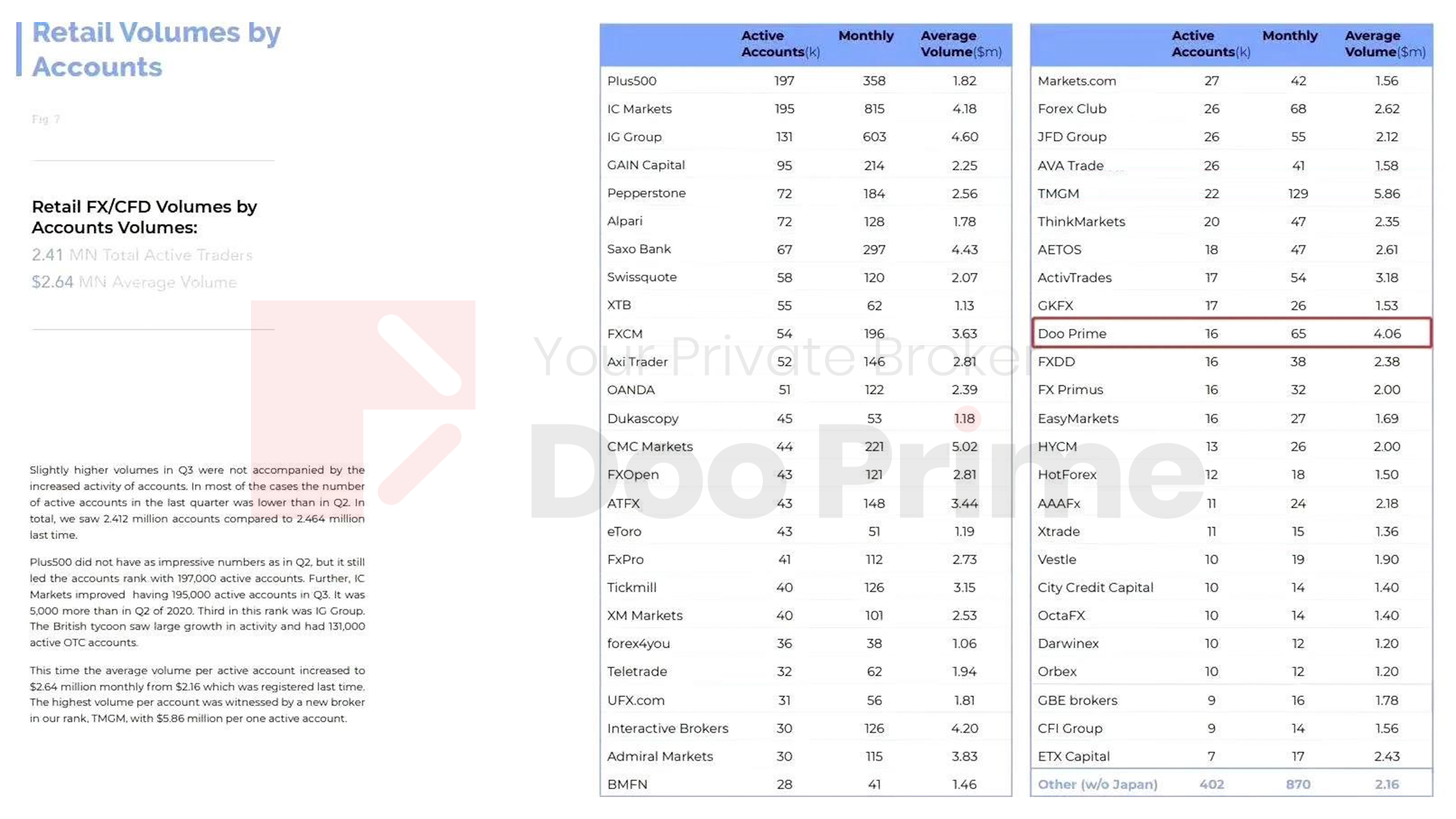 Doo Prime is a widely recognized and trusted broker that priorities the needs of our customers 
Behind the brilliant results of Doo Prime lies our core value of prioritizing the interests of customers. Since launching our business in 2014, Doo Prime has been committed to providing customers with safe, reliable, and convenient global financial asset investment services, efficiently for our customers to respond to market changes immediately. We are dedicated to deliver 24/7 multi-language customer service, secured trading conditions, competitive trading cost, ms-level trading execution, diversified trading products, as well as a secure and reliable capital guarantee under international supervision.
In recent years, Doo Prime's business has grown rapidly, and trading volume has repeatedly hit new records. Although the new crown epidemic has brought unprecedented challenges to the world, we are still striving to provide customers with superior trading services, and lead a new era of globalization driven by financial technology.

| About Doo Prime   
Doo Prime is an international pre-eminent online broker under the Doo Holding Group with operation centers in Hong Kong, Dallas, Singapore, Kuala Lumpur, and other regions. Our main ethos is to provide professional investors with global financial instruments (CFDs) on our trading platform.
Doo Prime holds the financial regulatory licenses in Mauritius and Vanuatu, which has granted us the opportunity to deliver the finest trading experience to more than 15,780 professional clients, alongside managing a massive trading volume of dozens of billions of dollars monthly.
By the virtue of robust technological innovation put forward by the group, Doo Prime has achieved seamless connection with the global trading market, providing thousands of CFD products on multiple trading terminals such as MT4, MT5, TradingView, InTrade, and more, covering Forex, Precious Metal, Energy, Indices, Securities and Futures, allowing clients to invest globally with one click.
With a solid vigorous group background, competitive trading cost, convenient deposit and withdrawal methods, plus 24/7 multilingual customer service, Doo Prime is committed to become your private veteran broker.
For more information about Doo Prime, please contact us at:
Phone:
Europe: +44 11 3733 5199
Asia: +852 3704 4241
Asia-China: +86 400 842 7539
Email: [email protected]
【Risk Warning and Disclaimer】
The content published in this article is not intended to advertise, promote or sell any products or services that are not authorized or permitted by any person or company of any nationality, place of business, place of residence, or jurisdiction. We recommend that you consult an independent legal counsel to obtain relevant compliance advice.