WORLDWIDE: HEADLINES
Fed To Lift Rates By 75 Basis Points In July, 50 Bps In September – Reuters Poll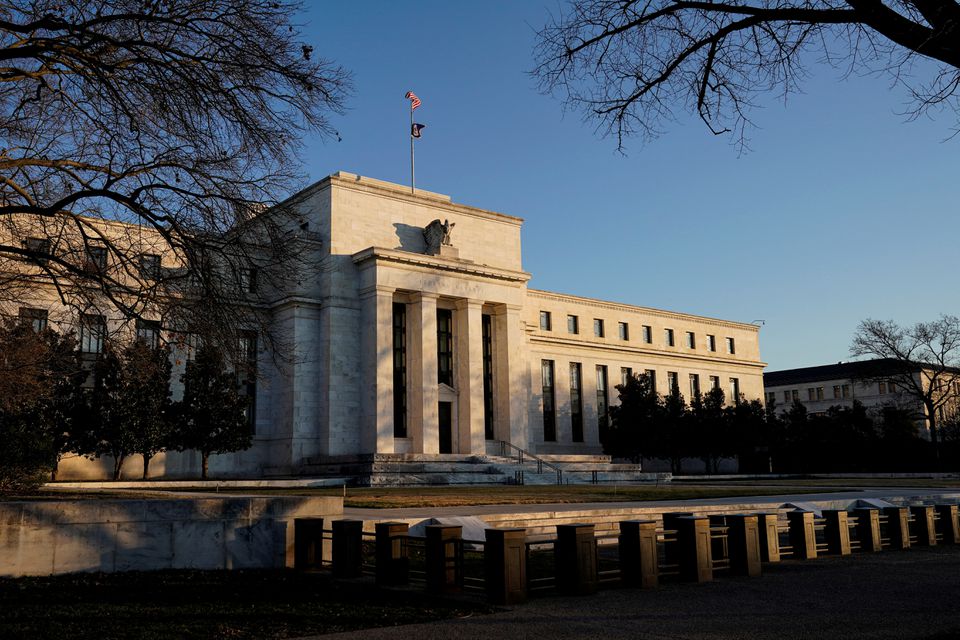 The Federal Reserve will deliver another 75-basis-point interest rate hike in July, followed by a half-percentage-point rise in September, and won't scale back to quarter-percentage-point moves until November at the earliest, according to economists polled by Reuters.
Last week the Fed hiked the federal funds rate by three-quarters of a percentage point, its largest rate increase since 1994, after official data just a few days earlier showed inflation unexpectedly rose despite expectations it had peaked.
The latest poll results, released on Wednesday before Fed Chair Jerome Powell was due to appear before the Senate Banking Committee as part of his twice-yearly monetary policy testimony to Congress, show momentum is still behind the U.S. central bank doing more, not less, despite rising recession concerns and a steep sell-off in financial markets. Bond yields are up sharply and major Wall Street equity indexes are already trading in a bear market, defined as 20% down from their peak.
In the June 17-21 Reuters poll, nearly three-quarters of economists, 67 of 91, expected another 75-basis-point U.S. rate hike in July. That would take the fed funds rate to a range of 2.25%-2.50%, roughly the neutral level where the Fed estimates the economy is neither stimulated nor restricted.
A strong majority expect the central bank to hike its policy rate by another 50 basis points in September, with opinion more split on whether it will hike by 25 or 50 basis points in November. A majority expect the Fed to raise rates by 25 basis points at its December meeting.
That would take the fed funds rate to a range of 3.25%-3.50% by the end of this year, 75 basis points higher than thought in a poll published just two weeks ago.
Full coverage: REUTERS
BOJ Policymakers Warned Of Economic Harm From Excess Yen Moves At April Meet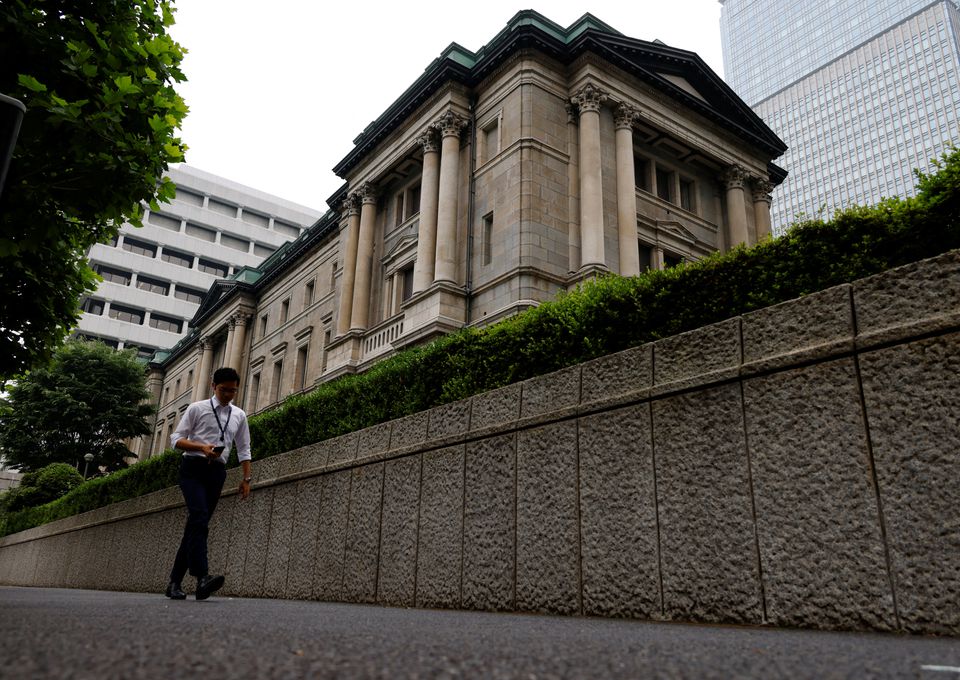 Some Bank of Japan board members were concerned that excessive currency volatility could disrupt corporate business plans, minutes of the bank's April meeting showed, highlighting the challenge for policymakers from the yen's sharp declines.
But many board members stressed the need to maintain the BOJ's massive stimulus programme to support a still-fragile economy, the minutes released on Wednesday showed, a sign they saw no need to tweak Japan's ultra-low interest rates to stem the yen's slide.
The BOJ must communicate to markets its monetary policy aims at achieving price stability, not at controlling exchange rate moves, some members were quoted as saying.
"A few members said excessive fluctuations in the foreign exchange market over a short period of time, such as those observed recently, would raise uncertainties about the future and make it more difficult for firms to formulate their business plans," the minutes showed.
One member said a weak yen benefited the economy at a time like now, when the output gap was still large and underlying inflation was "extremely low."
At the April 27-28 meeting, the BOJ strengthened its commitment to keep interest rates ultra-low by vowing to buy unlimited amounts of bonds daily to defend its yield target, triggering a fresh sell-off in the yen.
Full coverage: REUTERS
WORLDWIDE: HEADLINES
Asian Stocks Stumble As Wall St Optimism Peters Out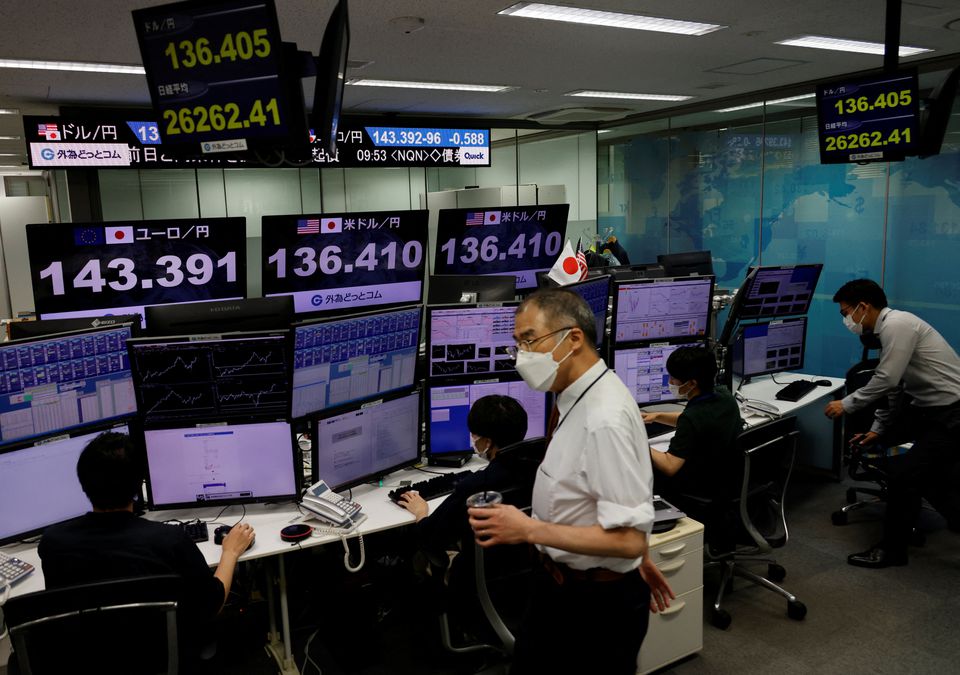 Asian stocks slipped in volatile trade on Wednesday, failing to extend Wall Street's rally as persistent worries about interest rates and inflation remained a key focus for investors, while the Japanese yen hit a fresh 24-year low against the dollar.
MSCI's broadest index of Asia-Pacific shares outside Japan (.MIAPJ0000PUS) fell 1%, but was still up 1.39% on the more than five-week low it hit on Monday. Tokyo's Nikkei (.N225) gave up early gains and was flat.
Investors are continuing to assess how worried they need to be about central banks pushing the world economy into recession as they attempt to curtail red hot inflation with interest rate increases.
The main U.S. share benchmarks rose 2% overnight on the possibility the economic outlook might not be as dire as thought during trade last week when the S&P 500 (.SPX) logged its biggest weekly percentage decline since March 2020.
"I think that this recent post-holiday bear market rally is a reflection of the uncertainty that investors have regarding whether we have seen the peak of inflation and Fed hawkishness or not – I think we're close," said Invesco global market strategist for Asia Pacific David Chao.
"Even though I suspect global equity markets could end higher at the end of the year than where we are today, it's conceivable to expect continued market volatility until it becomes clear that the Fed is not going to force the U.S. economy into contraction in order to tamp down persistent levels of inflation."
Full coverage: REUTERS
Yen Bruised As Japan's Rates Gap Widens With The Rest Of The World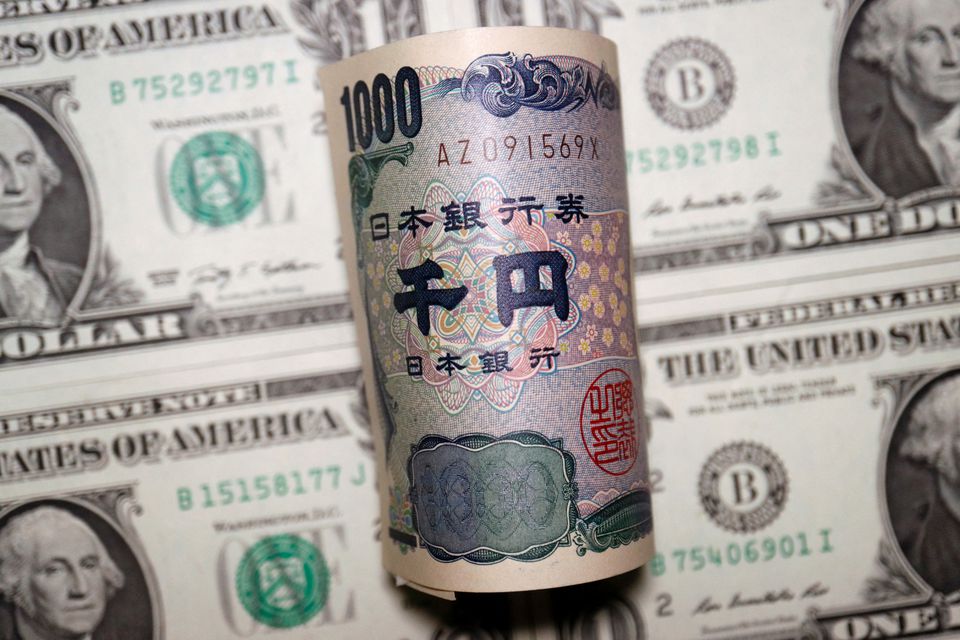 The yen hit a fresh 24-year low against the dollar on Wednesday, having taken another tumble overnight as U.S. bond yields continued to rise, in stark contrast to Japan's stubbornly low interest rates.
Moves in major currency pairs were muted, but the policy comparison between Japan and the rest of the world was underscored by central banks around the world continuing to emphasise the need for higher interest rates.
The yen was last drifting at 136.4 per dollar, having hit 136.71 in early trade, the lowest since October 1998. Analysts see no immediate end to a sell-off that has seen the yen weaken 18% so far this year from 115.08 at the end of 2021.
The currency has been weakening as higher energy prices put pressure on Japan's current account and because of the ever widening gap between yields on Japanese government bonds and U.S. Treasuries.
The Bank of Japan last week, maintained ultra-low interest rates and vowed to defend its policy of yield curve control (YCC), which effectively caps the yield on the 10-year Japanese government bond at 0.25%.
"Dollar/yen is continuing to trade on the Treasury yields, which have been stable but with the 10-year staying above the 3.20% level while the Bank of Japan has done a lot to defend YCC," said Redmond Wong, market strategist at Saxo Markets Hong Kong.
Full coverage: REUTERS
Oil Prices Slide As Biden Pushes For U.S. Fuel Cost Cuts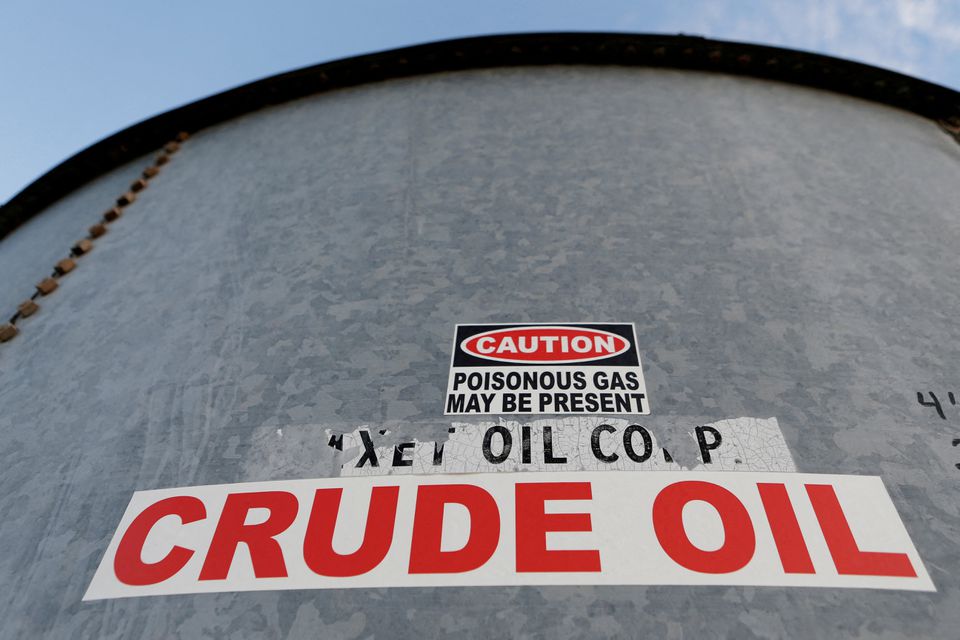 Oil prices skidded in early trade on Wednesday amid a push by U.S. President Joe Biden to bring down soaring fuel costs, including pressure on major U.S. firms to help ease the pain for drivers during the country's peak summer demand.
U.S. West Texas Intermediate (WTI) crude futures fell $1.34, or 1,2%, to $108.18 a barrel at 0031 GMT, while Brent crude futures dropped $1.33, or 1.2%, to $113.32 a barrel.
As the United States struggles to tackle soaring gasoline prices and inflation, U.S. President Joe Biden is expected on Wednesday to call for temporarily suspending the 18.4-cents a gallon federal tax on gasoline, a source briefed on the plan told Reuters. Biden had disclosed on Monday he was considering whether to call for a pause in the tax.
"Even oil traders acknowledged that higher oil prices hence higher gasoline prices would lead to a more aggressive tag team onslaught from the (U.S.) Fed pushing rates higher and the Biden administration getting increasingly more creative on the political and fiscal front to tame the energy inflation beast," said Stephen Innes, managing partner at SPI Asset Management.
Seven oil companies are set to meet Biden on Thursday, under pressure from the White House to drive down fuel prices as they make record profits.
Full coverage: REUTERS