WORLDWIDE: HEADLINES
French Economic Growth Stalls In First Quarter, Misses Forecasts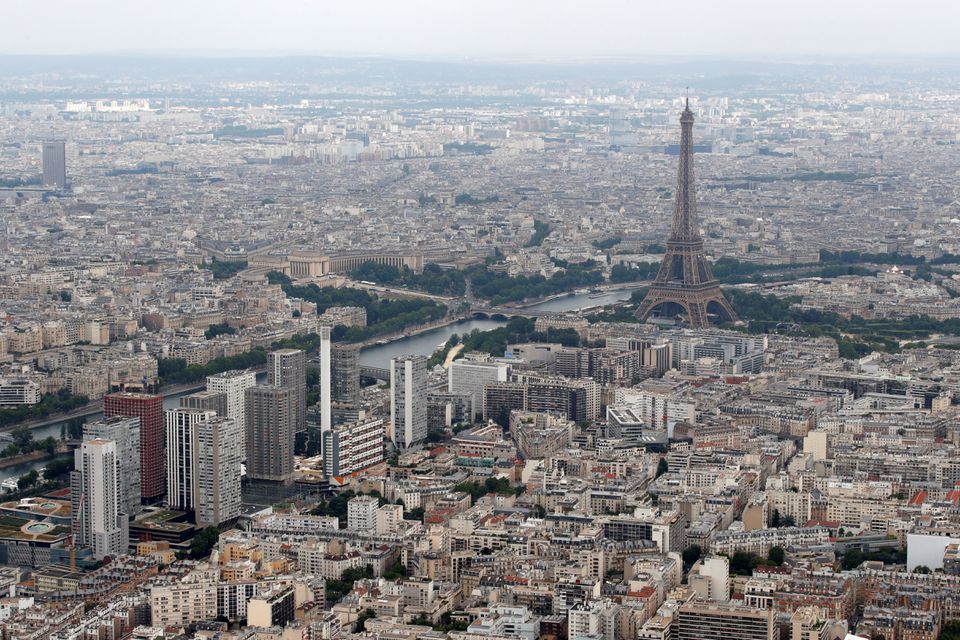 France's economy growth unexpectedly ground to a halt in the first quarter as consumer spending dropped in the face of soaring energy prices and war in Ukraine, preliminary data from the INSEE official stats agency showed on Friday.
Preliminary data showed no change in gross domestic product (GDP) for January-March, marking a sharp slowdown from the final three months of 2021, when the euro zone's second-biggest economy expanded 0.8%, which was revised up from 0.7% previously.
While a slowdown had been expected, the reading was worse than expectations for growth of 0.3% in a Reuters poll of 24 economists, whose forecasts ranged from 0.6% to -0.1%.
Household spending, the traditional driver of French growth, fell 1.3% in the quarter amid waning consumer confidence.
The government has put together a 25 billion euro ($26.3 billion) package of measures to help protect consumers' dwindling purchasing power and consisting in large part of caps on gas and electricity price increases.
Full coverage: REUTERS
At S.Korea's Fried Chicken Diners, Palm Oil Squeeze Feeds Inflation Fears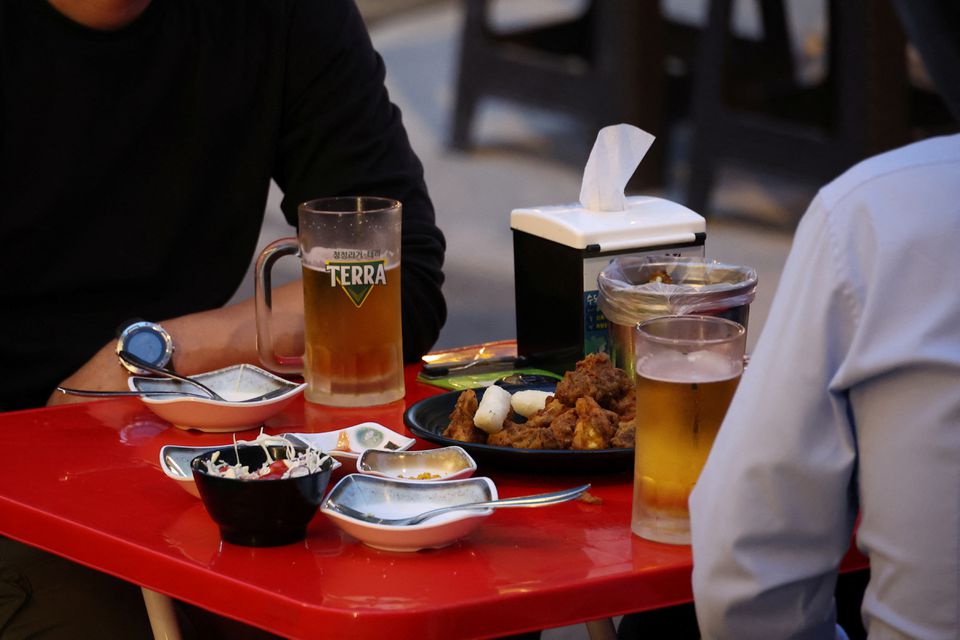 Mr Lee's diner, a cheap-and-cheerful fried chicken shop near central Seoul, has held firm against raising prices for a decade and a half.
But now, Mr Lee says, Indonesia's cooking oil export ban and its costly squeeze on prices have been the last straw: he expects to follow larger chains of South Korea's ubiquitous "chimaek" fried chicken-and-beer outlets that are raising prices, even if he risks losing customers.
Mr Lee's dilemma highlights the perilous path ahead for policymakers in Asia's fourth-largest economy, where worries over cost-push inflation prompted a surprise rate hike this month with both inflation rates and expectations at their highest in a decade.
For a wide array of consumer goods using palm oil – from croissants to cosmetics – Indonesia's surprise moves over the past week to ban exports have sent shock waves globally, pushing up prices for palm oil from other sources such as Malaysia, and for substitutes like soy oil.
"We are cautiously watching the situation as demand for Malay palm oil could increase and could lead to higher prices," said a spokesperson at Ottogi, a major South Korean producer of frozen pizza and ramen noodles.
Indonesia, the source of more than half the world's palm oil supply, widened its export suspension on Wednesday to include crude and refined oil, throwing the market into chaos after the war in Ukraine had already squeezed supplies of sunflower oil.
The benchmark price of palm oil futures traded in Malaysia surged their daily 10% limit after Wednesday's announcement and are up nearly 50% since the start of the year, while soyoil prices on the Chicago Board of Trade hit a record high.
Full coverage: REUTERS
WORLDWIDE: FINANCE/BUSINESS
Asia Shares Brace For Worst Month In 2 Yrs On Growth Fears, Dollar Buoyant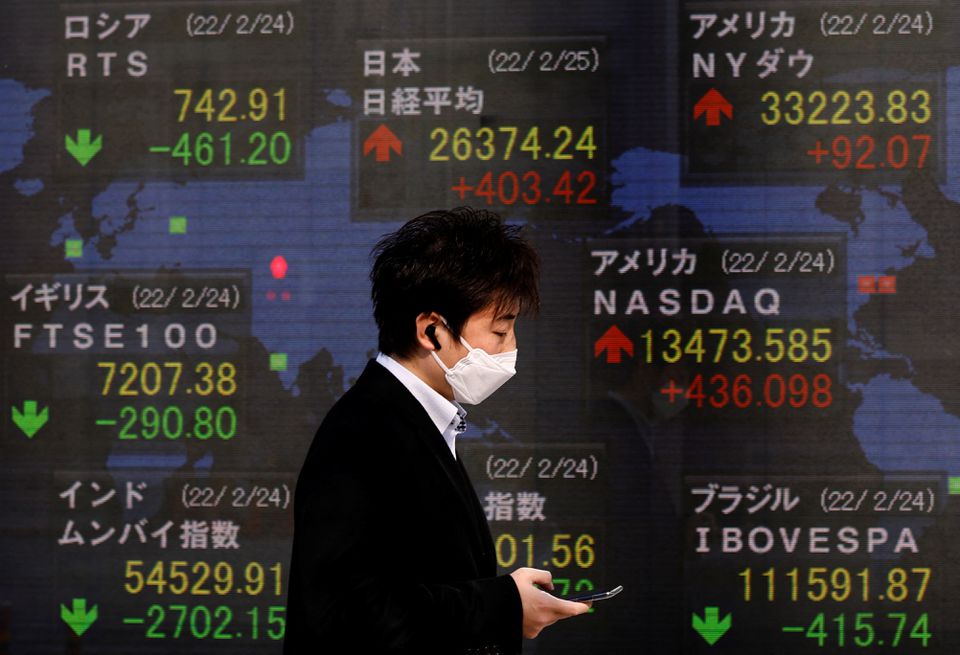 Asian shares clung on to small gains on Friday thanks to a solid Wall Street session, but were still set for their worst month in two years, as China growth fears and looming U.S. rate hikes dragged on sentiment and sent the safe-haven dollar soaring.
MSCI's broadest index of Asia-Pacific shares outside Japan (.MIAPJ0000PUS) rose 0.2% on Friday, after robust earnings from Facebook parent Meta Platforms (FB.O) had driven the Nasdaq (.IXIC) 3% higher overnight.
Japanese markets are closed for a holiday.
Overall sentiment was still fragile with Nasdaq futures off around 1% in early Asia trade, pressured by disappointing earnings from Amazon (AMZN.O) after market close.
Friday's gains were marginal compared to the brutal sell-offs in globally stocks in recent weeks. The Asian regional benchmark is heading for a 2% decline this week and a 7.3% drop for the month, its worst month since March 2020.
Shanghai stocks (.SSEC) rose 0.2% on Friday, but are set for an 8.1% fall for the month, their worst since January 2016.
"There are four near term catalysts driving the market at the moment: U.S. earnings which we are about half way through, rising U.S. Treasury yields and lots of hawkish speak from the Fed, the war Ukraine, and China policy," said Fook-Hien Yap, senior investment strategist at Standard Chartered Wealth Management.
One key focus is the upcoming meeting of China's Politburo, the nation's highest decision-making body, as markets look for more signs of economic support. But analysts say Beijing's zero-COVID strategy restrict policymakers' options as supply chains are in disarray, while operations in many factories and peoples' movements have been curtailed.
Full coverage: REUTERS
Dollar Towers At Two-Decade High On Growth Woes, Fed Outlook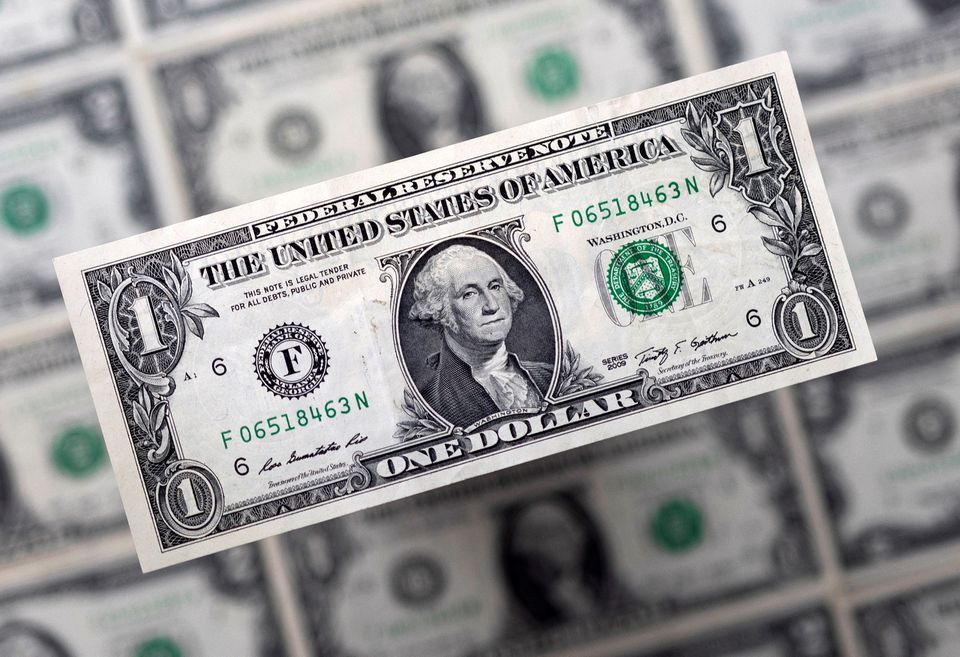 The dollar held firm at a 20-year high on Friday and was poised to score its best monthly gain in a decade, buoyed by bets on rising U.S. interest rates and doubts about growth in Europe and China.
The latest uptick was thanks to the Bank of Japan, which sent the yen falling through 130-per-dollar for the first time since 2002 on Thursday when it reinforced a commitment to its super-low yield policy.
The yen was last at 130.72 per dollar after falling as low as 131.25 overnight following the BOJ's pledge to buy endless amounts of bonds daily as needed. The yen is down almost 7% in April, its worst month since Nov. 2016.
"Even though the BOJ had shown no sign of baulking on its commitment to its yield curve control policy, the market clearly still harboured suspicions that it might," said Rabobank strategist Jane Foley.
The uber-dovish decision set Japan miles apart from the Federal Reserve, where markets are priced for 150 basis points (bps) of hikes in just three meetings, and triggered a fresh rush of funds into the dollar ahead of all else.
The U.S. dollar index , which hit a two-decade high of 103.93 in the wake of the yen's tumble, was last at 103.53 and up more than 5.3% through April. If sustained, that would make for its best monthly gain since May 2012.
Weaker-than-expected quarterly U.S. growth data overnight proved little obstacle to the dollar's rise, and investors hardly adjusted their near-term interest rate bets.
Full coverage: REUTERS
Oil Eases As China Lockdowns Weigh On Demand Outlook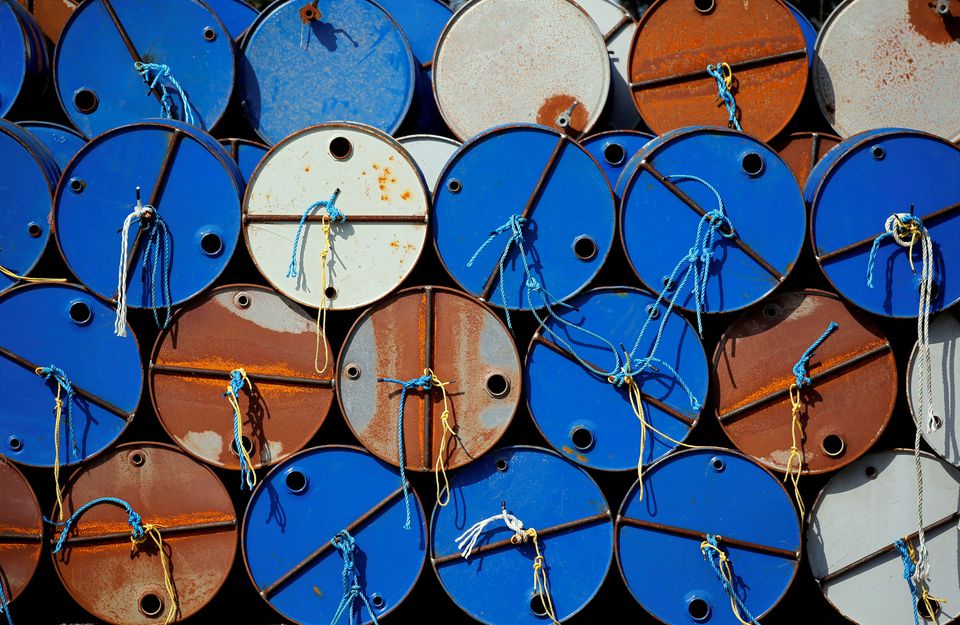 Oil edged lower on Friday as China's COVID-19 lockdowns weighed on the outlook for crude demand, although supply disruption fears as Western sanctions curb crude and products exports from Russia underpinned prices.
Brent crude futures dipped 4 cents to $107.55 a barrel by 0040 GMT after rising 2.1% in the previous session. The front-month June contract expires later on Friday. The more active July contract fell 30 cents to $106.96 a barrel.
U.S. West Texas Intermediate crude dropped 49 cents, or 0.5%, to $104.87 a barrel after settling 3.3% higher on Thursday.
Both contracts are set to close the week higher, with WTI on track to post five straight months of gains, buoyed by the increased likelihood that Germany will join other European Union member states in an embargo on Russian oil.
Still, oil prices have been volatile as Beijing has shown no sign of easing lockdown measures despite the impact on its economy and global supply chains.
"With both full and partial lockdowns ramping up since March, China's economic indicators have plunged further into the red. We now expect China's GDP to slow further in Q2," Wood Mackenzie's Head of APAC Economics Yanting Zhou said in a note.
Full coverage: REUTERS