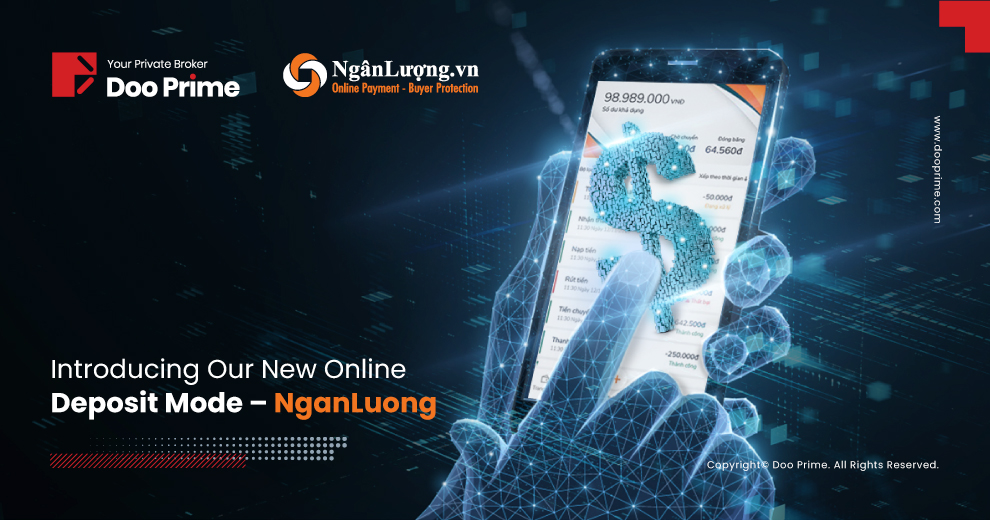 INTRODUCING OUR NEW ONLINE DEPOSIT MODE – NganLuong 
Hong Kong : July 07, 2020
NganLuong Payment Gateway is now available on Doo Prime for deposits, withdrawals and transfers.
At Doo Prime, there are multiple deposits and withdrawal methods to choose from. Our latest addition will be NganLuong followed by PayPal, Pay4Broker, Cryptocurrency, International Bank Telegraphic Transfer alongside Visa/Master Credit Card.
Nganluong.vn is the pioneer and leading online payment gateway in Vietnam, in terms of products and services, market share coverage and payment volume. Ngan Luong allows Doo Prime's clients to send and receive money on the Internet quickly, safely and conveniently.
Ngan Luong.vn is operated under the e-wallet model, whereby Doo Prime users can register their personal or business accounts with three main functions: Recharge, Payment and Transfer. All transactions are made online via ATM, Visa, Master, JCB, Amex, Internet Banking, and QR-Pay along with other convenient forms.
The grant of having NganLuong Payment Gateway as an authorised online payment method proves Doo Prime's dedication in complying with the higher standards of practice in the online trading industry.
Below is a list of items Doo Prime has prepared in which users should take note of :   
The maximum limit of NganLuong Payment Gateway is USD 100,000.00 in a single deposit transaction.
Please take note that if the customer's bank card single transaction limit does not support up to USD 100,000.00, then the payment/deposit will not be possible.
If you happen to encounter any problems when depositing funds, please do not hesitate to contact the sales and customer service team to confirm the following information by sending an email to [email protected].
In addition, Doo Prime is a strong technological broker, dedicated to provide 24/7 multi-language customer service, secured trading conditions, competitive trading cost, ms-level trading execution, diversified trading products, as well as a secure and reliable capital guarantee under international supervision.
Through our vigilance against complacency, we at Doo Prime remain committed to our corporate vision to offer the highest quality services to retail forex traders and partners.

—END—
For further information, you may contact Doo Prime via :
Phone Number : +44 20 8123 9088 (UK) or +852 9561 4601 (Hong Kong)
E-Mail : [email protected]
Website : www.dooprime.com