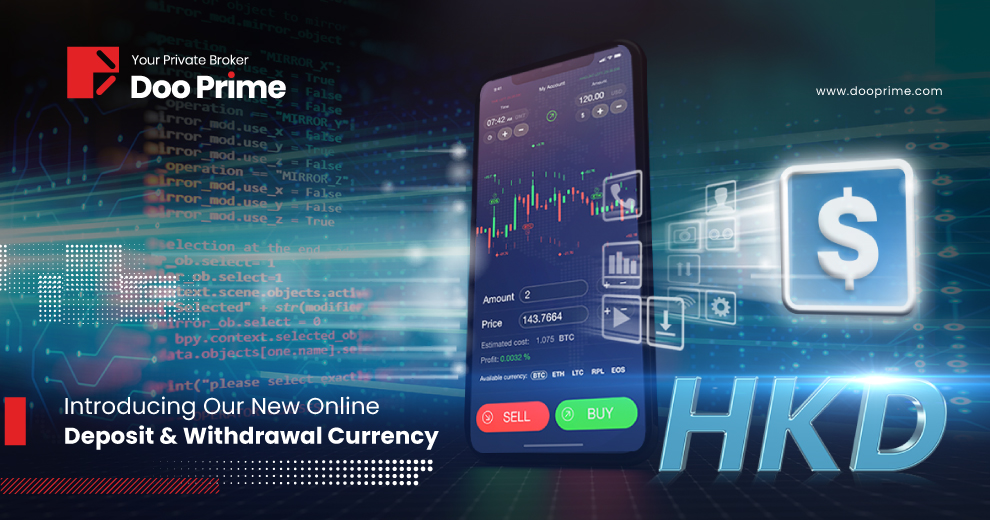 INTRODUCING OUR NEW ONLINE DEPOSIT & WITHDRAWAL CURRENCY – HDK  
Hong Kong : June 19, 2020
Doo Prime has added a new deposit and withdrawal currency for our online payment method, wire transfer.
Doo Prime has appended the Hong Kong Dollar (HKD) as one of the currencies for making deposit and withdrawal via wire transfer by established international banks.
With the latest enhancement, Doo Prime users can enjoy more convenience in handling their fund on the trading platform with 0% commission fees and charges.
At Doo Prime, there are multiple deposits and withdrawal methods to choose from. Our latest addition will be PayPal followed by Pay4Broker, NganLuong payment gateway, Cryptocurrency, International Bank Telegraphic Transfer alongside Visa/Master Credit Card.
Our refined list of multiple currencies available for deposit and withdrawal proves Doo Prime's dedication in catering for both local and international clients as well as complying with the higher standards of practice in the online trading industry.
The currencies for Doo Prime's wire transfer includes USD, GBP, EUR and our latest addition; HDK which can be deposit and withdrawal via wire transfer by these well-established banks; Standard Chartered Bank (HK) Limited, China CITIC Bank International Limited and Industrial and Commercial Bank of China (Asia) Limited.
Clients please kindly take note on the details in regards to our wire transfer listed below:  
1. Please ensure that the currency selected at the remittance account is correct during the wire transfer, to avoid the deposit being refunded or not received due to the remittance of a different currency.
2. The wire transfer processing time will be based on the bank transfer receipt time. International wire transfer usually takes 1-7 working days to process.
3. It is recommended that clients use USD accounts when making wire transfers.
In addition, Doo Prime is a strong technological broker, dedicated to provide 24/7 multi-language customer service, secured trading conditions, competitive trading cost, ms-level trading execution, diversified trading products, as well as a secure and reliable capital guarantee under international supervision.
Through our vigilance against complacency, we at Doo Prime remain committed to our corporate vision to offer the highest quality services to retail forex traders and partners.

—END—
For further information, you may contact Doo Prime via :
Phone Number : +44 20 8123 9088 (UK) or +852 9561 4601 (Hong Kong)
E-Mail : [email protected]
Website : www.dooprime.com