PAMM/MAM V1.8.0 RELEASE NOTICE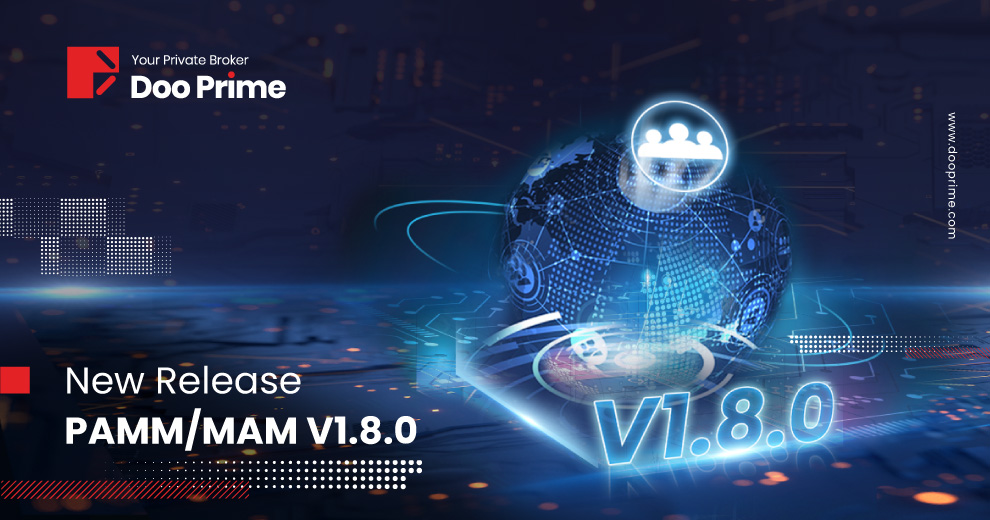 Hong Kong : June 23, 2020
Doo Prime is pleased to announce the new release of PAMM/MAM – Version 1.8.0. featuring enhanced user's interface experience.
The PAMM/MAM administrates hundreds of trading sub-accounts under one main account, allows EA trading with main account, consist of ultralow delay, and the best trading experience. It is a management system of a diversified MAM/PAMM distribution mode: automatic distribution of profits/losses, order distribution as per net value proportions and order following as per net value proportions.
The PAMM/MAM also provides linkage of all orders with ECN market with STP bridging technology and multiple order execution modes such as entry order, loss stop, profit stop, and partial close-out.
The Doo Prime PAMM/MAM multi-account management program is designed to provide a powerful fund and order allocation tool for professional traders and fund managers. Investors can take advantage of the PAMM/MAM fund manager's wisdom and rich trading experience, fund managers centralized management on behalf of their transactions, which also provides a professional account management solution for professional fund managers.
Doo Prime strongly believe in providing the best user interface with our multi-account management program for all our traders to ensure we meet the requirement of being a global investment trading platform.
These are the updates in the latest MAM/PAMM V1.8.0 version,
1. Additional language settings (Vietnamese, Thai, Indonesian)
2. The admin end supports custom logo
3. Documentary description of copy optimization
4. "Maximum open positions" copy optimization
5. Login page server name with suffix
If you would like to know more about the Doo Prime MAM/PAMM multi-account management solution, please feel free to contact your dedicated account manager and our customer service team, we will be happy to assist you.
In addition, Doo Prime is a strong technological broker, dedicated to provide 24/7 multi-language customer service, secured trading conditions, competitive trading cost, ms-level trading execution, diversified trading products, as well as a secure and reliable capital guarantee under international supervision.
Through our vigilance against complacency, we at Doo Prime remain committed to our corporate vision to offer the highest quality services to retail forex traders and partners.
—END—
For further information, you may contact Doo Prime via :
Phone Number : +44 20 8123 9088 (UK) or +852 9561 4601 (Hong Kong)
E-Mail : [email protected]
Website : www.dooprime.com