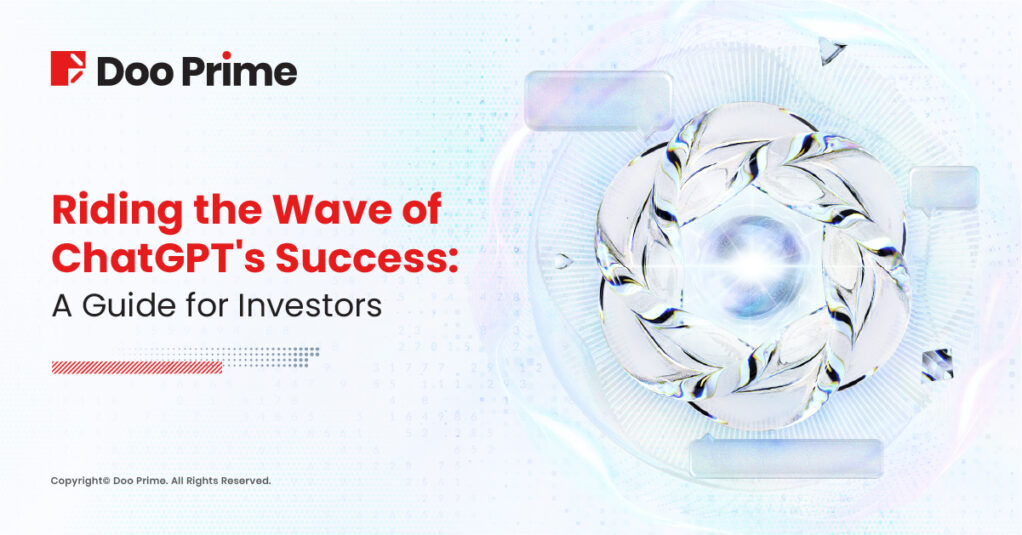 The adoption of technology has been accelerating at an unprecedented pace, breaking records and pushing boundaries like never before.
Case in point: it took 75 years for the telephone to reach 100 million users worldwide, after its invention during the second Industrial Revolution. In contrast, mobile technology achieved this feat in just 16 years, while TikTok – the current top mobile app – accomplished it in a mere nine months. The rapid evolution of science and technology has been a driving force for human civilization, and this momentum has not shown any signs of slowing down.
In January 2023, just two months after its launch, ChatGPT reached an impressive milestone, surpassing TikTok as the fastest-growing app ever, with over 100 million monthly active users. The emergence of ChatGPT as a leading player in the artificial intelligence industry has caught the attention of many investors, sparking a new wave of market growth.
What sets ChatGPT apart is its cutting-edge AI technology, which has proven to be highly effective in providing users with personalized, high-quality responses to their queries. With its rapid growth, ChatGPT has created a new paradigm in the AI industry, revolutionizing the way we interact with technology.
Read on for a deep dive into the world of ChatGPT and explore the opportunities that its success presents for investors.
How ChatGPT Is Pushing The Boundaries Of Artificial Intelligence And Redefining Chatbot Technology 
If you have ever seen a science fiction movie featuring an AI that can instantly understand human commands and respond in a human-like way, ChatGPT might seem like a real-life version of that concept. ChatGPT is an artificial intelligence technology based on natural language generation that can automatically reply to chat content, making it one of the most advanced chatbots in the world.
So, just how intelligent is it? Here are a few examples:
Proficient in Code Writing:
ChatGPT can generate code in a short amount of time based on specific requirements provided by the user. It has even passed Google's L3 test for programming engineer positions, which pays up to USD 180,000.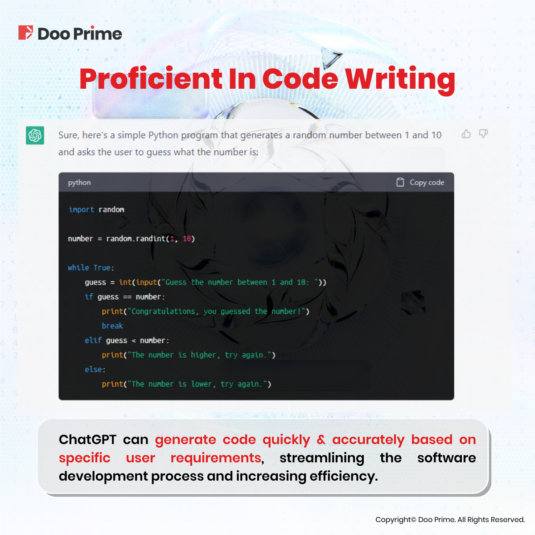 Ability To Answer Professional Questions:
ChatGPT combines knowledge content with vast amounts of data to generate its own professional answers to users' questions, like having a knowledgeable friend at your fingertips.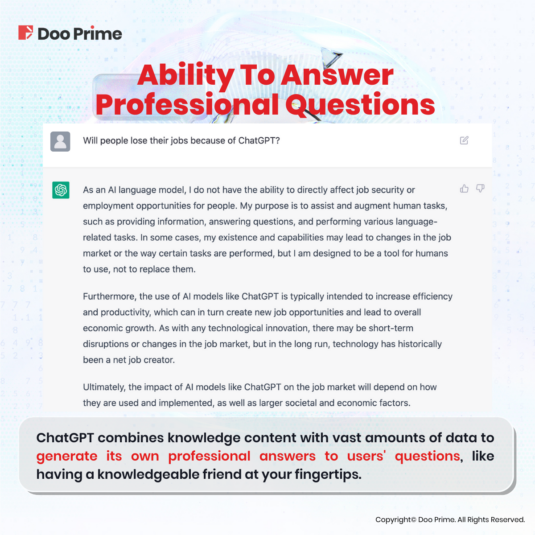 Capable of Writing Humanities-based Articles:
Contrary to the stereotype that AI is only good at scientific logic analysis and not humanistic writing, ChatGPT can generate human-like writing with emotional expression with the support of big data text.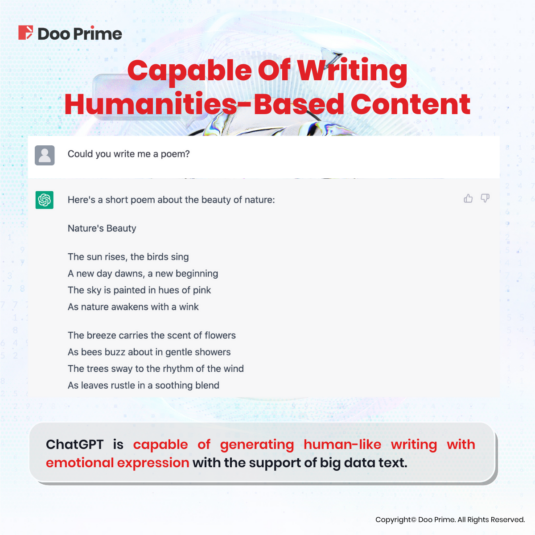 With its cutting-edge AI technology, ChatGPT is poised to lead a new wave of technological advancements. Microsoft founder Bill Gates has even compared its significance to that of the internet and personal computer.
While there are concerns about the impact of AI on human jobs, this article focuses on the potential investment opportunities in the AI sector, particularly in relation to ChatGPT's growing success.
OpenAI And Microsoft Team Up: The Impact On Tech & Stocks 
The company behind ChatGPT, OpenAI, was founded in 2015 with the aim of improving the quality of life through the development of artificial intelligence technology. It has even gained the support of tech heavyweights like Elon Musk.
While OpenAI is not publicly traded, Microsoft has a strong partnership with the company, having invested at least USD 3 billion since 2019, with plans to invest more in the future. OpenAI is expected to generate USD 200 million in revenue for 2023 and USD 1 billion in 2024 and is currently valued at USD 29 billion.
In addition, OpenAI has integrated its language models, including ChatGPT, into Microsoft's Azure cloud computing platform. Microsoft has released a new version of its browser that supports ChatGPT in a ready-to-use manner. This integration has injected new impetus to the development of artificial intelligence into the already historical search engine technology. As a result, Microsoft's stock has risen by 15.81% over the past three months.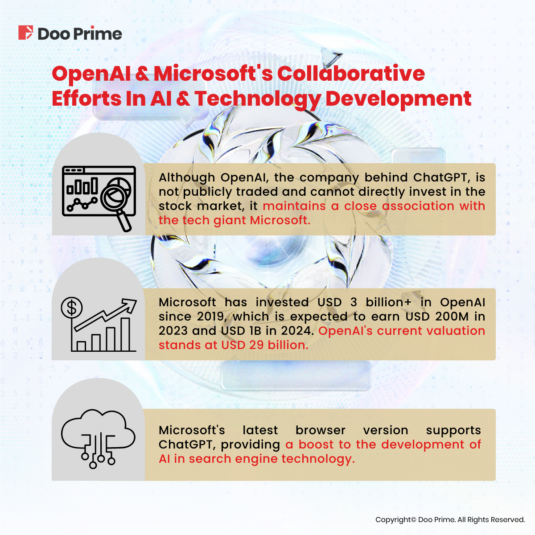 Meanwhile, various tech giants, including Google and Baidu, are planning to launch ChatGPT rivals. Google recently announced the launch of an AI conversation service called Bard, but its performance was limited, causing its stock to drop by over 7% and wiping off USD 700 billion of its market value overnight.
Baidu also announced the launch of its version of ChatGPT, "ERNIE Bot", expected to be completed in March 2023. However, given that Baidu's search engine lags behind Microsoft and Google, there are doubts about its effectiveness.
That said, investors are already trading in the expectation that AI technology will drive the rapid growth of AI front-end application companies in the future. As a result, the share prices of Baidu and Microsoft have risen. However, even though AI technology might lead to a new revolution, investors might consider waiting for the current boom to fade and a major stock correction to occur before investing in front-end application companies.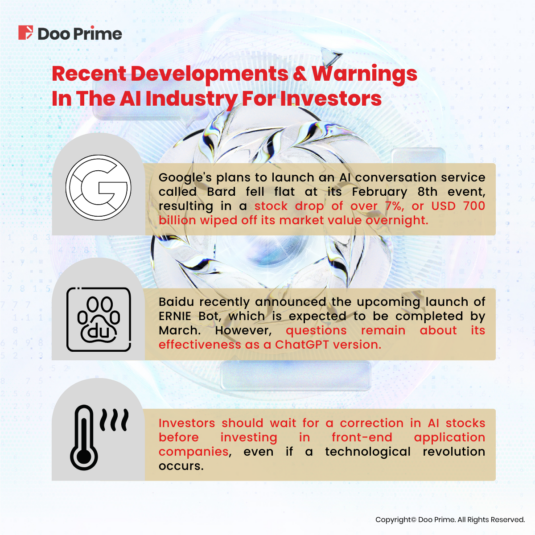 Ultimately, the partnership between Microsoft and OpenAI has helped Microsoft to generate more revenue and integrate ChatGPT into its Azure cloud computing platform. Although other tech giants are planning to launch ChatGPT rivals, their effectiveness remains in doubt.
The current surge in share prices of AI front-end application companies has led investors to trade in anticipation of the rapid growth of these companies. Nonetheless, a major stock correction might occur, and investors might consider waiting for it before investing in front-end application companies.
From ChatGPT To Future AI: The Critical Role Of Back-End Support 
During the gold rush in California, water sellers made a profit while many gold prospectors failed due to harsh conditions and poor mining technology. Similarly, the AI industry requires high-end chips and processors for advanced technology to succeed. While front-end application companies like Microsoft, Google, and Baidu are making headlines, back-end support companies like NVIDIA are critical to the success of AI technology.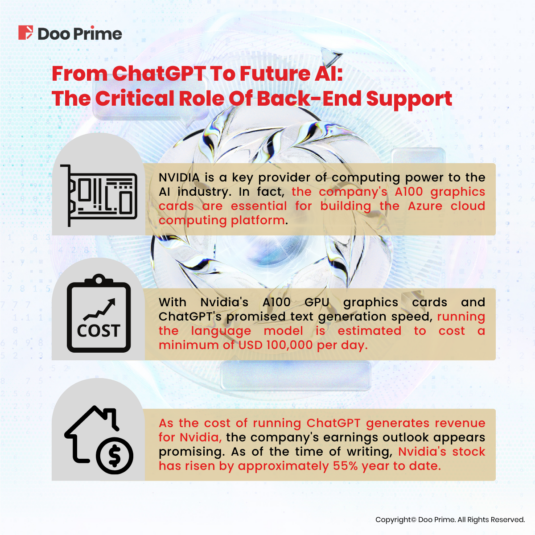 NVIDIA, known for its high-end gaming graphics, has a unique advantage in the AI industry. OpenAI, for example, relies on Microsoft's Azure cloud computing platform, which runs on NVIDIA's A100 GPU graphics cards. The A100 GPU can process 3 billion parameters in 6 milliseconds, which is essential for AI technology like ChatGPT, which generates 175 billion parameters to create a word.
ChatGPT requires at least eight A100 GPU graphics cards per query, costing USD 3 an hour each. This cost translates to USD 100,000 a day, USD 3 million a month, or USD 36 million a year. NVIDIA's earnings from ChatGPT are expected to be steady, unlike ChatGPT's existing business model, which relies on user payments.
With the rapid expansion of the AI industry and the soaring demand for AI computing power, NVIDIA's earnings outlook looks bright, and it is no surprise that their stock is up about 55% so far this year.
Navigating The AI Investment Landscape: Potential & Risks of ChatGPT  
For years, the concept of artificial intelligence technology has been discussed, yet the industry has struggled to deliver reliable products and profit models despite raising billions of dollars. With ChatGPT, it appears that reliable AI technology is finally becoming a reality, and the much-talked about "technological singularity" moment may be on the horizon.
However, it is important to note that ChatGPT is not a panacea for investors, and the AI industry still has a lot of room for improvement.
While related concept stocks and plates are currently hot speculation in the market, there is a high probability of a stock price correction in the near future. Only the underlying stocks that have stood the test of time will be worth pursuing once the hype has subsided. Despite this, with NVIDIA's strong position in the industry and its stock up about 55% so far this year, it may be a promising investment opportunity for those looking to ride the wave of ChatGPT's success.


| About Doo Prime
Our Trading Products        
Securities | Futures | Forex | Precious Metals | Commodities | Stock Indices    
Doo Prime is an international pre-eminent online broker under Doo Group, which strives to provide professional investors with global CFD trading products in Securities, Futures, Forex, Precious Metals, Commodities, and Stock Indices. At present, Doo Prime is delivering the finest trading experience to more than 90,000 clients, with an average trading volume of more than USD 51.223 billion each month.
Doo Prime entities respectively holds the relevant financial regulatory licenses in Seychelles, Mauritius, and Vanuatu with operation centers in Dallas, Sydney, Singapore, Hong Kong, Dubai, Kuala Lumpur, and other regions.
With robust financial technology infrastructure, well-established partnerships, and an experienced technical team, Doo Prime boasts a safe and secure trading environment, competitive trading costs, as well as deposit and withdrawal methods that support 20+ different currencies. Doo Prime also incorporates 24/7 multilingual customer service and extremely fast trade execution via multiple industry-leading trading terminals such as MT4, MT5, TradingView, and Doo Prime InTrade, covering over 10,000 trading products.
Doo Prime's vision and mission are to become a financial technology-focused broker, streamlining international global financial products investment.
For more information about Doo Prime, please contact us at:
Phone:
Europe : +44 11 3733 5199
Asia : +852 3704 4241
Asia – Singapore: +65 6011 1415
Asia – China : +86 400 8427 539
E-mail:
Technical Support: [email protected]
Account Manager: [email protected]

Forward-looking Statements
This article contains "forward-looking statements" and may be identified by the use of forward-looking terminology such as "anticipate", "believe", "continue", "could", "estimate", "expect", "hope", "intend", "may", "might", "plan", "potential", "predict", "should", or "will", or other variations thereon or comparable terminology. However, the absence of such terminology does not mean that a statement is not forward-looking. In particular, statements about the expectations, beliefs, plans, objectives, assumptions, future events, or future performance of Doo Prime will be generally assumed as forward-looking statements.
Doo Prime has provided these forward-looking statements based on all current information available to Doo Prime and Doo Prime's current expectations, assumptions, estimates, and projections. While Doo Prime believes these expectations, assumptions, estimations, and projections are reasonable, these forward-looking statements are only predictions and involve known and unknown risks and uncertainties, many of which are beyond Doo Prime's control. Such risks and uncertainties may cause results, performance, or achievements materially different from those expressed or implied by the forward-looking statements.
Doo Prime does not provide any representation or warranty on the reliability, accuracy, or completeness of such statements. Doo Prime is not obliged to provide or release any updates or revisions to any forward-looking statements.
Risk Disclosure
Trading in financial instruments involves high risks due to the fluctuation in the value and prices of the underlying financial instruments. Due to the adverse and unpredictable market movements, large losses exceeding the investor's initial investment could incur within a short period of time. The past performance of a financial instrument is not an indication of its future performance. Investments in certain services should be made on margin or leverage, where relatively small movements in trading prices may have a disproportionately large impact on the client's investment and client should therefore be prepared to suffer significant losses when using such trading facilities.
Please make sure you read and fully understand the trading risks of the respective financial instrument before engaging in any transaction with Doo Prime's trading platforms. You should seek independent professional advice if you do not understand any of the risks disclosed by us herein or any risk associated with the trade and investment of financial instruments. Please refer to Doo Prime's Client Agreement and Risk Disclosure and Acknowledgement Notice to find out more.
Disclaimer
This information is addressed to the general public solely for information purposes and should not be taken as investment advice, recommendation, offer, or solicitation to buy or sell any financial instrument. The information displayed herein has been prepared without any reference or consideration to any particular recipient's investment objectives or financial situation. Any references to the past performance of a financial instrument, index, or a packaged investment product shall not be taken as a reliable indicator of its future performance. Doo Prime and its holding company, affiliates, subsidiaries, associated companies, partners and their respective employees, make no representation or warranties to the information displayed and shall not be liable for any direct, indirect, special or consequential loss or damages incurred a result of any inaccuracies or incompleteness of the information provided, and any direct or indirect trading risks, profit, or loss arising from any individual's or client's investment.