Doo Prime Is One Of The Main  Sponsor The 14th National Futures Trading Competition in 2020
The 14th National Futures Trading Competition and the 7th Global Derivatives Real Trading Competition in 2020 will be taking place soon. With that, we are proud to announce that Doo Prime will be the main official sponsor for this trading competition.
The competition will last for 6 months, starting from 27th March to 25th September. The registration channel opened on 2nd March and the registration deadline will be on  24th September.
This event is co-sponsored by two major authoritative media in the related industry, "Futures Daily" 《期货日报》and "Securities Times" 《证券时报》which has been in the field for 14 years.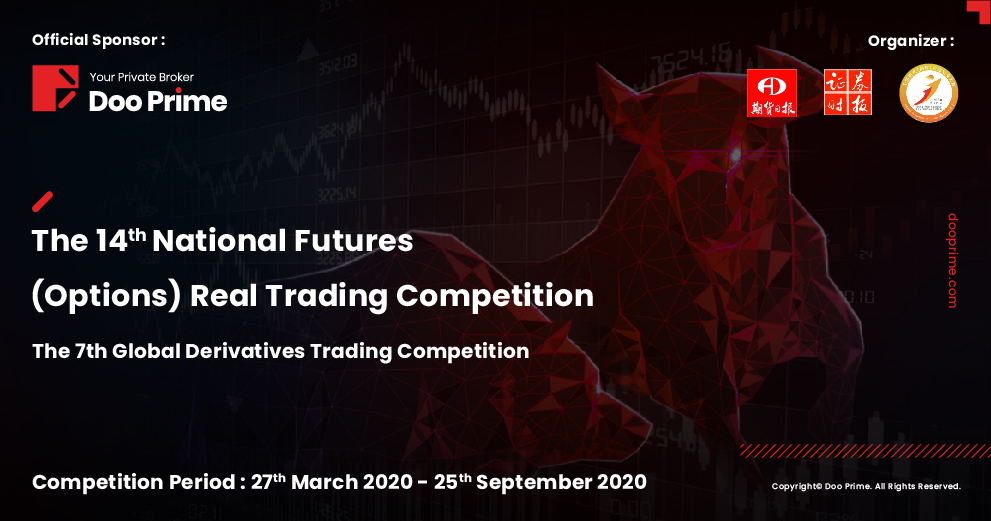 As the main sponsor of this event, Doo Prime's Asia Pacific CEO, Marc Grand said, "We are honored to provide a platform for many outstanding traders to showcase their strengths and we hope that all participants can perfect their trading strategies in this competition alongside striving confidently with good risk management to achieve satisfactory results."
Doo Prime is a pioneering and innovative international integrated Internet brokerage company under the Doo Holding Group, which has many years of industry experience alongside world-class technical support.
With our strong technological strength, we managed to penetrate smoothly into the global financial markets, providing Futures products including the S & P 500 Index, Nasdaq Index, FTSE A50, Brent Crude Oil, as well as Stocks, Currencies, Metals, and CFDs, and more than 300+ trading products, allowing customers to invest globally through a single trading account.
This time around, Doo Prime, alongside with "Futures Daily" 《期货日报》and "Securities Times" 《证券时报》have not only created a global opportunity for international investors but also created a professional platform that possesses the value and quality of top trading experts,  trading capabilities and self-worth.
At the same time, we also hope that this competition will allow more investors to understand and get an insight of futures trading, improve trading strategies alongside actively promote and advertise the futures market to the masses.
— Ends —
For further information, please contact us via:
Tel:
Europe: +44 1137335199
Asia: +852 3704 4241
Asia – China: +86 4008427539
Email: [email protected]
Website: https://www.dooprime.com