WORLDWIDE : HEADLINES
Former China finance minister says trade frictions with U.S. could remain under Biden
BEIJING – Trade frictions between the United States and China may not ease in the near term even if Joe Biden becomes president of the United States, former Chinese finance minister Lou Jiwei said on Friday.
Lou, who is now retired and serves as a member of a consultative body to the Chinese parliament, made the remarks during the Caixin Summit event in Beijing.
When asked about the outlook for U.S.-China economic and trade relationship after the U.S. election, the outspoken former minister said, "Even if Biden is elected, the U.S. suppression of China will be inevitable."
Lou called for pragmatism in U.S.-China trade relations, saying that it's difficult for the U.S. to cut its trade deficit, given the dollar's position as the dominant global currency.
"After four years, the trade deficit (with China) is still widening. We need to return to common sense and return to science. Everyone needs to be reasonable," said Lou.
The Trump administration launched a trade war in the middle of 2018, demanding that China undertake sweeping structural reforms to open its markets and buy more from the United States.
Since then, both countries have imposed tariffs affecting billions of dollars worth of goods, causing a severe shock to the global supply chains.
Full coverage: REUTERS
Japan's GDP seen shrinking less than previously expected this fiscal year: Reuters poll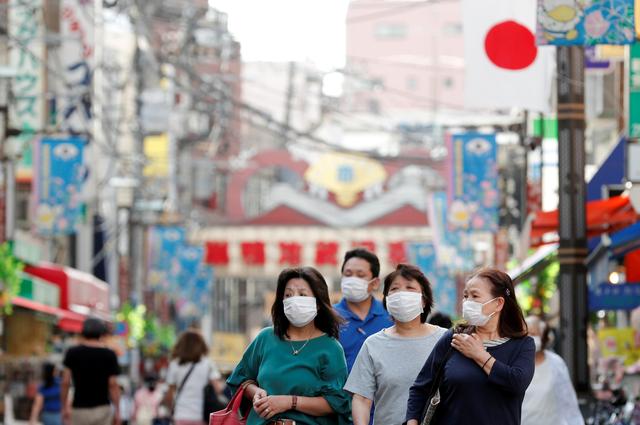 TOKYO – Japan's economy will likely shrink at a slower pace than previously expected this fiscal year thanks to recovering exports, a Reuters poll found, offering relief for policymakers left with few tools to cushion the blow from the coronavirus.
But uncertainty over the pandemic's fallout will continue to weigh on consumer prices and may put Japan on the cusp of mild deflation, over half of the analysts polled by Reuters said.
"The pace of recovery in demand, especially that for services, is weak. Continued slack demand will put downward pressure on prices," said Saisuke Sakai, senior economist at Mizuho Research Institute.
The world's third-largest economy is expected to shrink 5.6% in the current fiscal year ending in March 2021, the Nov. 5-11 poll showed, shallower than a 6.0% drop forecast last month.
November's revision was largely due to a bigger-than-expected rebound in July-September gross domestic product (GDP) growth from a record slump suffered in the previous quarter.
"The level of economic activity remains low. But the rebound in July-September growth was faster than previously expected due to a pick-up in exports and consumption," said Yoshiki Shinke, chief economist at Dai-ichi Life Research Institute.
Full coverage: REUTERS
WORLDWIDE : FINANCE / MARKETS
Oil falls on COVID-19 surge but on track for weekly gain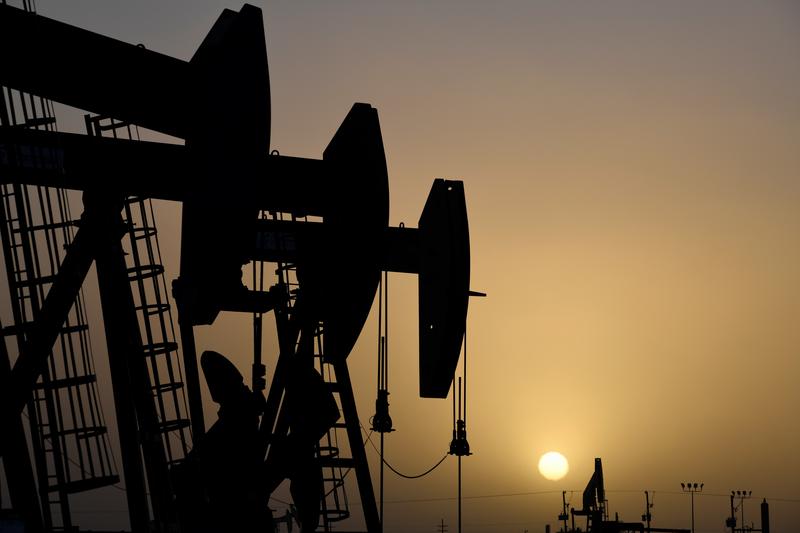 TOKYO – Oil prices fell on Friday, pressured by fears about a slow recovery in the global economy and fuel demand due to an accelerating rise in COVID-19 infections, but remained on track for a second straight weekly gain, helped by vaccine hopes.
Brent crude LCOc1 was down 75 cents, or 1.7%, at $42.78 a barrel as of 0314 GMT, after dropping 0.6% on Thursday. U.S. West Texas Intermediate (WTI) crude futures CLc1 fell 89 cents, or 2.2%, to $40.23 a barrel, having lost 0.8% on Thursday.
For the week, both were headed for a surge of about 8%.
U.S. government data also added pressure, as crude inventories rose by 4.3 million barrels last week, compared with an expected fall of 913,000 barrels.
"Investors took profits from the recent rally as a gloomy global economic outlook dampened sentiment amid a sharp increase in coronavirus cases and new social restrictions," said Koichi Murakami, an analyst at Daiichi Commodities Co Ltd.
"Oil prices are expected to stay under pressure next week if the spread of the pandemic continues to accelerate in many parts of the world," he said.
Full coverage: REUTERS
Yen bounces as vaccine boost fades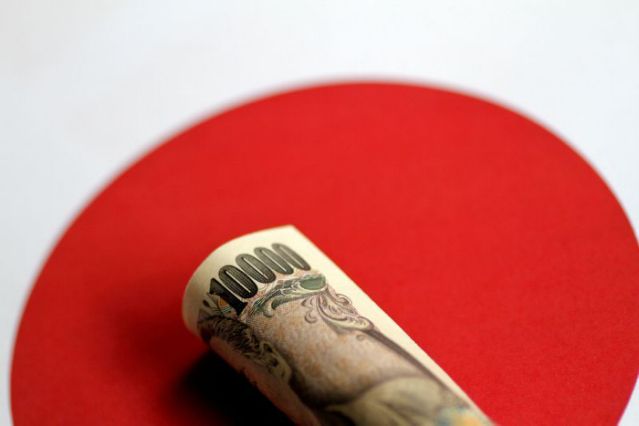 SYDNEY – The Japanese yen edged higher on Friday as investors crept back in to the safe-haven currency on concerns that successful tests of a COVID-19 vaccine may not be enough to offset the economic damage of a trying winter in Europe and the United States.
The yen JPY= rose 0.2% to 104.89 per dollar in the Asia session, its highest since Monday when it tumbled after Pfizer announced that it had developed a working virus vaccine.
The yen remains down by about 1.5% against the dollar this week, its sharpest weekly drop in five months, and softer on most crosses. But the bounce from its lows – along with softness in riskier currencies – shows plenty of caution still remains.
"There are reasons to be optimistic about the global economic recovery, and eventual pandemic submission over the coming year, but we are not out woods yet," said National Australia bank's senior currency strategist Rodrigo Catril.
"The Aussie continues to find the air thinning above 73 cents."
The Aussie AUD=D3 slipped 0.1% to $7224 and is headed for a small weekly loss. The kiwi NZD=D3 was down 0.2% at $0.6824 though is headed for a weekly gain of 0.7% as investors reckon economic improvements have reduced the chance of negative rates.
The euro EUR= rose marginally overnight to clamber back over $1.18, but it is down about 0.6% for the week so far, helping the dollar index =USD to a 0.7% weekly rise. The Chinese yuan CNY= was marginally weaker at 6.6219 per dollar.
Full coverage: REUTERS
Asian stocks fall as virus spread accelerates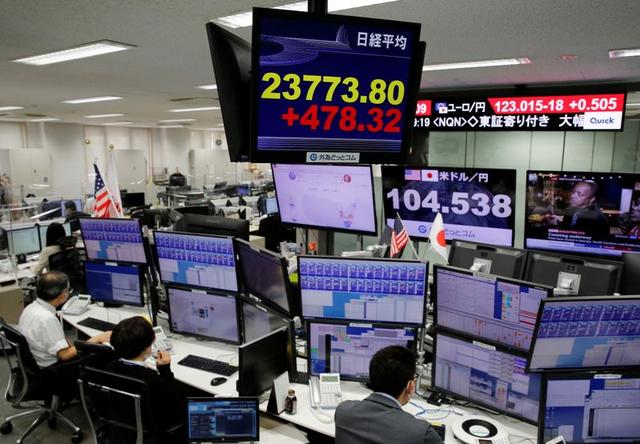 SHANGHAI/BOSTON – Stocks in Asia fell on Friday, following on from selloffs in the United States and Europe as investors feared the economic impact of an accelerating rise in coronavirus infections.
The United States has reported fresh daily records for new COVID-19 case hospitalisations this week, prompting cities and states, including Chicago, Detroit and California, to re-impose public health restrictions.
European officials have also warned against complacency and said measures to control infections must continue despite hopes that vaccines under development could help to slow the spread of the novel coronavirus.
U.S. Federal Reserve Chair Jerome Powell said on Thursday during a discussion with other central bankers that progress in developing a coronavirus vaccine was welcome news but that near-term economic risks remain as infections accelerate, underscoring the likely need for additional government stimulus.
Against that grim backdrop, MSCI's broadest index of Asian shares outside Japan .MIAPJ0000PUS dipped 0.25% in early trade as shares across the region stumbled.
Chinese blue-chips .CSI300 led losses, falling 1.21%. Australian shares .AXJO lost 0.47%, Seoul's Kospi .KS11 was down 0.16% and the Hang Seng .HSI was 0.55% lower.
Japan's Nikkei 225 .N225 fell 0.95%.
Some investors saw a buying opportunity in the slump.
Full coverage: REUTERS