WORLDWIDE : HEADLINES
Most U.S. companies in China optimistic about Biden administration: business group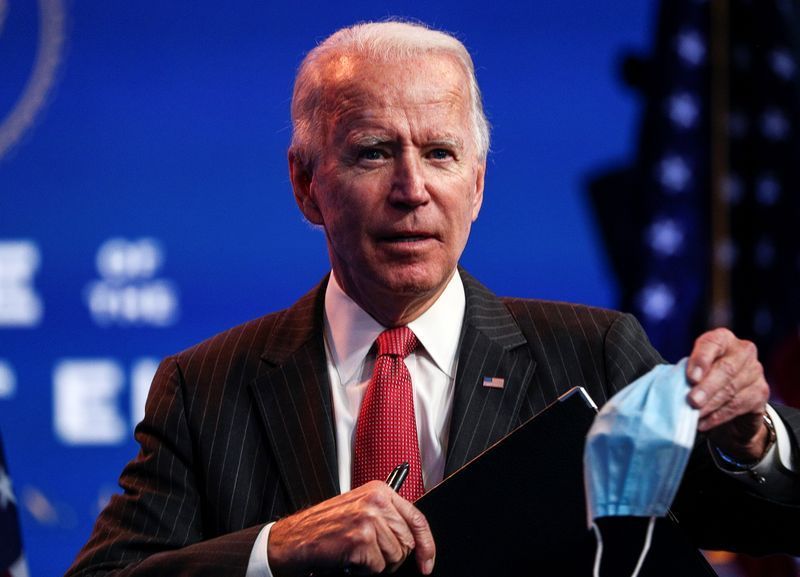 BEIJING – Over 60% of American businesses in China are more optimistic about doing business in China after the results of the United States presidential election, according to a business group survey released on Friday.
However, nearly one third of companies believed China-U.S. trade tensions will continue indefinitely, according to a survey of 124 companies by the American Chamber of Commerce in Shanghai, which also found that 33% of company heads are concerned for the personal safety of employees in China as a result of exit bans or detentions.
Most respondents to the survey, which was conducted on Nov. 11-15, did not expect trade restrictions or tariffs to increase. Companies also showed increased optimism on expected 2020 revenues compared to a July survey.
"Despite optimistic expectations for a better US-China business environment under a Biden administration, China should make reassurances to US companies in order to continue attracting US investment," said the chamber in a statement released alongside the survey.
U.S. President-elect Joe Biden said on Monday the U.S. needed to negotiate with allies to set global trading rules to counter China's growing influence.
Full coverage: REUTERS
Japan aims to expand CPTPP trade pact as UK, China eye membership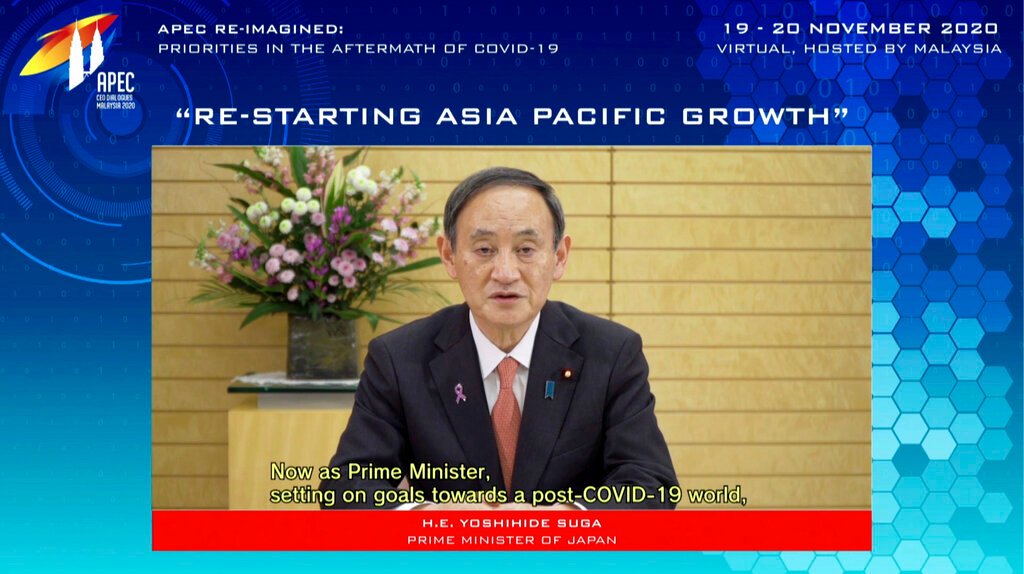 TOKYO – Japan aims to expand a major regional free trade pact called the CPTPP, Prime Minister Yoshihide Suga said on Friday, potentially catering for China's and Britain's interest in joining the deal.
The Comprehensive and Progressive Agreement for Trans-Pacific Partnership (CPTPP) links 11 countries including Canada, Australia and Japan.
"Japan will aspire for the Free Trade Area of the Asia-Pacific through the early conclusion of the RCEP agreement and the steady implementation and expansion of the CPTPP as next year's chair," Suga said.
The premier made the comment in a pre-recorded video message delivered at the APEC (Asia-Pacific Economic Cooperation) CEO Dialogues, ahead of a leaders' virtual summit later in the day.
RCEP, or the Regional Comprehensive Economic Partnership, is the world's largest free trade deal signed this month by 15 economies, while the Free Trade Area of the Asia-Pacific is potentially an even larger pact the 21-member APEC has been aspiring to.
A spokesman for the Chinese commerce ministry said on Thursday his country was open to the idea of joining the CPTPP, while Britain earlier this year announced its intent to pursue accession to the pact.
Full coverage: REUTERS
WORLDWIDE : FINANCE / MARKETS
Dollar halts slide as Mnuchin calls time on emergency funds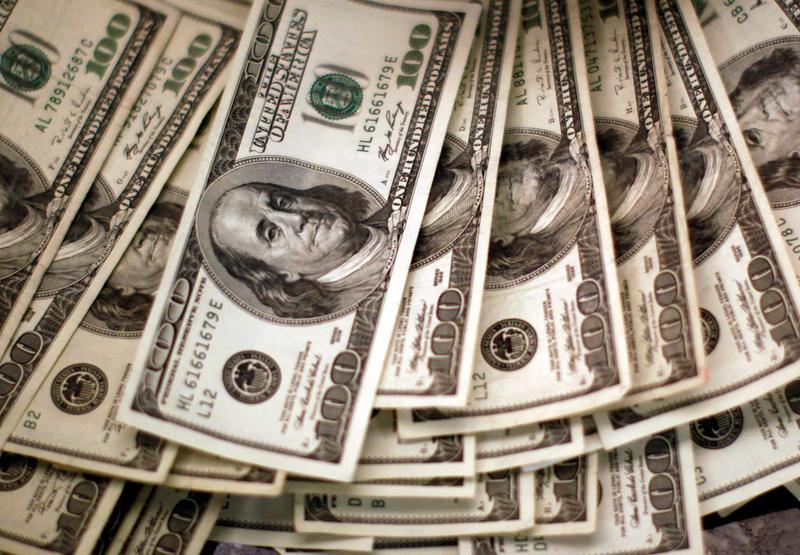 TOKYO – The dollar halted its slide on Friday after U.S. Treasury Secretary Steven Mnuchin called an end to some of the Federal Reserve's pandemic lending, derailing a risk rally and surprising investors who had counted on central bank support.
The announcement damped a previously positive mood after reports that U.S. Senate Republican and Democrat leaders had agreed to resume negotiations on another coronavirus stimulus package.
While Mnuchin's move was aimed at re-appropriating some $455 billion allocated to Treasury under the CARES Act in the spring for other spending, some investors were concerned about ending programmes that they think have played a vital role in reassuring markets.
The Fed also said it "would prefer that the full suite of emergency facilities established during the pandemic continue to serve their important role as a backstop," a rare open confrontation with the government.
"Investors have banked on the MLF (Municipal Liquidity Facility) being a reliable, emergency lender to our (municipal bond) market's core borrowers. It has taken the idea of a payment default or catastrophic budget problem off the table," said Matt Fabian, partner at Municipal Market Analytics at Westport, Connecticut, in the United States.
"Without the MLF, the market won't collapse, but it will lack some resilience if its tested by a selloff or more pronounced credit fears."
Full coverage: REUTERS
Stocks wobble after Mnuchin pulls plug on U.S. stimulus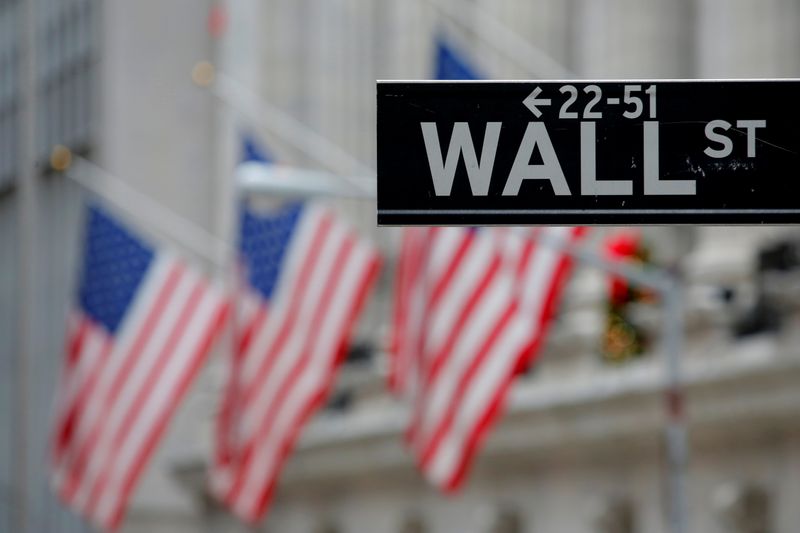 SYDNEY – World financial markets were hit by a wave of uncertainty on Friday after U.S. Treasury Secretary Steven Mnuchin called for an end to coronavirus pandemic relief for struggling businesses, sparking a rare clash between the central bank and Treasury.
S&P500 ESc1 futures slipped 0.7% while Dow futures 1YMc1 fell 0.8%, cancelling out a firmer lead from a strong Wall Street session overnight.
The dollar =USD halted its week-long slide and the 10-year Treasury yield US10YT=RR slipped to the lowest in 10 days to 0.818%.
In Asia, Japan's Nikkei .N225 stumbled 0.5% while South Korea's KOSPI index .KS11 was flat and Australian shares were mildly positive. Chinese shares were little changed with the blue-chip CSI300 index .CSI300 a shade firmer.
That left MSCI's broadest index of Asia-Pacific shares excluding Japan .MIAPJ0000PUS up 0.2%.
In a letter to U.S. Federal Reserve Chair Jerome Powell, Mnuchin said the $455 billion allocated to Treasury under the CARES Act should be instead available for Congress to reallocate.
Full coverage: REUTERS
Oil slips a second day as coronavirus cases spiral amid stimulus talks
TOKYO – U.S. oil prices slipped on Friday, dropping for a second day as concerns mounted about the hit to demand from the surge in COVID-19 infections forcing new lockdowns, but prices were supported by signs of movement on a stimulus deal in Washington.
West Texas Intermediate CLc1 was down 9 cents, or 0.2%, at $41.65 a barrel by 0039 GMT, after dropping around 0.2% on Thursday. Brent crude LCOc1 was yet to trade, having fallen 0.3% in the previous session. The contracts are heading for a third week of gains.
U.S. Senate Republican Majority Leader Mitch McConnell agreed to resume discussions on providing more COVID-19 relief as cases surge across the United States, Democratic leader Chuck Schumer said on Thursday, according to CNBC.
"Any stimulus deal done before the holidays will help keep crude prices stay near the upper boundaries of its recent trading range," said Edward Moya, senior market analyst at OANDA.
"While falling demand is bearish for oil prices, that has mostly been priced in and should not drive significant weakness as the U.S. announces more lockdowns over the next couple of weeks," Moya said.
To counter the fall in demand from movement restrictions, OPEC+ members are likely to delay a plan to boost production from January by 2 million barrels per day, sources told Reuters.
Full coverage: REUTERS