All-new version of Doo Prime CRM system unveiled
with more professional and exclusive features
Doo Prime users can now enjoy a better experience and more convenience in managing their trades and capital on the all-new Doo Prime Customer Relationship Management (CRM) system.
In line with its aspiration of providing an unrivalled trading experience and top-notch services for global traders, Doo Prime has invested a great deal of resources and effort on a major revamp of its CRM system that is finally unveiled recently.
The new Doo Prime CRM system, which comes after two months since the previous version was updated, not only offers an improved user interface with better visual display and design layout but also new features such as the enhanced control panel on the homepage, Web TV, and personal performance report.
More conveniences for account management
In addition, there is a new feature – personal performance report that caters to the needs of professional traders who are managing the trades of multiple clients.
The personal performance report provides an overview of a professional trader's commission, number of accounts under his/her management and the total deposit by his/her clients on the Doo Prime CRM system.
One can also track the statistics of their referral links, such as the number of clicks, number of clients who registered through the links, conversion rate, number of clients who have made deposit, and many more.
New interface with user-friendly features
A customizable quick access toolbar has been added to the homepage, enabling users to add or remove features such as deposit, withdrawal, transfer, performance report, and social trading account management based on their needs.
Meanwhile, the "My Wallet" section has also been revamped to allow users to manage their trading capital in different currencies and make deposit, withdrawal, and transfer for each type of currency. This will help users to keep track and manage their capital conveniently.

Direct access to Points Mall
The new CRM system also features a direct access to Doo Prime's Points Mall, which offer rewards to users who trade with Doo Prime.
They can earn points by trading on the platform and the points can be used to redeem a wide range of gifts and experiences in Points Mall, including smart phones, home appliances and even a Ferrari 488 Pista.
Points Mall is a one-of-its-kind loyalty reward program that sees Doo Prime collaborate with some of the most established affiliate partners to reward its clients.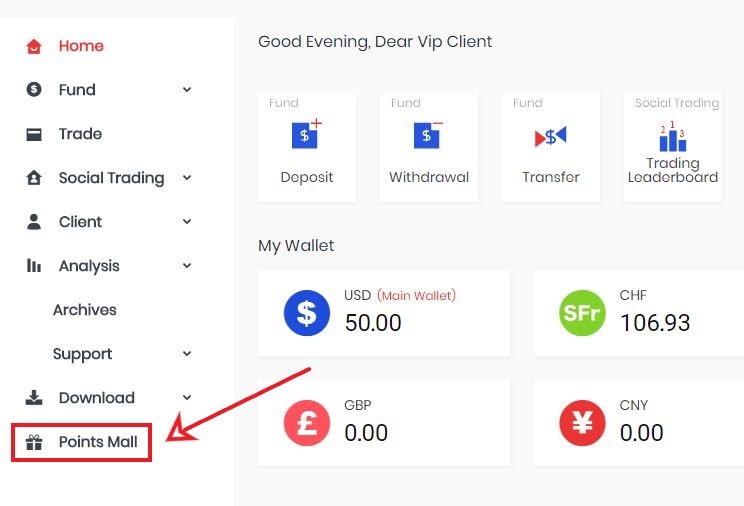 Empowering users with powerful analytic tools
The new Doo Prime CRM system also comes with a Web TV that offers exclusive market insights and daily trading ideas provided by international research firm Trading Central.
The Web TV provides a quick overview of important economic data and need-to-know news, along with professional analysis on financial instruments, thus giving Doo Prime users a better understanding of the latest market development and make informed trading decisions.

Delivering the best experience and services
Doo Prime is committed to our corporate vision to offer the best trading services and experience for its users while complying with the highest standards of practice in the online trading industry.
To date, more than 15,780 individual traders and 150 institutional traders around the world has chosen Doo Prime as their preferred online brokerage platform.
To find out more about Doo Prime and the features that it offers, read our blog articles here or leave us a message through the LiveChat.