WORLDWIDE : HEADLINES 
China's Wang vows to uphold trade deal during Biden administration -U.S. business group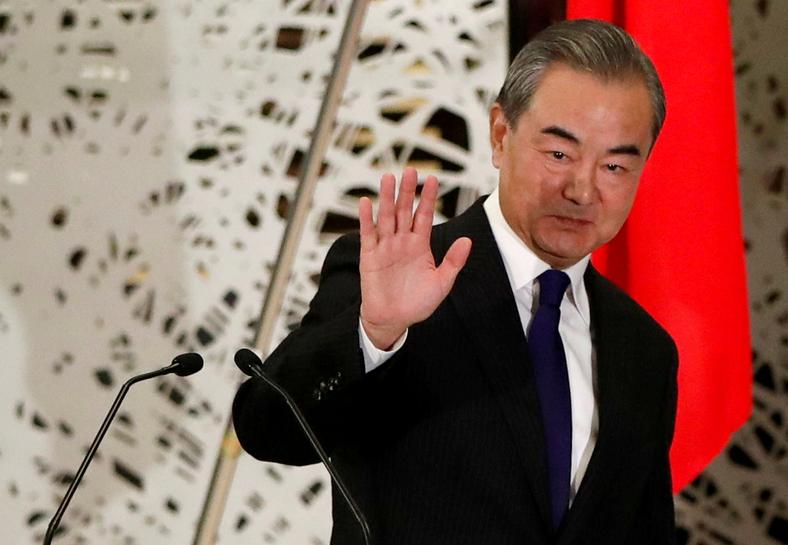 WASHINGTON  -Chinese Foreign Minister Wang Yi assured U.S. executives during a videoconference on Sunday that Beijing remained committed to the Phase 1 trade deal with the United States, the head of the US-China Business Council said.
"He definitely re-committed. On the Chinese side, it's all systems go. They will fulfill their commitments," US-China Business Council President Craig Allen told Reuters on Monday.
Wang's comments to the business group come amid recent moves by the government of outgoing U.S. President Donald Trump to crack down on Chinese military companies and box incoming President-elect Joe Biden into hardline positions on Beijing.
The US-China Business Council, which represents 240 companies doing business in China, said it was pleased with Beijing's progress in implementing policy changes under the trade deal signed in January, although China had fallen short of targets for increased purchases of U.S. goods and services.
Full coverage: REUTERS  
Uber sells ATG self-driving business to Aurora at $4 billion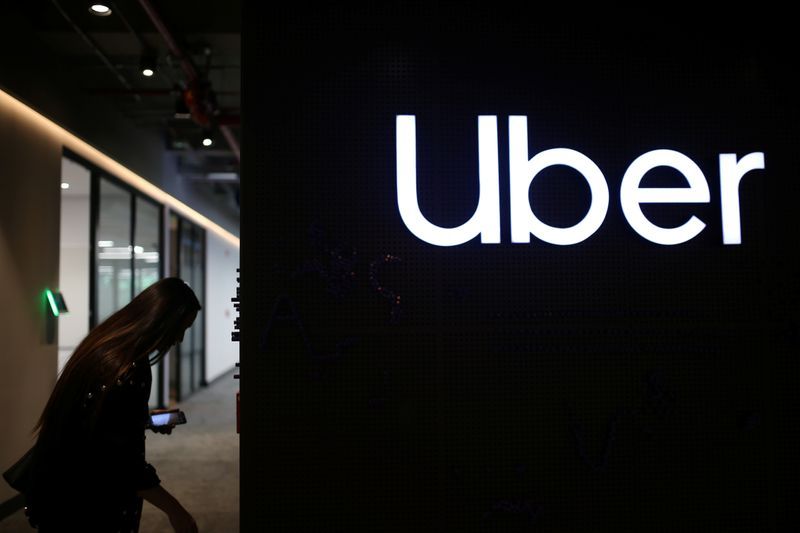 Uber Technologies Inc is selling its autonomous driving unit, Uber Advanced Technologies Group (ATG), to self-driving car startup Aurora, the companies said on Monday, in a move that would accelerate the ride-sharing company's goal to achieve profitability.
The equity deal valued the ATG at $4 billion, according to people familiar with the matter. This marks a major drop in valuation for ATG, as it raised $1 billion from a consortium of investors including Toyota Motor Corp and SoftBank Group Corp at a valuation of $7.25 billion last year.
Following the sale announced on Monday, Uber is also investing $400 million in Aurora, which values Aurora at $10 billion, the people added. Uber will hold about 26% ownership interest in Aurora on a fully diluted basis, the company said in a filing.
Aurora, which is working to develop self-driving trucks, cars and delivery vehicles, will collaborate with Uber to launch self-driving vehicles on its ride-hailing and food delivery network. Uber is also working on building out its freight logistics platform but is not operating its own trucks at present.
Full coverage: REUTERS 
WORLDWIDE : FINANCE / MARKETS  
Sterling holds out hope for Brexit breakthrough in Brussels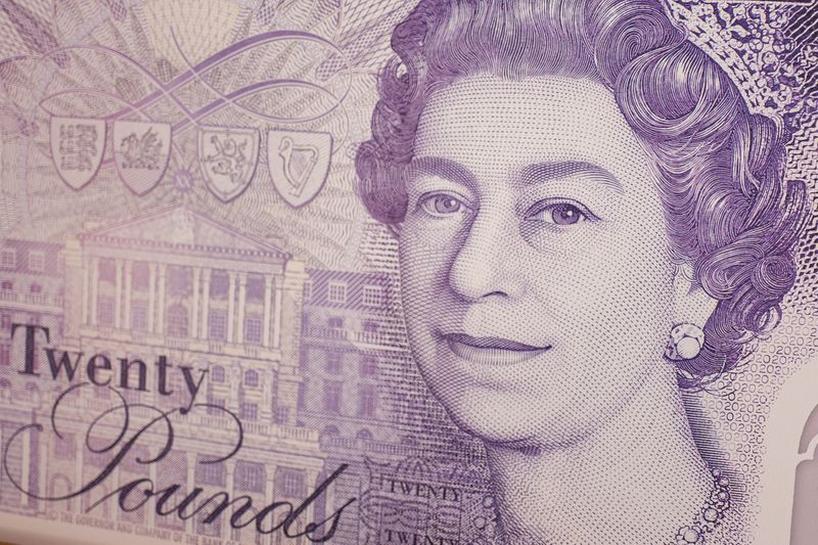 SINGAPORE  – Sterling on Tuesday clung to hopes of a meeting between British Prime Minister Boris Johnston and European Commission President Ursula von der Leyen salvaging a Brexit trade deal, while safe-harbour demand gave the dollar support as U.S. virus cases rose.
The British currency was whipsawed as the prospects of Britain and the European Union striking a last-minute deal ebbed and flowed. It shed as much as 1.5% overnight before recouping losses after the leaders' announced plans to meet in Brussels.
On Tuesday, sterling was on edge but holding on at $1.3353 early in the Asia session, well above Monday's low of $1.3225.
Other majors had dipped a fraction against the U.S. dollar overnight with a broadly risk-averse mood, though dollar gains were muted as investors overwhelmingly consider it in a downtrend.
The yen held steady at 104.10 per dollar after inching a fraction higher on Monday and the euro was kept firmly above $1.21.
The pound's rebound – albeit with little actual sign of headway in Brexit negotiations – piles pressure on to the leaders' meeting to deliver a compromise before Britain's trade privileges with the European Union expire at the end of the month.
Failure to secure anything before Thursday's European Union summit could push the pound back to $1.30, he said, but is reckoning on joint concessions to get to an agreement.
Full coverage: REUTERS 
Asian stocks under pressure as pandemic concerns outweigh stimulus hopes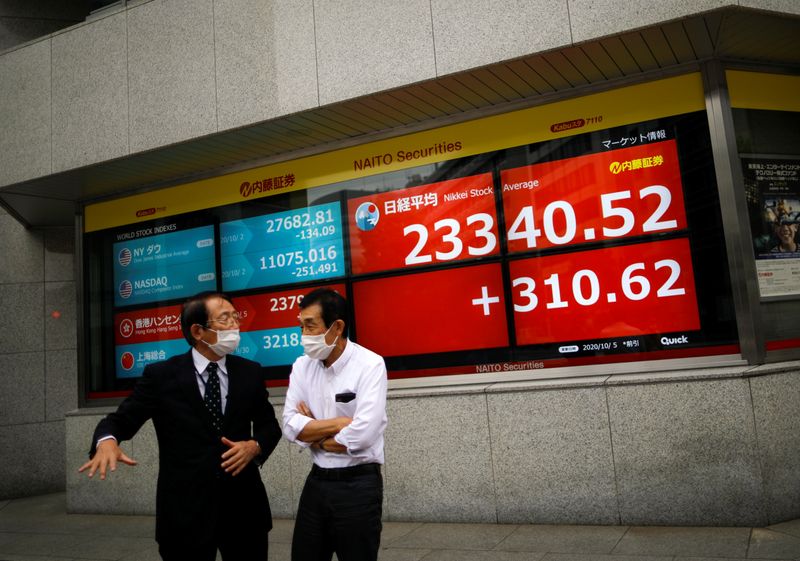 Asian stocks came under pressure in early trade on Tuesday as investors struggled to balance hopes for more economic stimulus and vaccines with anxiety over the growing number of COVID-19 cases.
A mixed Asian open followed a similarly mixed Wall Street session with the tech-heavy Nasdaq Composite closing at a record high as investors flocked to mega-cap growth stocks while the two other major U.S. indices fell.
"You saw more than a slight moderation to the S&P 500, and the Dow, but you're still looking at these markets at record highs," said Tom Piotrowski, a market analyst with CommSec. "It's a matter of looking out for what the next catalyst is for these markets."
MSCI's broadest index of Asia-Pacific shares outside Japan fell 0.13% in early trade. Australia's S&P/ASX 200 inched up 0.09% in while Japan's Nikkei 225 fell 0.63%.
Hong Kong's Hang Seng index futures were up 0.31%.
On Wall Street, the Nasdaq Composite rose 0.45% while the Dow Jones Industrial Average dropped 0.49% and the S&P 500 lost 0.19%.
Full coverage: REUTERS 
Oil falls amid surging virus cases and U.S.-China tensions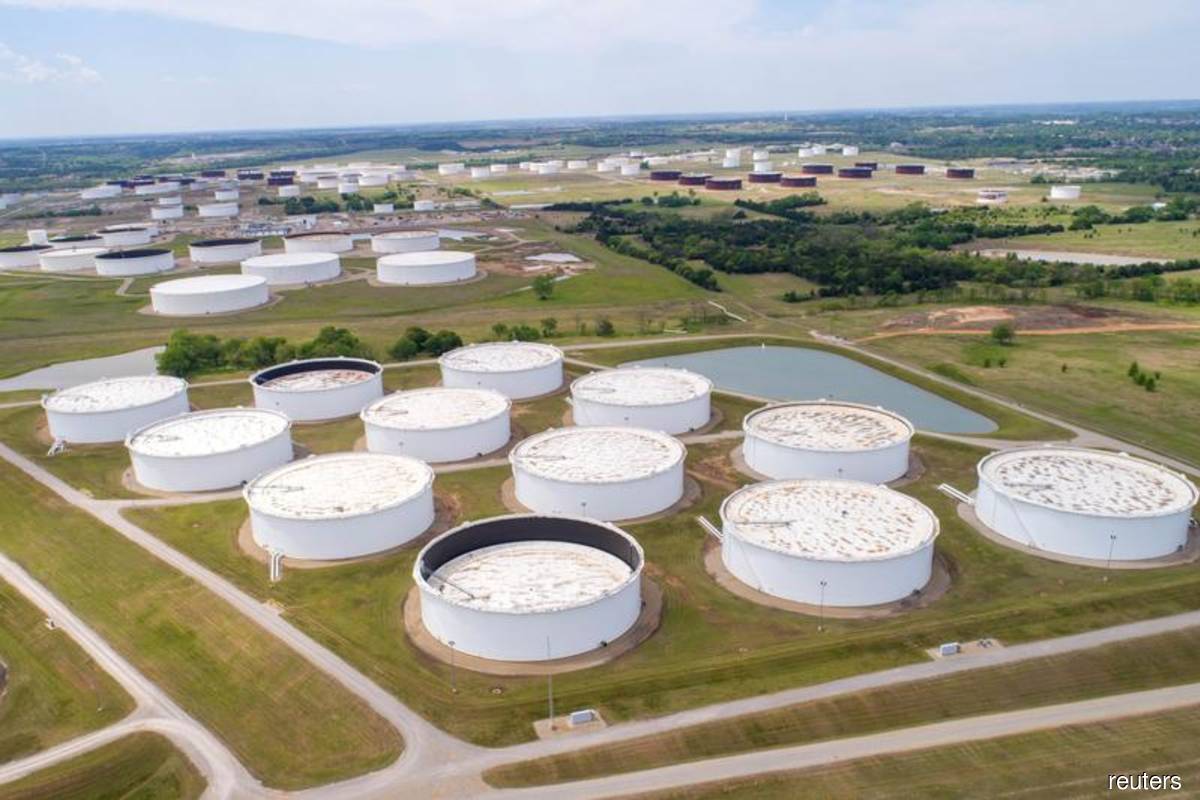 NEW YORK  -Oil prices fell around 1% on Monday as surging coronavirus cases and heightened tensions between the United States and China undermined the positive impact from an OPEC+ deal on production.
Brent crude fell 46 cents, or 0.9%, to settle at $48.79 a barrel. U.S. crude fell 50 cents, or 1.1%, to settle at $45.76 a barrel.
Prices came under pressure after Reuters exclusively reported that the United States was preparing to impose sanctions on at least a dozen Chinese officials over their alleged role in Beijing's disqualification of elected opposition legislators in Hong Kong.
Rising tensions between the United States and China, the world's top oil consumers, have weighed repeatedly on the market in recent years.
China, the world's top crude oil importer, has helped support crude prices this year. In the first 11 months of the year, China imported a total of 503.92 million tonnes, or 10.98 million bpd, up 9.5% from a year earlier.
The country's November oil imports rose from the prior month, data from the General Administration of Customs showed.
Full coverage: REUTERS