WORLDWIDE : HEADLINES  
GE alleges Siemens Energy used stolen trade secrets to rig contract bids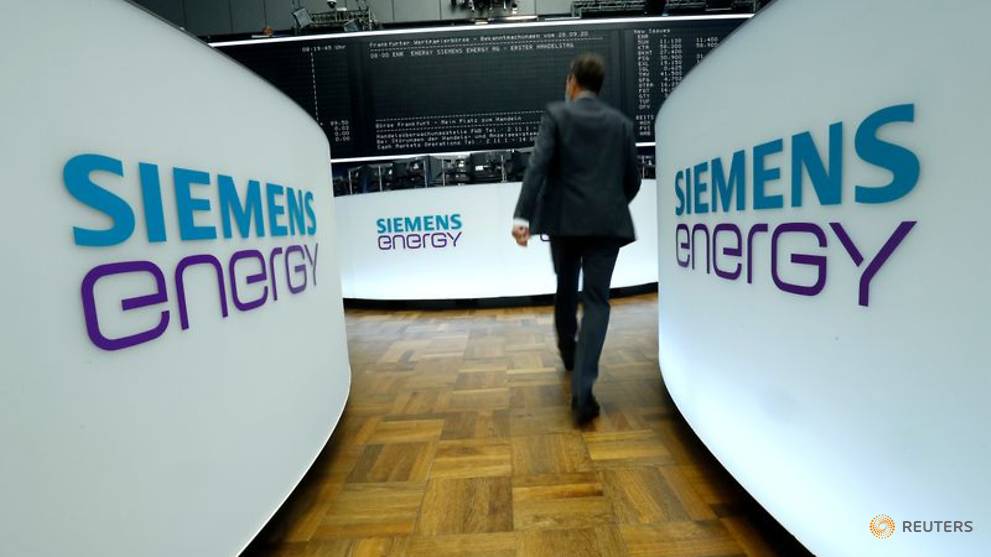 NEW YORK – General Electric Co accused a Siemens Energy AG subsidiary of using stolen trade secrets to rig bids for lucrative contracts supplying gas turbines to public utilities, and cover up improper business gains totaling more than $1 billion, according to a lawsuit filed on Thursday.
GE sued the rival company, Siemens Energy Inc, in a U.S. district court in Virginia, alleging the theft traces back to May 2019, when the industrial conglomerates bid to provide gas turbine equipment and servicing to Dominion Energy Inc. Dominion is a Virginia power utility that provides electricity to about 4 million customers on the east coast.
The suit comes in the wake of Siemens AG spinning off its energy business to create Siemens Energy. GE alleges that Siemens Energy used trade secrets improperly received from a Dominion employee in part to win contracts that would boost the price of its initial public offering that took place in September.
Siemens identified the receipt of GE's trade secrets "through its own robust compliance processes," a spokesman said. Following an internal investigation, Siemens "implemented extensive remedial measures in response," the spokesman added, such as "swift and appropriate discipline of the involved employees, including separation from the company."
A Dominion representative did not immediately respond to a request for comment.
Full coverage: REUTERS 
Biden unveils plan to pump $1.9 trillion into pandemic-hit economy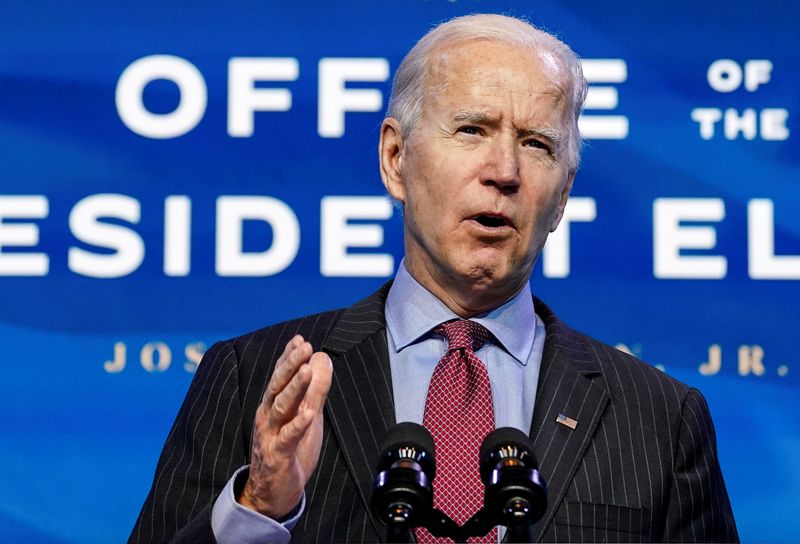 WILMINGTON, Del. – President-elect Joe Biden unveiled a $1.9 trillion stimulus package proposal on Thursday, saying in prime-time remarks that bold investment was needed to jump-start the economy and speed up the U.S. response to the coronavirus pandemic.
Biden campaigned last year on a promise to take the pandemic more seriously than President Donald Trump, and the package aims to put that pledge into action with an influx of resources for the coronavirus response and economic recovery.
"A crisis of deep human suffering is in plain sight, and there's no time to waste," Biden said on Thursday evening. "We have to act and we have to act now."
The aid package includes $415 billion to bolster the response to the virus and the rollout of COVID-19 vaccines, some $1 trillion in direct relief to households, and roughly $440 billion for small businesses and communities particularly hard hit by the pandemic.
Stimulus payment checks would be issued for $1,400 – topping up the $600 checks issued under the last congressional stimulus legislation. Supplemental unemployment insurance would also increase to $400 a week from $300 a week now and would be extended to September.
Biden's plan is meant to kick off his time in office with a large bill that sets his short-term agenda into motion quickly: helping the economy and getting a handle on a virus that has killed more than 385,000 people in the United States as of Thursday.
It also provides a sharp contrast with Trump, who spent the last months of his administration seeking to undermine Biden's election victory rather than focusing on additional coronavirus relief. Trump, who leaves office on Wednesday, did support $2,000 payments to Americans, however.
Full coverage: REUTERS 
WORLDWIDE : FINANCE / MARKETS 
Asia shares inch up as U.S. stimulus hopes boost sentiment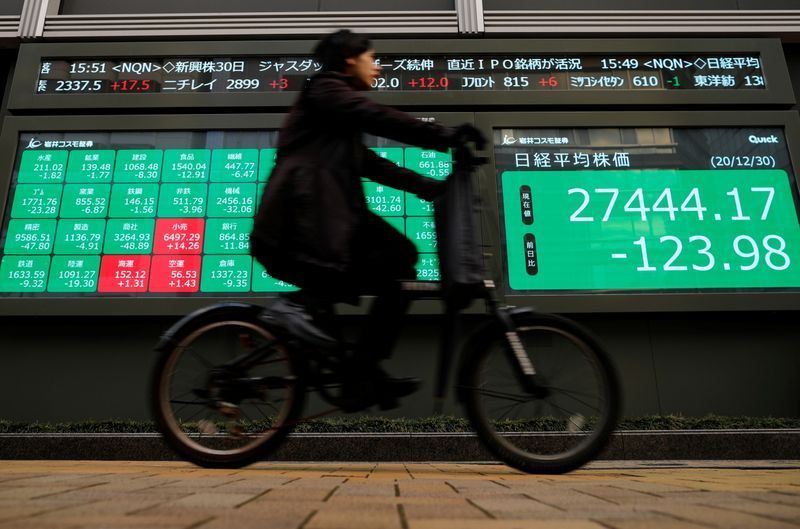 NEW YORK – Asian shares rose on Friday, brushing off a late Wall Street dip as expectations of large U.S. stimulus under President-elect Joe Biden shored up sentiment while oil prices perked up on upbeat Chinese trade figures.
President-elect Biden will unveil a $1.9 trillion stimulus package proposal designed to jump-start the economy and speed up the U.S. response to the coronavirus pandemic, officials said on Thursday.
While U.S. stocks spent most of the trading session in positive territory, helped by the stimulus hopes, some concerns about the details of the package led to a modest decline towards the end of Wall Street trade.
"The concern is what it's going to mean from a tax stand point," said Tim Ghriskey, chief investment strategist at Inverness Counsel in New York.
"Spending is easy to do but the question is how are you going to pay for it? Markets often ignore politics but they don't often ignore taxes."
In Asia, investors held a broadly more optimistic with Australia's S&P/ASX 200 up 0.2%, Japan's Nikkei 225 0.3% higher and South Korea's KOSPI inching up 0.2%.
On Wall Street, the Dow Jones Industrial Average fell 0.22%, the S&P 500 lost 0.38%, and the Nasdaq Composite dropped 0.12%.
Full coverage: REUTERS 
Oil prices climb on Chinese data, dollar weakness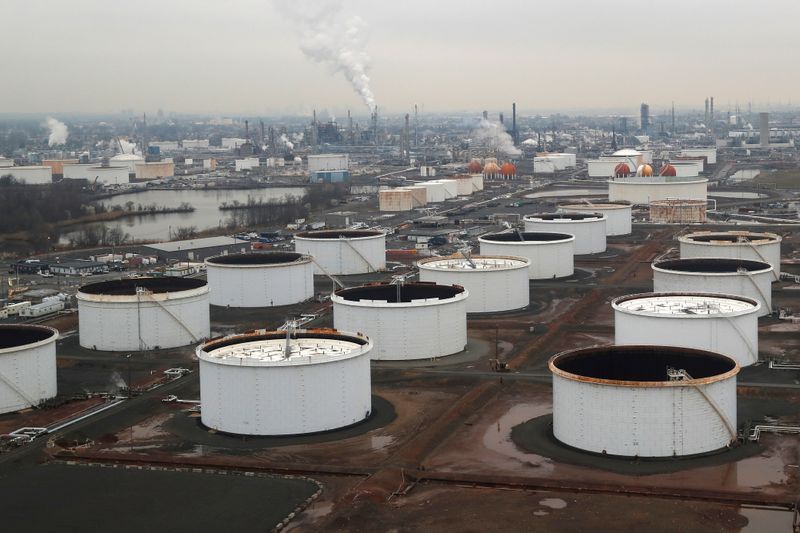 NEW YORK  – Oil prices edged higher on Thursday, boosted by a weak dollar and bullish signals from Chinese import data but pressured by renewed worries about global oil demand due to surging coronavirus cases in Europe and new lockdowns in China.
Brent crude oil futures rose 36 cents, or 0.6%, to settle at $56.42 a barrel. U.S. West Texas Intermediate (WTI) ended 66 cents, or 1.3%, higher at $53.57.
The U.S. dollar index slumped after U.S Federal Reserve Chair Jerome Powell struck a dovish tone, saying the U.S. central bank is not raising interest rates anytime soon.
A weaker greenback makes dollar-denominated oil cheaper for holders of foreign currencies.
Raising hopes of increased oil demand was a hefty U.S. COVID-19 relief package, which President-elect Joe Biden is due to unveil on Thursday.
"With energy values strengthening as the dollar weakened today, the oil market was able to advance late session in sympathy with stronger equities," Jim Ritterbusch, president of Ritterbusch and Associates, said.
Full coverage: REUTERS 
Dollar slips after Fed's Powell says not hiking rates anytime soon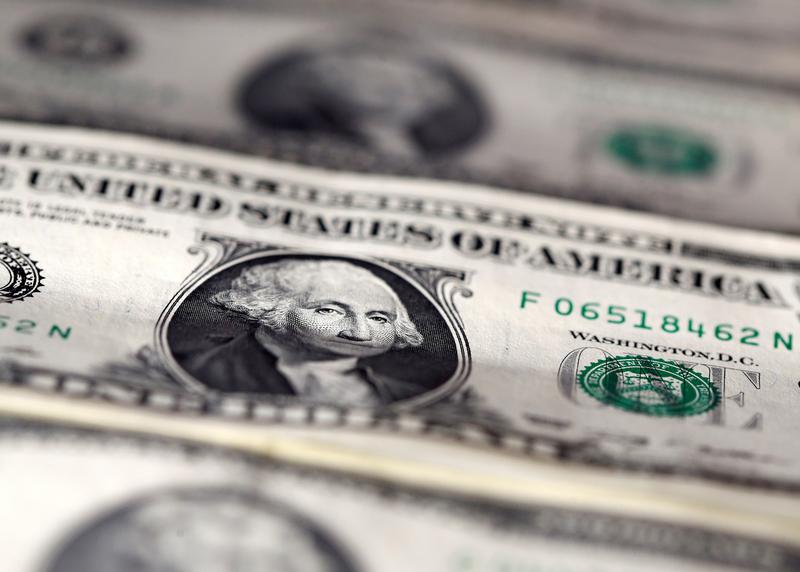 NEW YORK  – The dollar drifted lower on Thursday in choppy trading, after Federal Reserve Chair Jerome Powell struck a dovish tone, saying the U.S. central bank is not raising interest rates anytime soon and rejecting suggestions the Fed might start reducing its bond purchases in the near term.
The Fed's asset-buying program to support financial markets in a pandemic has weighed on the dollar, as it increased the supply of the currency and diminished its value.
The dollar, though, traded higher for most of Thursday's session, in line with a rise in Treasury yields, amid upbeat expectations about President-elect Joe Biden's fiscal stimulus. But it changed direction as Powell spoke.
Powell said the economy remains far from the Fed's goals and he sees no reason to alter its highly accommodative stance "until the job is well and truly done." The Fed chairman was in a live-streamed interview with a Princeton University professor.
"We got a whole lot of dovish soundbites as expected," said Erik Bregar, head of FX strategy, at Exchange Bank of Canada in Toronto.
"While we anticipated this dovishness to cool off the U.S dollar today, it felt like the FX market wanted to front-run this outcome a few hours beforehand…hence the hard-to-explain-in-the-moment swift move lower we saw going into midday and the 'sell the rumor/buy the fact' reaction we're seeing after Powell delivered."
In late afternoon trading, the dollar index was little changed to slightly lower at 90.24. Investors also awaited details of Biden's pandemic relief plan.
Since hitting a three-year low last week, the dollar has risen about 1.2%, as the prospect of more stimulus has weighed on U.S. government bonds, sending the benchmark 10-year Treasury yield above 1% for the first time since March.
Full coverage: REUTERS