WORLDWIDE: HEADLINES 
Big Oil hits brakes on search for new fossil fuels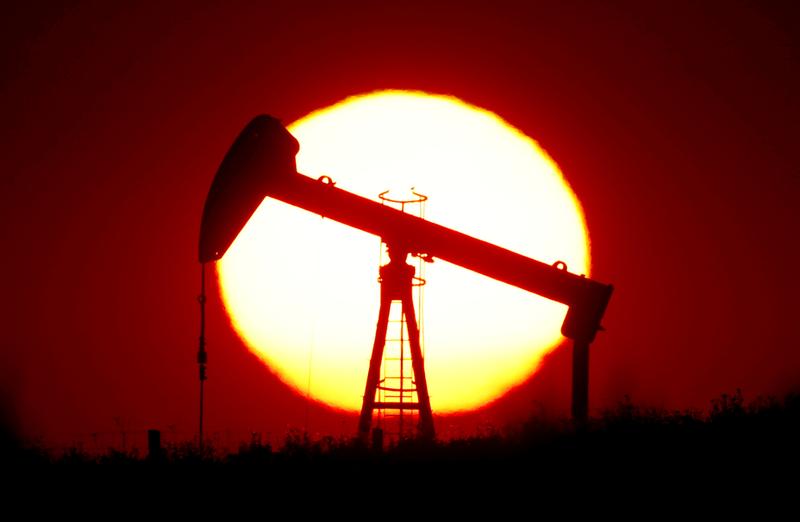 LONDON – Top oil and gas companies sharply slowed their search for new fossil fuel resources last year, data shows, as lower energy prices due to the coronavirus crisis triggered spending cuts.
Acquisitions of new onshore and offshore exploration licences for the top five Western energy giants dropped to the lowest in at least five years, data from Oslo-based consultancy Rystad Energy showed.
The number of exploration licensing rounds dropped last year due to the epidemic while companies including Exxon Mobil, Royal Dutch Shell and France's Total also reduced spending, Rystad Energy analyst Palzor Shenga said.
"Acquiring additional leases comes with a cost and it demands some work commitments to be fulfilled. Hence, companies would not want to pile up on additional acreages in their non-core areas of operations," Shenga said.
Of the five companies, BP saw by far the largest drop in new acreage acquisition in 2020. Bernard Looney, who became BP's CEO in February, outlined a strategy to reduce oil output by 40% or 1 million barrels per day by 2030. BP has rapidly scaled back its exploration team in recent months.
Exxon, the largest U.S. energy company, acquired the largest acreage in 2020 in the group, with 63% in three blocks in Angola, according to Rystad Energy.
Full coverage: REUTERS 
Bank of England told to stop buying 'high carbon' bonds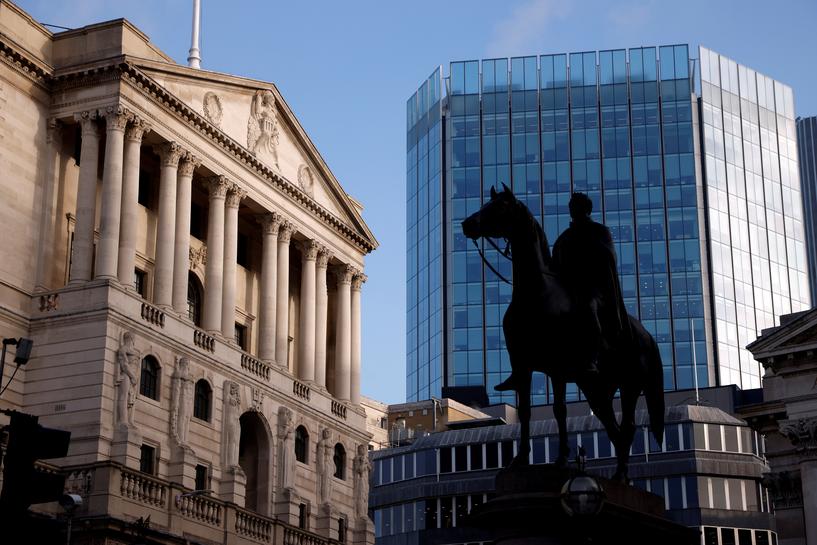 LONDON – A group of British members of parliament said on Monday that the Bank of England should stop buying bonds from businesses whose activities accelerate global warming.
Britain's central bank doubled its holdings of corporate bonds to 20 billion pounds ($27 billion) last year as part of efforts to support the economy through the coronavirus pandemic.
The House of Commons' Environmental Audit Committee – which looks at public bodies' impact on global warming – said buying bonds from firms such as energy companies with high carbon emissions contravened government goals to reduce global warming.
"The Bank must begin a process of aligning its corporate bond purchasing programme with Paris Agreement goals as a matter of urgency," the committee's chairman, Philip Dunne, wrote in a letter to BoE Governor Andrew Bailey.
The parliament committee has no formal power over the BoE, which is operationally independent, but finance minister Rishi Sunak could potentially change the BoE's remit to require a greater focus on environmental issues.
Britain will host the global COP26 climate summit in September and Dunne said the BoE should set a good example.
Bailey said in July that the central bank would review its corporate bond holdings once the coronavirus pandemic was over, but said the BoE was right to provide financial support to a wide range of businesses in an economic emergency.
Full coverage: REUTERS 
WORLDWIDE: FINANCE / MARKETS 
Oil prices fall for second session as COVID-19 lockdown concerns cast pall over demand prospects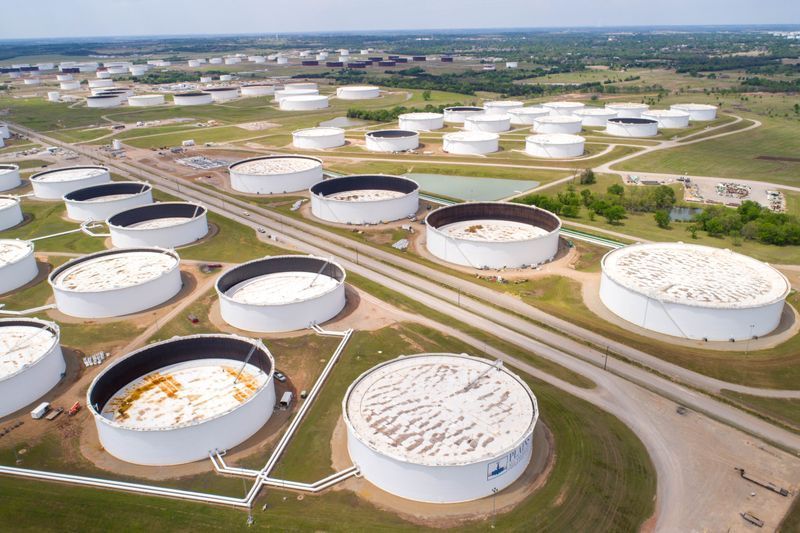 SINGAPORE – Oil prices slipped for a second straight session on Monday as renewed COVID-19 lockdowns raised fresh concerns about global fuel demand.
Brent crude futures for March fell 15 cents, or 0.3%, to $55.26 a barrel by 0158 GMT, while U.S. West Texas Intermediate crude for March was at $52.19 a barrel, down 8 cents, or 0.2%.
"Signs of weaker demand weighed on the market," ANZ analysts said, pointing to lockdowns in Hong Kong, China and possibly France as COVID-19 cases rise, restricting business activity and fuel consumption.
China reported a climb in new COVID-19 cases on Monday, casting a pall over demand prospects in the world's largest energy consumer, the main pillar of strength for global oil consumption.
The number of oil and natural gas rigs added by U.S. energy firms rose for a ninth week in a row in the week to Jan. 22, but are still 52% below this time last year, data from Baker Hughes showed.
Full coverage: REUTERS 
Dollar firm as economic, pandemic gloom damp risk appetite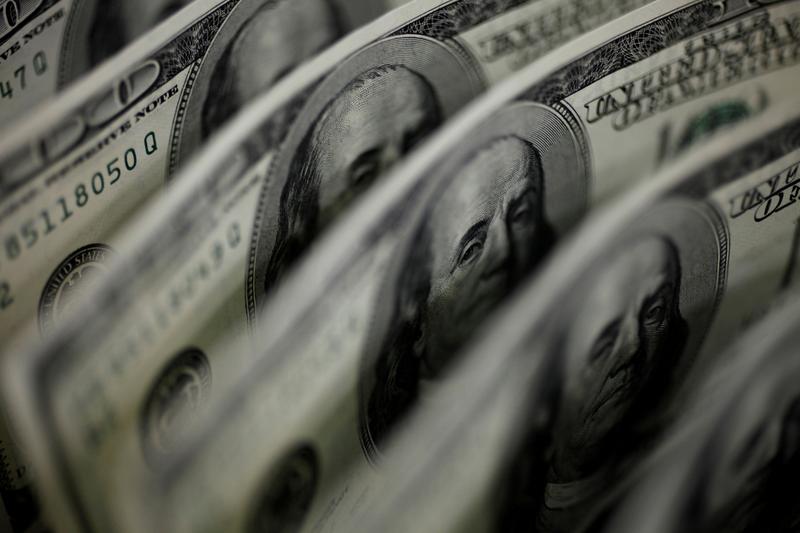 TOKYO – The dollar held ground against riskier currencies on Monday as weak economic data from Europe and fresh worries about the coronavirus supported investor demand for safe-havens, stretching greenback selling positions.
Economic activity in the euro zone shrank markedly in January as stringent lockdowns to contain the coronavirus pandemic hit the bloc's dominant service industry hard while UK data showed British retailers struggled to recover in December.
British Prime Minister Boris Johnson also said on Friday there was evidence a new variant of COVID-19 discovered late last year could be associated with higher mortality.
The news came as bets against the dollar have become overcrowded, analysts said, with U.S. data on Friday showing net dollar short positions swelling to the largest since May 2011.
The dollar index stood at 90.247, flat on the day but off last week's low of 90.043 set on Thursday.
The euro was also little changed at $1.2163, taking a pause after a 0.8% gain last week. The common currency is capped in part by signs of political instability in Rome.
Full coverage: REUTERS 
Asian shares under pressure on rising coronavirus cases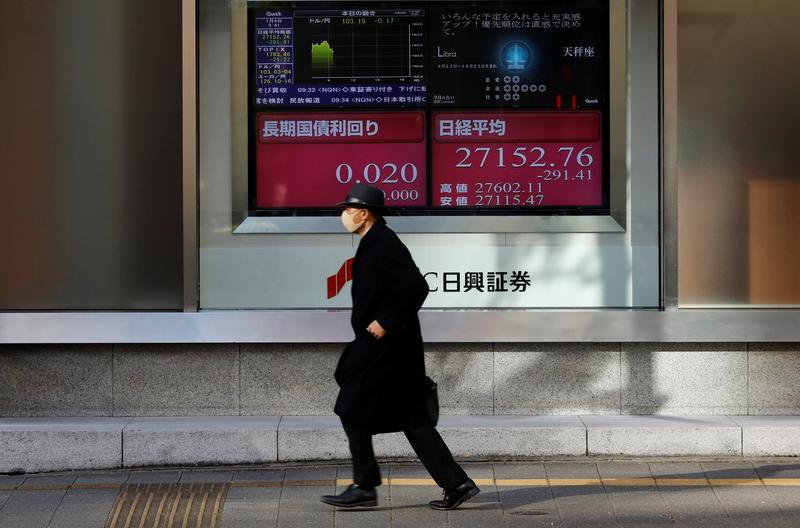 SYDNEY – Asian shares were on the defensive on Monday as rising COVID-19 cases and doubts over the ability of vaccine makers to supply the promised doses on time soured risk appetite.
MSCI's broadest index of Asia-Pacific shares outside Japan was barely changed at 718.72.
The benchmark is below the record high of 727.31 touched last week but up 8.5% so far in January, on track for its fourth straight monthly rise.
Japan's Nikkei fell 0.1%.
Australian shares were higher after the country's drug regulator approved the Pfizer/BioNTech COVID-19 vaccine with authorities saying a phased rollout will begin late next month.
Global COVID-19 cases are inching towards 100 million with more than 2 million dead, though financial markets have been buoyant on hopes of a vaccine and a quick economic revival.
However, "there was one negative COVID-19 news story after another on Friday and which equity investors ultimately couldn't ignore," said Ray Attrill, head of forex strategy at National Australia Bank.
On Friday, the Dow fell 0.57%, the S&P 500 lost 0.30% and the Nasdaq Composite added 0.09%. The three main U.S. indexes closed higher for the week, with the Nasdaq up over 4%.
Full coverage: REUTERS