Doo Prime has emerged as one of the top preferred platform among South Korean trading community
With its outstanding offerings, Doo Prime is emerging as a top preferred online brokerage platform among South Korean trading community as it is increasingly recognized by established local medias in South Korea.
The latest milestone showcases the platform's growing presence in the country by forging with PAXNet, a Korea Securities Dealers Automated Quotation (KOSDAQ) listed company in South Korea.
Regarded as the Bloomberg of Korea, PAXNet has been a reliable financial information and solution provider since its inception in 1999. The collaboration marks the first time PAXNet partners with an international brokerage firm to provide value-added feature to the millions of users on its web portal.
The collaboration marks the first time PAXNet partners with an international brokerage firm to provide value-added feature to the millions of users on its web portal.
Under the collaboration between the two leading players in their respective industry, one can enjoy a fast and convenient access to the seamless and affordable trading experience offered by Doo Prime on PAXNet's portal.
It is in line with Doo Prime's mission to create a one-stop online trading platform that offers a wide array of top-notch services and products backed by advanced technologies for retail and professional traders around the globe.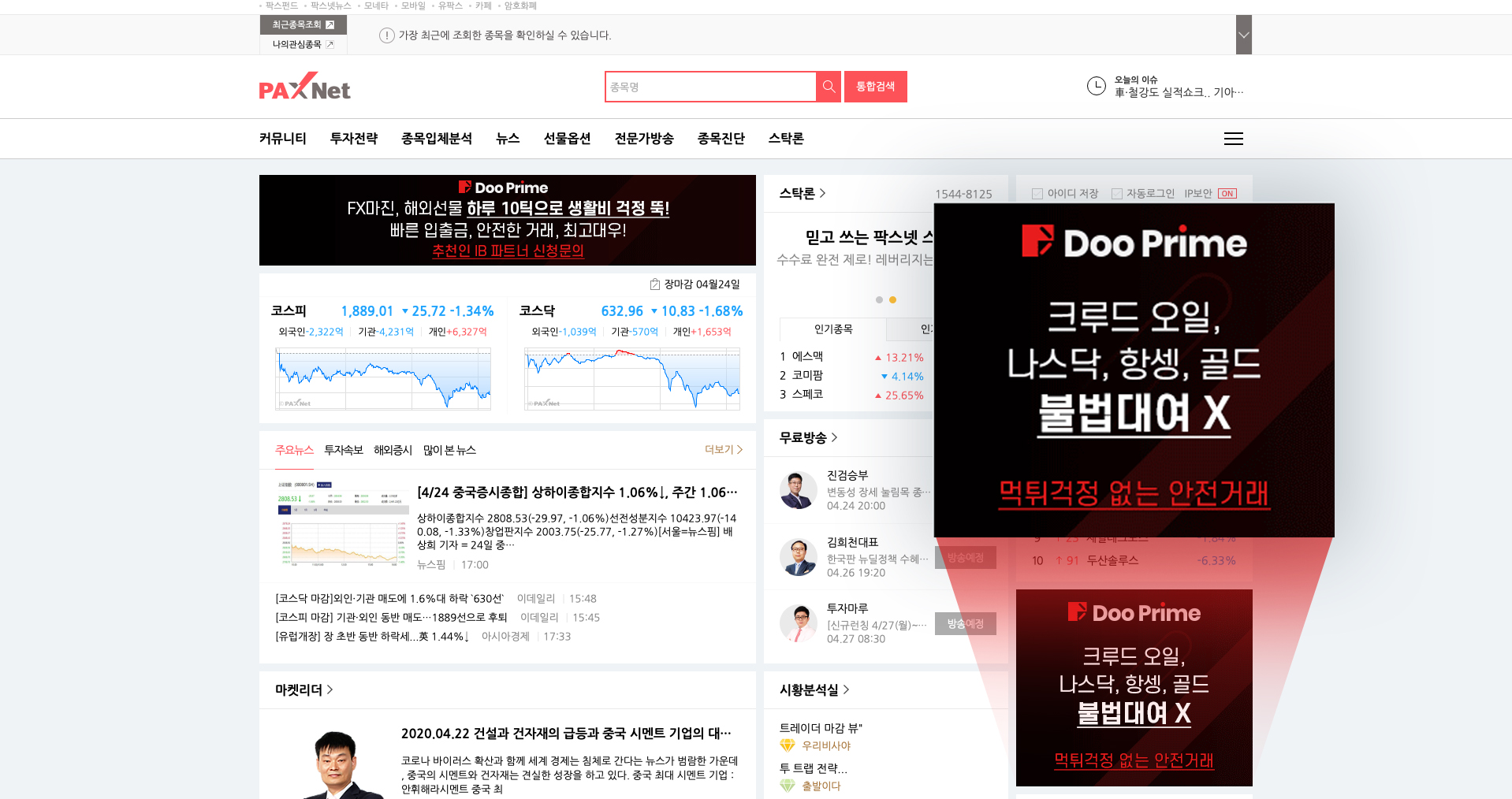 Gaining traction among established media
The collaboration with PAXNet is a testimonial to Doo Prime's outstanding offerings on its platform, which includes millisecond order execution speed, more than 200 trading products, exclusive market insights and technical analysis by renowned research firms, high-quality trading signals, and many more.
Traders around the world can find Doo Prime on established international media, such as VNWallStreet, WikiFx, and FX110, which has listed Doo Prime as a top preferred and trusted online trading platform.
Doo Prime, which is a wholly-owned subsidiary of Hong Kong-based Doo Holding Group, has been accorded an AA benchmark on WikiFx and as one of the top brokers in Vietnam, Thailand, and Indonesia by WikiFx.
On FX110, Doo Prime is ranked as one of the top 10 online brokerage for its overall trading environment, which has also achieved a high score of 96% due to the stringent regulation on the platform.
Doo Prime has also teamed up with VNWallStreet recently to empower the traders in Vietnam on their journey of investing globally with in-depth market analysis and trading strategies.
Meanwhile, Doo Clearing, another unit of Doo Holding Group, has been recognized by Finance Magnates, which is featuring Doo Clearing's profile in the latter's exclusive database of brokers, software developers, websites and professionals in the fintech industry.
Connect to global trading opportunities with Doo Prime
Doo Prime is an ever-improving platform providing seamless access to more than 200 trading products around the world, including stocks, futures, contracts for difference (CFDs), precious metals, currency, and many more.
With just one main account, Doo Prime's clients can establish hundreds of sub-accounts for their investments across 10,000+ trading products, enabling them to capture any opportunities arising from the global market and in order to create a truly diversified investment portfolio.
Doo Prime's clients will also have an edge over their peers with Doo Prime's ultrafast and stable trading environment which enable one to execute the trade within milliseconds and react to market events faster than other industry players.
The outstanding trading experience is backed by a strong financial technology infrastructure located at Equinix's data centers in Hong Kong, London, New York, Singapore, and Tokyo. Equinix is the world's largest data center and colocation provider, enabling fastest application performance, lowest latency, and a digital ecosystem for financial, enterprise, and cloud networks.
Making trading easier and more efficient than ever
Featuring 18 languages, Doo Prime offers multiple trading platforms such as the MetaTrader 4 (MT4), Meta Trader 5 (MT5), FIX API 4.4, MQL 5, and TradingView among others to cater to retail and institutional clients' needs. It also provides a 24/7 multi-languages customer services to assist clients from around the globe.
Through automated trading system such as the Expert Advisors, OuTrade Social Trading System, and Myfxbook's AutoTrade, traders can enjoy more than 3,000 high-quality trading signals to make the best trading decision by automatically copy trading the top-performing traders.
Moreover, Doo Prime has partnered with Strategic Alpha and Trading Central, two established market research and analytical firms to provide timely market insights, fundamental and technical analysis as well as trading strategies on a wide array of asset classes for clients.
At the same time, the highly preferred copy trading services – Myfxbook's Auto Trade has also gain the attention of South Korean and global investors. Doo Prime carefully filters and selects high-quality signal sources for traders; hence, traders can easily apply the master trading strategies with just one click to obtain stable profits.
Moreover, close to 15,000 traders and more than 150 institutional clients have registered with Doo Prime (as of September 2019, contributing to an average monthly transaction volume of up to USD 50 billion).
Regulated by reputable financial authorities
In order to offer a secure and reliable trading experience to its clients, Doo Prime is regulated under strict regulations of globally reputable authorities and funds deposited by the clients will be held in an isolated account under established banks ; separating it completely from Doo Prime's company funds, in order to protect the clients' interests.
Clients can choose to make deposits via several methods, namely foreign telegraphic transfer, local bank transfer, Visa and Mastercard's credit cards, and even cryptocurrencies.
While the partnership with PAXNet presents an exciting opportunity for Doo Prime to share these unique offerings to the South Korean market, the international platform will continue to improve its products and services to maintain its leading position in the financial technology sector.