Doo Prime Myfxbook – Achieving total gain of 103.19% with help from candlestick patterns
 Candlestick charts are widely used by traders to analyse the price movement in the near term based on various past patterns and come up with different trading strategies.
The signal provider we are highlighting today is a manual trading system called "BLUEBERRY", which has been delivering impressive results in identifying the most profitable trades by determining the support and resistance levels accurately with candlestick patterns.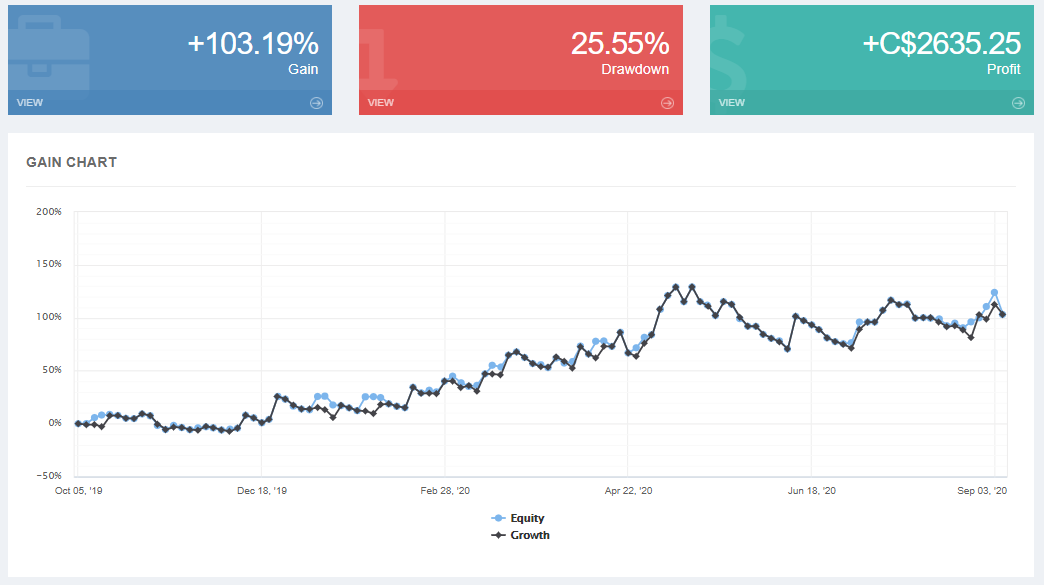 Total gain stands at 103.19%
Since it joined the Myfxbook AutoTrade community in October 2019, BLUEBERRY has registered a total gain of 103.19% or CAD 2635.25 in profit, with a 25.55% drawdown as at 7 September, 2020.

BLUEBERRY's trading history at a glance
With a profit factor of 1.33 times, BLUEBERRY has made 247 trades with 50.57 lots traded. The average trade time stood at 24 hours, reflecting its day trading strategy.

Second-best gainer in the first week of September
BLUEBERRY is the second-best gainer on the Myfxbook AutoTrade community in the first week of September with a decent gain of 12.07%. It has recorded a gain of 21.95%, 20.7% and 26.48% in February, April and July this year, respectively.
BLUEBERRY's monthly gain since November 2019
According to BLUEBERRY's trading strategy summary, the trading system identifies opportunities to enter high-probability trades by focusing on the relationship between the daily and weekly candlestick patterns, the volume and the exponential moving average and identify resistance or support levels.
How to subscribe to the signal provider?
To subscribe to the best-performing traders on Doo Prime Myfxbook AutoTrade, all you need to do is register a Doo Prime standard trading account and link the account to the Myfxbook AutoTrade social trading community.
Here's how:
Step 1: Logon to the Doo Prime CRM system via Doo Prime's website and create a new MT4 trading account and select "Myfxbook AutoTrade" as the type of account.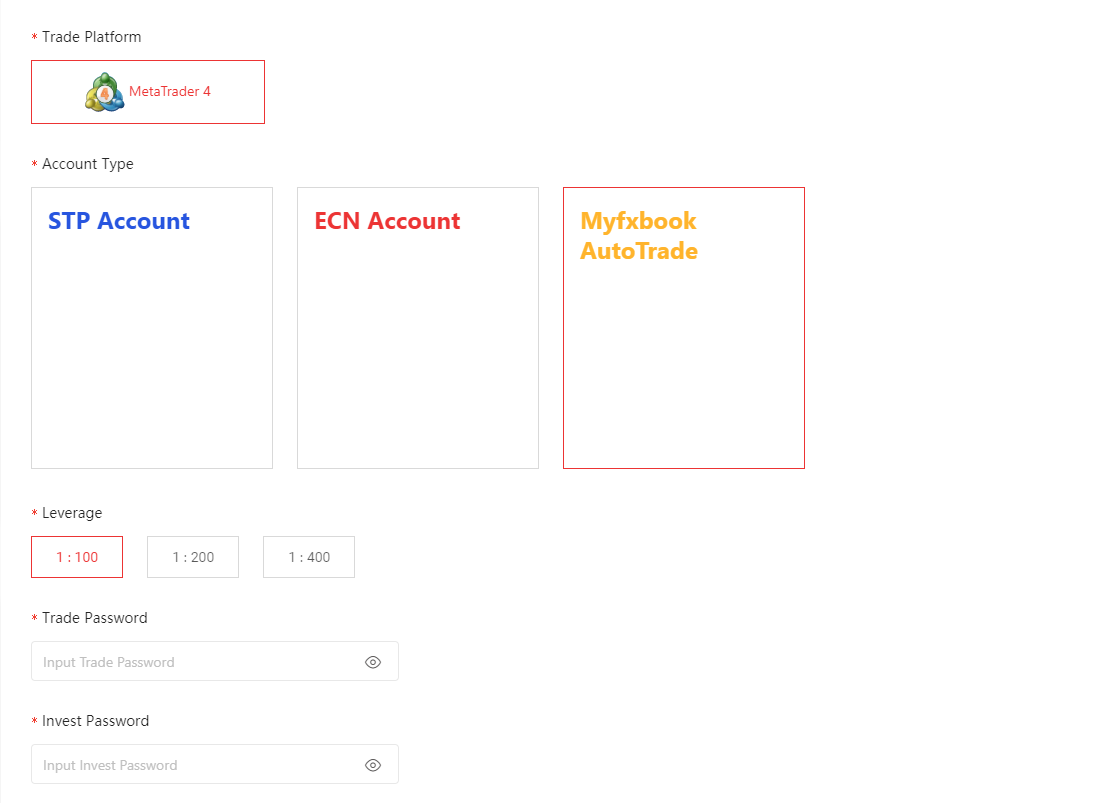 Step 2: Register an AutoTrade account at https://autotrade.dooprime.net/login and visit Myfxbook AutoTrade's website once the registration is completed.
Step 3: In order to link your Doo Prime and AutoTrade account, select Doo Prime and open a real trading account on the AutoTrade homepage. Select "Doo Prime-Live 2" in the server list and key in the login details of your Doo Prime MT4 account.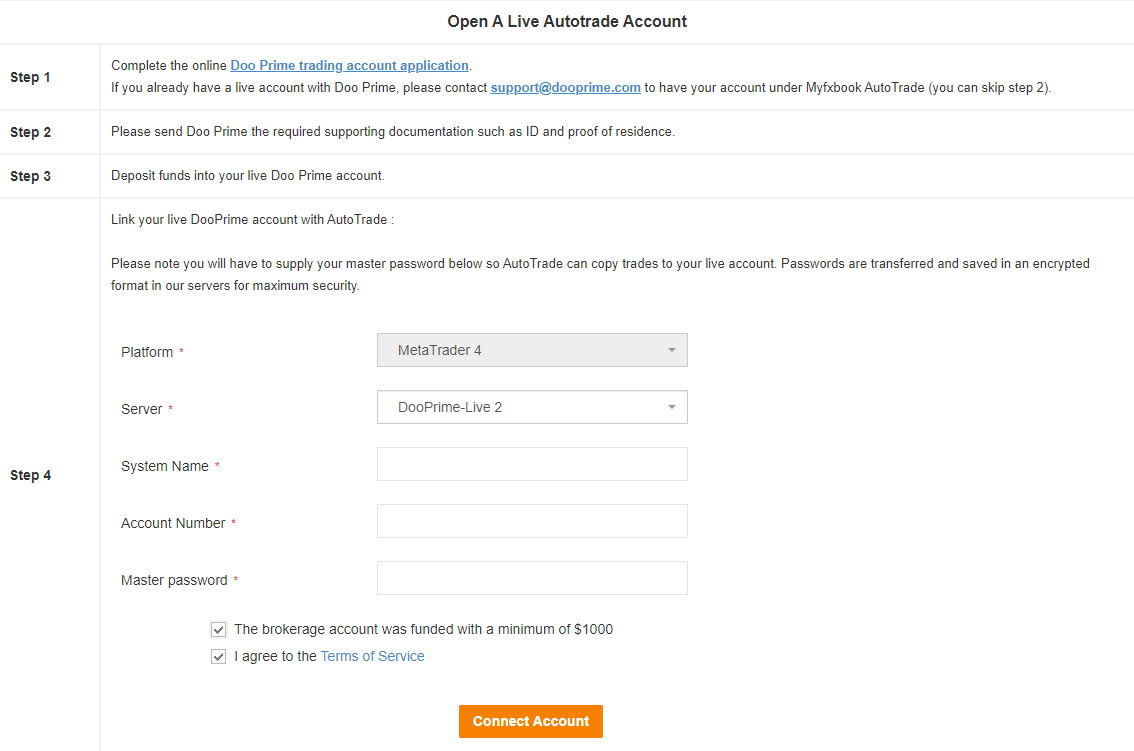 Please wait for AutoTrade to approve the account linkage application. Once it has been approved, you can start subscribing to signal providers and perform copytrading!
Note: Please ensure your account balance remain at above USD 1,000 at all times.
Disclaimer
Doo Prime does not control the signals provided by the Myfxbook AutoTrade social trading platform and the trading results you generate on your Doo Prime account through this platform, therefore we are not responsible for any of them. Myfxbook AutoTrade platform is available on the Doo Prime account The signals do not represent actual, general personal advice given by Doo Prime.