Doo Prime Receives Vanuatu Financial Services Commission (VFSC) Approvals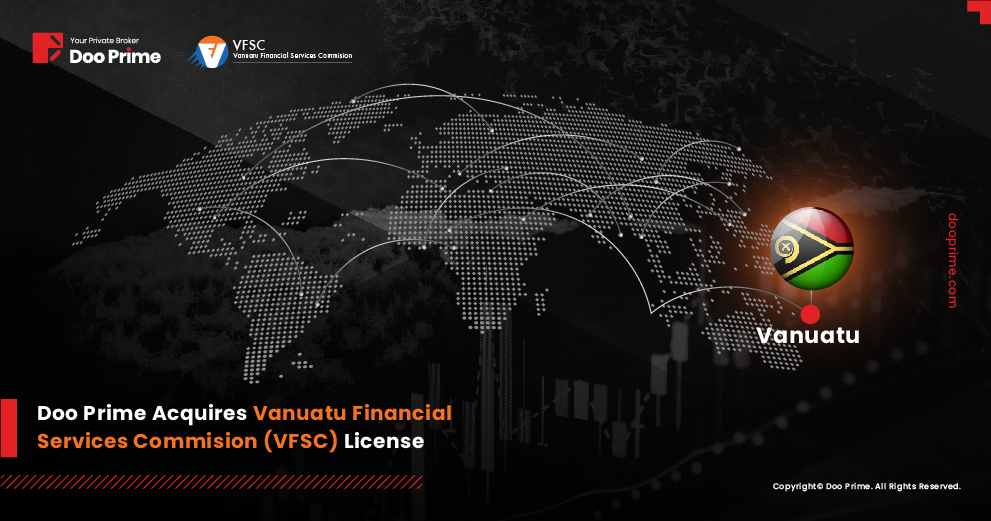 Doo Prime Starts A New Journey of Multi-Regulation
Doo Prime Vanuatu Limited has acquired the Vanuatu Financial Services Commission (VFSC) regulatory authorization with the regulatory number: 700238. Under the supervision of VFSC, an additional professional liability insurance of up to US$ 500,000 is purchased for customers to protect their assets from being misused or stolen due to lack of professional responsibility, ensuring the safety of investors' funds.
Obtaining the Vanuatu Financial Services Commission (VFSC) is a tick off the box given that it is a part of Doo Prime's global expansion business plan. The license is granted by the Minister of Finance Vanuatu Financial Services Commission (VFSC), effective from April 14th, 2020.
This license allows Doo Prime to trade forex and commodities, buy, sell, trade securities such as shares, bonds, options etc. and manage a portfolio of investments for and on behalf of our clients.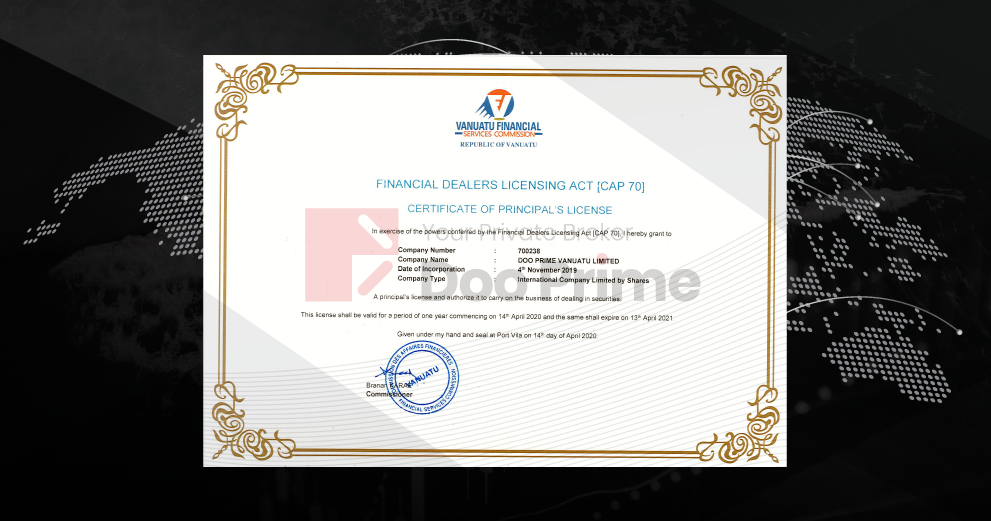 Doo Prime is able to obtain the license of the Securities Dealer by the requirement of the Dealers in Securities (Licensing) Act [Cap 70 of the laws of Vanuatu] (previously called Prevention of Fraud (Investment) Act), which allows individuals and companies to apply for such license.
Moving forward, with a Principal's License, Doo Prime as a holder has the right to operate our business of "dealing in securities" which refers to making, offering, inducing or attempting to induce any person into any agreement with a view to acquiring, disposing of, subscribing for, underwriting securities, lending, depositing money to any industry, provident society, and building society.
The agreement may also include any agreement the purpose or pretended purpose of which is to secure a profit to any of the parties from the yield of securities or by reference to fluctuations in the value of securities, and "deal in securities" shall be construed accordingly;"
As a result, foreign exchange transactions that are intended to make a profit for the client (as opposed to simple money exchange) fall within the definition of "dealing in securities". With that, the provided licenses will assist Doo Prime in carrying out such businesses as the Securities Licence is required to carry out these stuff.
VFSC License: New Trends In Global Financial Industry Regulation
With the tightening of global financial industry policies and the promulgation of the new EU regulations imposed nowadays, many traditional large-scale brokers have set their sights on offshore supervision to ensure security. The high leverage and high trading flexibility brought by offshore supervision are practical requirements for traders and brokers. Besides, the offshore financial centres are also stepping up strict regional legal supervision.
The Vanuatu Financial Services Commission or VFSC was established in 1993, supervising all financial licenses in Vanuatu. As one of the few developed offshore financial region, the Vanuatu government is vigorously building offshore alongside strive to improve ample margin traders, strict separation of customer funds, transparency of financial information as well as the standards and the rule of law in the European Union. Moreover, the supervision provides guarantee and the safety for customers' funds, hence, entrusting brokers with more responsibilities and obligations.
At present, the VFSC financial license has been held by many top traders in the world. In addition to that, even when it comes to non-forex industries: for instance, traditional futures industry, stock industry, and overseas brokers co-operation ; holding the prestigious VFSC regulation is widely recognized.
Doo Prime: Expanding Our Global Footprint
The granting of the VFSC license contributes to Doo Holding's ability to provide traders with our services in the offshore regions. It also strengthens and determines the overall capability of our Doo Prime's long-term and stable operation.
In terms of compliance operations, other than the newly granted Vanuatu Financial Services Commission (VFSC) license, Doo Holding also holds different regulatory licenses and operating authorizations for multiple world-class financial centres such as the UK FCA (for the liquidity provider brand of Doo Holding called Doo Clearing) and the ever-prestigious Hong Kong Money Service Operators or the HK MSO license.
The perfect management and operating system hold the core of Doo Holding's continuous research and development advancement as well as the expansion and improvements of scientific and technological products that our enterprise offer. The multi-national supervision and the holding of business authorizations gained are the fulcrums for our long-term and well sustained operations at Doo Prime. With that, we have always been working closely with our compliance operation team bringing Doo Prime's overall values together and making it the key to raising our overall strength to a whole new level of succession.
Doo Prime is a wholly-owned subsidiary of Doo Holding Group and has offices in Hong Kong, London, Taipei, and Kuala Lumpur. Obtaining the VFSC supervision this time means that Doo Prime has been striving to break down and tackle the financial market barriers alongside providing customers with a more flexible and safe trading environment. In addition, Doo Prime is also applying for regulatory licenses in three other countries.
As always, Doo Prime will prioritise safety, professionalism, efficiency, and transparency as the core criteria. Doo Prime's main ethos includes providing a safer, more convenient, and faster trading environment for global customers, alongside building a world leading private exclusive brokerage.
How To Check The Supervision Of Doo Prime's VFSC License ?
For the VFSC regulatory license, investors and partners can inquire about license information through the following paths:
Step 1 : Open the official website of VFSC (https://www.vfsc.vu/) and click on "Registry Services", followed by clicking on "INTERNATIONAL COMPANIES" and then to the "Register Search" at the top of the screen (in red box).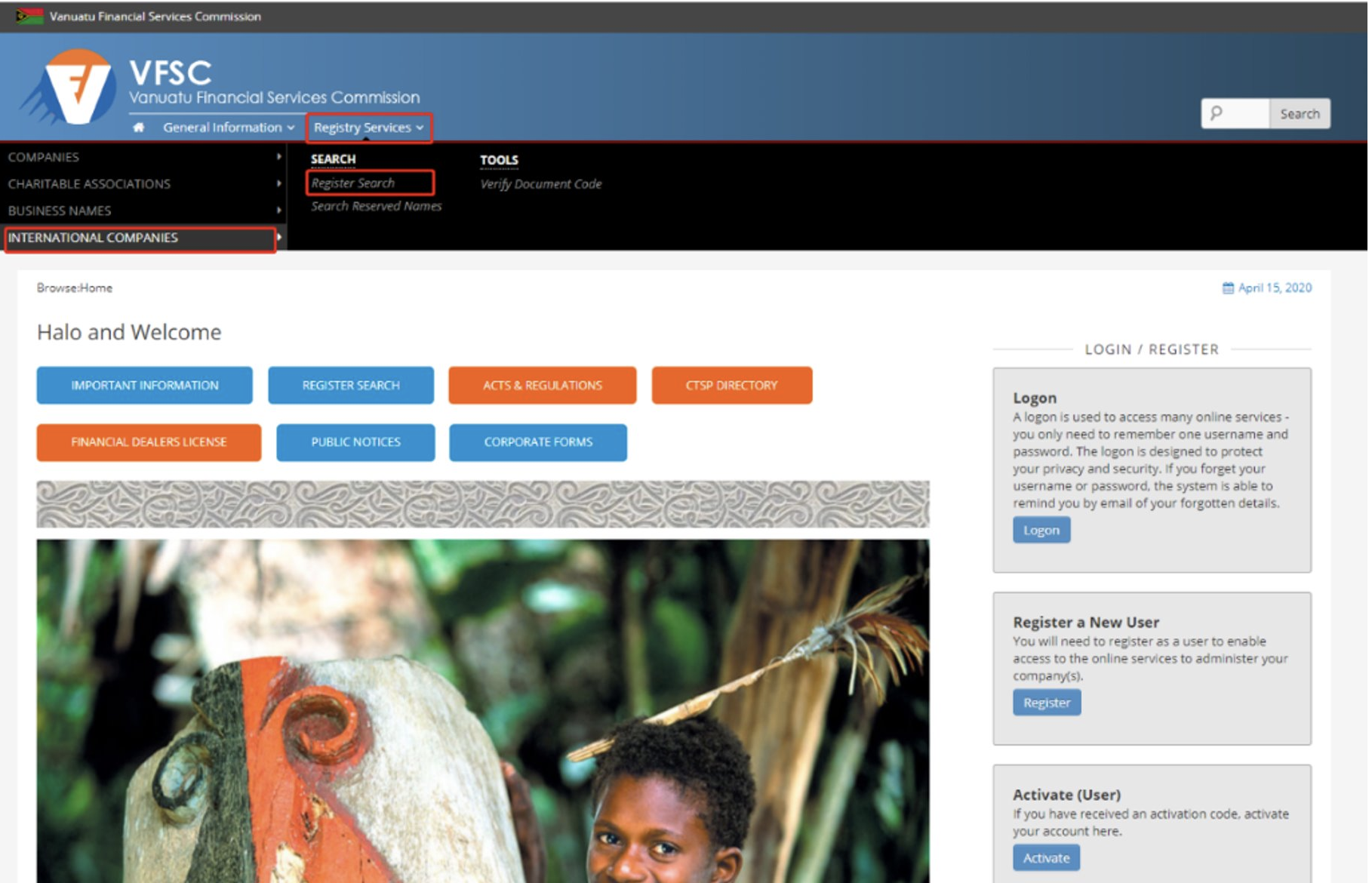 Step 2 : Once you have clicked "Register Search", you will be directed to the next page. The following step is to key in Doo Prime's or the regulatory license number which will be 700238 in the red box and select the search type: "International Company" in the second column. Click "Search", you will be able to view the legal license information.