Doo Prime's Monthly Trading Volume Statistics For October 2020 
Doo Prime Reports Record Trading Volumes in October 
Doo Prime's parent company, Doo Holding Group saw a tremendous surge in monthly trading volumes for October 2020 at US$54.39 billion.
The trading volumes rose by 220.75% compared to the total traded in September 2020.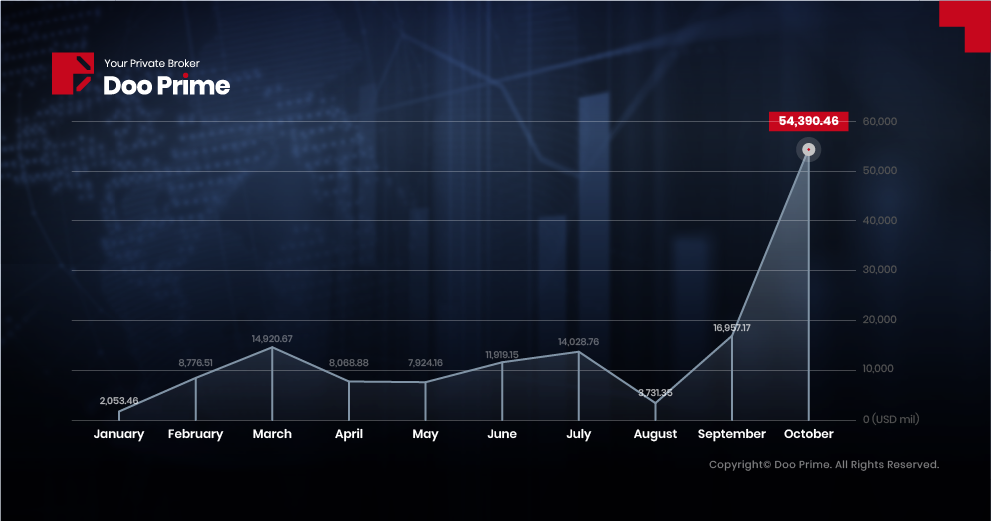 Now, October trading volumes have passed all previous records in 2020, showcasing as the highest traded month with the total traded for the year to date is valued at US$142.56 billion.
This number is a total of trading volumes from us, Doo Prime, a leading global online broker, and the affiliate, Doo Clearing, a London-based FCA-regulated liquidity provider.
Based on the statistics, the XAU/USD pairings saw the strongest traded instruments in October with 33.39% of total volumes traded.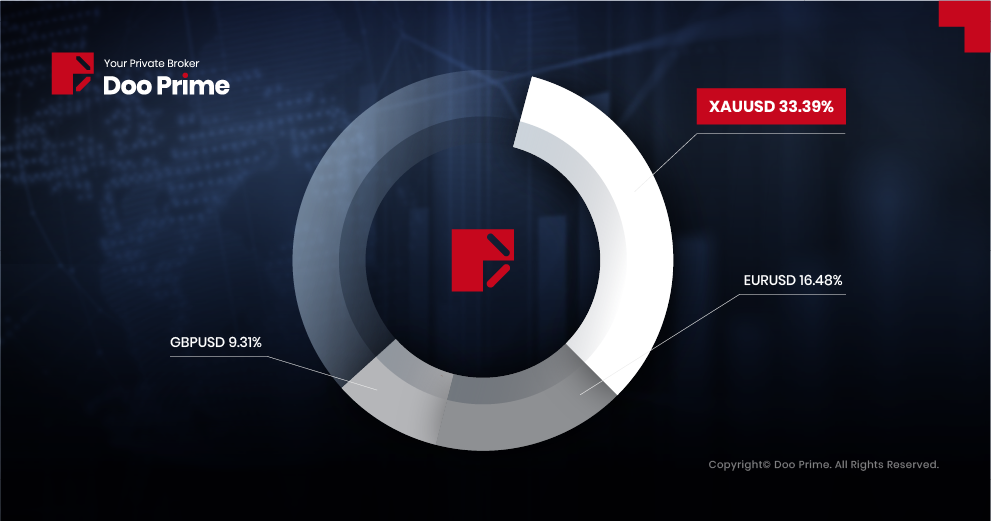 Meanwhile, the EUR/USD and GBP/USD represent 25.79% of the total volumes traded in October. Compared to September 2020, XAU/USD posted the highest increase in monthly trading volumes with US$13.05 billion or 255.38%.
We have shown continuous strength in trading volume despite the volatility in market conditions.
Year-to-date, September was the second-highest traded month with a total of US$16.95 billion worth of transactions recorded.
Doo Prime will continue to establish a global brokerage system and leading the way to the new era of fintech-driven globalization. While 2020 has certainly been a year where the world has faced unprecedented challenges following the global pandemic, this has only spurred on Doo Prime to meet those challenges for itself and its customers.
Doo Prime consolidates different trading assets including forex, precious metals, energy, spot index, securities, and futures into one account so one-stop worldwide investment is easily accessible.
As a leading broker, Doo Prime has the responsibility and commitment to establishing an online trading platform that empowers clients to stay one step ahead.

About Doo Prime  
Your Private Broker
Forex | Precious Metal | Energy | Spot Index | Securities | Futures
Doo Prime prides itself as the global leading online broker and we strongly adhere to our values in ensuring utmost security, safety, and impartiality for the benefit of the company and our customers.
We are dedicated to provide superior client services, stable trading conditions, competitive trading cost, ms-level trading execution, diversified trading products, secure and reliable capital guarantee, and top-class international supervision.
With our strong technological strength, we managed to penetrate smoothly into the global financial markets, providing a diverse range of trading opportunities with CFDs across the financial markets, including Forex, Precious Metal, Energy, Spot Index, Securities, and Futures, allowing customers to invest globally through one single online trading account.
For more information, please contact us at:
Phone:
Europe: +44 1137335199
Asia: +852 3704 4241
Asia – China: +86 4008427539
Email: [email protected]