Forex & Its Market 
The foreign exchange or forex market is the largest financial market in the world – larger even than the stock market, with a daily volume of $5.1 trillion, vs. $84 billion for equities worldwide, according to the 2016 Triennial Central Bank Survey of Forex and OTC derivatives markets. The digital site where one currency is exchanged for another, the forex market has a lot of unique attributes that may come as a surprise for new traders. In this article we will take an introductory look at forex, and how and why traders are increasingly flocking toward this type of trading.
KEY TAKEAWAYS 
The foreign exchange (also known as FX or forex) market is a global marketplace for exchanging national currencies against one another.
Market participants use forex to hedge against international currency and interest rate risk, to speculate on geopolitical events, and to diversify portfolios, among several other reasons.
Major players in this market tend to be financial institutions like commercial banks, central banks, money managers, and hedge funds.
Global corporations use forex markets to hedge currency risk from foreign transactions.
Individuals (retail traders) are a very small relative portion of all forex volume and mainly use the market to speculate and day trade.
Readers can find out more about Forex, The Forex Benefits of Trading Forex here.  
How Much Money Is Traded on The Forex Market Daily? 
Currency can be traded through spot transactions, forwards, swaps, and option contracts where the underlying instrument is a currency. And since currency trading occurs continuously around the world, 24 hours a day, five days a week, it is no surprise that the trading amount is over the odds.
Trading in the global foreign-exchange market has jumped to the highest-ever level at $6.6 trillion, according to the Bank for International Settlements (BIS).
The average daily trading in April was up 29% from $5.1 trillion in the same month in 2016, the BIS reported Monday in a triennial survey on the industry. The growth of Forex derivatives trading, primarily swaps, outpaced the spot market and now accounts for almost half of global Forex turnover.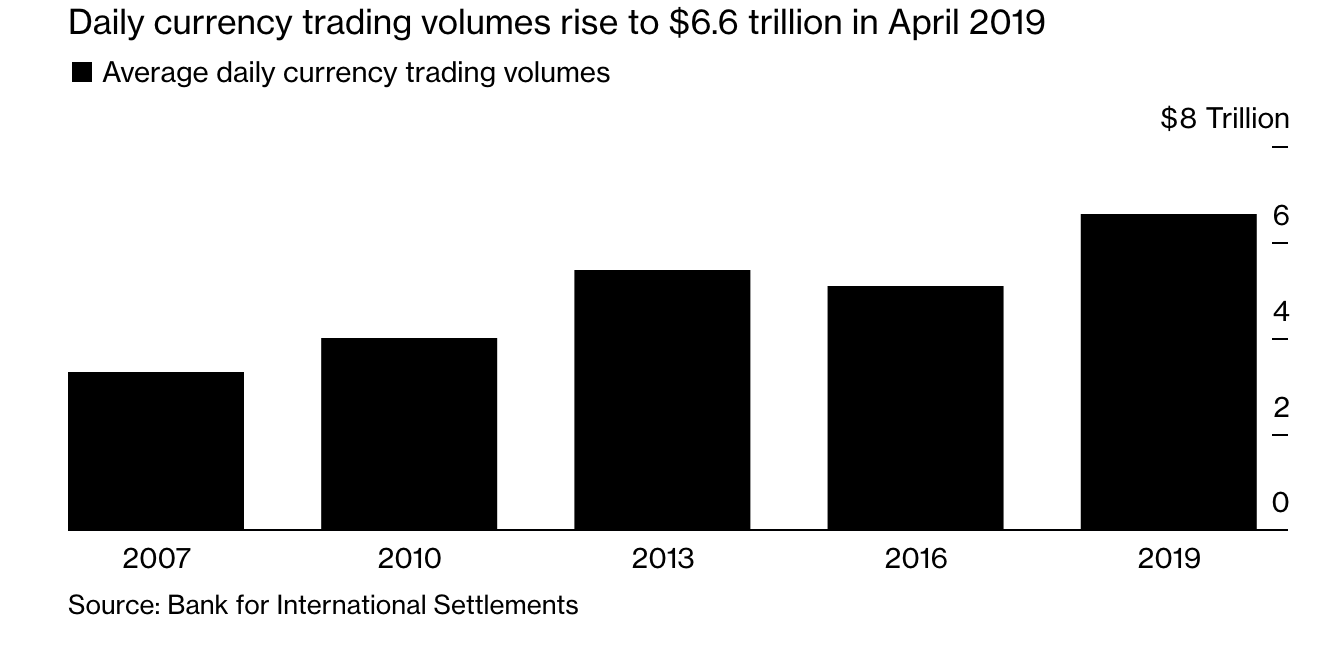 The three years since the previous BIS survey have been marked by a slide and then strong recovery in the dollar, which remains the world's preeminent currency. Nearly nine out of every 10 currency trades are against the greenback. As a trading centre, the U.S. has fared less well, losing ground to London, which has shrugged off Brexit uncertainty to account for 43% of all activity.
"The U.S. dollar retained its dominant currency status, being on one side of 88% of all trades," BIS said. "Currencies of emerging market economies again gained market share, reaching 25% of overall global turnover."
The share of trading in the U.S. slipped to 17%. Along with Hong Kong, Singapore, Japan, United Kingdom, and the U.S. facilitated more than three-quarters of the total. Mainland China saw a significant rise to become the eighth-largest centre, according to BIS.
The share of trades involving the euro increased to 32%, while the yen slipped to 17% yet held its spot as the third-most actively traded. A factor for the decline in yen trading may have been reduced price swings seen in April, BIS said. A JPMorgan Volatility Index of Group-of-Seven currencies collapsed that month to its lowest since 2014.
The yuan's slice of the market remained steady at around 4%, just behind the Swiss franc, while the Hong Kong dollar saw its market share climb to 3.5%, from 1.7%.
King Dollar Solidifies Dominance in Global Market Share 
Hong Kong dollar doubles its slice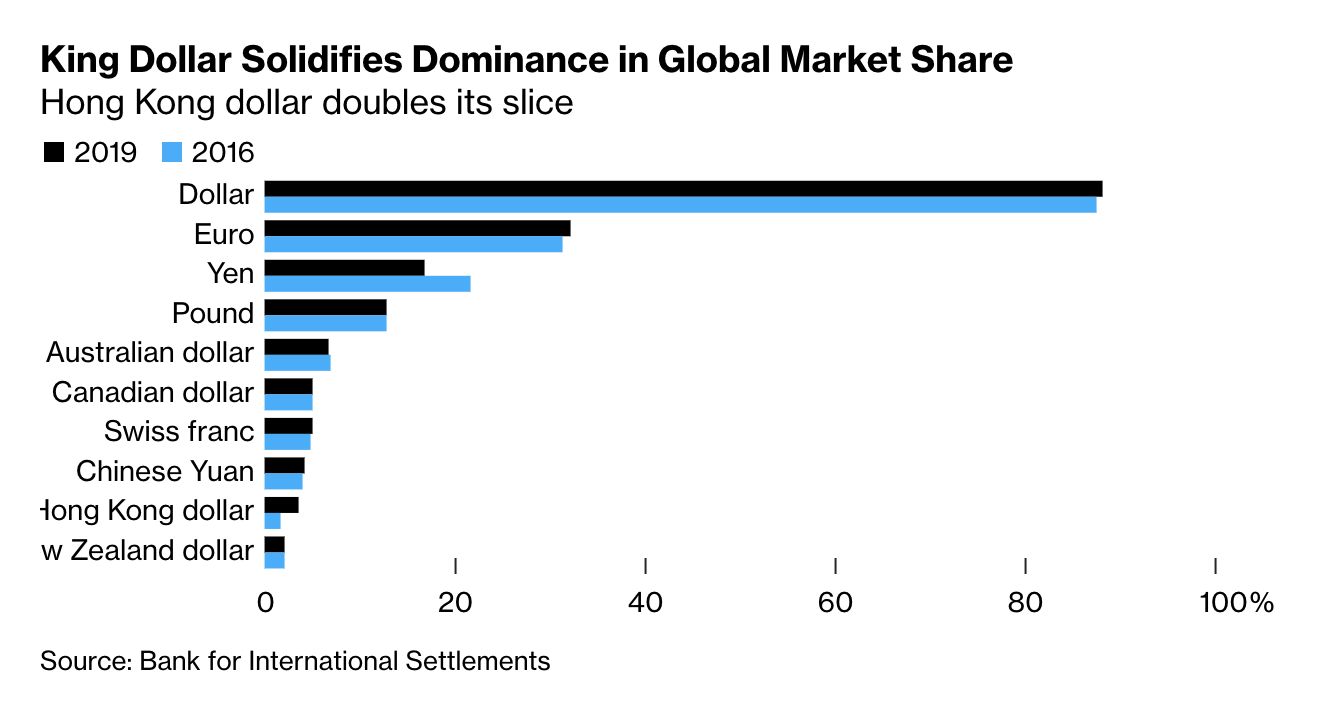 New traders have started to muscle their way into the ranks of the biggest currency dealers, alongside banks. It was rated the fourth biggest in an annual foreign-exchange survey from Euromoney Institutional Investor Plc. JPMorgan Chase & Co. was the largest with a 9.8% market share, with Deutsche Bank AG following at 8.4% and Citigroup Inc. with 7.9%.
While spot currency trading rose 20% to $2 trillion a day, as a share of global Forex activity it fell to 30% in April, from a third in 2016 and 38% in 2013. The use of swaps, which allow an investor to borrow one currency from a counter-party while simultaneously lending a second currency to another, climbed more than a third to $3.2 trillion. The growth may reflect the greater need to hedge given growing global trade worries and political risks.
Trading of outright forwards also increased, with a large part of the rise due to non-deliverable forwards. That reflected strong activity in NDF markets for the Korean won, Indian rupee, and Brazilian real, the BIS said.
"While we've seen growth across all forms of Forex trading, swaps and forwards have seen particular growth," said Matthew Hodgson, CEO and founder of Mosaic Smart Data, which provides data analytics to currency desks at banks. "The Forex market has woken up."
Our Diversified Trading Products   
As an international online broker, Doo Prime is dedicated to providing clients with more diversified trading products. By breaking borders between different financial product trading markets, it links markets of stocks, futures, currencies (Forex), precious metals, and CFDs together so as to facilitate clients' investment in as many types of financial products as possible with one account. In this way, one-stop worldwide investment is possible.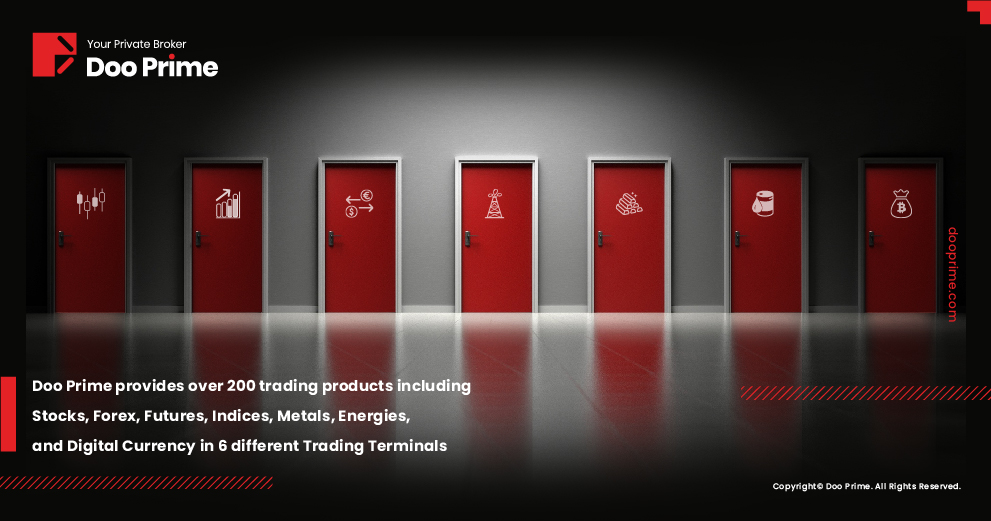 Doo Prime prevails over other traditional brokers by cooperating with different banks, futures exchanges, as well as large hedge funds, which is the core competitiveness of us.
As the world's leading provider of liquidity, Doo Prime offers a wide range of currency trading products, including direct, cross, and minority currency pairs. When you download the Doo Prime trading platform, you will be able to trade more than 60 currency pairs worldwide.
At Doo Prime, we offer over 60 FOREX pairs (also known as currency pairs) including EUR/USD, USD/JPY, GBP/USD, and so on.
Hence, foreign exchange or better known as Forex can be identified as a marketplace where buyers and sellers transfer multiple national currencies between each other at an agreed price.
With our strong vision and technological strength as core, we are dedicated to provide superior clients services, stable trading conditions, competitive trading cost, ms-level trading execution, diversified trading products, secure and reliable capital guarantee and top-class international supervision. In fact, we would be able to provide the best service to our clients regardless of how much money is traded on the forex market daily.
Thanks to abundant industrial resources, reliable technical services and professional service groups, Doo Prime is rapidly developing into a leading international broker.
Our Copy Trading Platforms  

With such souring amount traded in the market daily, it surely draws more individuals to trade. However, not all traders or individuals have the time to follow the markets themselves.
Hence, there is copy trading which allows traders to copy trades executed by other investors in the financial markets. There are several ways to copy trade another investor. For example, a trader could copy all the transactions, including trade-entry, take-profit and stop-loss orders. Alternatively, they could receive notifications of trades and manually copy these transactions.
Generally, copy trading is focused on short-term trading, but there are several different strategies that are used to generate revenue. The assets that are used focus on the foreign exchange market and contracts for difference (CFD). While copy trading can be lucrative, there are also risks involved and traders should remember that past results are not a guarantee of future returns.
Doo Prime partners with Myfxbook's AutoTrade and OuTrade to bring our clients, the next generation account mirroring (trade copy) service. This service allows traders to copy the trades of any system you select directly into your Doo Prime's MetaTrader 4 account. With AutoTrade and OuTrade, you don't have to pay any volume-based fees, or install any complex software, it is as easy as connecting your account to the copy trading service and selecting the system you would like to copy.
MyFxBook 

Myfxbook's aim is to create a professional community for traders, where performance is transparent, audited. With that, we wish to make the learning process of trading is relatively easier, with the intention to help both the novice traders and the seasoned alike.
Hence, Doo Prime work with Myfxbook to create a unique platform for collaboration and ideas sharing.  Myfxbook is the first social community established for forex traders with the ability to connect with trader's forex trading account. By doing so, we achieve the following capabilities:
OuTrade 

Doo Prime has been employing, OuTrade, a social trading system that offers brokers to create a personalized and SaaS-based community trading front desk for retailers, including transaction signal sharing, follower follow-up, and community interaction. OuTrade has enabled Doo Prime to break the gap between foreign investors and different brokers alongside information barriers. Hence, OuTrade provide us the opportunity to support all brokers, achieve cloud cross-broker calls and orders.
Doo Prime alongside with OuTrade strongly believe in providing the best user interface for all our traders to ensure we meet the requirement of being a global investment trading platform.
Readers can find out more about Doo Prime and our Copy Trading Services here.  

Risk Warning 
This information is sited from multiple sources. Any opinions, news, research, analyses, prices, other information, or links to third-party sites are provided as general market commentary and do not constitute investment advice.