Identifying trading opportunities to make the right call at the right timing can be a big headache for those who are looking to build a profitable portfolio and maximize their returns.
But with the Trading Central MT4 Indicators on Doo Prime's MT4 Terminal, things can be a lot easier.
Trading Central is an established technical analysis firm that has been providing insightful data and information to traders around the world since its inception in 1999.
Designed to assist traders in identifying new trade opportunities and potential entry or exit points, the Trading Central MT4 Indicators consist of three innovative indicators, namely Analyst Views, Adaptive Candlesticks and Adaptive Divergence Convergence.
Analyst Views is a useful tool for traders to identify the direction and key levels with professional analysis on pivot level, target levels and preferred direction.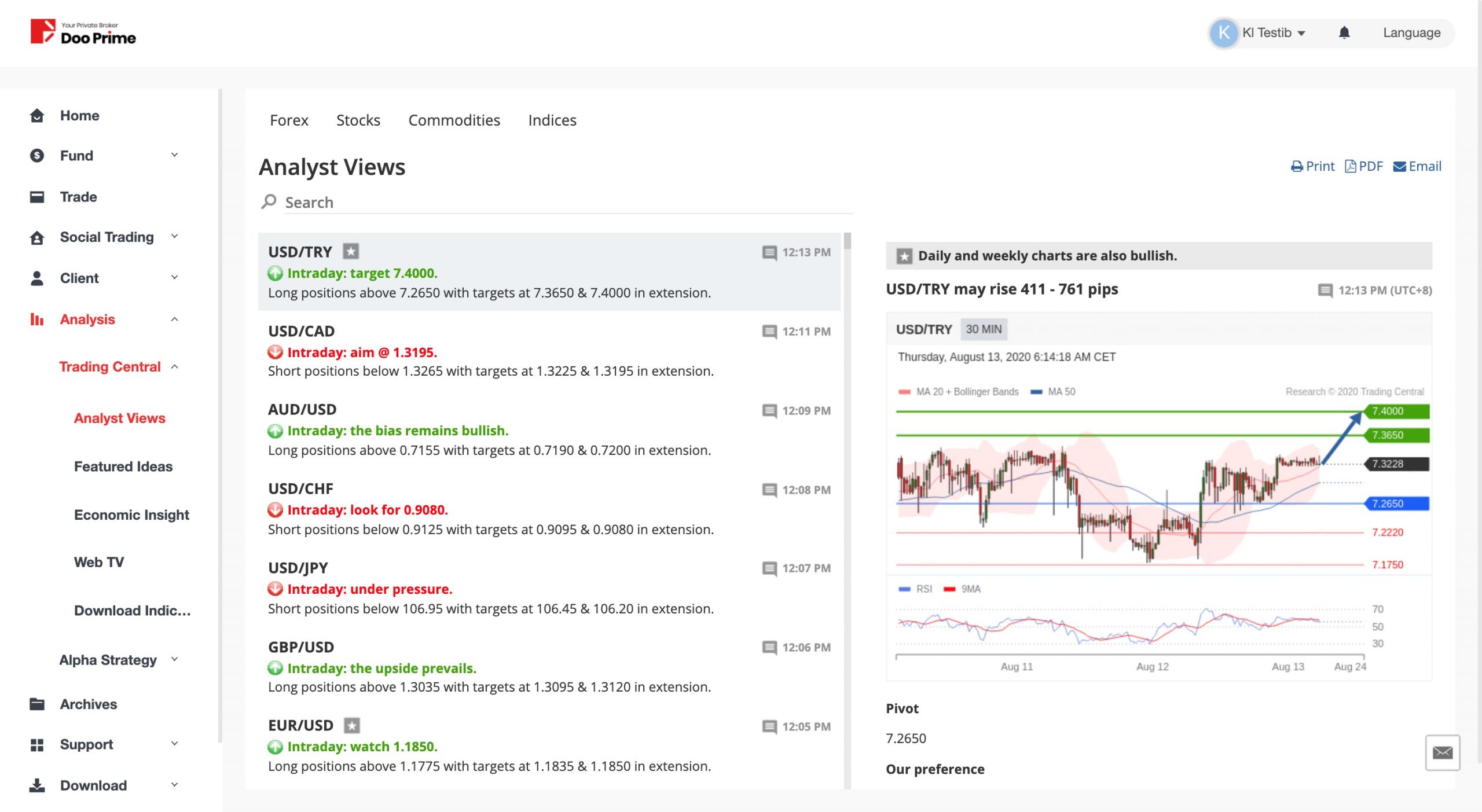 Adaptive Candlesticks, on the other hand, is a power "detector" that scans for 16 time-trusted candlestick patterns on any charts and combine with Trading Central's quantitative and technical analysis in order to help traders identify patterns that are relevant for decision making.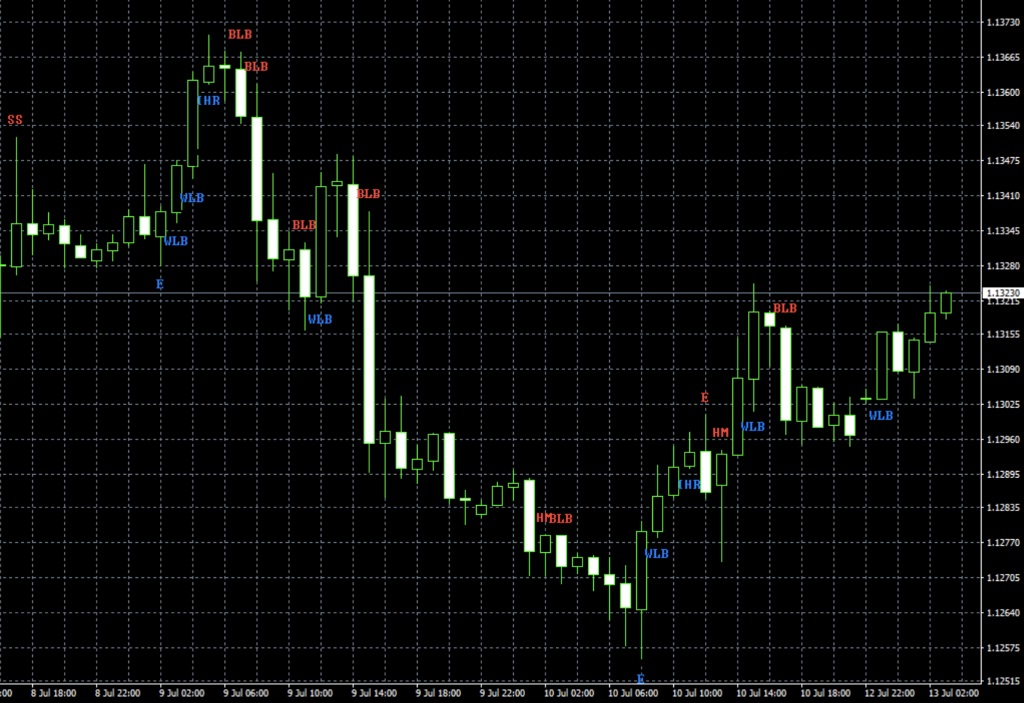 Last but not least, the Adaptive Divergence Convergence is a powerful short-term trading indicator that provides entry and exit signals on long or short trading, slow and fast price indicators, raw and smooth signal lines, and slow and fast oscillators.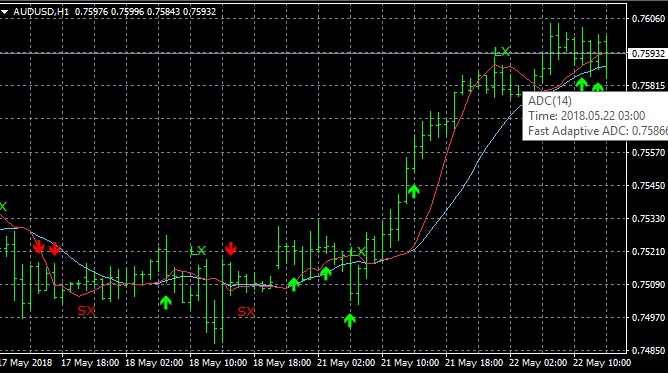 With Trading Central MT4 Indicators, Doo Prime MT4 Terminal users can enjoy 24/7 coverage on numerous instruments, including stocks, forex and indices across the global markets and trade with an edge over other traders.
This is in line with Doo Prime's goals of providing a reliable, secure and innovative trading platform with the best services and features for its clients.
Despite providing the uppermost trading service and strategies together with Trading Central's MT4 indicators as a leading broker. Doo Prime alongside Trading Central strongly believes in implementing the best trading environment and user interface for all our traders to ensure we meet the requirement of being a global investment trading platform.
Here's how you can get the Trading Central MT4 Indicators on your Doo Prime MT4 Terminal:
Step 1:
Download the MT4 plugin from your desktop and go through the easy installation process to get up and running immediately. This plugin is available to clients of Doo Prime.
To directly download the indicator from Doo Prime's CRM User Center, please click here https://mt.tradingcentral.com/download

Step 2: Once the download is completed, double-click on the installer to launch it and then select the language to use during the installation.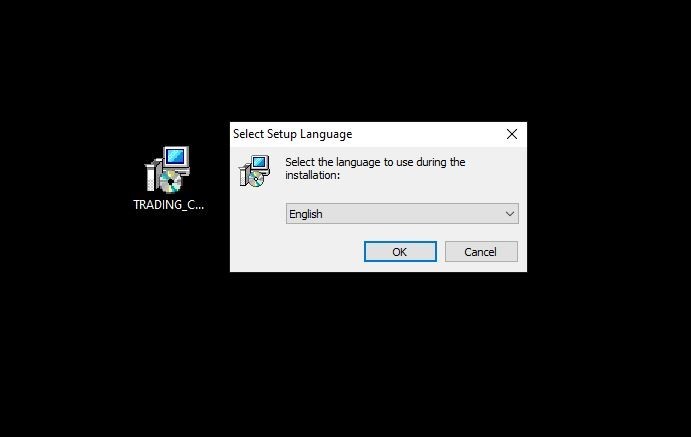 Step 3: On the first installation screen, select "Next" to begin the installation process.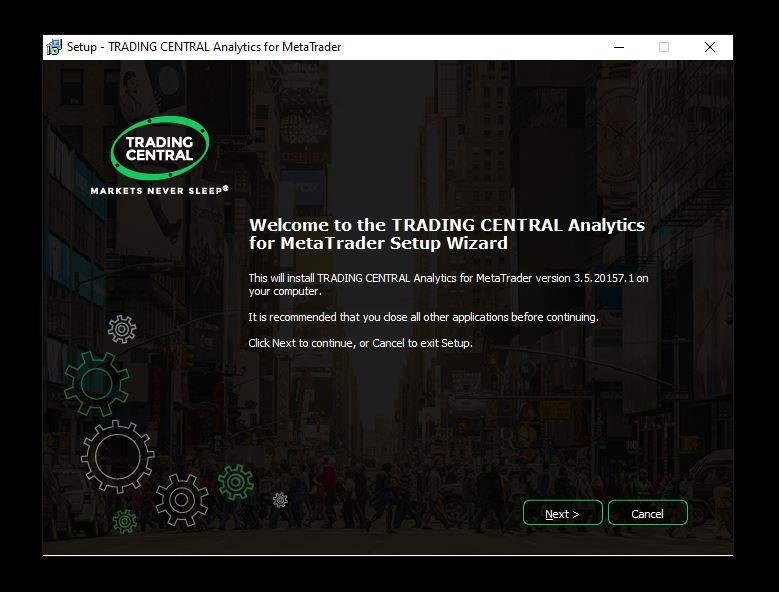 Step 4: Review the License Agreement before you accept and click "Next" to continue.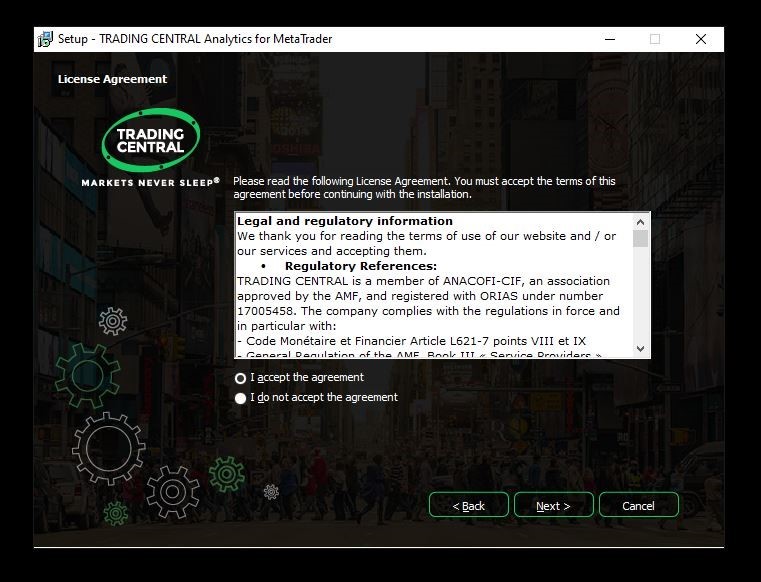 Step 5: Select the Doo Prime MT4 Terminal and click "Install" to apply Trading Central's indicators. If the terminal is not listed on this page, please click "Browse…" and select the terminal data folder manually.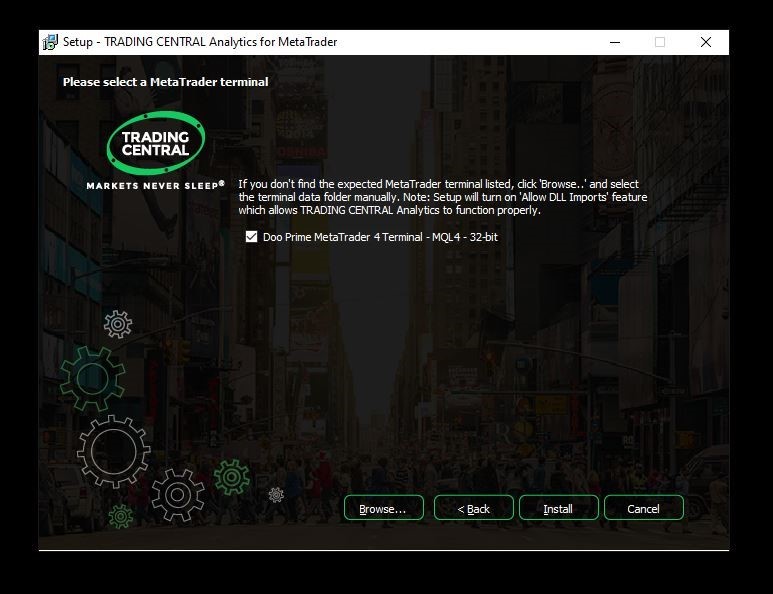 Step 6: Once the installation is completed, you can click "Finish" to exit the setup and view the user guide.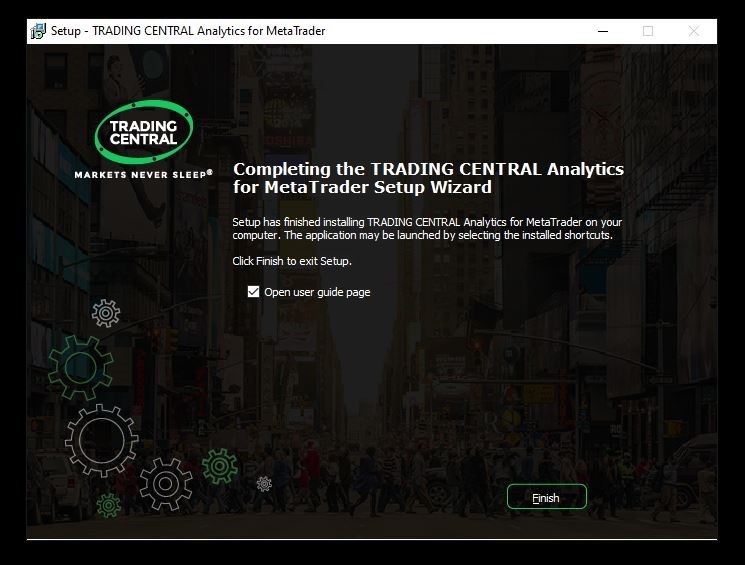 Step 7: Now restart your Doo Prime MT4 Terminal and login to your trading account.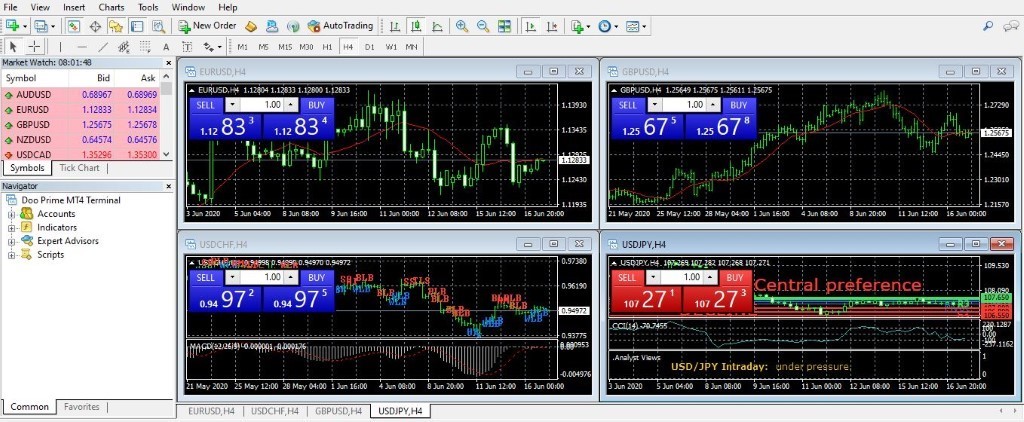 Step 8: Go to the Navigator column and expand the Indicators folder.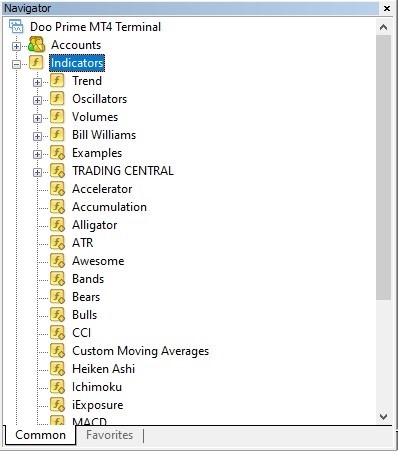 Step 9: Look for the TRADING CENTRAL folder and expand it to view all Trading Central's indicators.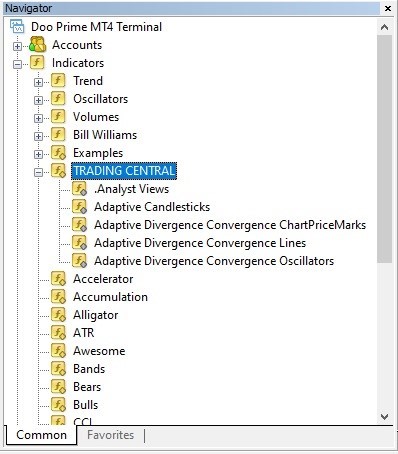 Step 10: Click and drag the indicators to a chart in order to view the technical analysis by Trading Central. You can even customize how you would like the indicator to be shown on the chart.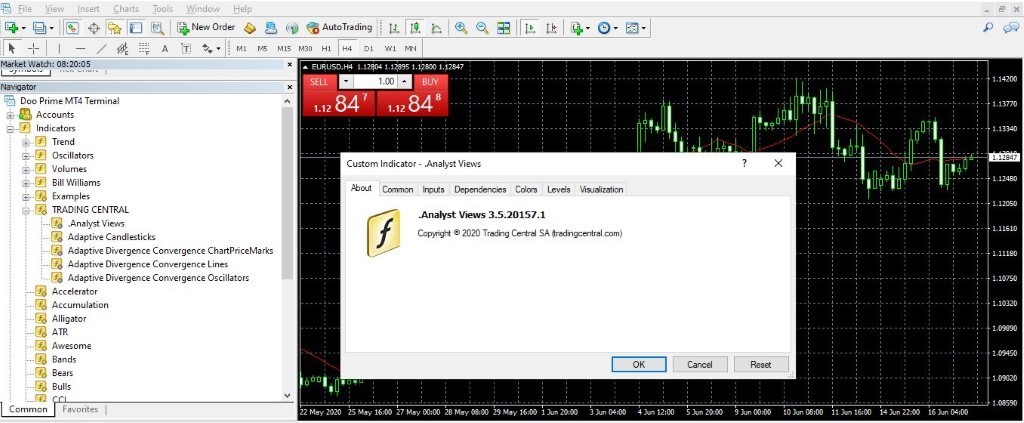 Step 11: Now you can enjoy this in-depth analysis and start trading with an edge!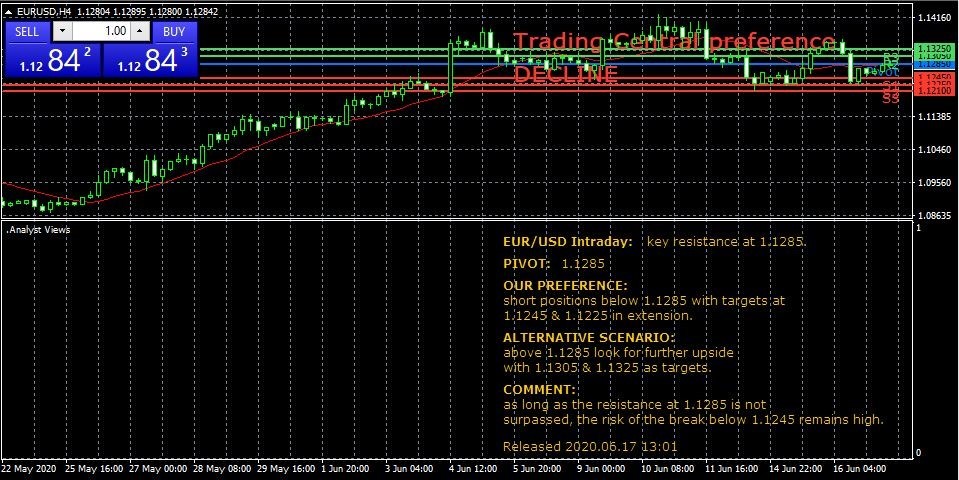 All indicators can be downloaded for free and will be activated automatically for Live Account holders at Doo Prime.   
Trading Centrals indicators are located along with the others in your MetaTrader 4 indicator list.  
Please do not hesitate to contact us at [email protected] if you need any further assistance.
Disclaimer 
Trading Central is a respected third-party research provider and the information provided should not be considered as trading advice. Doo Prime provides Trading Central research to support clients in their trades and give them trading ideas, which should be independently evaluated. Doo Prime will not be held liable for any information provided by Trading Central.