Trading Central is a multi-asset technical analysis research provider, offering a trading signal solution like Featured Ideas, Analyst Views, Economic Insight and Web TV. Trading Central has been focused on developing automated quantitative analysis solutions catered for countless brokerage companies. Moreover, Trading Central has massive industrial experience on both the forex market and the pattern recognition tools.
In this article, we will be breaking down one of the major products that are available for Doo Prime's clients; Trading Central's Featured Ideas. We will be giving you an overview of its functions and how you can trade based on the "Featured Ideas".  
The product, "Featured Ideas" aims to further empower our clients with multiple real-time signals based on several different criteria. More specifically, this product specializes in delivering trading ideas based on the real-time forex market, supporting our clients' decision-making in innovative ways.
Featured Ideas has a friendly user interface that displays trading ideas on several foreign exchange pairs, allowing traders to easily track targets in real-time across multiple platforms. Traders can access up to ten trade ideas based on Trading Central's award-winning automated real-time analysis, providing them with an alternative trade generating tool. The "Featured Ideas" is not only a breakthrough for market analysis, but also for the simple usability of its interface.
With Trading Central's Featured Ideas, traders can filter out the trading ideas based on various criteria like different timeframes, currency pairs and different analytics metrics. Each of the ideas are supplemented with educational commentary provided by a team of professional analytics. Therefore, traders can trade intellectually as the educational commentary will help traders to understand and acknowledge the basics of the technical analysis.
The Featured Ideas comes with many accessible functions through Doo Prime's CRM system which can be found along the sidebars under "Analysis" > "Trading Central" > "Featured Ideas".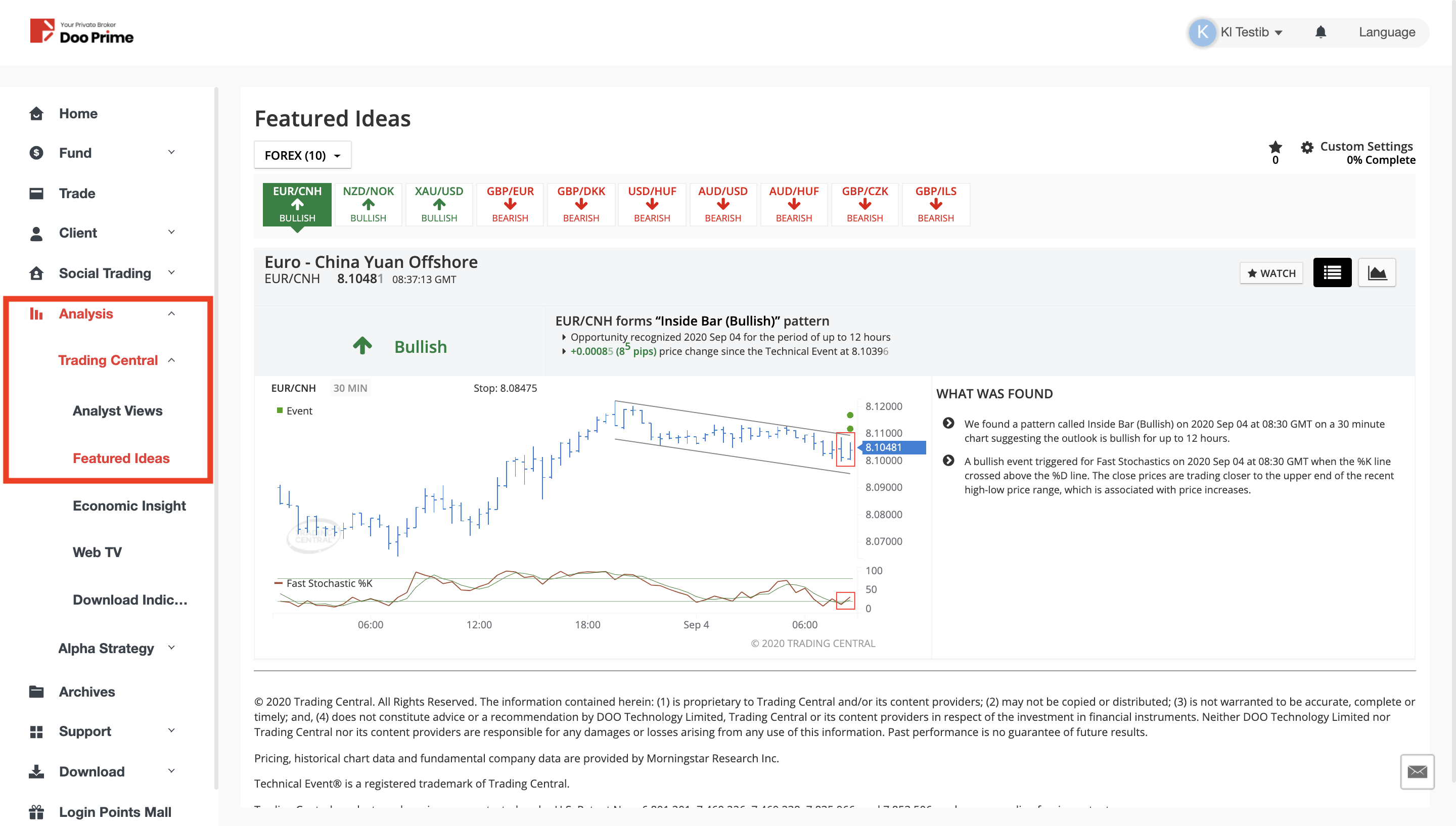 Here's an overview of the key features and their functions of Trading Central's "Featured Ideas".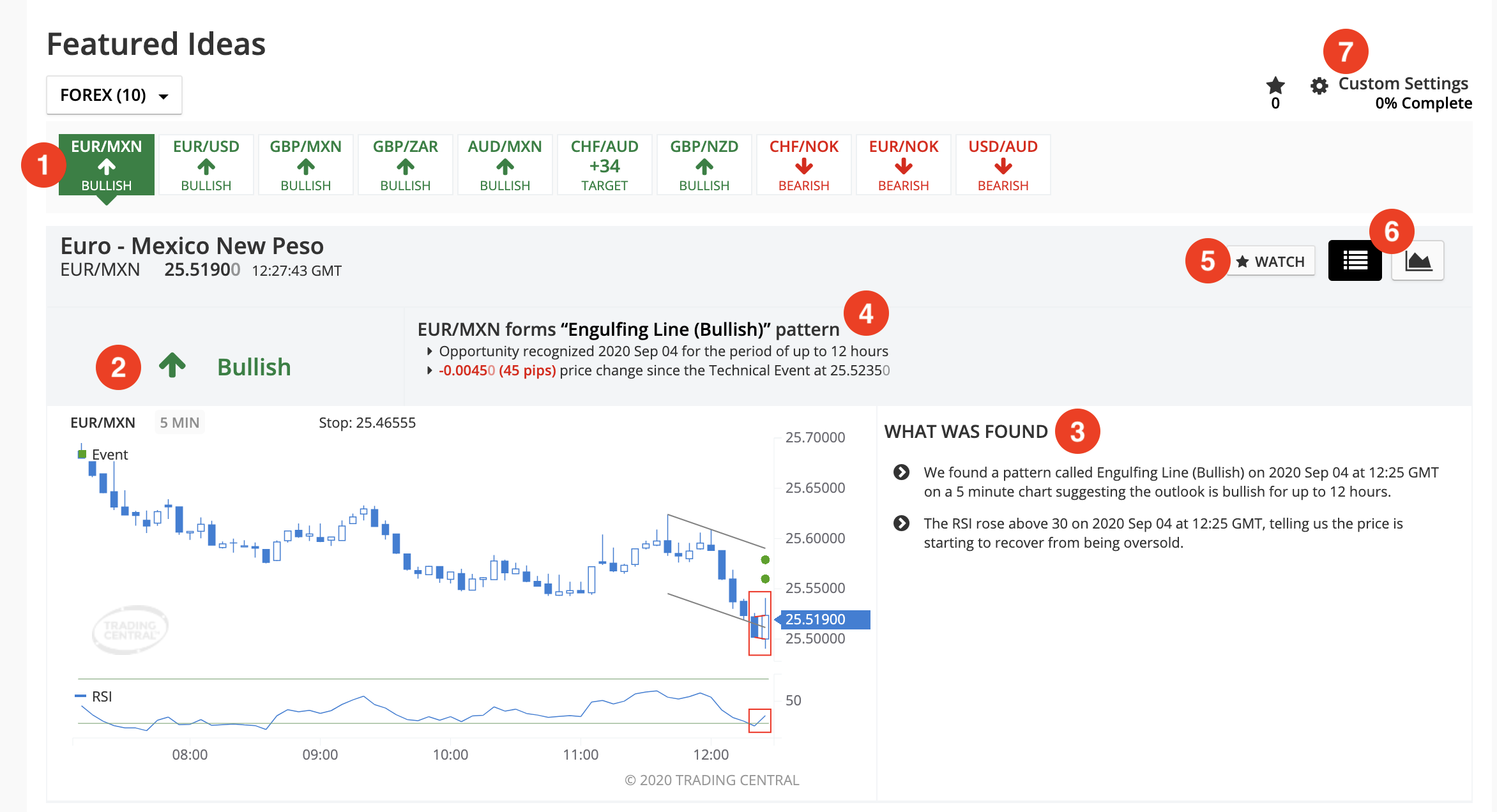 1. The Ideas – Suggest up to 10 live ideas filtered through your preference.
2. The Trend – Quickly assess if an idea is "Bullish" or "Bearish".
3. What Was Found – Here, you will find a summary of why Trading Central chose this trade idea.
4. Pattern Found – Develop your skills in technical analysis! Hover over the pattern to learn more about what it developed and suggests.
5. "Watch" an idea – This icon allows you to keep track onto an idea and check back at it later to see how it performed over time.
6. Take a closer look – Click here to expand the chart and adjust the chart's timeframe.
7. Custom Settings – Personalized your ideas accordingly to your preferred pairs and trading style.
Here's how you can trade based on the functions of Trading Central's "Featured Ideas".  
Customize Your Settings 
Customizing filters allow you to only receive ideas that match your preference as well as your unique trading style and interests.
You can choose to personalize your currency pairs, bar size and holding timeframes, alongside technical filters.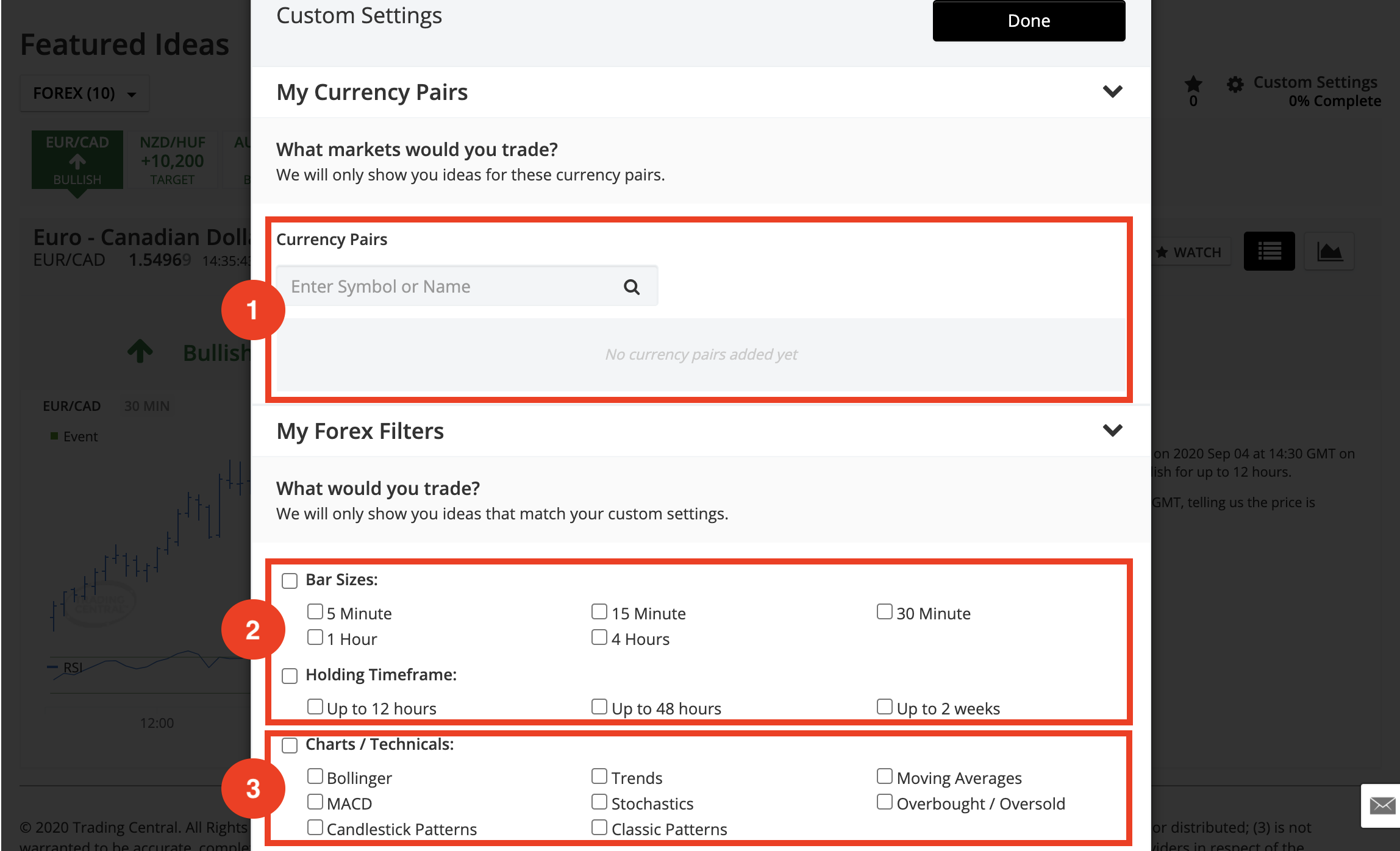 1. Currency Pairs: simply type in a symbol or name to add any currency pairs that you desired to trade.
2. Bar sizes and Holding Timeframe: Choose how you would like your ideas to be shown. You can pick between 5, 15, 30, or 60 minutes charts and specify how long you want to hold on to your position.
3. Technical Filters: Select and apply your preferred chart pattern ranging from MACD, Candlestick Patterns, Classic Patterns, Moving Averages and more.
Learn About What Each Event Found  
Through Trading Central's Featured Ideas, you can develop your understanding of technical analysis. Featured Ideas' transparent commentary allows you to better understand the patterns and trends found. With this, clients can gain a better understanding by learning more on how the pattern is developed and what it signifies as a trade idea.
Watch an Idea & Trade Accordingly  
Through Doo Prime's CRM, you can save your trade ideas and see how they perform over time. With this Featured Ideas function, you can keep watch of the trade ideas and empower your trading plans and strategies accordingly.
1. "Watch" an idea by clicking the button next to the chart views.
2. Use the star located at the top right corner to view all your saved ideas.
3. If the idea had expired, we will let you know.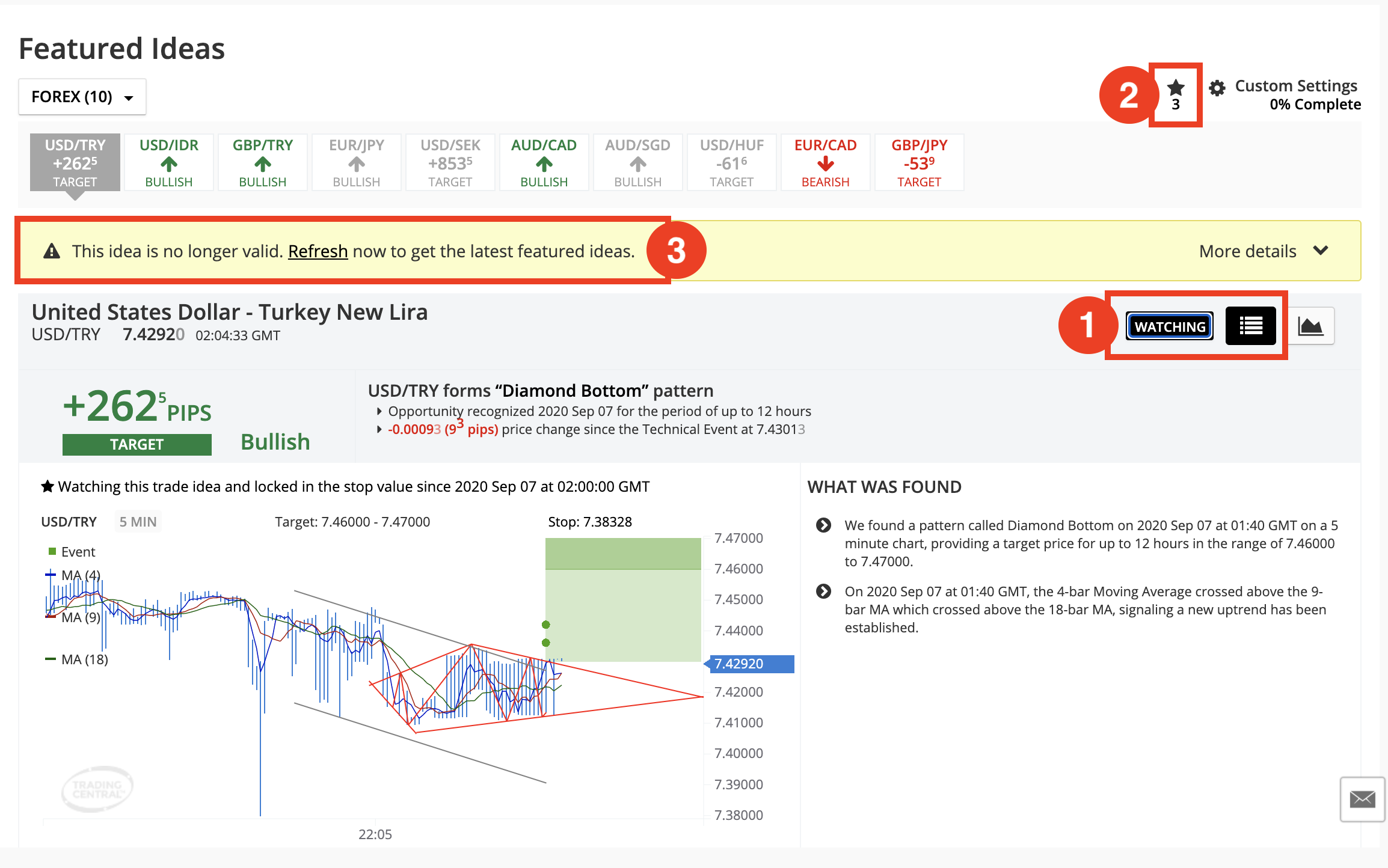 Look into Every Line 
Doo Prime's clients will have access to take a closer look and look into every detail that occurred in the current and previous market flow.
1. Click the symbol to enlarge the chart and get a more detailed view.
2. Adjust the chart timeframe by dragging the highlighted area.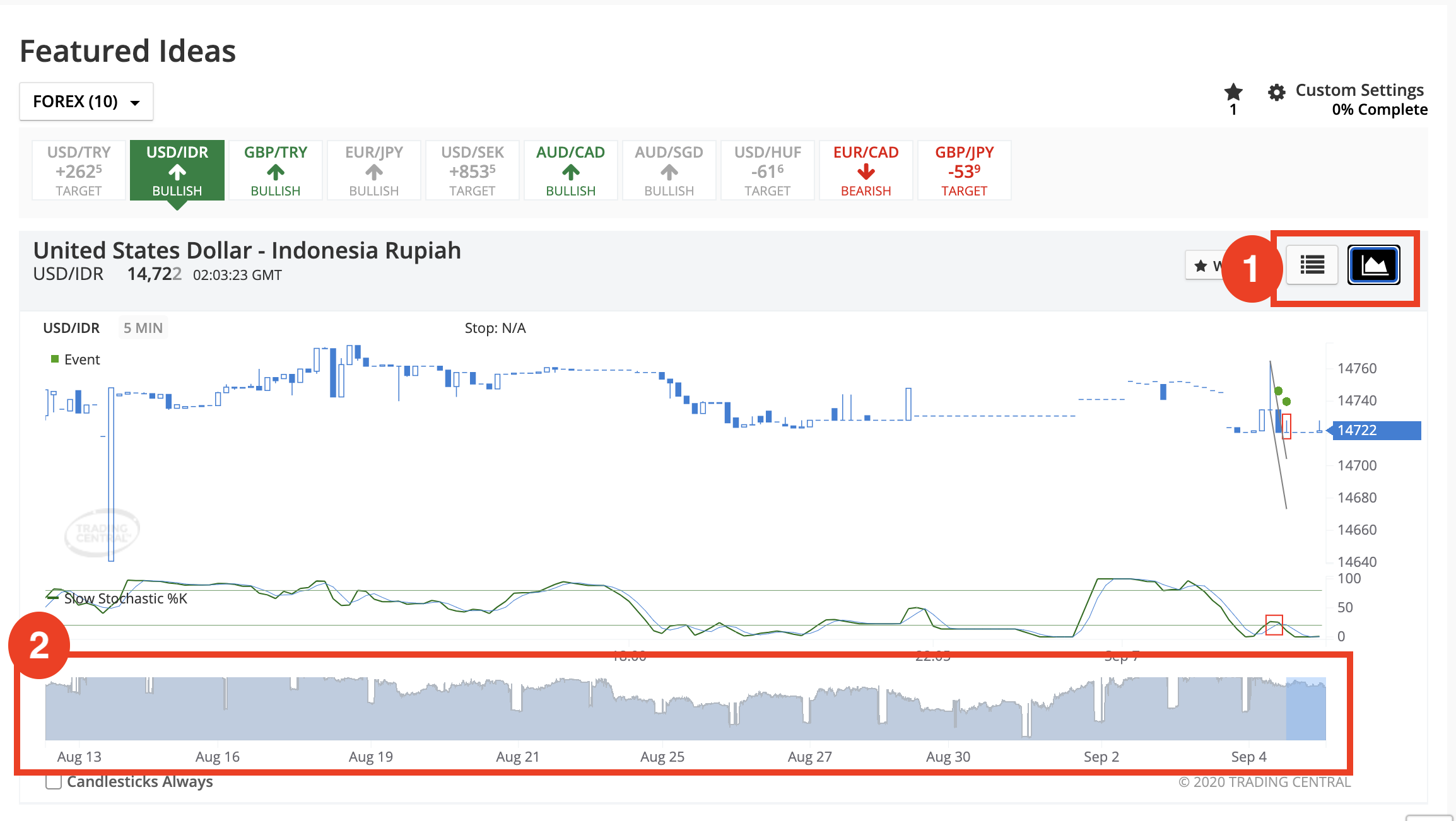 Here are a few examples of how Trading Central's Featured Ideas demonstrate their trade ideas in Doo Prime's CRM system.  
1. Target Trade  
Many traders look into target trading as it is one of the most well-known forex trading strategies. With this provided, traders will be able to identify how the market is trending and anticipate how the price will move. Moreover, traders can make use of this information to preemptively establish profit-taking points, or targets, at which to exit or partially exit their position.
Additionally, most traders will also apply a grid trading strategy whereby traders preemptively create conditional stop entry orders and set a target for each pending order. The stop order function is also available for all Doo Prime's clients.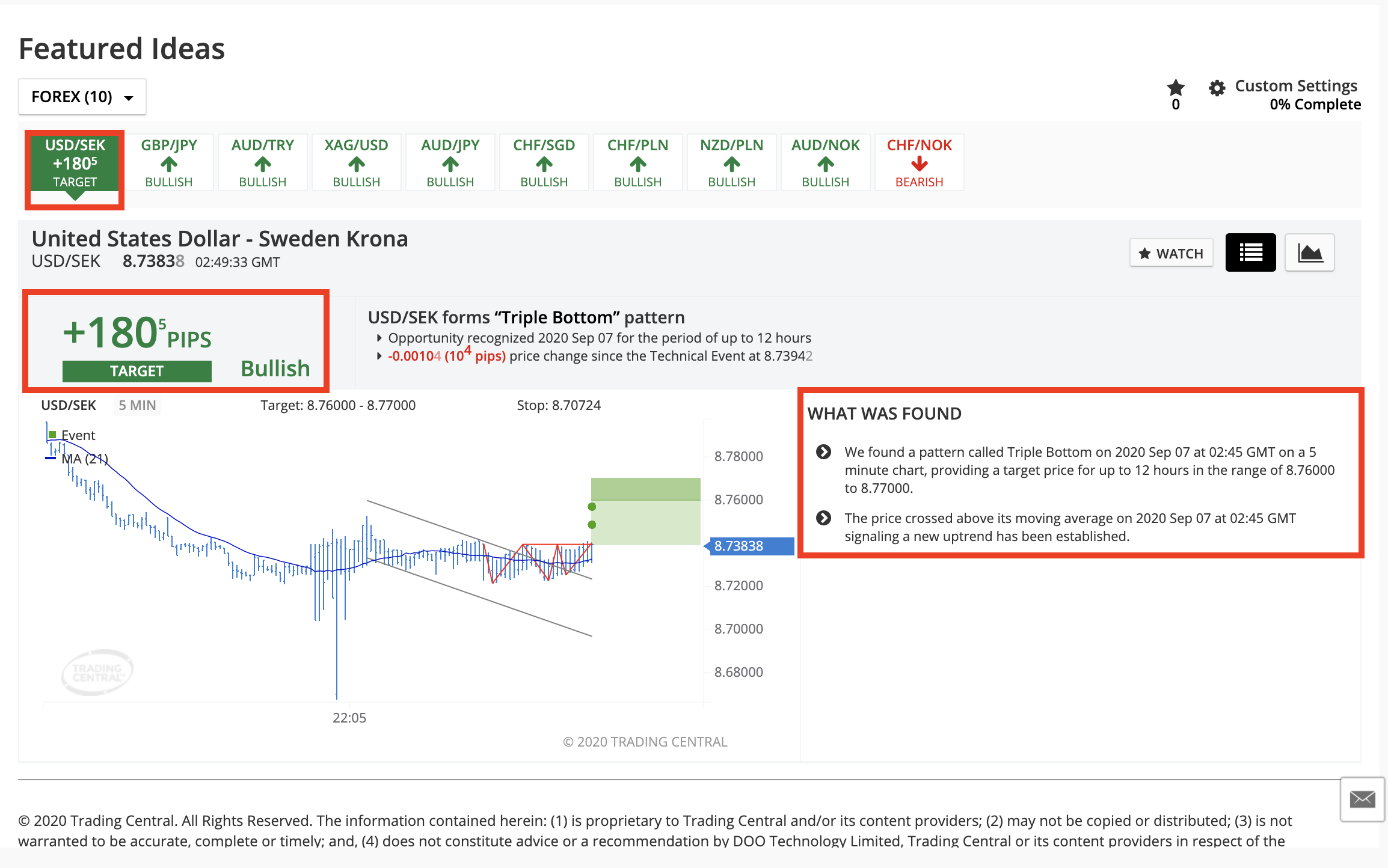 2. Bullish 
A "bullish market" or also known as a "bull market" is a market that is on the rise and where the economy is sound. This means that the market is on the rise and the conditions of the economy are generally favorable for traders to trade.
Trading Central's Featured Ideas will constantly gather and update the Bullish market accordingly so that traders will not have to keep watch of the market all the time through different platforms or sites.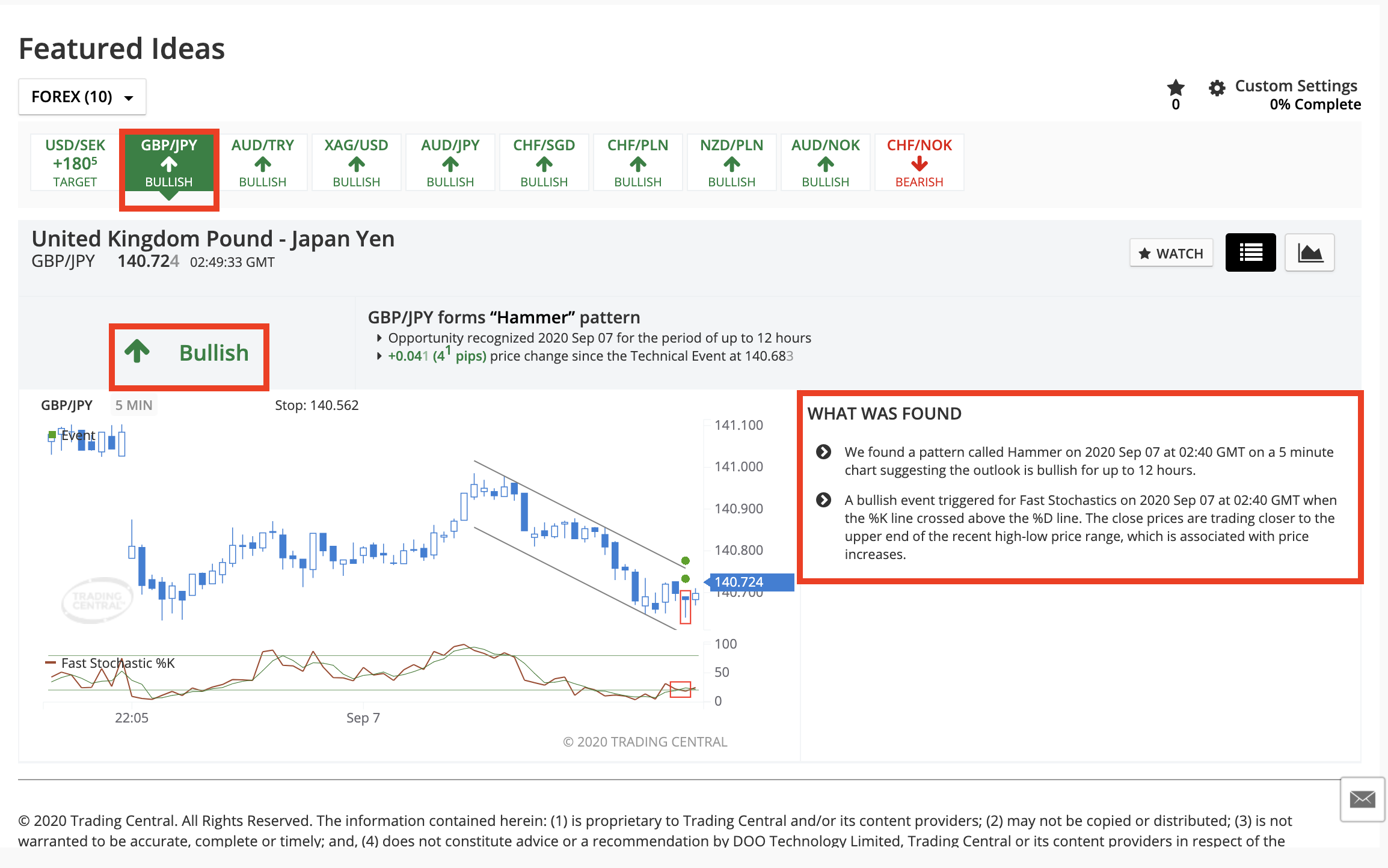 3. Bearish 
The "bearish market", also referred to as "bearish" exists in an economy that is receding, where most stocks are declining in value. It is often seen as the dangerous market for traders to trade in as many equities lose value and prices become volatile. Since it is hard to time a market bottom, traders can withdraw their money from a bear market and sit on cash until the trend reverses, further sending prices lower.
However, the market as a whole has tended to post positive returns over long time horizons.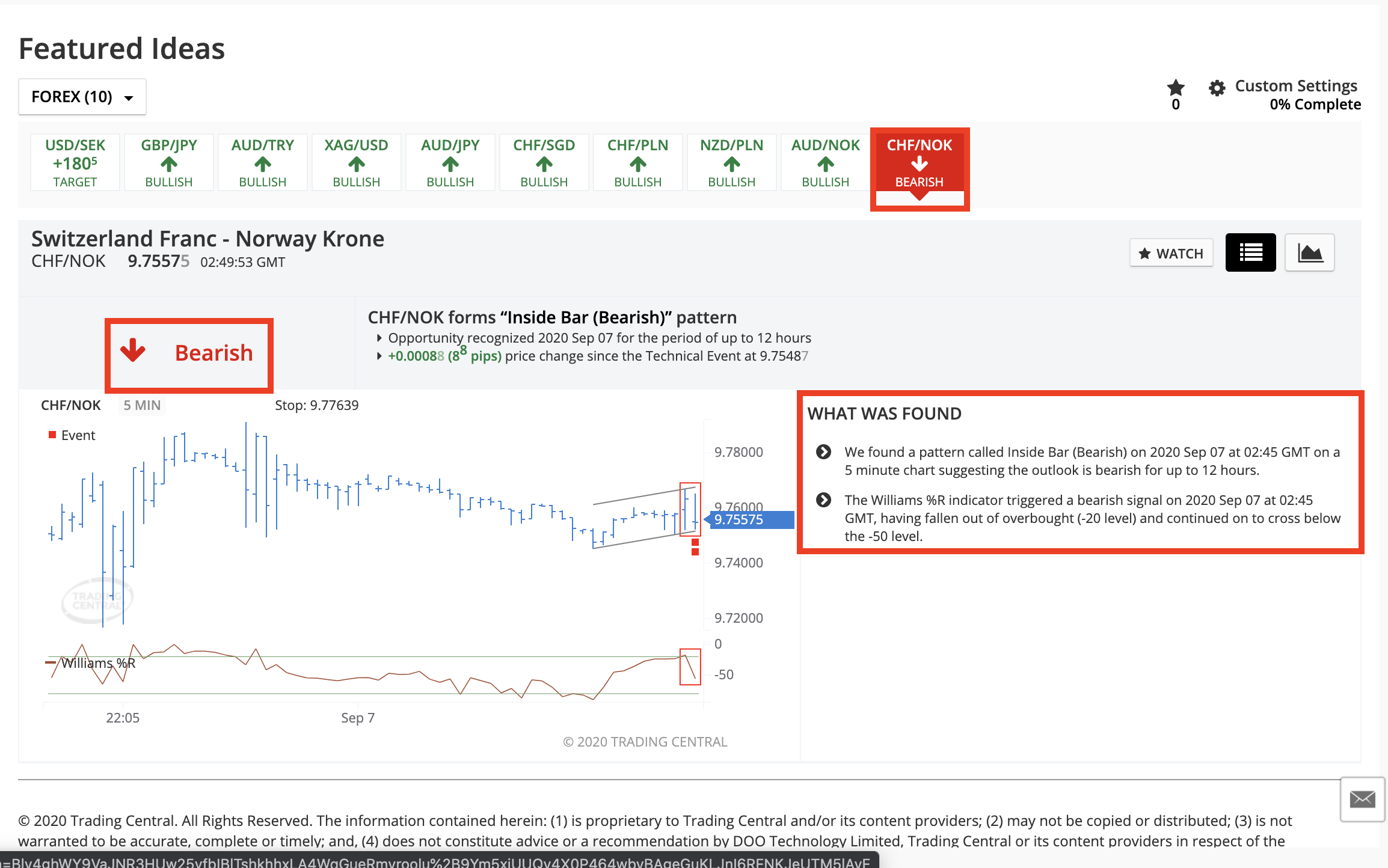 Thus, Trading Central will assist Doo Prime's clients to find and validate new opportunities, time their trades, educate them on financial markets and manage their risk.
Ultimately, Doo Prime alongside with Trading Central strive to facilitate the long-lasting success of Doo Prime's investing customers and adhere to remain committed to our global benchmark, offering the highest quality services to retail forex traders and partners.
All demo and live account clients will have access to our Daily Market Report, and live account traders also receive log in details to access Trading Central's brand new MetaTrader4 Indicator and the Trading News Portal.

Open an account with Doo Prime now and gain immediate access to award-winning research from Trading Central.
Disclaimer   
Trading central is a respected third-party research provider and the information provided should not be considered as trading advice. Doo Prime provides Trading Central research to support clients in their trades and give them trading ideas, which should be independently evaluated. Doo Prime cannot be held liable for any information provided by Trading Central.