Doo Prime  
In this article, we will learn more about the types of trading software and platforms available on Doo Prime. But, before we do that, let's take a look at what Doo Prime is all about. Doo Prime is an innovative online brokerage company under Doo Holding Group with many years of industry experience alongside world-class multilingual technical support.  In fact, Doo Prime is an online brokerage with a monthly average turnover of USD 35 billion, including institutional clients and features an efficient pre-order processing time of under 50ms.  At Doo Prime, we have a total of 15,780 loyal clients alongside over 250 loyal institutional clients globally.
With branches in Hong Kong, London, Taipei, and Kuala Lumpur, Doo Holding has established subsidiary brands such as Doo Prime, Doo Tech, Doo Clearing, Doo Cloud, Doo Exchange, and Doo Intelligence. The enterprise is dedicated to provide high quality, comprehensive, and diversified solutions for personal and institutional clients all across the globe.
Given our strong technological strength, we managed to penetrate smoothly into the global financial market, providing Futures products including the S & P 500 Index, Nasdaq Index, FTSE A50, Brent Crude Oil, as well as Stocks, Forex, Precious Metals, Energies, and CFDs (which is about 300+ trading products), allowing customers to invest globally through one single online trading account.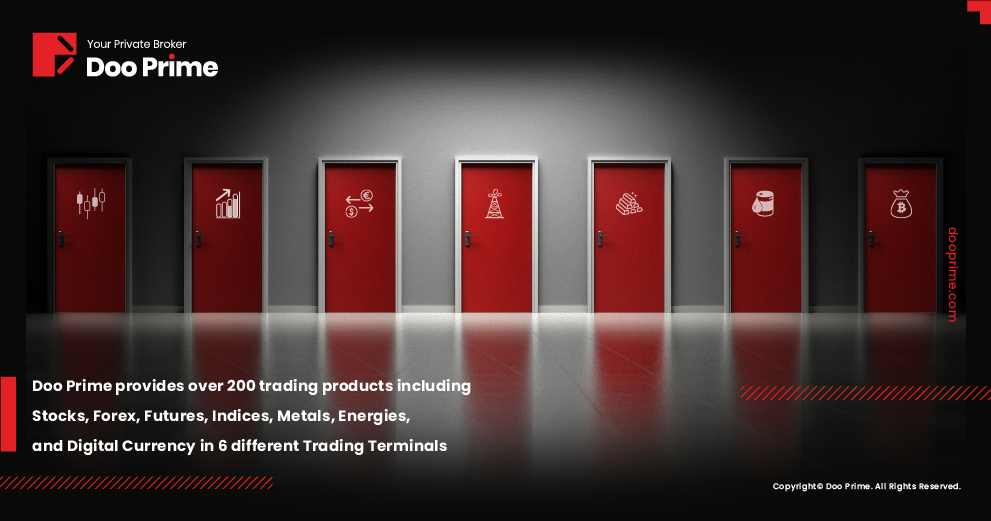 What Is a Trading Platform? 
A trading platform is a trading software used for trading: opening, closing, and managing market positions through a financial intermediary such as an online broker. Online trading platforms are frequently offered by brokers either for free or at a discount rate in exchange for maintaining a funded account and/or making a specified number of trades per month. The best trading platforms offer a mix of robust features and low fees.
Basics of Trading Platform 
A trading platform is the software that enables investors and traders to place trades and monitor accounts through financial intermediaries. Oftentimes, trading platforms will come bundled with other features, such as real-time quotes, charting tools, news feeds, and even premium research. Platforms may also be specifically tailored to specific markets, such as stocks, currencies, options, or futures markets.
There are two types of trading platforms: prop platforms and commercial platforms. As their name indicates, commercial platforms are targeted at day traders and retail investors. They are characterized by ease-of-use and an assortment of helpful features, such as news feeds and charts, for investor education and research. Prop platforms, on the other hand, are customized platforms developed by large brokerages to suit their specific requirements and trading style.
Types of Trading Platform  
Doo Prime offers a few modes of trading options including both PC (Windows & Mac) and mobile (IOS & Android OS) compatible trading software.
With that, traders use a variety of different trading platforms depending on their trading style and volume. If you're still new to trading, Doo Prime provides multiple educational and in-depth articles to active trading which features content on market terminology, techniques for identifying trends, trading strategies and insights.
MetaTrader  
The most popular platform for many foreign exchange (forex) market participants is MetaTrader, which is a trading platform that interfaces with many different brokers. Its MQL scripting language has become a popular tool for those looking to automate trading in currencies.
MetaTrader 4
The MetaTrader 4 is known as the best Forex trading platform which offers the leading trading and analytical technologies, as well as additional services. It has everything you need for Forex trading.
The powerful MetaTrader 4 trading system allows you to implement strategies of any complexity. Be it the market and pending orders, instant execution or the trading from a chart, stop orders and trailing stop, a tick chart and trading history — all these tools are at your disposal. With MetaTrader 4, trading becomes flexible and convenient as it features 3 execution modes, 2 market orders, 4 pending orders, 2 stop orders and a trailing stop.
Furthermore, the MetaTrader 4 analytics offers analytical functions which is one of the MetaTrader 4 platform's strongest points. It delivers online quotes and interactive charts with 9 periods that allow you to examine quotes in all the details quickly responding to any price changes. Alongside, 23 analytical objects and 30 built-in technical indicators that greatly simplify this task. However, they are only the tip of the iceberg.
The free Code Base and built-in Market provide thousands of additional indicators rising the amount of analytical options up to the sky. If there is a movement in the market, you have the analytical tools to detect it and react in a timely manner.
Moreover, MetaTrader 4 is dedicated to provide trading signals and copy trading to assist traders by automatically copying deals of other traders just by selecting your provider, subscribe to a signal and let your terminal copy the provider's trades. With that, thousands of free and paid signals with various profitability and risk levels working on demo and real accounts are at your fingertips.
As smartphones and tablets are indispensable in trading when you are away from your computer, Doo Prime brings the MetaTrader 4 in mobile mode for mobile trading for our traders. The mobile versions of MetaTrader 4 is available on your iPhone/iPad and Android devices to trade in the financial markets.
Hence, you will certainly appreciate the functionality of the mobile trading platforms that include the full support for the trading functions, broad analytical capabilities with technical indicators and other graphical objects. Of course, all these features are available from anywhere in the world 24 hours a day.
MetaTrader 5 
Doo Tech, Doo Prime's parent company also introduce the MetaTrader 5 bridge connection to Doo Prime.
Doo Tech, a global trading solutions provider, announced the release of the Bridge Cloud service for connection to the global exchange. By connecting the MetaTrader 5 platform to Doo Prime, forex brokers can extend their business and start offering futures instruments. Both Doo Tech and Doo Prime strive to provide customers with a good trading environment and to introduce new technologies and trading varieties faster than their competitors.
As one of the few companies which can provide DMA to Doo Prime, Doo Tech has developed the professional Bridge Cloud middleware for MetaTrader 5 connection to Doo Prime. The bridge connects to the exchange via the Esunny PoleStar Intelligent Platform and enables access to HK50, HSI and MHI futures trading. Bridge Cloud is an essential element in Doo Prime trading, which can minimize trading costs, maximize efficiency and provide increased transparency.
The Bridge Cloud reduces market entry costs and offers significant benefits to companies and individuals wishing to explore investment opportunities:
The real-time HKEX quote stream via Bridge Cloud.The ready-made back-end system enables MetaTrader brokers to connect to the Honk Kong Exchange and receive real-time quotes without delay. Also, Doo Prime features sophisticated synchronization between MetaTrader 5 and HKEX liquidity. The trading order is transmitted from the platform to the exchange, while the platform executes the customer order at the transaction price returned after the transaction is completed. The use of C++ along with the high-performance framework, ensure that the quote delivery and order execution speed is as low as 10 ms.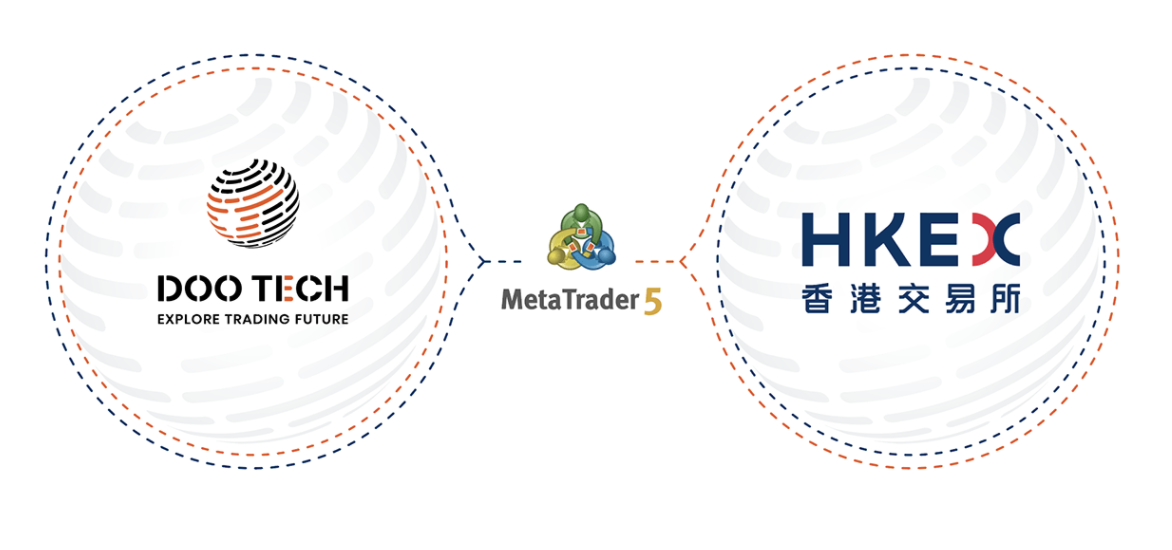 Additionally, Doo Prime's trading software includes the Trading View Platform (HTML5 trading platform)   and FIX API 4.4 .
Doo Prime's Trading View Platform
The Trading View Platform is the new generation of HTML5 trading platform of the same professional trading platform as Investing.com and CME Group featuring original ECN support, 10-layer market immersive alongside efficient technical analysis tools and chart marking tools. It also includes applications to all operation systems (iOS, Android, Windows and Linux) and equipment (iPads and iPhones) and supports up to 18 languages and facilitate the development of international financial market.
Doo Prime's FIX API 4.4
The FIX API 4.4 is the quantized trading for professional clients which offers communication protocol of industrial standard level; 10-layer market depth subscription, ultra-low delay and ultrahigh performance. The FIX API 4.4 provides direct access to institutional trading market (DMA) with minimum demands for USD 100,000 and professional client authentication.
Our Multi-account management system
The Doo Prime MAM/PAMM multi account management program is design to provide a powerful fund and order allocation tool for professional traders and fund managers. Investors can take advantage of the PAMM/MAM fund manager's wisdom and rich trading experience, fund managers centralized management on behalf of their transactions. It also provides a professional account management solution for professional fund managers.
The PAMM / MAM administrates hundreds of trading sub-accounts under one main account, allows EA trading with main account, consist of ultra-low delay and the best trading experience. It is a management system of a diversified MAM/PAMM distribution modes: automatic distribution of profits/losses, order distribution as per net value proportions and order following as per net value proportions. The PAMM / MAM also provides linkage of all orders with ECN market with STP bridging technology and multiple order execution modes such as entry order, loss stop, profit stop and partial close-out.
Ultimately, Doo Prime is dedicated to provide superior clients services, stable trading conditions, competitive trading cost, ms-level trading execution, diversified trading products, secure and reliable capital guarantee alongside top-class international supervision.