Good Morning.. Stocks higher again and shrugging off worrying virus stats in the US and focusing on the hope of a vaccine. That may be some way off yet. Not much at all from the Fed minutes and to my mind, if they are not going for YCC then the next wobble will see more QE as the Fed has to plug what looks like a huge issuance whole developing. We have seen some real EUR weakness recently and yesterday, that took me out of the EURCAD trade and this GBP strength is prompting me to take profits on the long EURGBP trade but I will look to buy lower. I am keeping with the EURUSD trade but the techs are starting to roll over but the fundamental fact remains that the EU could emerge faster from this crisis than the US. The only danger to that is that US tech still sucks in dollars. The NFP data today is rather pointless in my view with a range of forecasts between 500k and 9mln!! I am not sure at all what this will tell us but today is a pseudo Friday and thus, could be a very choppy finish so, "Be careful out there".. I will be back Monday…
Keep the Faith…
Details 02/07/20
Stocks rally in front of NFP data: Taking profit in EURGBP; FOMC minutes:
–
Apart from the Dow, US stocks posted yet another rally yesterday even after seeing another spike in virus cases across the sunshine states. There is also a very real danger that the 4th July celebrations become a "super spreader event". But stocks seem to be starting to ignore this fact and focussed on some promising news from Pfiser on vaccine trials and Asian stocks were higher again last night led by HK of all places and the USD remained offered. "If you look at the outbreaks in the south and west, they started right after Memorial Day — and that's just an ordinary holiday, it's not a 'let's get drunk' holiday like July 4," said Barry Bloom, professor of public health at the Harvard TH Chan School of Public Health. It still seems to me that most in the US seem to think that this virus is not all that of an issue for most. Stocks fared well considering we didn't get much in the Fed minutes on YCC but it was clearly discussed at length but I am no longer sure this is something that will end up being formulated as policy as soon as I originally thought. No YCC then more QE.
Bond markets were thinking we may see more commitment to YCC into the minutes as long ends tumbled and 2yr yields hit record lows earlier in the session but after the minutes 2yr yields rallied back above 1yr yields having inverted earlier in the week (a dangerous sign for markets) and 5yrs sold off too.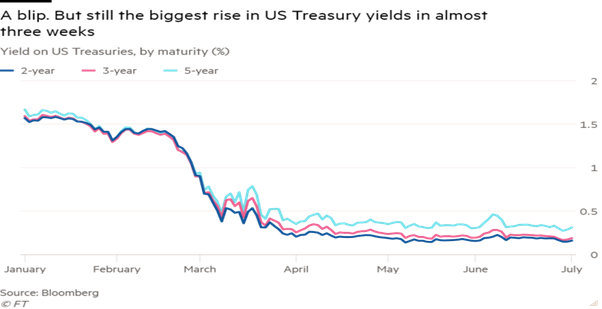 Line chart of Yield on US Treasuries, by maturity (%) showing A blip. But still the biggest rise in US Treasury yields in nearly three weeks
If we do ever see the Fed locking the short end and possibly out to the 5yr space, we would probably see stocks higher and the curve steepen; helping the banks but we are not there just yet looking at the minutes, as a few had reservations but equities still held gains. But to me the danger here for stocks is that the Fed may be done until the next wobble at least and I also will have greater concerns if the short end re-inverts as that may see markets suggesting the Fed may be making a policy mistake. The Fed is also facing a flood of issuance from the Treasury and if they do not start increasing the balance sheet again, then markets have a real problem; is the Fed on hold now? Long end yields are on the rise and will spike if the Fed is not prepared to start increasing the balance sheet again as the huge issuance will swamp bond markets. I reckon the Fed would have to step up to the tune of 1.6Tln. The balance sheet is still the main focus for stocks.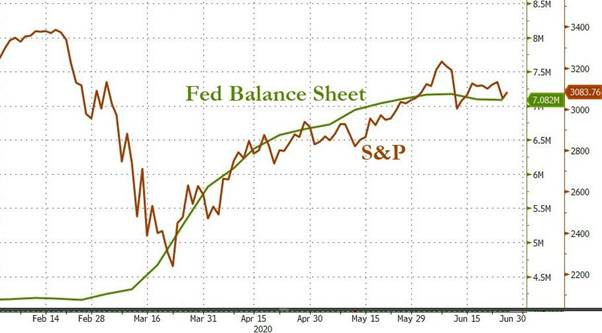 What did surprise me over the last couple of sessions was the weakness in the EUR and not just against the USD. The techs are not looking so strong now against the USD but I am sticking with my long EURUSD recommendation as I still think the EU may ride this crisis better than the US and the UK for that matter but EURGBP suffered a real squeeze, EUR traded below 1.1200 and I got chopped out of my EURCAD position.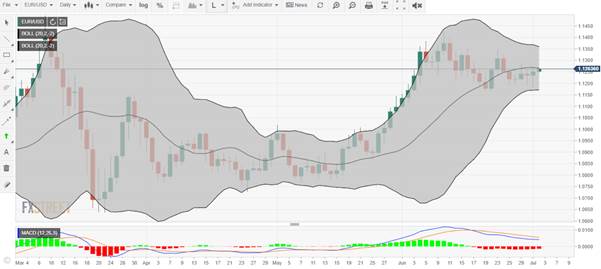 On the daily EUR chart, the mid-point is rolling over and the MACD is not supportive, so I am cautious on this now. I prefer it when the techs support the fundamentals but that is not the case on the daily now. GBP has had a good run and is knocking on the door of 1.2500 as I write this, with chart resistance at the previous high of 1.2542; break that and we may be pushing quite a bit higher and I think this all started after the Boris speech on spending and a rather hawkish Haldane. Certainly enough to squeeze the shorts at least. With all this in mind, I am exiting the EURGBP long position here at .9020 (taking profit) and will look to buy lower when this GBP run runs out of gas.
The USD did not get much of a boost from better data either as PMI (final read) nudged higher and ISM beat by some margin with the New Orders component catching my eye as it posted the biggest rise on record but employment disappointed.
But overall the data was very solid but I do feel the impact of the virus and further lockdowns will slow the US recovery and unemployment is not going to help. The NFP data is going to be a total lottery today with the range of forecasts from +500k to 9mln! That makes trading off this something of a coin flip as I am not sure the data will be any where near correct as they just cannot split furloughed workers from unemployed. I think we may have to wait a couple of months until the real picture emerges and I am not sure that is going to be a good look at all. Companies are closing at an alarming rate and those that survive will be cutting costs and shedding staff. I really do not see what this data today will add.
US tech stocks keep driving US equities higher even though Apple is closing stores, FB shrugs and says advertisers will be back and he is not changing his business model and beaches and bars are closing for 4th July celebrations as the virus continues to spread like wildfire in the US. The concentration in the top 5 or 6 stocks is a concern and is there a danger that these companies face a tough run on digital tax issues. The danger for the likes of the EU and UK is that they have a great need of US trade and both may see business with China reduced as both have issues with either HK or trade. Trump knows this and would probably react badly to any pressure being brought on FAANGS. The question is, are the UK and EU really prepared to take Trump on over this. If they do we could see those stocks take quite a hit and it is something to watch. But for now they look bullet proof. That makes it hard selling the S&P as it is dragged about by 5 stocks. Again, we remain in a 2910-3250 range for now so play that. I am not sure the data today will change that. But there is a danger here as I think phase2 of the trade war has now started and this time it may not just be an issue between the US and China but encompassing Australia, the UK and EU. That is not priced at all anywhere but I am expecting headlines soon as tensions rise and nations become more protectionist.
—————————————————————————————————————-
Strategy:
Macro:.
Long EURGBP @.8978 added @ .8940. Taken profit at .9020
Long EURCAD @ 1.5340.. Stop at 1.5220 Stopped out
Long EUR @ 1.1210.. Stop at 1.1150
Brought to you by Maurice Pomery, Strategic Alpha Limited.
—————————————————————————————————————-
Strategic Alpha Report Disclaimer
Doo Prime endeavor to ensure the reality, adequacy, reliability and accuracy of all the information provided, but do not guarantee its accuracy and reliability. All the information, analyses, comments, statements, and/or data provided in this report is for information purposes only. Client's use of any contents of the report as the basis for the transaction, the client shall fully aware of the risks and agreed to bear all the risks. Client shall cautiously judge the accuracy of the information. Doo Prime has no liability for any loss caused by any inaccuracy or omissions of the contents and subjective reasons of Client.
Risk Warning
This information is powered by Strategic Alpha. Any opinions, news, research, analyses, prices, other information, or links to third-party sites are provided as general market commentary and do not constitute investment advice.