Good Morning.. Pretty quiet markets in Asia as many wait for the NFP data later but we have seen a continuation of yesterday's moves already this morning with USDJPY testing key resistance at 109.38ish and EUR back at yesterday's highs. The USD has been falling for a while and I think a lot of this is due to Fed policies which are debasing the USD and while they are tapering bond purchases, with rising yields, I think they will be back. The rising vol in longer dated bonds is a real concern. EU announced a really strong stimulus which with Germany now spending, should see EUR gain more respect for its future. Bund yields may even go positive soon! But my recommendations all got a boost yesterday but I do want to add EUR to the long USDJPY recommendation. I would be a buyer here at 1.1360 looking for an initial test of 1.1500. Other positions remain the same. I think both this USD sell-off and the JPY crosses moves continue. Brexit trade talks still form a cloud over the UK but Cable is seeing a squeeze. Stocks still remain resilient to anything but we do have NFP's today but I guess we know they will be dreadful. So it looks like a busy end to the week and we have had some really big moves in FX, bonds and stocks and it's a Friday so "Be careful out there"…
Keep the Faith.
Details 05/06/20
EUR Positively correlates with more QE: NFP's and duration.
–
It was a big day for FX markets and FX vol is back and to be honest it took me back to the salad days of pre-algo and vol suppression days. We had already seen a broad USD sell-off that started really at month-end but has extended deep into this month now. I think there are a few factors at play here and as discussed earlier this week, I think Fed policies now have a lot to do with USD weakness and those seem unlikely to change anytime soon. The Fed's suggestion of unlimited stimulus and a massive expanding balance sheet is basically debasing the value of the USD and rates have now caught down to the rest of the world (almost). Plus we have seen continued strength in equities; and the USD, a safe haven, like the JPY and CHF, are no longer deemed an essential to hold. Some of the moves yesterday were quite large for one session and of course some of these were aided and abetted by what is going on at not only the ECB but the EU as a whole. Daily EURJPY below.
The march higher started the hour that Von der Leyen made her speech regarding the Franco/German joint bond offering.
I still think the fact that Germany has agreed a big spending package at home is a big moment for both Bunds and the German economy and a signal to all in the EU that government help is required as let's face it, the ECB has just about done all it can now. Germany has been reluctant to open the coffers but the German economy is screaming for this. The impact on Bunds could be significant and Germany may even need to spend more but I think there is a chance that Bunds turn positive soon. Of course we also had a defining moment as the ECB announced a further €600bln for the PEPP and extended the programme. Many would have thought this would be negative for the EUR but a couple of things are to note here. Firstly a positive was that BTPs screamed higher, bunds fell and the spread came in quickly between the two (a sign of confidence). The PEPP had only been dipped into by a third and there was no pressure on spreads and many felt the ECB may be more conservative. This is now a powerful amount to throw at markets, even though it means little for the real economy. This is about keeping rates low so that the weaker nations can keep issuing cheap debt.
In addition to all this the ECB has sent a clear forward message and been quite smart here linking PEPP to a short-term backstop/market functioning and to the price mandate enshrining it as a long-term tool. That's solid communication to be honest and PEPP is now the bazooka that OMT never was and the communication around what it is/how it will be used is a big part of this transformation. All this went into the mix and EUR rallied against everything and took EURJPY through resistance at 122.87 and exploded. EUR is also breaking out and is now looking at the recent highs just below 1.1500 on the charts.
That's a weekly chart above. The Franco/German offer still needs to be accepted by all and there is some pushback on this still and we heard from Finland yesterday that they would like to see more loans and less grants and I think a few feel like that but I think they may just find a compromise somewhere and that will make a huge difference to the long term outlook for the Union itself. Markets may just be starting to price that. However, I felt the economic forecasts looked a little optimistic.
New forecasts by the central bank predicted an 8.7 per cent contraction in the eurozone economy this year (a record post-war recession) before a rebound to growth of 5.2 per cent next year and 3.3 per cent in 2022. If a fresh wave of coronavirus infections takes hold, it said the economy could shrink by 12.6 per cent this year. So with the massive armoury the ECB now has, an already weakening USD scenario and risk on saw the EUR take off and the fact that long dated bonds seem to be falling as well, JPY crosses rocketed as USDJPY seems to be attached to stocks and possibly US 30yr yields more so. US 30yr yield is now 1.64% and the curve is steepening fast and we saw USDJPY rise yesterday even when stocks drifted lower as US long ends fell. Aussie 10yr yield is now 1.09% and coupled with better May Services PMI (31.6 vs 27.1 prev), AUD rallied overnight and made a high just shy of .7000 which I think we be taken out today. My AUDJPY position is back in play.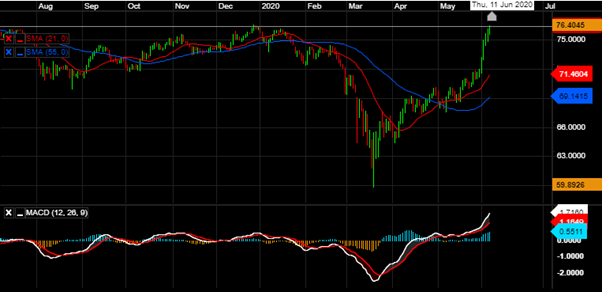 AUDJPY daily chart above.
Of course, we still have NFP data to deal with today and it is likely to be a stinker but shocking data has, to date at least, not had much impact on markets. But a bad set of data may assure markets that the Fed is going nowhere with polices and may continue to expand the balance sheet. I am not sure the Fed can keep tapering USTs with yields continuing to rise. This will likely add to the pressure on the USD and I still don't think this move is done yet. It will be interesting to see what the USD does now IF stocks do run out of steam. But what is puzzling is the rout taking shape in long data bonds in the US. I have mentioned the steep move in the 30yr and I think that is in part why USDJPY may burst even higher, but the 10yr too. After trading in a tight 20bps range for the past two months, 10Y yields are blowing out and have jumped to the highest level since March 26.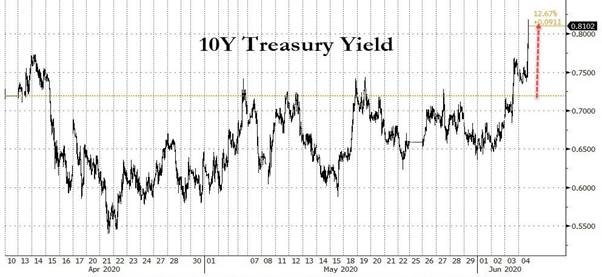 Some things we do know, like the Fed is tapering bond purchases (not for long) and the sheer size of issuance is a constant weight on USTs. But is there something else in this move? Can it be the case that forward-looking bond markets see a quick recovery after all or that inflation may be looming in the future? Bonds usually sell off in times of calm and risk on environments but this flies in the face of what all central banks and most economists believe. It appears global macro hedge funds have backed out of their long positions in US government bonds and now have a net position in the aggregate that is either flat or slightly to the short side. It seems a bit early for that! But maybe they are selling while Powell is tapering. Interestingly at the same time, data suggests a surge of USDs into bond funds! Investors pumped $22.5bn into US bond funds in the week to Wednesday as they shifted tens of billions of dollars out of haven money market accounts to riskier but higher paying investments. I am keeping my eye on longer dated bonds as vols are rising and tension in bond markets always spills over.
The data is likely to be awful and there is a human tragedy in this as not all will have a job to go back to but we know this and is why recent data has not impacted much. But the scale of the problem will only become apparent in time when the jobless numbers remain doggedly high. Again the impact on the consumer is what matters here as modern economies are built on services. So, ignore it for now but we need to consider the longer-term implications here. But to date, equity markets have shrugged everything off. There are plenty of risks out there but my big concern now is that all the pricing for such risks are being eradicated. The Fed policy has removed all risk premia from the markets and that is shocking, immoral and just irresponsible. But some retail speculators suffering from a severe bout of FOMO are making some good money in all this. "Make hay whilst the sun shines" but the bill maybe hitting the mat at some point; there is just too many sick looking canaries out there. But as ever, timing is everything.
—————————————————————————————————————-
Strategy:
Macro:.
Long EURGBP @.8978 added @ .8940. Stop now at .8825
Long USDJPY @ 108.58.. Stop at 107.79
Long AUDJPY 75.30.. Stop 74.40
Long EUR @ 1.1360.. Stop at 1.1200ish.
Brought to you by Maurice Pomery, Strategic Alpha Limited.
—————————————————————————————————————-
Strategic Alpha Report Disclaimer
Doo Prime endeavor to ensure the reality, adequacy, reliability and accuracy of all the information provided, but do not guarantee its accuracy and reliability. All the information, analyses, comments, statements, and/or data provided in this report is for information purposes only. Client's use of any contents of the report as the basis for the transaction, the client shall fully aware of the risks and agreed to bear all the risks. Client shall cautiously judge the accuracy of the information. Doo Prime has no liability for any loss caused by any inaccuracy or omissions of the contents and subjective reasons of Client.
Risk Warning
This information is powered by Strategic Alpha. Any opinions, news, research, analyses, prices, other information, or links to third-party sites are provided as general market commentary and do not constitute investment advice.