Good morning.. Another 1.25% rally in Shanghai and foreign investors will be taking notice and China may see some of the much needed USD inflows. But Chinese issues will continue to dominate (see below) and there are many of them right now and the global economy is too fragile for further disruptions to trade. The trade spats between China and the US (and indeed many others) is entering its second and more damaging phase and I wonder what that may do to the USD. We have seen Sunak rewarded for big and well targeted spending (see below) as GBP breaks higher but we are also seeing EUR breaking higher and is through 1.1348 resistance and a look at key resistance at 1.1497 looks very likely. I am looking for a break of 96.00 on the DXY to spark the next leg lower in the USD. We are still seeing dangerously high levels of virus cases across the US and unemployment is going to have a big impact on the consumer and thus, the economy. US weekly jobless claims is on the menu today and claims may tell us more than NFPs at present (see below). NASDAQ made another all time high but S&P stuck in a range but surely they must be getting tired up here. But I have said that before!
Keep the Faith..
Details 09/07/20
Sunak rewarded for more spending: China issues will continue to dominate: US data:
–
The UK chancellor went a long way in restoring the Tory reputation yesterday after what has been a rather shambolic handling of the crisis. He spent and he spent a lot but targeted areas that needed help and I think he was rewarded for his actions as GBP rallied through the afternoon. Sunak is rapidly gaining a solid reputation too. The help is targeted at getting the UK and those most exposed to the crisis through the summer by which time it is hoped we may be nearer discovering a vaccine but as is the case in many nations, it is questionable how long all this help can go on for. £30bln is a lot to spend and the BoE is going to be busy in coming months and markets are starting to price negative rates down the calendar.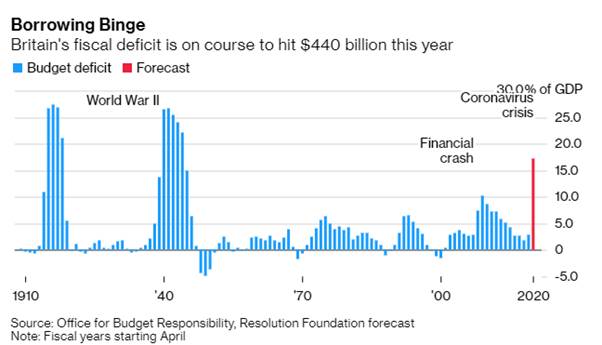 Sunak is able to borrow like this as the UK has 10yr Gilts at 1.6%; let's hope rates stay very low! We also still have no Brexit deal sorted with the EU and the danger remains that we leave with nothing. This remains a dark cloud hanging over the nation and keeping foreign investors wary.
But Cable broke higher and through resistance at 1.2587 and there is a chance of a shot at 1.2813 now on the charts at least. But the government must now hope that unlocking the economy does not spark a second wave of cases and deaths. Another outbreak could prove devastating for an economy that already shrank 25% in the two months to April.
The USD is looking rather weak again and I think that until the US pass a bill for more fiscal stimulus, it may remain so and EUR broke out last night to through the 1.1348 level that had capped for a while. A look at 1.1422 next and a test of the key 1.1496 looks possible to me and again I think EUR can do well in all this and I remain of the same bullish view.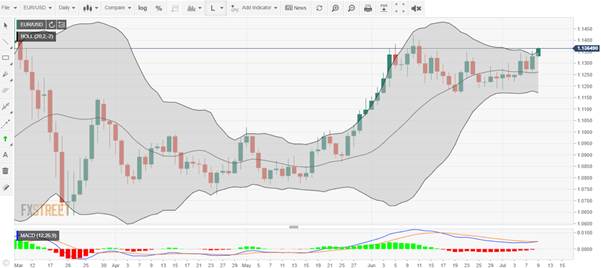 The Bollinger bands are now starting to widen and the uptrend now forming; I am just waiting for the MACD to confirm. I still think the EUR may benefit from the EU emerging from this crisis earlier than the US and the fact that the joint bond will get passed at some point this year, solidifying the future of the union and making the EUR a more attractive for those looking for an alternative to the USD. The crunch meeting is next week but many feel there is not much hope of a deal coming and that would see us have to wait until after the summer. But they need to sort this out and Rutte and the others need to consider the long-term health of the Union. Rutte is playing hardball for his voters at home but in reality the future of the EU is probably more important to him and some compromise will be found; it's just a matter of when.
I think the USD may also remain under pressure as the next and more damaging phase of the trade war starts. The issue was never about buying soybeans or pork, this is far greater than that and the second phase will open into all sorts of areas where the US feels threatened. The US is trying to block the technical advancement of China but they do have a case of China not playing by the rules. Both sides have grievances and this spat is likely to escalate. The U.S./China rivalry is shifting into new and unpredictable areas, engulfing everything from a popular video app to Hong Kong's status as a global financial hub. The US is also antagonising China by selling arms to Taiwan and sending Naval ships into the South China Sea. It means little if China honours its rather huge obligations on buying beans from the US, this is about where the two powerful economies want to be in 10-20 years.
The problem I have is that the US seems hell-bent on pulling back from the global stage and is becoming dangerously insular, which will leave a void. All this could not come at a worse time with the global economy so fragile.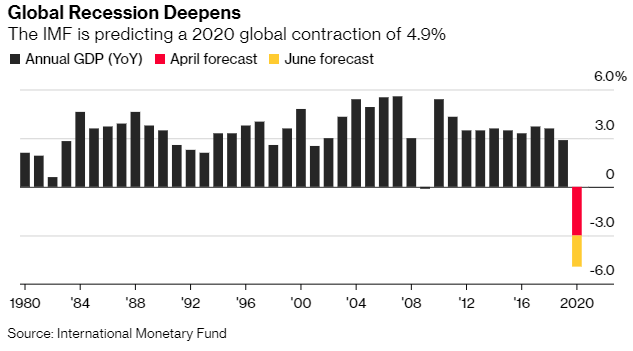 The economic backdrop could hardly be starker, with the IMF estimating that by the end of this year 170 countries — almost 90% of the world — will have lower per capita income. That's a reversal from January, when it predicted 160 countries would end the year with bigger economies and positive per capita income growth. The danger here now is that we move into a "cold war" scenario which will be costly for both parties. Who knows where that will lead? The global economy cannot take further barriers to trade and this spat could slow both China's and the US economies and possibly put pressure on the USD and I am not sure changing who is in the WH is going to change much. Sources yesterday suggested that the WH is looking to make sure Hong Kong is treated as part of China and to be honest I guess that makes sense as China sees HK as part of China; which it is.
China has spats on many fronts and not just with the US. China warned the U.K. it will face "consequences" if it chooses to be a "hostile partner" after it emerged the government is preparing to begin phasing out the use of Huawei Technologies Co. equipment in the U.K.'s 5G telecommunications networks as soon as this year. Since April, China has imposed crippling tariffs on Australia's barley industry, halted beef imports from four meat plants and urged its tourists and students to avoid going to the nation due to the risk of attacks from racists. Meanwhile, Australia has suspended its extradition treaty with HK. China is becoming more isolated and this is a real danger in my view for all of us. We need to get back around the table but that seems unlikely now and Trump has an election to win. Meanwhile Chinese stock markets continue to rally with another 1% rise last night. It is getting hard for foreign investors to ignore this.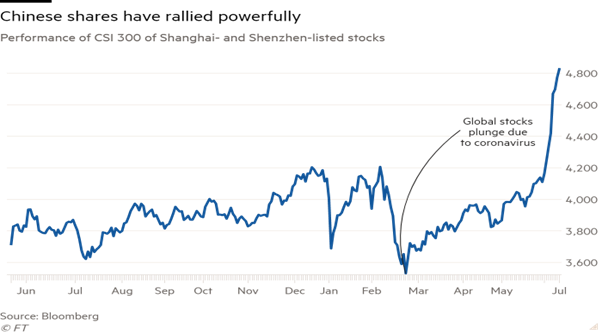 Line chart of Performance of CSI 300 of Shanghai- and Shenzhen-listed stocks showing Chinese shares have rallied powerfully
China's onshore-traded renminbi strengthened 0.3 per cent and past the important seven to the dollar marker for the first time since March, reaching 6.9827 to the dollar. The positive sentiment in China's markets came after official data showed that factory gate deflation eased during June, with prices falling 3 per cent year on year compared with expectations of a 3.2 per cent decline. Consumer prices rose by 2.5 per cent year on year during the month, in line with expectations.
One of the striking changes to US consumer behaviour spawned by the economic shutdowns from the coronavirus pandemic, was the unprecedented surge in personal savings which exploded to a record 32% of disposable personal income before easing modestly last month to 23.2%. Great news for the shops when they opened one would think. But I am afraid that is not the case, as data suggests that they are in fact paying off their credit cards and debt. According to the Fed's latest G.19 statement, in May, total consumer credit tumbled by another $18.28 billion, which while less than the record $68.8 billion crash in April, was far below expectations for $15 billion drop.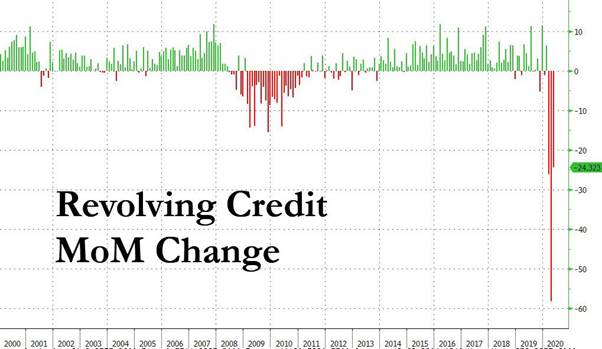 I am not sure if this an anomaly of the lockdowns but over the past three months, US consumers have paid down a staggering $104 billion in credit card debt, bring the total outstanding credit card debt below $1 trillion. Indicatively, the first time total credit card debt hit $1 trillion was back in December 2007, which means that the deleveraging of the past 3 months has sent US credit card balances to a 13year low!
The US needs a vibrant, confident and spending consumer right now or things will turn sour very quickly and the constant rises in cases and hospitalisations are still a real concern in the US. If job losses continue to mount and confidence in job security falls, then consumers will stick to essentials. An economy 70% reliant on the consumer cannot afford this. I have said for some time that the psychological impact on the consumer from high unemployment and uncertainty over the course of the virus, could have a dramatic impact. We have US weekly Jobless claims again today (due 1.375mln) and I think we need to pay more attention to these data. While we have seen some improvements in the guesswork data in NFPs, the claims data has been concerningly flat. If unemployment claims continue to move sideways, there's good reason to suspect employment in July may do the same.
We also need to be wary of what the unemployment rate tells us too, as at the same time, the unemployment rate could continue to fall if workforce participation continues to fall. As people leave the workforce, the unemployment rate could theoretically fall even without any job growth; and workforce participation is indeed falling. In April of this year, participation (for all ages) fell to about a 43-year low, coming in around where it was in April 1976. Participation climbed again in May and June but remains near a forty-year low for June. Unless we start to see a more rapid drop-off in unemployment claims, it's difficult to see how a V-shaped recovery will continue. Moreover, much will depend on how harsh ongoing business closures and partial "lockdowns" are in the US and we are seeing a host of bankruptcies and closures across the US and some big names too. Unemployment in the US remains the key for me as its impact on the consumer and business is clear. We glean nothing at present from NFP data but I think Claims gives us a clearer view. Keep an eye on this and I would not want to see a further rise in these data today.
—————————————————————————————————————-
Strategy:
Macro:.
Long EUR @ 1.1210.. Stop at 1.1150
Long EURAUD @ 1.6250 stop at 1.6080
Brought to you by Maurice Pomery, Strategic Alpha Limited.
—————————————————————————————————————-
Strategic Alpha Report Disclaimer
Doo Prime endeavor to ensure the reality, adequacy, reliability and accuracy of all the information provided, but do not guarantee its accuracy and reliability. All the information, analyses, comments, statements, and/or data provided in this report is for information purposes only. Client's use of any contents of the report as the basis for the transaction, the client shall fully aware of the risks and agreed to bear all the risks. Client shall cautiously judge the accuracy of the information. Doo Prime has no liability for any loss caused by any inaccuracy or omissions of the contents and subjective reasons of Client.
Risk Warning
This information is powered by Strategic Alpha. Any opinions, news, research, analyses, prices, other information, or links to third-party sites are provided as general market commentary and do not constitute investment advice.