Good Morning.. Trump not as aggressive on HK in his speech Friday and that has seen HK stocks and markets generally in Asia, rally. The impact from the month end USD selling is still with us and it toom me out of my shorts in both AUD and GBPJPY. It also did some serious damage to some of the techs. I still like EURGBP higher but we have seen an aggressive rejection of .9050 but Brexit talks and fears of a hard exit may resurface this week. But the big news was the violence in the US and this may have deep and meaningful issues for Trump into the election. These are deep rooted problems and the cause of which do not only lie in racial tensions but the wealth divide which is cavernous. History is littered with events when this divide becomes obscene, as indeed it is in America and can be very damaging. But I do think stocks markets are way ahead of themselves here as any recovery is going to be slow and the impact on businesses and consumers will be notable. I want to sell AUDJPY but the techs just look rather strong still and the lower USD has done a lot of damage. Is that about to change? The direction for the USD now is very difficult to call to be honest. PMI data may attract some attention through the day and at some point it may actually matter.
Keep the Faith..
Details 01/06/20
America burns: Global growth still in trouble.
–
As we head into the beginning of summer and millions of Americans face long periods of unemployment and hardship, things are starting to boil over and the scenes from the weekend were disturbing on many levels. This, to be honest, has been bubbling along for a while and at the very heart of this is the wealth divide in the US on top of anything racial. I have suggested for a while that social unrest was a real threat to the US and I think with the virus issue (no vaccine), the massive unemployment (many will not be going back to a job) and racial tension, that America faces a very tough summer ahead and the crowds so close to the WH will have sent a clear message to Trump so close to an election. His reaction to this needs to be thought long and hard about, as the last thing he needs to do right now is fan the flames. History is littered with events like this where the poor rise up and have their moment and the damage done to the likes of Rome and France (just two examples) remain as major points in history. Just how far this goes is, like the potential economic impact, is difficult to assess right now but something is rotten in US society and I think it stems from the massive gap between rich and poor and that is not going away.
The US has tried throwing some money at the unemployed but this is not working and many now realise with some desperation, that their jobs are gone forever. The wealth gap tore France apart and changed it forever and to be honest, the only difference between then and now is that the poor are kept off the streets by benefit payments. But there comes a point where obscene wealth in what is supposed to be vibrant and humane society boils over. "Let them eat Cake" and "Bread and Circuses" were famous statements. In France it was not just food that was the issue; it was inequality. In Rome the "games" and food handouts did nothing to stop the cancer within growing. Instead of Bread and Circuses we have benefits and food banks but at some point, the oppressed demand more and rightly so in many cases as the wealth distribution in many economies is becoming a real concern. Is this a short flashpoint in America or something more lasting? The economic and market impact maybe minimal for now but that could change; it looks like being a long hot summer in the US in more than one way.
The depth of despair in the US has now spilled onto the streets and Trump needs to be careful how he handles this; there are a lot of guns in the US! The threat of job losses was already impacting consumer confidence and this is another worrying aspect which may impact the psyche of the consumer. Cities hammered by major budget hits from the pandemic can hardly afford the extra costs of police overtime, security measures and damages from the protests. Even before the demonstrations, the Fed and Trump administration have been under mounting pressure to do more for states and municipalities. This is so much more than about the dreadful George Floyd killing and the Trump administration needs to understand that. This has been building for years and seeing two police cars drive into crowds was more like a scene from a Banana Republic. Trump on Sunday continued to post incendiary tweets and blamed the media, which the US president said was using its power "to foment hatred and anarchy". This is not what is needed now but he is always playing the blame game. The issue is not the media; the issue is the inequality in the US and the wealth divide; and I am not sure there is an easy cure for that. But it could have political implications at the very least and Trump will fight that. Meanwhile America burns.
Meanwhile, stocks in Asia rallied as Trump was less aggressive in his speech on HK than expected. Nikkei closed up about 0.5% and HK was up over 3% on the back of that but US futures are lower. PMI data from Asia was disappointing; China was a small beat at 50.7 but S. Korea at 41.3 and Japan at 38.4 were both disappointing. Aussie PMI is still way below 50 at 44.0 and Korean exports were down 23.7% yoy and imports tumbled -21.1%! Within the China data, sub-indexes in the manufacturing surveys suggest export order sub-index remained weak and employment deteriorated further.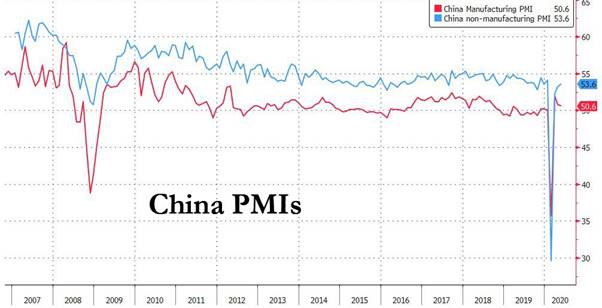 There is a very real danger that the recovery in China is weak and a deflationary recovery. The disconnect between China's recovering production and still dormant demand had shown up in data revealing a rise in inventories and once again contradicting the official PMI numbers. China's data aside, the worry remains that sustained overproduction will lead China's factories to keep cutting prices, compounding global deflationary headwinds and worsening trade tensions, before they eventually cut back on production and therefore even more jobs. The chart below shows where China is and puts some perspective on this.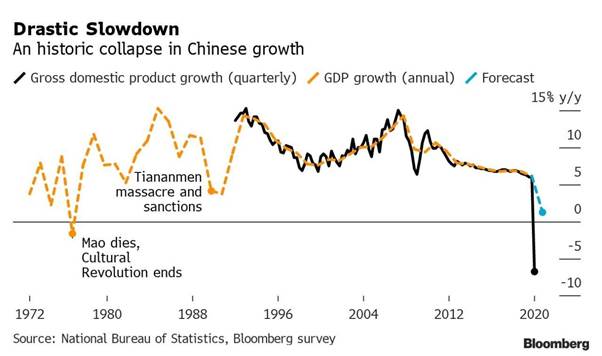 I still fail to see any evidence of a recovery in global growth and I think the markets need to start pricing a much slower recovery where we fail to see a sudden rebound in jobs data. Yes, it will get better soon as many return to work but I fear that many will not be returning in many economies, either due to businesses closing or massive cost cutting programmes to try and save margins. In fact the outlook appears rather grim which rather makes the stock market rally look fragile at best, as earnings are in real trouble here. YTD the 5 biggest stocks are up 15% while the remaining 495 S&P500 companies are lower by a collective 8%, with the overall S&P400 index is down 5% YTD. I have shown this chart before but it is worth showing again. Markets are way ahead of reality here and the collateral damage to many economies is yet to be fully realised to me.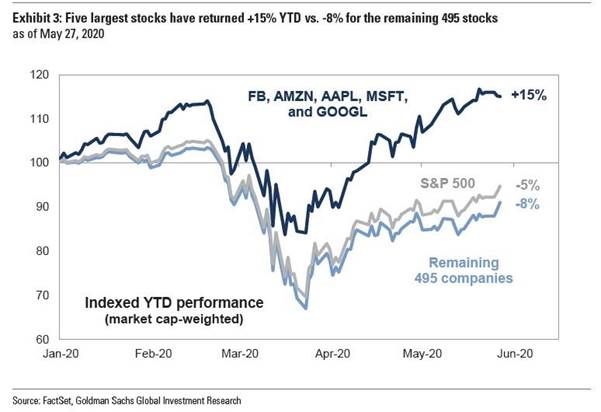 Most modern economies are reliant on the consumer and I would think that many are shying away from non-essential spending even when the shops do fully re-open.
Demand is not going back to anywhere near where it was in most developed economies and that means more pain for the exporters. Plus, we are stepping back from globalisation and I can assure you that this is NOT priced. In the US in April, we saw both the largest increase ever in personal income (blue line) and the largest ever decline in personal consumption expenditure. Importantly, personal consumption expenditure fell fully 30% more than personal income rose, implying that all that "income" (i.e. stimulus payments) was saved.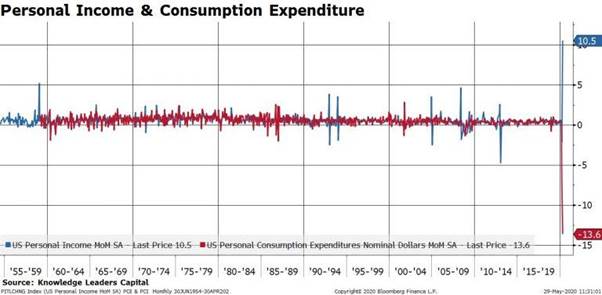 OK, I get that not much was open to spend the money on but I do fear a big hit to the consumer here. Job insecurity and now the riots taking their toll. The two massive dangers now for the US economy are that the savings rate remains high and that the jobless rate does too and both look very likely to me. Having said all that, the lower USD, aided and abetted by month end rebalancing, has seen my stops in AUD and GBPJPY taken out. But I am considering a sell in AUDJPY at as I think stocks are on borrowed time but the techs just do not support it yet. Owning some downside options in this cross and in stocks makes some sense. I am keeping an eye on this cross. Daily below.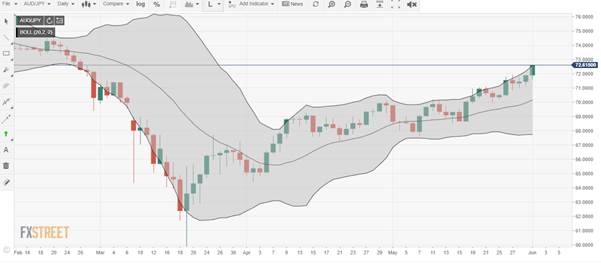 This week sees more Brexit talks and Boris is off the EU to try and broker a deal but to be honest, the dangers of the UK falling out without one are growing as the EU is desperate to delay this. Who will win this game of chicken? We saw EURGBP break significantly higher on Friday only to be damaged by month end distortions but I remain bullish EURGBP for now.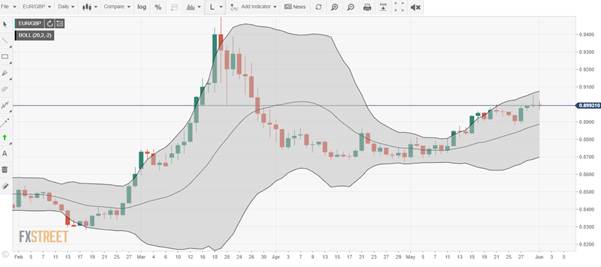 According to weekend press, EU's Barnier warns PM Johnson he must stick to promises to avoid a double hit of no deal Brexit & virus pandemic; he accused the PM of backtracking on commitments made in the political declaration & warned there wouldn't be an agreement at any cost. That's all going well then! Art of the deal or a real threat; we simply do not know but I would think UK investors are getting a little concerned over this as the clock moves towards the 11th hour and relations seem stretched at best. I would think there is a danger of more negative rhetoric into talks this week.
—————————————————————————————————————-
Strategy:
Macro:.
Short AUD @ .6550. Stop @ .6685 Stopped.
Short GBPJPY @ 131.95 Stop at 133.20 Stopped
Long EURGBP @.8978 looking to add @ .8940.
Brought to you by Maurice Pomery, Strategic Alpha Limited.
—————————————————————————————————————-
Strategic Alpha Report Disclaimer
Doo Prime endeavor to ensure the reality, adequacy, reliability and accuracy of all the information provided, but do not guarantee its accuracy and reliability. All the information, analyses, comments, statements, and/or data provided in this report is for information purposes only. Client's use of any contents of the report as the basis for the transaction, the client shall fully aware of the risks and agreed to bear all the risks. Client shall cautiously judge the accuracy of the information. Doo Prime has no liability for any loss caused by any inaccuracy or omissions of the contents and subjective reasons of Client.
Risk Warning
This information is powered by Strategic Alpha. Any opinions, news, research, analyses, prices, other information, or links to third-party sites are provided as general market commentary and do not constitute investment advice.