Good Morning.. Shanghai stocks dropped into the close and finished almost 2% lower and I think the administration felt things were getting a little hot and margin lending was getting dangerously high. US stocks looked at one point like they may get a real wobble but the rotation into tech again helped calm things but the Dow did close down 1.3%. EU stocks are marginally lower this morning but I do feel a few issues will continue to threaten stocks. The virus in the US is an ongoing concern but schools in HK are being closed and we are seeing spikes elsewhere. We still don't have a vaccine and until we do, then things will remain high risk. I also think the more damaging, 2nd phase of the trade war is upon us and this is NOT being priced (at least not in equities). There are all sorts of consequences stemming from this from geopolitical tensions to economic instability and it is time investors woke up to this fact. Just US PPI and Canadian unemployment today but stocks look nervous and it's a Friday, so "Be careful out there"..
Keep the Faith..
Details 10/07/20
Equities yet again find buyers on the dip as techs hold the whole complex together still.
–
There was a moment yesterday when I thought the US equity market may actually take a considerable hit and while the Dow closed down 1.3% and the S&P down just over 0.5% the rotation into tech kept things from getting really ugly with the NASDAQ closing UP over 0.5%. Unless the big5 sell-off hard then the chances of a substantial fall in stocks seems unlikely. But stocks were hit by a few negatives yesterday and I am not sure they are going to go away. The virus cases keep rising and there are suggestions that hospital capacity is still extremely limited. Biden is talking of raising corporate tax back to levels pre-Trump! In Asia, part of the sell-off in China was on the back of news that two state-backed funds said they planned to trim holdings in a sign that the government wants to slow down the rally. I think the steep rise in margin lending was noted in China and the administration is trying to calm markets down a bit. Meanwhile in the US, the sunshine states are becoming a real problem and the 3week lag from cases to deaths seems to be upon us. Then we have ongoing trade war threats and this time not only with China but with the EU over digital tax. The EU is quite right to push ahead with this as these large tech companies are getting a massive advantage. Trump won't like it and will probably retaliate if it does go ahead and maybe that was part of why the EUR took a hit yesterday. EURGBP fell again and the technical outlook on this cross has shifted from bullish.
We are now below the mid-point and closed below it and we are starting to see the bands widen suggesting the recent trend lower may extend.
There is a danger that the move up was a correction to a broader move down and the corrective rebound from 0.8670 could have completed at 0.9175. The problem for me is that both pairs have some bullish potential with the UK spending helping (and being rewarded) and the EU with the ECB with so much power and hopefully the joint bond issue to be passed. But I do feel some doubts remain over the joint bond issue and if not agreed at next weeks meeting then we will not get anything through the summer recess and Rutte is still talking reform packages and not grants. Europe needs a recovery fund, but it is important the fund comes coupled with structural reforms, PM Rutte said on Thursday ahead of a meeting with Merkel. This is not the plan Italy, Spain and other beneficiaries want to see. Being the EU group, there is a real danger that talks drag on, just as investors were starting to believe in the EUR. BBG Survey of Economists suggests more than half of respondents expect the ECB to increase bond purchases by December with most expecting the top up size to be ~€500b.
The next phase of the trade war that I have been mentioning, is going to be far more damaging to the global economy and the unity and peace of the world. We move from grains to tech and this is the real game for Trump but the fact that China and the US are not only facing each other over this, with spats between China and Australia, the UK, India and the US threatening the EU, we have to suggest that the risks to the global economy are actually very real and very large going forwards. I think it is vitally important that China does not start isolating itself as that would be a huge game changer. Relations between the US and China seem to be at lows not seen since the Nixon era and a fight is looming. What does worry me is the potential for an accident, as the US has sent a strong fleet right into the middle of the South China Sea. This is a mild provocation but accidents happen at sea. Over the past week, the Navy sent two aircraft carriers to begin some of the largest military exercises that US forces have ever hosted in the South China Sea, a show of strength with a clear message: That the US stands ready to counter China's military ambitions in the Pacific. Can the world afford a decoupling of relations between the two main superpowers of the world? China is also upset over missile sales to Taiwan! Things are heating up.
The clock is also ticking on the US getting another stimulus deal which does seem necessary with many benefits running out at the end of this month. Congress will soon be debating whether to extend "conditional" unemployment compensation to millions of displaced workers. Opposition to the extension centres on creating disincentives to work while some also worry about adding to the record budget deficit. Critics are right to point out that workplace distortions can be caused by paying people more to not work than what they could earn working. But monetary policies that offer protection and incentives to investors can easily cause distortions in finance as they do in the workplace. The danger here is that the democrats may not support a similar deal and investors start to get nervous.
We have seen quite a bit of overperformance in the DAX and other EU stocks recently and I think we may be seeing some diversification into Europe. The DAX also always seems to do well when Chinese stocks are rising as the export heavy index has a close association with the health of the Chinese economy but I note that Shanghai stocks fell further into the close this morning and stocks could have another nervous day today. What did catch my eye was the nomination for the top job as the head of the EU finance chiefs' group. This was expected to go to one of the larger nations with Spain as the favourite going into this sealed vote. Ireland's Paschal Donohoe won a secret ballot of 19 colleagues Thursday to become president of the Eurogroup, defeating the Spanish favourite, Nadia Calvino, who was backed by the European Union's four biggest economies. I am not quite sure what this means in the s/t but it seems quite a coup.
We are now approaching earnings season but I want to take you back to three months ago, when US commercial banks reported a surge in loan losses in Q1 earnings as a result of the Covid pandemic. I suggested then that that banks have a "big problem" and seem rather concerned about NPLs. Last quarter, the largest US banks anticipated a nearly 4x surge in loan losses from a year ago. That was a concern but S&P has suggested the situation is far worse. In a new note published by S&P Global Ratings, the agency anticipates that the COVID-19 pandemic and responses to it will have huge and long-lasting effects on bank asset quality. In fact, across the 88banking systems S&P Global Ratings covers, S&P forecasts their credit losses will be about $1.3 trillion in 2020–more than double their 2019 level of $0.6 trillion.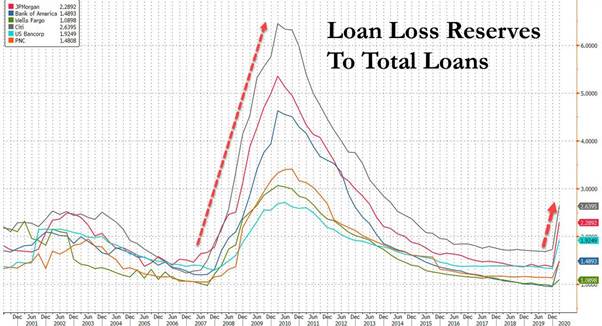 According to the report, while major banks will be able to absorb credit losses from earnings, they will be left with sharply reduced headroom for further upticks. Also the flatter yield curve and zero rates also eat into US bank profitability. But I guess in the US, the banks will get through this by taking free money from the Fed. S&P then notes, that should the COVID-19 pandemic prove to be worse or last longer than its current base case economic forecasts assume, then a combination of higher credit losses and lower earnings will inevitably hit banks across the world.
—————————————————————————————————————-
Strategy:
Macro:.
Long EUR @ 1.1210.. Stop at 1.1150
Long EURAUD @ 1.6250 stop at 1.6080
Brought to you by Maurice Pomery, Strategic Alpha Limited.
—————————————————————————————————————-
Strategic Alpha Report Disclaimer
Doo Prime endeavor to ensure the reality, adequacy, reliability and accuracy of all the information provided, but do not guarantee its accuracy and reliability. All the information, analyses, comments, statements, and/or data provided in this report is for information purposes only. Client's use of any contents of the report as the basis for the transaction, the client shall fully aware of the risks and agreed to bear all the risks. Client shall cautiously judge the accuracy of the information. Doo Prime has no liability for any loss caused by any inaccuracy or omissions of the contents and subjective reasons of Client.
Risk Warning
This information is powered by Strategic Alpha. Any opinions, news, research, analyses, prices, other information, or links to third-party sites are provided as general market commentary and do not constitute investment advice.